Find more articles about motorcycle safety and technique in the WRN Riding Right section.

We all want to mount up on two wheels, feel the wind in our face, and enjoy the open air around us. We also want to have a safe ride. To help you have fun on your motorcycle and feel safe while doing it, here are five of the top hazards all motorcycle riders should be on the lookout for while traveling out on the road.
Women Riders Now E-Newsletter
Stay up-to-date on all things motorcycle! Latest gear, bikes and products reviews. Travel ideas, great product giveaways, and more.
1. Blind Spots
Besure not to ride in any vehicle's blind spot—that is, the area around a vehicle that is not visible to the driver using his or her mirrors. It's bad enough when a car driver doesnt turn and look when changing lanes infront of another car. Now think about that happening when the other car is a motorcycle. Ifyou think youre riding in that gray zone, either speed up and get past thevehicle or slow down to allow the vehicleenoughroom to change lanes.
| | |
| --- | --- |
| If you're riding and this is your view looking left… | …this is likely the driver's view looking right—and youre not in it! |
2. Uneven Road Surfaces
Roadconstruction is a pain, but we all get stuck riding in it. If the lanes are uneven, try to stay in the samelane until the uneven lanes end. Also be on the lookout for divets in the road. These are often caused by a large truckdragging something from its undercarriage, leaving a depression in the road—sometimes for a good distance. Getting yourbike caught up in divets like these may cause your tire tread to"catch," possibly leading to a loss of control.
3. Debris, Gravel, Oil, and Sand
Need Isay more? Riding on two wheels is all about stability, and it doesn't take much to lose that precious stability when riding on sand, gravel, oil, and other debris. If youre not careful when riding through these materials, you can easily lose traction, causing the bike to slide. Whenever possible, stop and evaluate the surface. If it looks unsafe, find another way around. If you must ride through thehazard, do so carefully and at a slow, safe speed.Most importantly, never use only the front brake. Have you ever seen a bicyclist hit the front brake and go sailing over the handlebars? Same concept.I use mainly the rear brake when I ride throughhazards like these, and Im careful to brake slowly andsmoothly.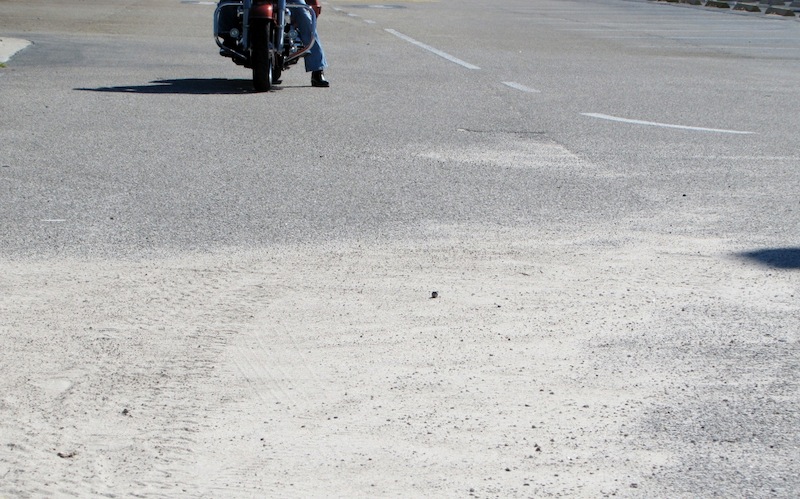 4. Side Roads
Whyside roads? Because theyre everywhere,and vehicles are turning out from them and in front of us constantly. Always look ahead to side roads, where you maysee a vehicle waiting to enter the road in front of you. Expect that vehicles will not always see you,and plan your reaction. For example, you might think, "If that car pulls out, can I move to the left lane? Should I slow down in case they do?" Swerving is sometimes unavoidablebut can be a hazardif not done correctly. Don't overreact, but be ready toreact!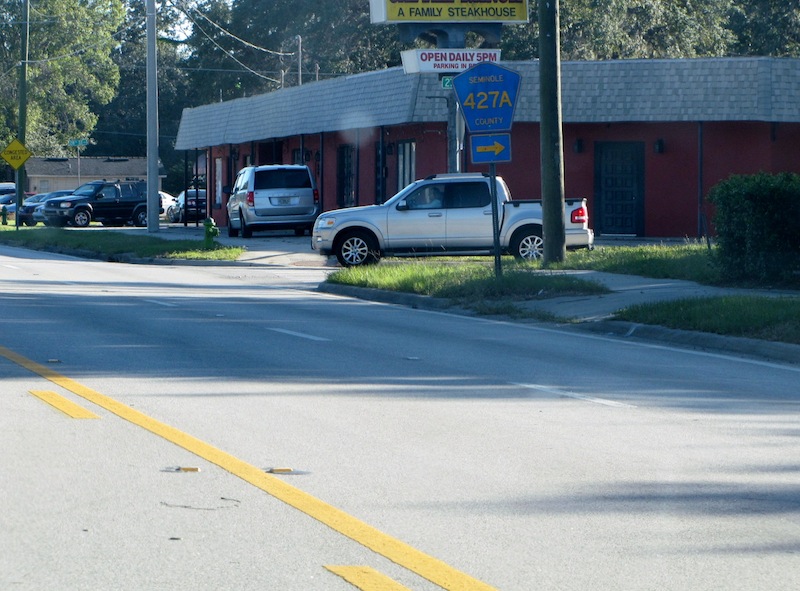 5. Intersections
Intersections are arguably the most dangerous hazard for motorcyclists. After all, intersections can involve all four hazards listed above. In an intersection, you need to be on the lookout for vehicleschanging lanes around you (even though theyre not supposed to), while also watching for debris, gravel, and oil in the roadway. You should be conscious of unevensurfaces, but you also need to watch for vehicles turning left in front of you and turning right into your path of travel. Traffic-light changes also necessitate that you be aware of vehicles stopping quickly or not stoppingsoon enough. Are you feeling overwhelmedyet? Don't. Just take a deep breath. It's really not that bad!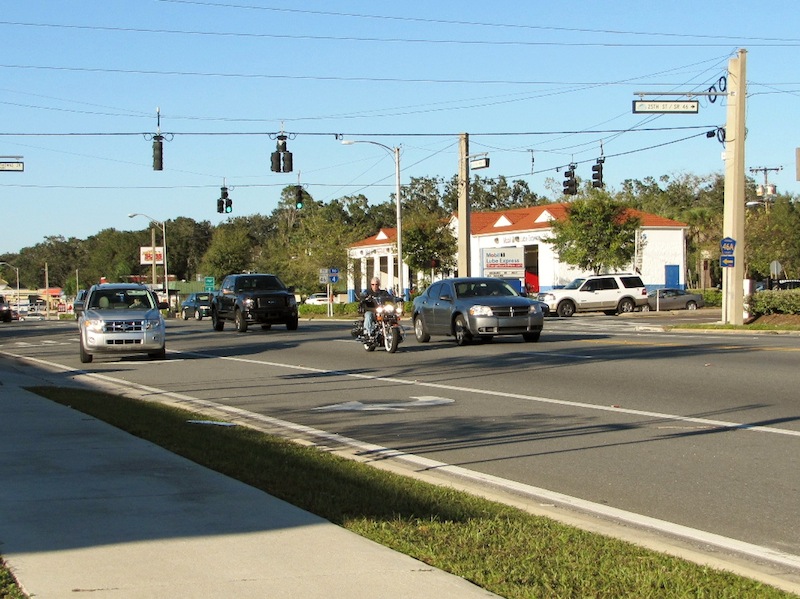 The best thing to do in intersections—and every time you saddle up and ride—is to play the"What if?" game in your mind. Think, "If a car pulls out in front of me, what willI do? How will I react?" The main thingis to be prepared but to avoid overreacting. I have seen manycrashes where a motorcyclist assumed a vehicle was not going to stop and their quick overreaction was to hit the front brake. Wrong move! (Just think of that bicyclist going over the handlebars.) Instead of panicking, always be sure to look ahead, assume vehicles don't see you,and have your plan of action ready. If you see a vehicle approaching the intersection (or stop sign, yield sign, etc.), slow downand move to the opposite side of your lane. For example, if a vehicle is approaching froma side road on your right, move to the left side of your lane. This allows you more room to react and move ifyou need to. Soon enough, it will becomesecond nature.
To learn more about Tina Leman, visit the WRN Contributors page.
Related Articles
Reader Story: The Life of a Female Motor Officer
Riding Right: Getting Back in the Saddle After An Accident
Riding Right: Get More Control Over Your Motorcycle