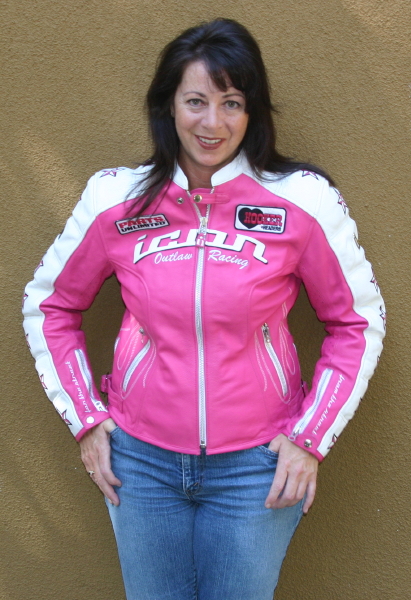 When it comes to choosing a good leather jacket there are many styles, colors and manufacturers to choose from, and if you're like me – it's hard to decide on just one! I have jackets I wear in the summer, and jackets I wear in the winter, and jackets I wear on the track. Each style of jacket has its advantages and disadvantages, and a lot will depend on the type of riding you will be doing. There are other factors to consider as well, such as personal taste and budget. When I want the most in style and protection while riding my motorcycle, the ICON "Kitty" jacket is one of my favorites.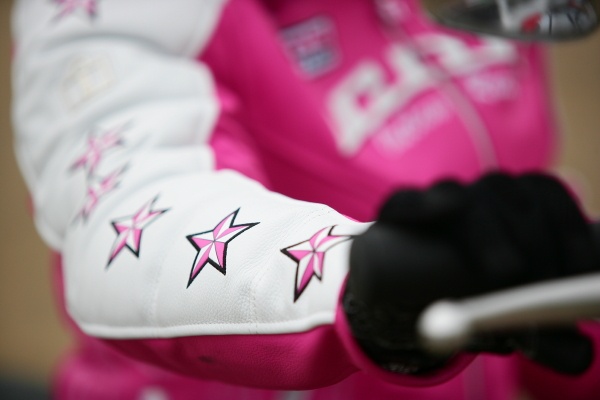 The "Kitty" comes in cat-fight resistant, heavy-duty leather adorned with two-inch star appliqués on the shoulders and side arms, and plenty of fancy patches on both the front and back. There is an easily removable insulated liner, so the jacket can be worn with or without it. I prefer to wear the jacket without the liner because it's bulky enough already. There is an extreme amount of detail on this jacket which has mini star-shapes punched under the arms and on the inside of the jacket near the front zipper and around the collar. You will also find the words "Ride Among Us" punched through on the left-side interior. This jacket has lots of style and attitude and is an instant attention-getter. I like the fact that this jacket has CE approved shoulder and elbow body armor built-in.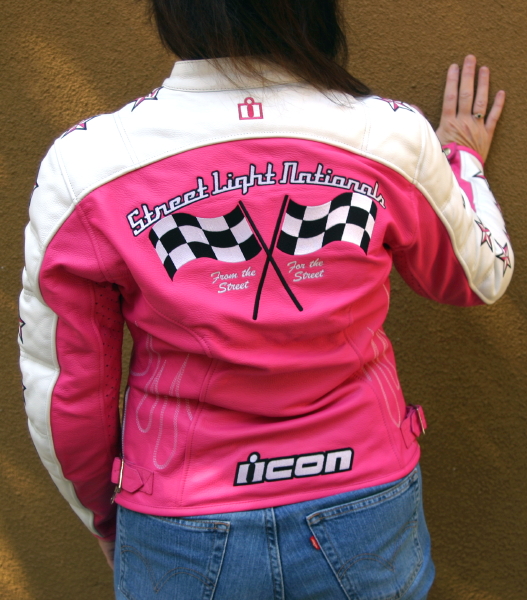 When I road tested ICON's "Kitty" jacket it took a little getting used to at first as the leather was much stiffer than I expected and was a little difficult to move around in. As a matter of fact, the first time I put this heavy jacket on I had some difficulty moving my arms around. I asked the manufacturer's rep about this and was told that the stiffness is normal and to expect a break-in period. The leather is extremely durable and offers the utmost in protection, and eventually it does soften up. I was very impressed by the overall fit and detail that went into making this jacket. I like the fact that it is made for a woman's figure and doesn't look like just another men's jacket in a girly color.
There are a lot of zippers, and vented areas which come in handy in warmer weather. The sleeves have not only a zipper closure, but a snap closure as well. There is another snap closure near the collar which closes over the zipper and provides added detail. The front pockets are roomy without taking away from the slim styling and there is an additional inside pocket on the right side, which is perfect for a small cell phone. The ICON "Kitty" jacket is cut to flatter a women's figure. It has side zippers with buckle closures for extra hip room, and is nicely tapered. The appliqués give this jacket attitude without being overpowering.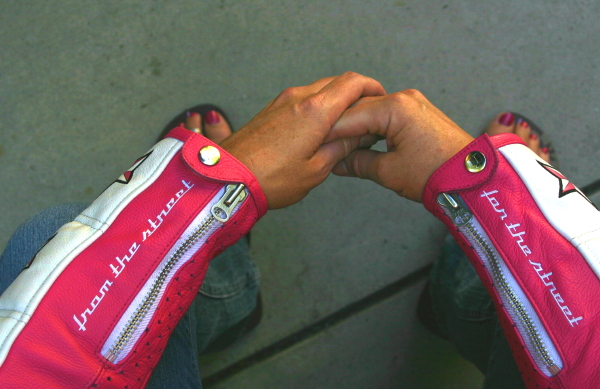 I highly recommend trying the jacket on for size before you buy it, as not all brands will fit the same way. I wore a larger size than I expected, which is typical throughout the ICON line. There were some features that I missed on this jacket which I like and have found on others, such as a front zipper which opens at the bottom while staying closed at the top and more tapering in the back to ensure my low back is covered no matter what riding position I'm in. Overall, I felt the jacket provided more than adequate protection and even held up nicely in the rain. While ICON products are known for being edgy and fashionable, they are extremely functional and provide good rider protection as well. I haven't come across one jacket yet that provides everything I want or need, but I'm happy to say that women now have more choices in riding gear and there are more colors than just black to choose from.
The ICON "Kitty" jacket is available in Black, White, Pink, and Lavender, sizes XS-XL. Retail price $400.00. Visit rideicon.com to check out their complete product line.