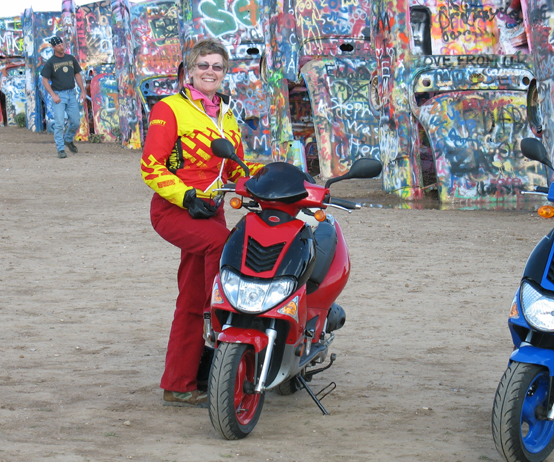 Twenty-three riders between ages 65 and 80 completed a monumental ride from Los Angeles to Myrtle Beach, South Carolina, on 50cc KYMCO scooters. The jubilant group of riders organized by Wandering Wheels celebrated a dream come true on July 7 when they successfully two-wheeled across the country on back roads conquering 3,500 miles in 20 days.
"It was a challenge and the very best way to see the country," says Sally Jones from her home in Tampa, Florida. At 80 years old, Sally is the most senior of the Wandering Wheels riders. She made the trip on a KYMCO Vitality 50 even though she had never ridden a scooter before. (Sally had, however, bicycled cross-country as recently as 1998 when she was 74.)
Ron Valutis and his wife, Rosalie, made the Los Angeles-to-Myrtle Beach trip on their 2005 KYMCO Super 9 models with 50cc engines. "I would recommend KYMCO to anybody," Ron says. "It was remarkable to be able to cruise at 45 miles an hour and climb the mountains we had to cross out west." The Valutis, from East Lansing, Michigan, didnt experience any maintenance issues at all. "We changed the gear oil and the spark plug once along the way," recalls Ron. "Frankly, it didnt even need a new plug but we put one in anyway."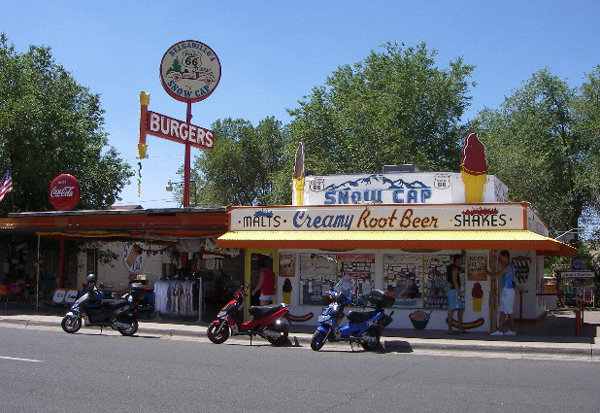 How It Started
Another participant used the words "romantic," "glorious," and "Herculean" to describe the journey. What set these wheels wandering in the first place? The epic ride testing human and scooter endurance was organized by Bob and Janech Davenport whose non-profit organization, Wandering Wheels, led its first cross-country bicycle tour back in 1966. At that time Bob Davenport, a football All-American at UCLA and coach at Taylor University in Upland, Indiana, was making a transition from motivational speaker to bike tour leader.
In 1966 the participants were all teenagers. According to Wandering Wheels Web site, WanderingWheels.org, "Our original purpose was to strengthen young peoples understanding of Gods place in their lives." Soon the growing organization had a year-round cycling program serving church youth from all over America.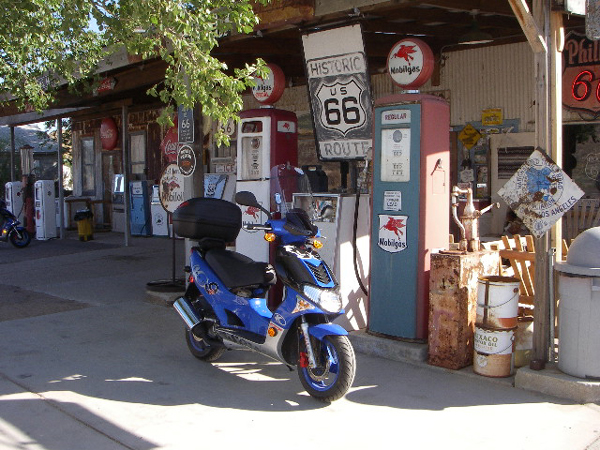 Over the years, Wandering Wheels participants average age has grown older, but the original motivation is still the same. Davenport, now 73 himself, still leads bicycle tours. But a few years ago, while on vacation in Italy, he and Janech, 44, discovered scooters and they soon added scooter touring to the annual menu of Wandering Wheels trips. The idea was to allow those who might be too senior for long-distance biking to still enjoy the spirit of adventure.
"Dont slow down as you get older, just change machines," is how Davenport sums up his philosophy. And he thinks when it comes to scooters, small is beautiful. "Theres something magic about the transition from a bicycle to the scooters," he says. "The possibility of going coast-to-coast on the next-smallest two-wheeled vehicle [a 50cc scooter] is in itself magical."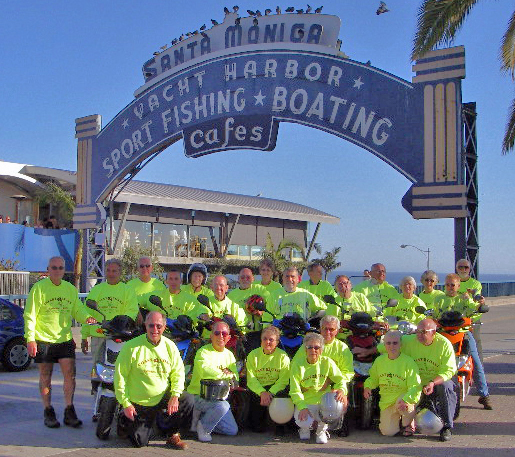 Other Scooter brands were in the mix early, but after four years of long-distance rides, Davenport calls KYMCO his "absolute scooter of choice." "These little things look snazzy and will jump up to 45 miles per hour." All of that performance and reliability were needed. Soon after leaving Santa Monica on June 17, following historic Route 66, the group of 23 riders experienced 117-degree heat going through the town of Needles, California. Not long after that, they were caught in a sudden sleet storm on a 9000-foot mountain pass in New Mexico. Those experiences may have reminded Davenport that he originally tried to talk his oldest rider, Sally Jones, out of the trip. But he was unsuccessful.
"Mr. Davenport," Sally gently scolded. "When you are 80, you will not want others telling you what you can do." Now, thanks to her will to keep pursuing adventure, she has the well-earned memory of re-tracing Route 66 through the desert. "The gorse was blooming when we rode through California," Mrs. Jones says. "And it smelled wonderful."
The route also included stops in Little Rock, Arkansas, Memphis and Nashville, Tennessee, plus a trip through the Smoky Mountains. The unofficial pit crew of the trip was Janech Davenport, whom her husband calls "one heck of a mechanic." KYMCO USA provided technical support and hosted a luncheon for the riders when they took a side trip to company headquarters in Inman, SC. "It was very impressive, seeing all of their products in one place," Bob Davenport says.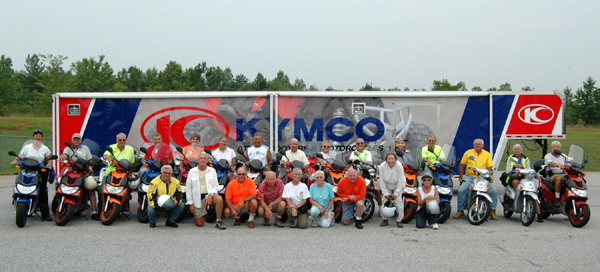 Bruce Ramsey, KYMCO USA Vice President for Sales and Marketing, says, the company plans to continue supporting Wandering Wheels. "We are very pleased to be connected with such a unique and beneficial organization," Ramsey says. "They clearly put our products to the test and were proud of the way they performed." Visit Kymco.com, and WanderingWheels.org