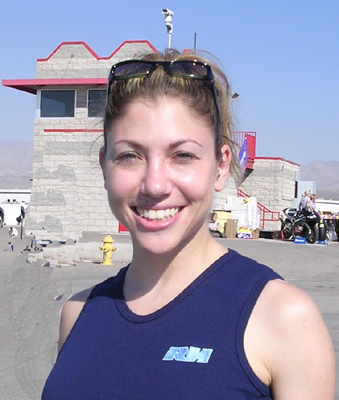 Discover Todays Motorcycling, the communications and media outreach program of the Motorcycle Industry Council, will soon sharpen its focus on cultivating the future of motorcycling with the help of new team member Jessica Prokup. Previously the editor of RoadBike magazine, Prokup brings years of riding and writing experience to her new role in a growing industry.
"This is exciting to me as it offers an opportunity to reach beyond the enthusiast community to help our industry thrive," Prokup said. "I love all things motorcycle, and probably the most enticing aspect of my new position is the chance to encourage more women to become motorcyclists. Im really looking forward to focusing attention on this growing segment of the market."
Starting out on the back of a motorcycle in the late 1990s, by 2001 Prokup decided it was time to get trained, licensed and riding on her own. The next year she joined American Iron magazine as assistant editor, and was promoted to editor of RoadBike in July of 2003. During her tenure with RoadBike, Prokup worked to broaden its scope to include more aspects of motorcycling, and aimed to make the magazine and its new Web site a valuable resource for the metric riding community. Meanwhile, she logged many two-wheel miles and attended numerous motorcycling related events across the country.
"Were fortunate to add a woman with Jessicas talent and enthusiasm to the DTM team," said DTM Director of Communications Mike Mount. "DTM has always worked to attract new riders, break down barriers to becoming a motorcyclist, and establish motorcycling as an efficient, real-world means of transportation. Jessicas experience and ambition will help us with all of these goals.
"Discover Todays Motorcycling," the communications service bureau of the Motorcycle Industry Council, is a source of information about motorcycling to the media and the general public. The MIC is a not-for-profit national trade association representing manufacturers and distributors of motorcycles, all-terrain vehicles, scooters, motorcycle parts and accessories, and members of allied trades located in Irvine, Calif.