What a wonderful opportunity to evaluate the Indian Motorcycle Tour Jacket and Pants for Women Riders Now. Being a passionate owner of an Indian motorcycle, a 2017 Chief Vintage, I jumped at the chance to review Indian's textile riding outfit. I travel on my motorcycle in temperatures ranging from 20 to 100 degrees finding myself in all kinds of weather, from sun, rain, hail, and snow.
Women Riders Now E-Newsletter
Stay up-to-date on all things motorcycle! Latest gear, bikes and products reviews. Travel ideas, great product giveaways, and more.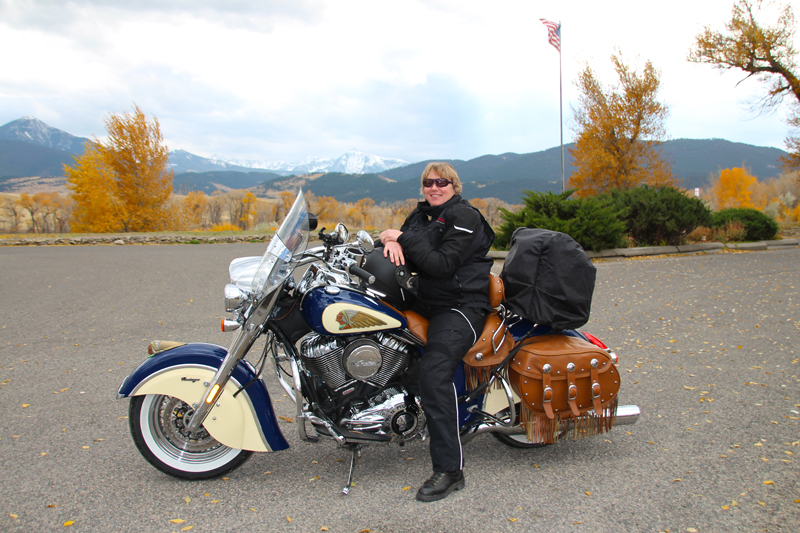 ---
"Before this outfit, I've always ridden in jeans and chaps,
so this was a new experience of trial and error."
---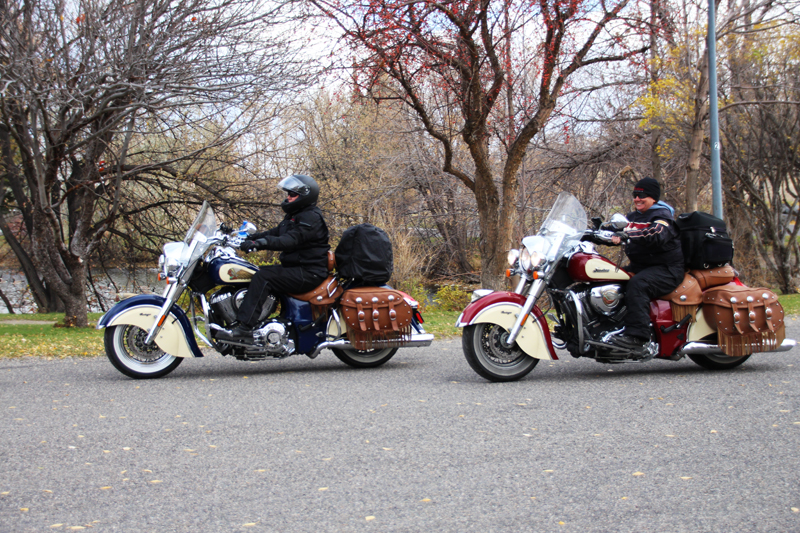 Women's Indian Motorcycle Tour Jacket
When the box with the Tour outfit arrived, I scrutinized the jacket's quality including its versatility for different weather conditions, the ease of use, and its looks all in consideration of the retail price of $469.99—although the whole outfit is now on clearance with the jacket selling for the deeply discounted cost of $188.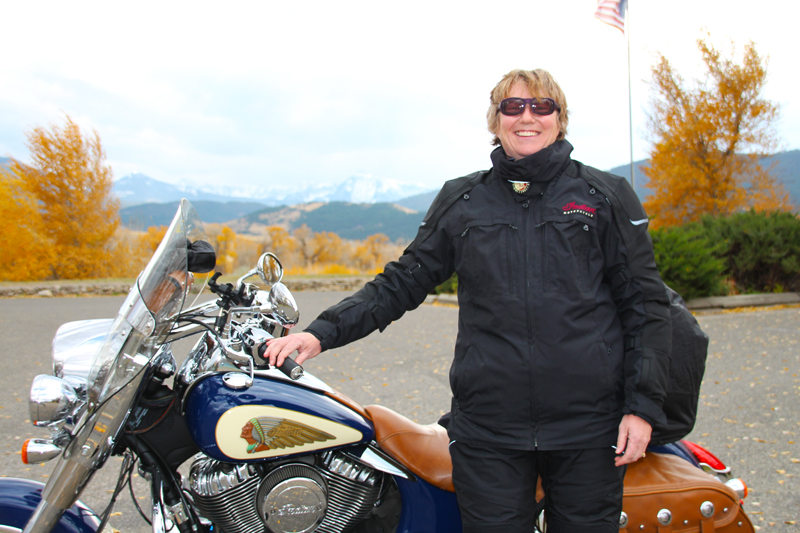 Two liners add functionality to the jacket: a waterproof liner is worn right under the shell, and a quilted Thermolite brand full-sleeve quilted liner adds warmth. Each liner attaches with internal zippers to the outer shell, while the quilted liner has the added benefit of color coded loops and buttons at the sleeves eliminating the chance of attaching it to the wrong loop. There are several labels on the jacket warning that the waterproof liner must be in place otherwise the coat is not "waterproof."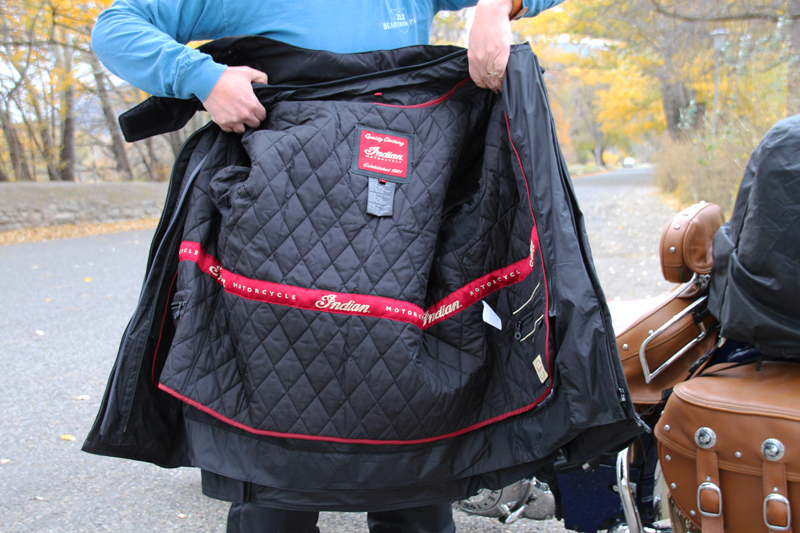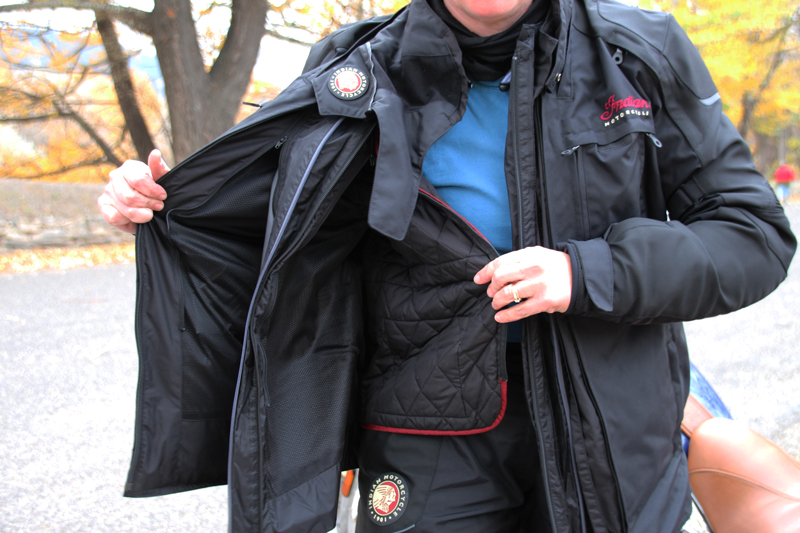 An additional feature I really like is a neck/face shield that Indian calls a "Storm Collar" for those cold rides. The fleece liner is soft against my skin, and it zippers off when I don't need it. I struggled a bit though securing it in place. If the collar is not in the right position it's a challenge to get a solid cling with the Velcro, and next to impossible to position it correctly with gloves on. It's a minor inconvenience though when compared with the overall versatility of the jacket. I simply zip off the Storm Collar when it's not working for me.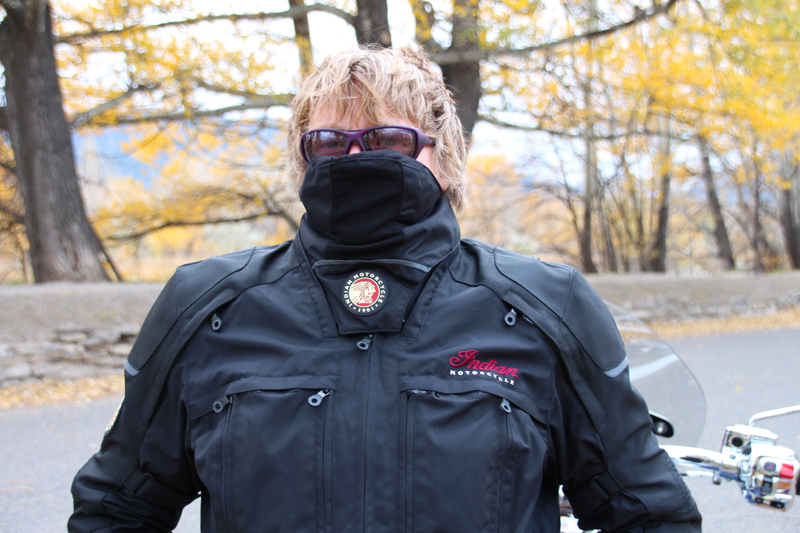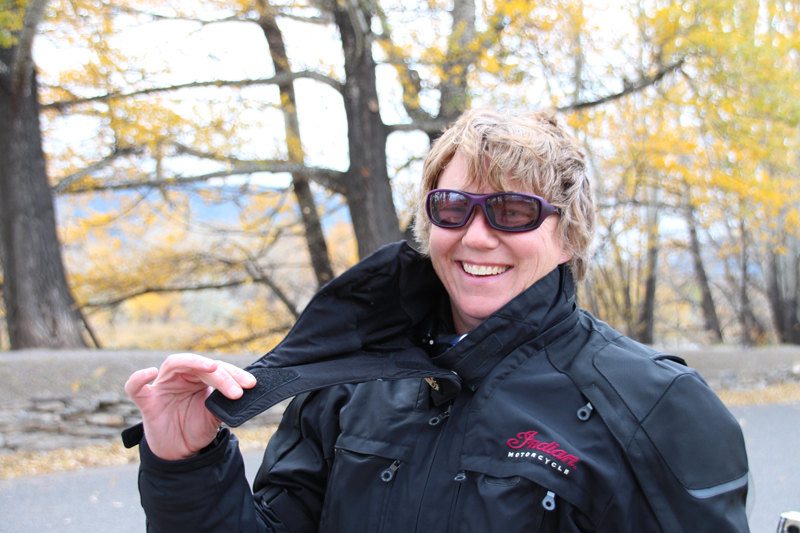 One item that would be nice to have with the jacket is some type of compression bag. My ride can start out in 20 degrees and end up in 80, so I'm removing the liners and my Storm Collar. I randomly stuff these items in my saddlebag, but when I need them later it's a "search and rescue" mission. So if you're as obsessive as I am with finding what you need quickly and easily, have a designated bag available to stuff these items into so you know where to find them.
The jacket comes with several venting options including two front panels on the chest, one on each shoulder and two rear vents. These provided enough airflow during my rides in the fall, but I've yet to use them in 90- or 100-degree heat. I do have a lighter jacket that I wear anyway for that type of riding and would most likely not choose this jacket for those warmer days.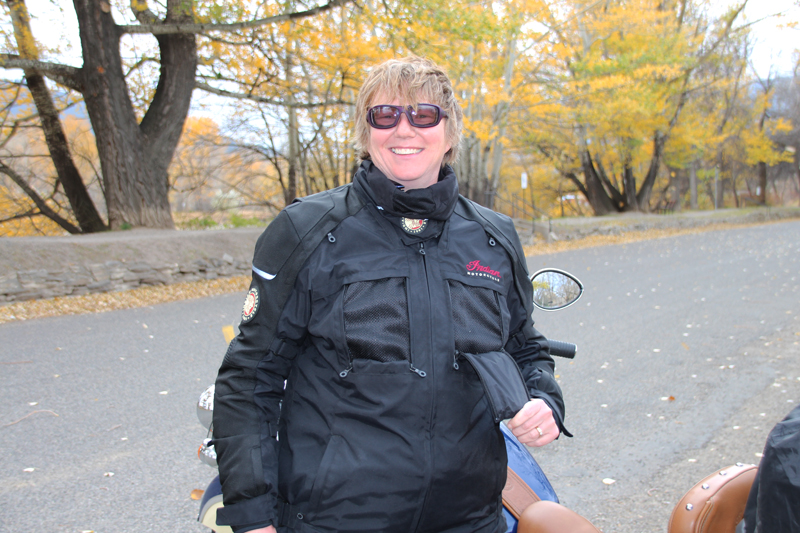 All vents have waterproof zippers but it is a two-handed operation to close these vents. You may need to take off the coat or get your riding buddy to give you a hand. It is not a safe operation to close all the vents while riding down the road—as we have all tried to do at one time or another.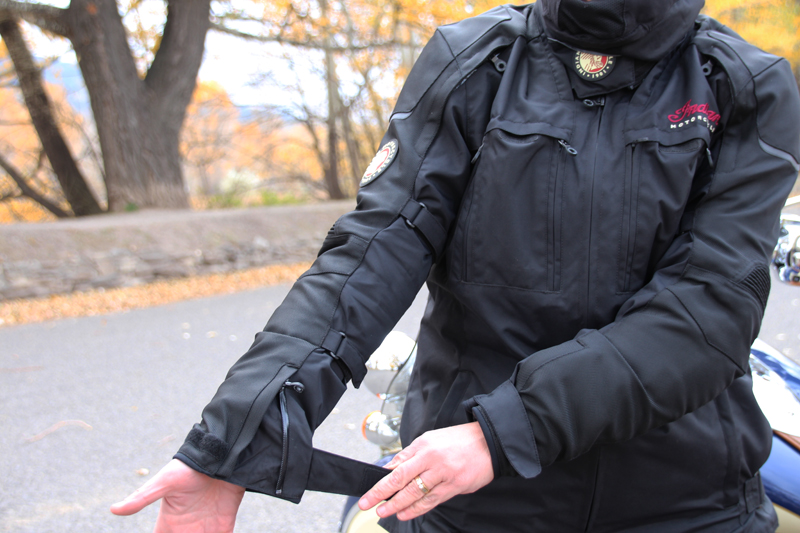 Securing the wrist area to accommodate your gloves can be a challenge depending on what kind of glove you are wearing. With light riding gloves there are no issues as you have the ability to Velcro the wrists tight. When you're wearing gauntlet gloves things get a bit difficult. The cuffs do not spread wide enough to go over the gloves and with all the layers I'm wearing, it's difficult to get the cuff of the glove over the top of the sleeve.
I ride with Indian branded winter gauntlet gloves and after pulling them on and off several times I finally figured out an easy way for me to get the gloves to secure around my wrists. This is an ongoing issue with many jackets. reviewing a leather Harley-Davidson jacket for Women Riders Now.
Keep at it, and you'll figure out a way to get a gauntlet style glove to fit under or over the sleeve.
Elbow and shoulder armor come installed in the jacket. The armor, made by Knox, is very pliable and light and is positioned in pockets built into the jacket. They can be easily taken out. If someone would like to add back armor, a pocket is provided but Indian does not offer or give direction on the purchase of back armor. I contacted my dealer, Indian Motorcycle Sturgis, and was told they did not offer it nor were they aware of where to buy the armor. In fact, they told me most customers ask for all the armor to be removed before they leave the store.
Since this armor doesn't constrict the jacket, adds no real additional weight and no limitation to any of my movements, I plan to keep the armor in place and hope I never have to depend on it. I like that it offers me a little security in vulnerable areas.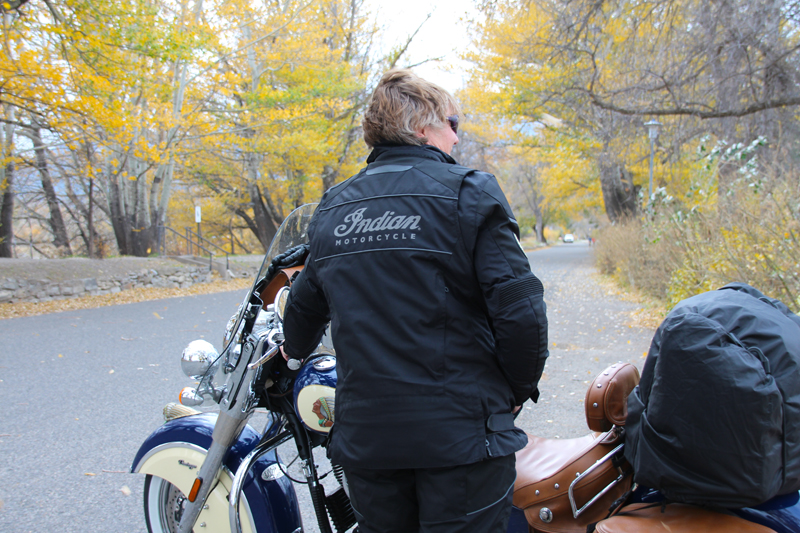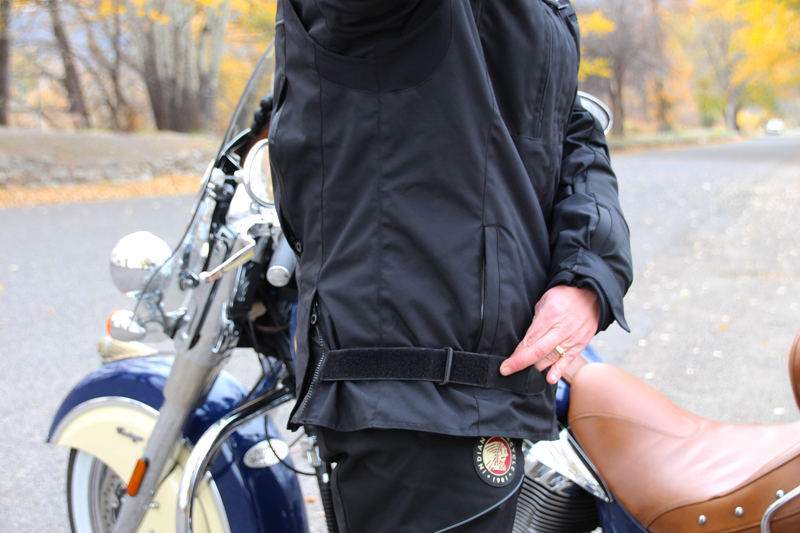 Brand recognition is done well on the jacket. The right arm has the classic Indian head logo in a medallion form placed on a rubber material patch. The back has "Indian Motorcycle" in a reflective gray silk screen. All zippers are custom with "Indian Motorcycle 1901" printed on the pulls.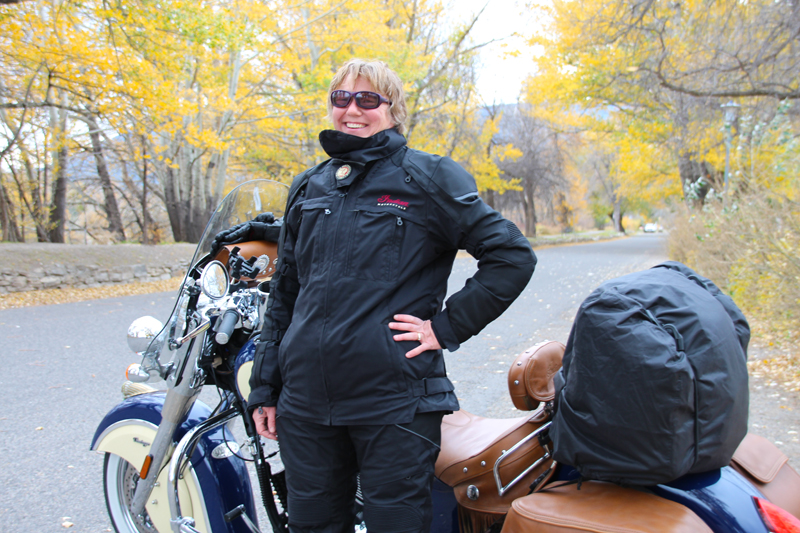 I was well satisfied with the amount of reflectivity on this black jacket. The edge of each shoulder has reflective gray piping. The front has a small stripe on the Storm collar. The back has the Indian name large in all reflective letters along with reflective piping above and below the name. A thicker stripe of reflection material is below the collar.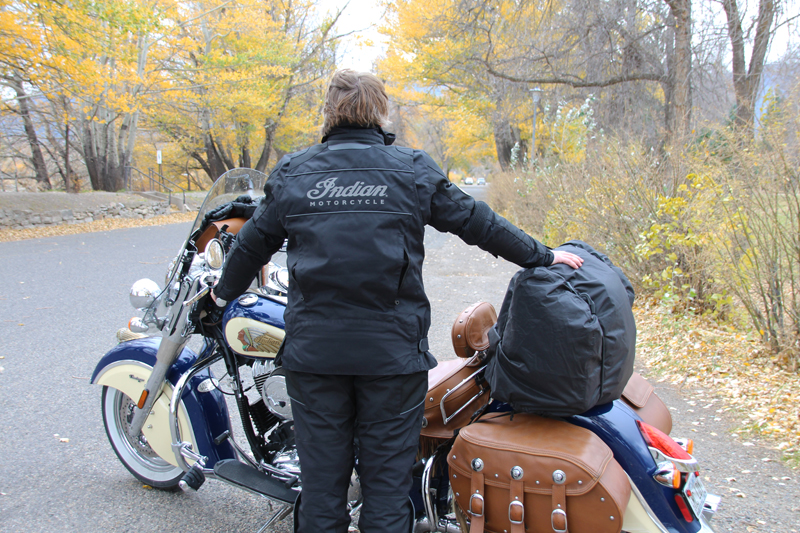 Women's Indian Motorcycle Tour Pants
A $229.99 price tag would have my father flipping in his grave. (Know that he had an issue with spending more than $15 on a pair of jeans.) But again, at presstime, Indian's website is offering a deeply discounted clearance price of $92. The quality of the pants, plus the included knee armor— and being completely waterproof—explains the original retail price.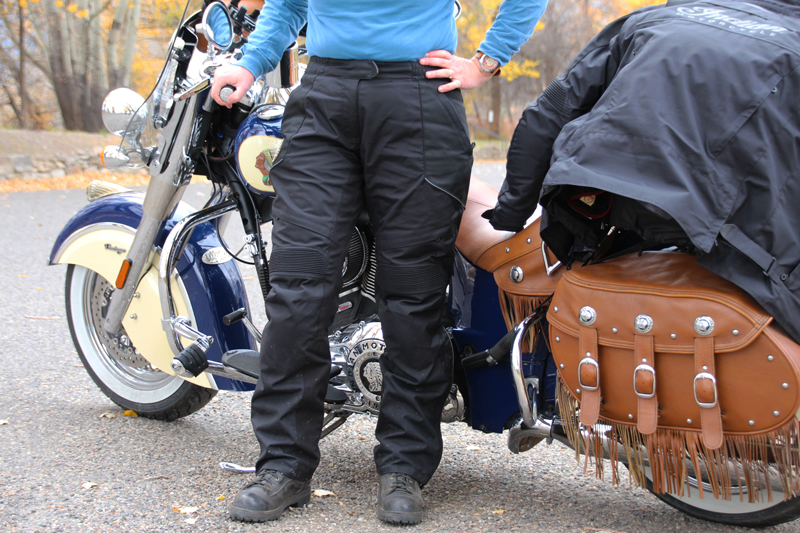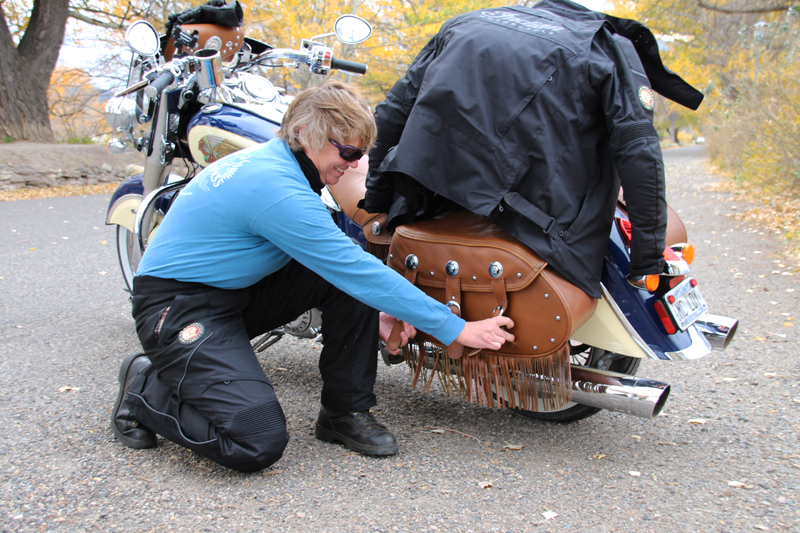 Armor pockets are sewn in the hip area to add armor there, but again my dealer didn't offer it. Knox brand is located in the UK, with only a UK website. I found it difficult to figure out what size I would need and there is no option to pay in US dollars. That said, the Knox representative I emailed back and forth with was eager to help offering suggestions should I desire additional armor.
The waist secures with a zipper fly and two heavy duty hook fasteners. A pull-tab lets you easily unhook the fasteners. Vents above the knees allow a breeze on the thighs when riding. A couple of pockets on either side of the front of the pants pockets let you stash cash or keys there, and the waterproof zippers ensure nothing gets wet.
To me, the overall fit of the pants is more stylish without appearing to be bulky like a snowsuit. I appreciate features like the heat resistant inseam panel at the hem that reduces the chance of burning or melting your pant material.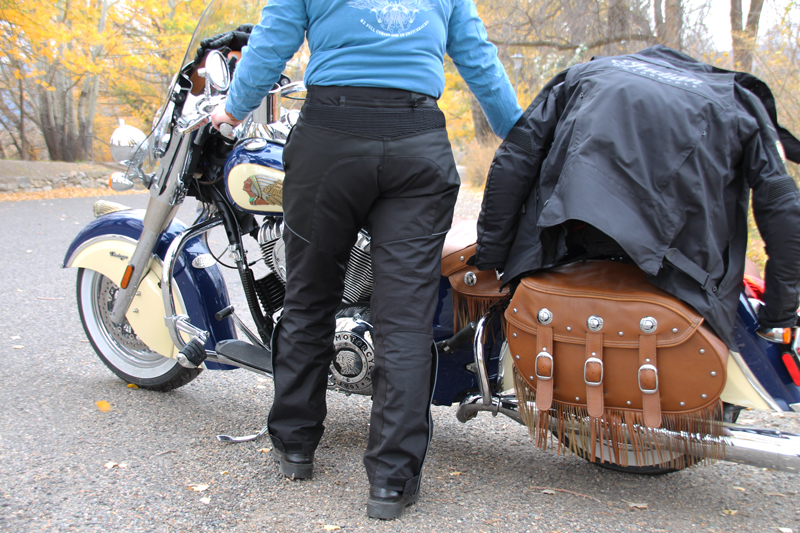 For more security, the jacket attaches to the pants with a zipper at the waist. I found the jacket to be long enough that I felt no breeze go up my back. Personally I don't see myself using the zipper attachment feature as I need to go to the bathroom often so having a onesie on doesn't work for me.
This is my first time wearing "riding pants." Before this outfit, I've always ridden in jeans and chaps, so this was a new experience of trial and error. I tried wearing the Tour pants over jeans on a day that started in the high 30s and ended with temps over 80 degrees. I got hot to say the least! This is not a fault of Indian but more my ignorance on the best way to utilize these pants. With jeans underneath it was difficult for me slip the pants off easily because the lower legs don't flare out enough when unzipped to pull over my boots. So I was in the parking lot removing my boots to take off the pants—and it was quite the scene.
So I changed my tactics next time and put on a cold weather layer underneath the Tour pants, like long johns. No jeans. I was plenty warm in the cold (20 degrees going through West Yellowstone) and appreciate the extra room in the legs. The buttock of these pants has no grip so I found myself sliding on my motorcycle's seat. I have a backrest so my sliding was at a minimum, but those who travel without a backrest may not enjoy the feeling. This could be an area of improvement for an updated version of the pants. Antimicrobial odor control fabric sewn in the crotch area eliminates odor build up there. And there's plenty of reflectivity, just like on the jacket.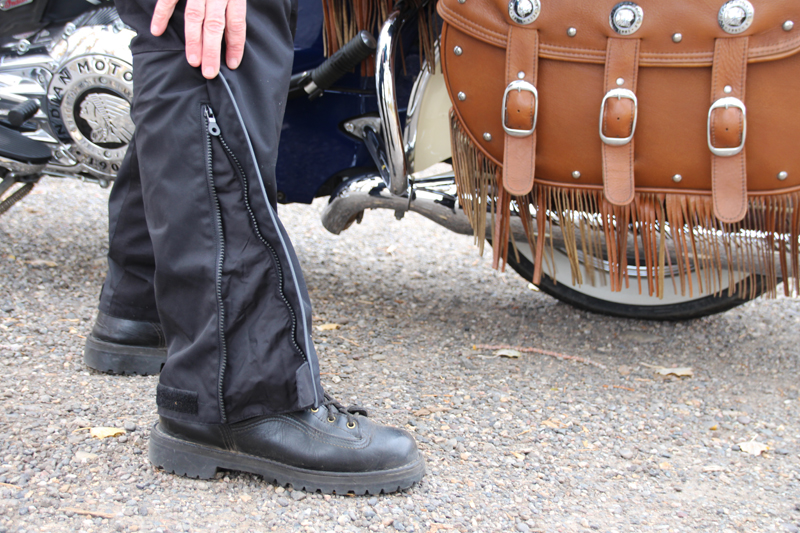 I enjoyed stepping up my gear choices from leather, jeans, and chaps to an outfit more suitable to my type of all weather riding. And since I'm passionate about the Indian Motorcycle brand, I appreciate that Indian offers a touring outfit cut for women. Jacket sizes range from XS to XXXL, and 1W to 3W, with 3W equaling a 54.7-inch chest according to Indian's sizing chart.
Sizes for the pants range from XS to XXXL, with the XXXL equating to a 39.8-inch waist and a 34.6-inch inseam, according to Indian's sizing chart. I'm wearing an XL in both the jacket and pants and found them to be true to size.
To order from Indian Motorcycle's website, click here for the jacket. And, click here for the pants.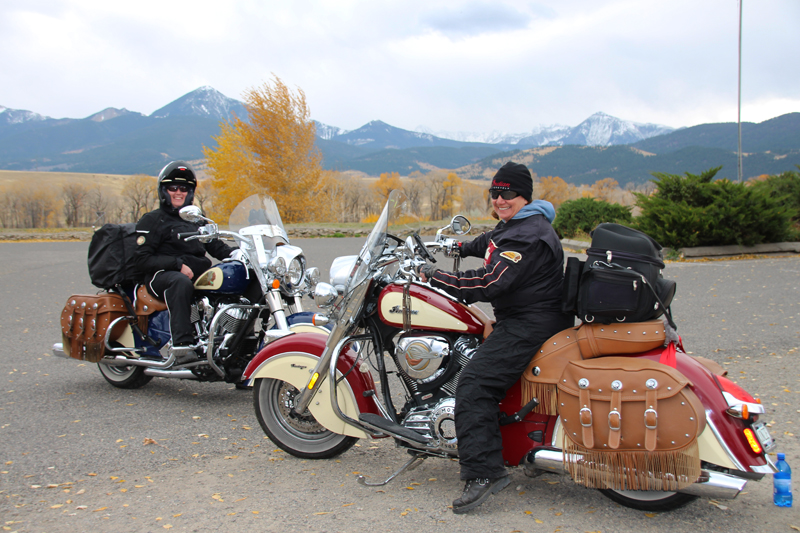 Related Articles
Review: Affordable Technical 4-Season Riding Suit
Review: Dianese Gore-Tex Jacket and Pants Riding Outfit