Ive been riding a motorcycle for 20 years and in all that time Im usually wearing Levi jeans. I was introduced to Biker Premium Jeans earlier this spring, jeans made specifically for riding. Margaret Meyer, a rider with her husband, Bruce, came up with the idea for motorcycle specific jeans ones that "give" and are comfortable instead of binding on the legs when sitting in a saddle all day.
Margaret set out to design and manufacture these jeans in the U.S. No easy feat if youve ever shopped for jeans. No matter what the label says, from basic Levis and Wranglers to high-end True Religion and MEK brands all jeans fit differently. And I know, as I own a pair of each of the aformentioned.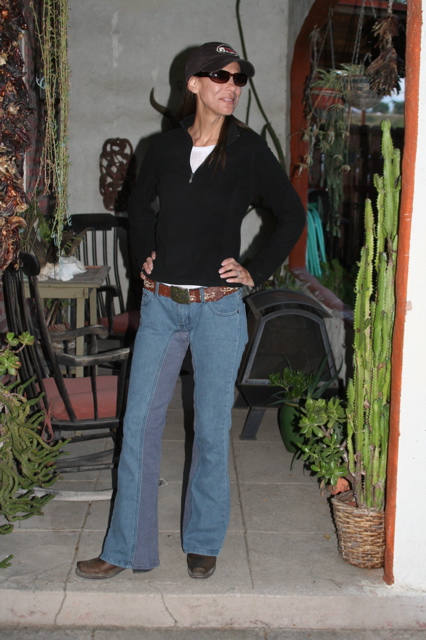 When I told Margaret Im a size 4 with a 32-inch inseam I was expecting the jeans she sent me would not fit well because sizing is so hard to dial in, especially for a first time manufacturer like Biker Premium. To my surprise, the jeans she sent fit great. I do need to cinch the waist with a belt but I have to do that with all my jeans because I have a skinny waist relative to my hips. Sizing goes up to size 12 with the option of three inseams 30, 32, and 34 inches. I was excited the Biker Premium jeans fit me like an expensive pair of jeans and they should because they are expensive $150! But dont let that stop you from exploring them if youre a connoisseur of jeans like me. For one thing, theyre on sale for $120.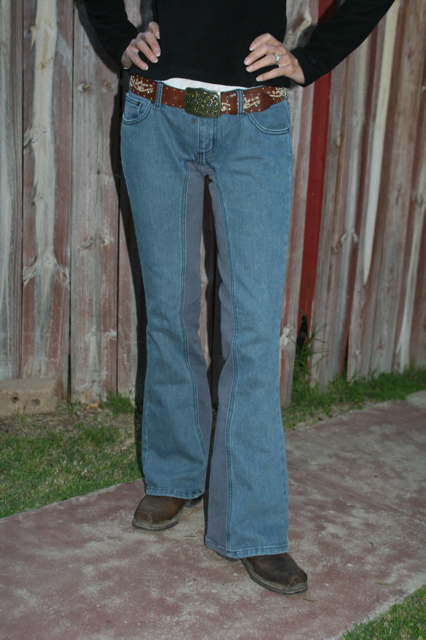 Biker Premium jeans are very comfortable for wearing on the motorcycle because of the stretch panel inside the legs thats the key to these jeans. When you sit in the saddle, the jeans give. Sure you can wear loose pants while riding a motorcycle if you want comfort but those arent as flattering as a nice-fitting pair of jeans, and secondly, loose fitting means theyll flap in the wind when riding.
Biker Premium jeans are meant to function for riding while not sacrificing style. Id say the jeans accomplish some of this. They fit slim throughout the leg but are not confining because of that stretch comfort panel. The jeans are offered in a flared cut at the bottom, stylish for sure, but not functional for riding a motorcycle. The lower part of the pant legs flapped around in the wind and rode up my boot while riding. I think a boot cut should be offered for those concerned with this.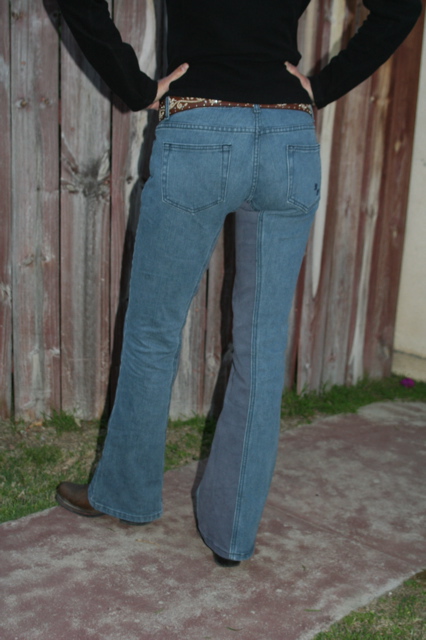 A couple of more notes about the fit: the only "rise" thats offered currently is a low rise, and these are low mine measured 6 inches from the crotch to the top of the waistband. The downside is when you sit on the motorcycle, if youre not wearing a long shirt that tucks in, your lower back is exposed because the jeans are so low. Margaret and Bruce of Biker Premium are aware of this so theyre currently working on the design of a higher rise jean available soon.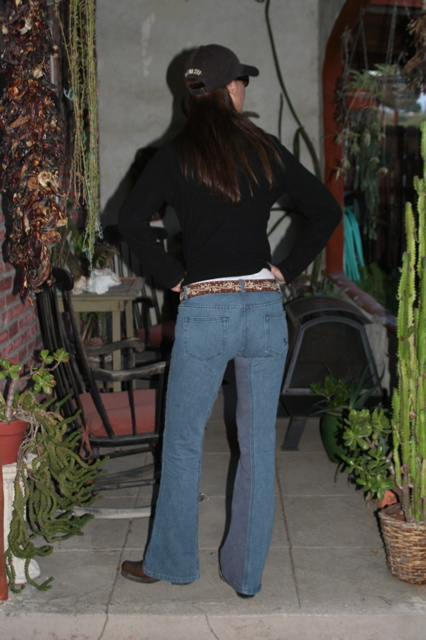 To their credit, Im quite impressed with the attention to detail of these jeans. Part of why the price is on the "premium" side is because a) the jeans are made at a factory in the United States as opposed to overseas like most jeans are made, and b) Margaret and Bruce make sure quality is top notch, like an expensive pair of jeans should be. The seams are stitched well and the jeans didnt shrink after washing them. Youll find the traditional five pockets along with a button and zipper opening.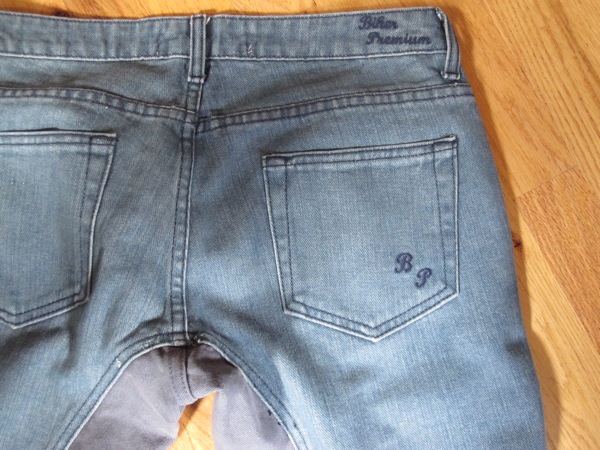 The stretch panels come in a variety of colors and biker-inspired designs. I went conservative and ordered the blue, but black, orange, purple and red are some of the other colors offered. I got a lot of compliments wearing these jeans as I felt they flattered my figure isnt that what you want jeans to do?
Biker Premium is offering denim jackets soon with stretch panels to match the jeans. Visit their Web site at BikerPremium.com to see a prototype of the jacket and to order the jeans. Even if youre not interested in ordering, check out the site anyway as the models look a lot better with the jeans on than I do.
Related Articles:
Product News: New Designs in Denim Riding Jeans