Want to share your story? Click here to find out how.
I am a flatbed truck driver. I ride a 2002 Harley-Davidson Road King that I bought from my brother and put 16,000 miles on in the first 13 months I had it. I have only been riding on my own for less than two years.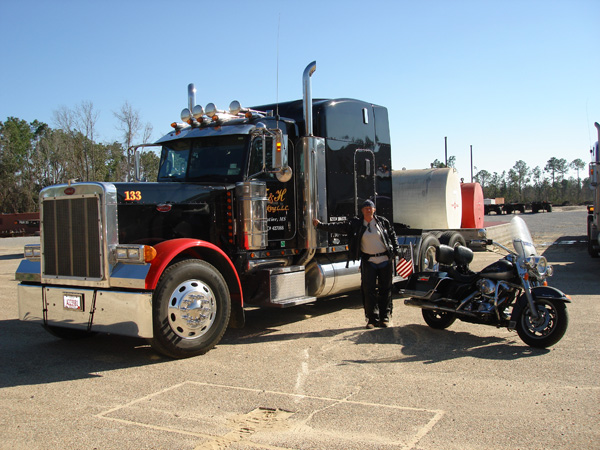 Last November I fell from the top of a loaded flatbed, 7 feet in the air, head first. I shattered both my wrists, broke my nose and took 10 stitches in three places on my face. I had pins and external fixators on both my wrists for 10 weeks and lost all strength and flexibility on both. The doctor said that she doubted that I would be able to return to work untill this coming November, if then. She also said that she doesnt know if I will be able to continue pulling a flatbed because of the physical nature of the job. I may have to go back to pulling a box.
After a few weeks of occupational therapy, I would go out once a week and try to pull the clutch handle back. My Road King has a cable clutch and it is stiff. I figured that when I could pull it back and it did not hurt, I could ride. At the beginning of March, my doctor told me that I could not get back on my bike yet because my bones were still not healed. I had a non-union in the radial bones of both wrists. She put me on bone stimulators and that it is helping. But I still couldnt pull the clutch back without pain.
Being off my bike for four months was driving me crazy, so I did some research and found a clutch assist. It fits right on the bar, under the mirror and takes about 10 minutes to install. Now I can pull my clutch back with ease. But I was scared of getting back on the bike. What if something happened and I went down. My doctor has told me over and over that I have to wear my braces any time I am not sitting down on the couch. She says that if I fall and re-fracture my wrists, I will never go back to work. So I waited another month, used my stimulators and then took a test run.
I rode down my street and back. Then I rode to my occupational therapy sessions. Last week, we had a Patriot Guard mission about an hour away from where I live and I rode to it. I was a bit sore by the time I got home, but it was great to get back on the bike and have a ride in the country on my way to Biloxi, Mississippi.
All my friends are concerned with my riding from the Mississippi Gulf Coast to Sturgis this year; many have told me to trailer my bike. I feel that if I cant ride it there, then I should just stay home! I have a trip planned on my bike for the end of June to Arizona, California, Texas, and Arizona with my dad and brother. That will take us three weeks to do. I will be home for two weeks and then head to Sturgis. If I have to add a day or two because I have to do less miles, then that is what I will do just so I can ride my bike there.
Never allow a road block to keep you from that which makes you whole. That is what riding does for me. I am a woman of the road, weather on 18 wheels or on two wheels, that is where you will find me and that is where I find my peace.
Sturgis Update:
Making Sturgis was a bit bitter sweet. It took me five days (1800 miles the way I went) to get there this year, instead of four like last year. My wrists were so sore from the riding, cold and rain that I was only able to ride my own bike a couple of days and rode behind one of my friends most days. Then by the time I was ready to leave on Sunday, my dad was afraid that I was doing damage to my wrists trying to ride my bike the 1600 miles back home. He hooked up a trailer and met me between Sturgis, South Dakota and Lucedale, Mississippi, two days later. Putting my bike on a trailer broke my heart. I have always had the code that if I couldnt ride it, then I didnt need to go. It really sucks to have your body give out on you; but with good friends and family I was able to make it to Sturgis this year.
Want to share your story? Click here to find out how.
Related Articles
Reader Review: Harley-Davidson Road King