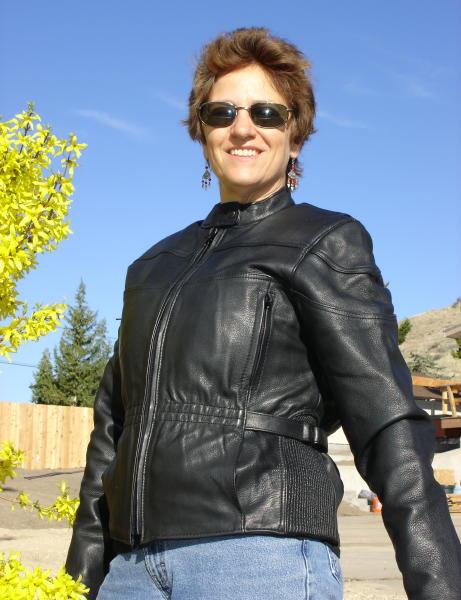 With its nipped-in waist, the new vented touring jacket from Fox Creek Leather fits like a dressy glove. I wore it on my first ride of the year and felt positively stylish, plus I received many compliments from fellow riders.
I was struck by three things about this jacket during the ride. First, it doesnt have elastic around the sleeves and I expected wind to sneak in at the wrist and make my arms cold. But the sleeves are snug and are a perfect length for me. They extend just beyond my wrist, allowing gloves to slide under the sleeve ends. The result: No air at all up my arms.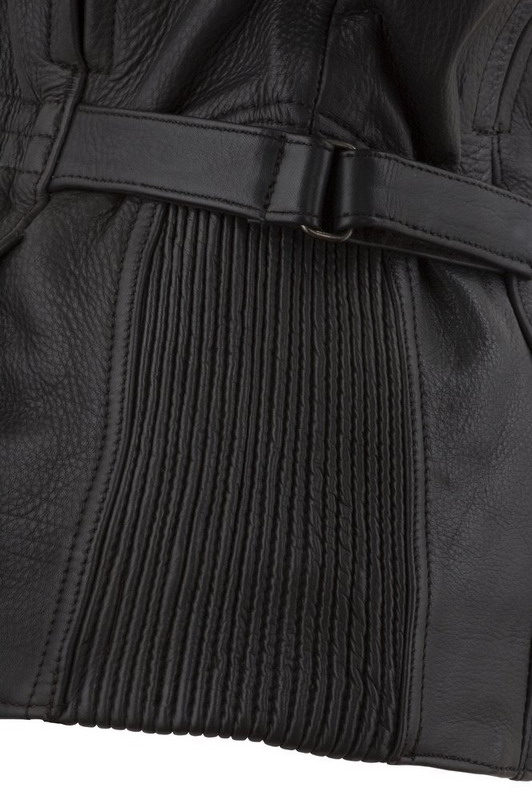 Second, Im a size 12, so I ordered a large sized jacket based on my measurements and the jacket specs. When the garment arrived, I debated returning it for an XL because with the liner zipped in, I had little room for layering underneath (normally, I wear several layers under my riding jackets).
But the Large was the right size for me. I wore one layer under the liner and stayed warm during my ride on a sunny March day. Remarkably because of the snug fit, the jacket didnt pinch, pull or constrict me in any way when I was on my bike. Instead, the two expandable joints in the seam behind my shoulders went into action and gave me all the extra room I needed when my arms were outstretched to the handle grips.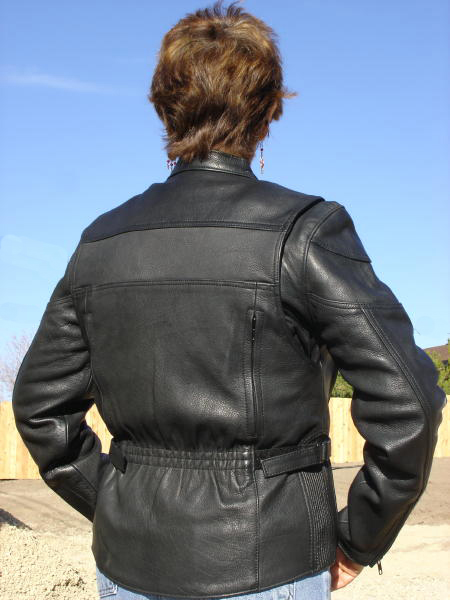 In fact, I cant remember when Ive felt so comfortable in a motorcycle jacket. Ive been part of the armored textile clothing crowd since I started riding. Those jackets offer protection from the elements but arent particularly flattering to the figure – male or female! Plus, theres always something about clothing made of ballistic nylon that bothers me, like a Velcro closing which keeps opening or a collar that scratches my chin. Not so with the Fox Creek garment. Essentially, its tough enough for riding and chic and comfortable enough to wear to dinner.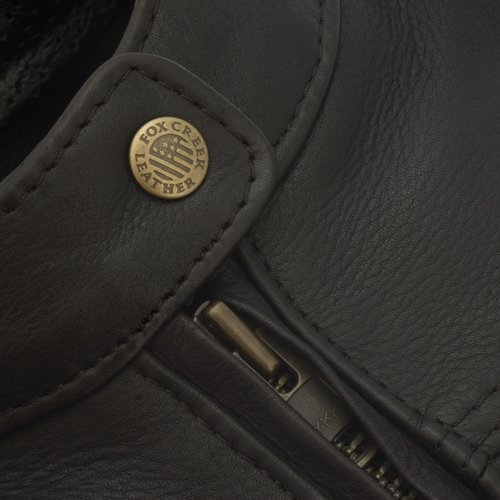 Now for some specifics. The jackets sturdy black front zipper and vent zippers are hidden in the leather. ThereÕs no hardware except for small black buckles on the adjustable waist straps. This gives the coat its minimalist styling. I ride dual-sports and the occasional cruiser, so this sleek look works better for me than black leather jackets with belts, wide notched collars, plus lots of hardware and fringe. For me, this style is more figure-flattering than some of the boxier styles.
Jacket leather doesnt come much softer. This naked (untreated) cowhide is supple but thick enough for protection and durability (a 2.5- to 3-ounce weight, which means about 3/64th of an inch thick). It lacks armor at the elbows or shoulders for extra protection. However, the leather seems thick and strong enough to save my skin in a fall.
The company advises initially treating the jacket with conditioning and waterproofing lotions to seal the leather and make it water resistant. This should also be done periodically to make it last.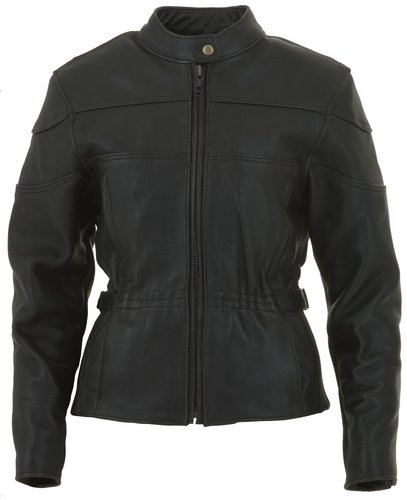 The mandarin style collar has one heavy duty snap. I like to dress up the neckline and protect my neck by wearing a scarf with it. The jacket tapers in and has a few inches of gathered elastic at the waist plus half belts that can be adjusted for a more form-fitting look. Two front pockets below the waist and two front zippered air vents in the chest panels are hidden in the seams, which contribute to the smooth line. Two zippered air vents in back allow for flow-through ventilation on warm days. Zips on the sleeves also can be opened for more ventilation.
Since the front outside pockets have no zip closures, I wouldnt stash anything important in them while riding. Fortunately, two large secure inner pockets, one with a zip closure and one with a sturdy snap, can hold money, credit cards, eyeglasses or other valuables. I tend to stuff my jacket pockets like a chipmunk, but refrained with this garment to preserve its good looks!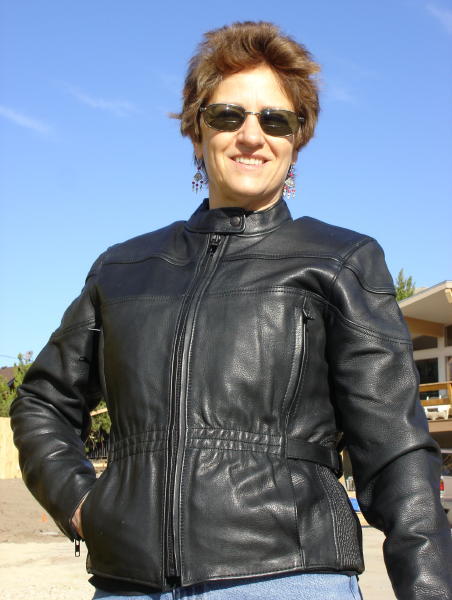 The Thinsulate liner can be zipped out on warmer days. Beneath that, theres a comfortable mesh inner liner, which feels soft.
The Fox Creek Leather vented touring jacket has a lifetime guarantee and is made in the U.S.A. We feel its a good product that fills a niche in the black leather motorcycle jacket market. With care, it will likely last many years. Available in black, sizes S-3XL. MSRP: $319.00.
For more information, visit FoxCreekLeather.com.