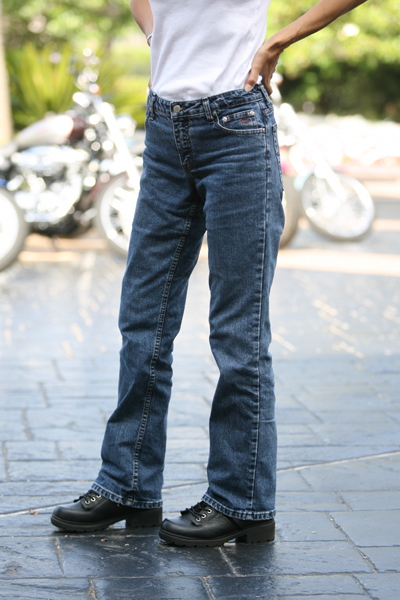 Im pretty particular when it comes to jeans. I think all women are. If they fit right, jeans can enhance ones figure. If they fit wrong, they can take away from a figure. I was pretty skeptical when I first tried on Harley-Davidsons Boot Cut Jeans for women. I remember trying on a pair of Biker Blues, as they were called, in the mid-90s the Motor Companys first attempt at designing blue jeans. The cut and fit were all off.
Fast forward to the now and Harley has a good thing going in its new line of blue jeans. The Boot Cut Jeans fit a lot like the very popular boot cut 501 Levis, except the H-D jeans have a zipper and button closure versus the 501s trademark five-button closure. The H-D jeans are made of 97 percent cotton with the rest being Lycra to make the otherwise thick, sturdy jeans more pliable. The fit is slimming through the waist, but roomy in the butt and legs.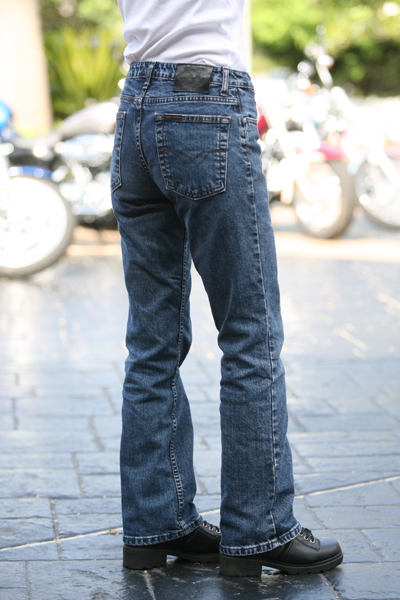 The jeans sit right below the waist, which I like. Jeans that sit too low at the waist allow air to breeze up your back when riding. A big plus with these jeans is the wide range of sizes from 2 to 24! They also come in three inseam lengths: regular 32 inches; long 34 inches; and petite 29 inches. Im wearing a size 4 regular in the photos. Colors are black and dark indigo (blue). MSRP: $49. Visit Harley-Davidson.com for more information.