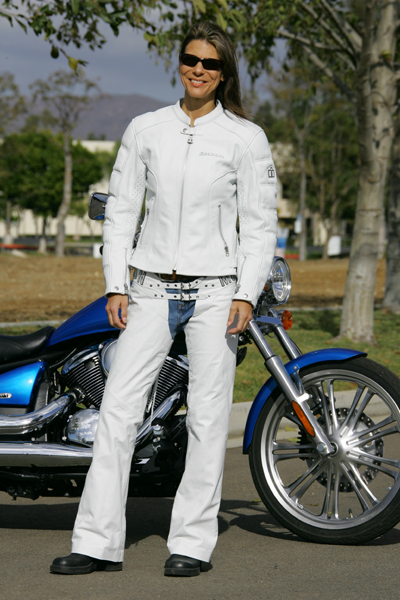 Theyre not your ordinary pair of chaps, but then ICON doesnt do anything ordinary. Bombshell. Thats the name ICON slapped on these cool looking chaps, a matching leather jacket, leather pants, and a pair of boots. I tested the chaps. WRN Product Editor Teri Conrad tested the boots. Her review will be posted in a couple of weeks.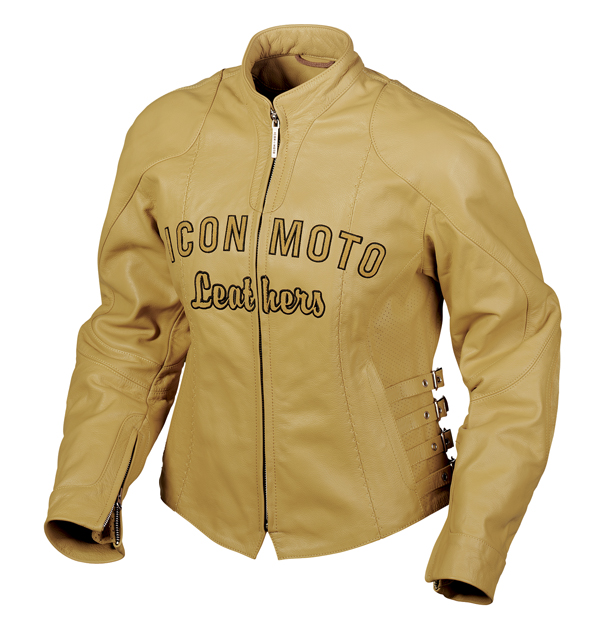 The Bombshell chaps from ICON more than live up to their over-the-top name because I not only feel like a bombshell wearing them, I get bombshell style attention when I do — probably because theyre eye-catching in white. They also come in pale pink, tan, and black. The chaps are made of a thin 1.0-1.2mm premium grade leather so theyre pretty lightweight, but that makes them easy and comfortable to wear. They're not your usual thick cowhide pair of chaps. The buckles, zippers and snaps are all top notch and sturdy…and there's plenty of each making these chaps a bit of a chore to get into and out of, but then no one ever said it was easy to look like a bombshell.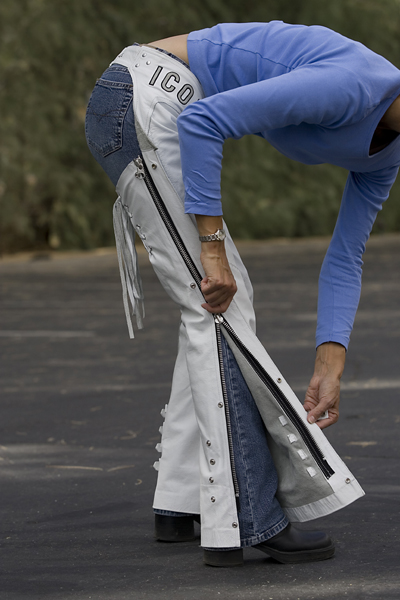 Two small buckles in the front and one in the back allow for maximum waist adjustability. The leg zippers open from the top and bottom if you want to unzip the bottom part of the legs for any reason. Three snaps over the length of the leg zipper secure the zipper flap. Four more snaps disguised as buckles secure the bottom of each leg. The buckles are purely for style, but you have to snap each and every snap or else the flap will flap around in the wind. There are a total of seven snaps on each leg, fourteen between two legs that must be snapped when wearing these chaps. If youre more concerned with slipping in and out of your chaps quickly then these are not for you. On the other hand, if you care about style and looks, the Bombshell chaps won't let you down, as the snaps and buckles add to the flashy style of these leather leg warmers.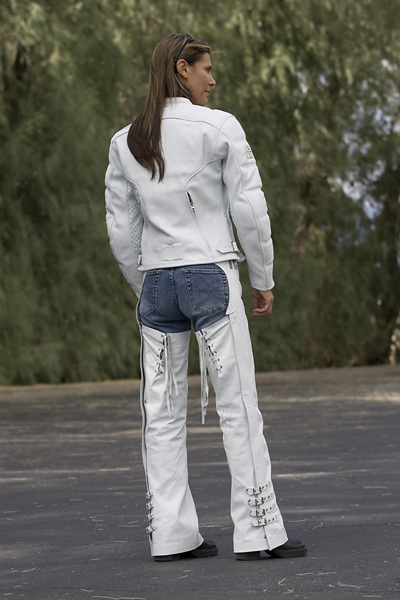 More style comes in the form of laces up the back of the thigh allowing the wearer to loosen for fit, as well as adding to the sexy rear view. Not a brand to be subtle, the words ICON MOTO are stitched along the waistband. Speaking of stitching, the white thread appears to be of good quality and sturdy.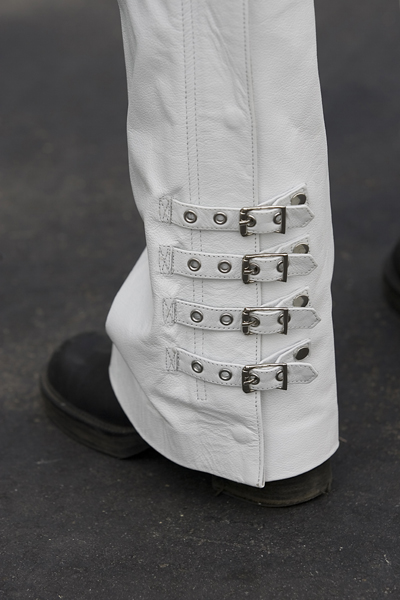 There is a hem at the bottom of the chaps that taller wearers can take out to gain an extra inch in the leg length. I would have preferred a raw un-hemmed edge to these stylish chaps. I love the look of un-hemmed leather on pants or chaps. However, as you can see in the photos, the hemmed length was fine for my 30-inch inseam.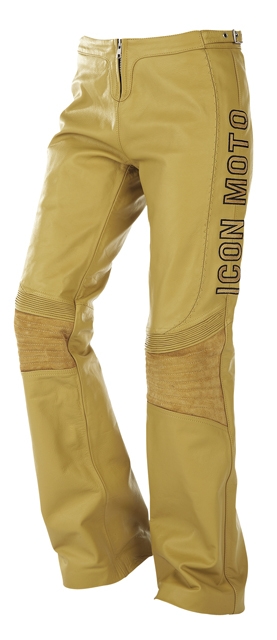 These are the most stylish mass-produced chaps I've seen to date. To get this hot, edgy style, one would have to get a custom pair of chaps made. My only concern is the leather is on the lighter weight side, so they may not be enough to keep me warm on very cold rides, but they will add a layer of protection. Ill have a lot of fun wearing them even when the weather doesnt call for chaps. MSRP: $260. Visit RideIcon.com.
REVIEW: ICON Pursuit Gloves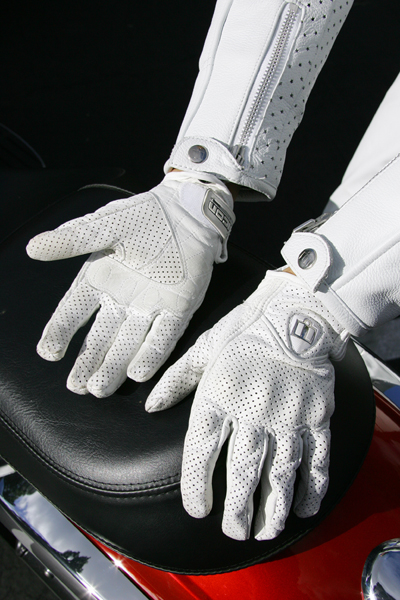 I tested a matching pair of womens ICON white gloves called Pursuit made of soft perforated sheepskin. The perf feature means they're definitely meant for summer riding. I got caught wearing them on a very chilly evening and my hands were cold. The palm has a reinforced layer of goatskin with double stitching. The fingers are pre-curved which makes them conform to your hands' riding position more quickly than if they were not pre-curved. Plus, theres no bunching up of leather in the palm or finger area when you buy gloves with a pre-curved cut. This is a good thing because gripping handgrips with bunched-up leather over a period of time can lead to calluses.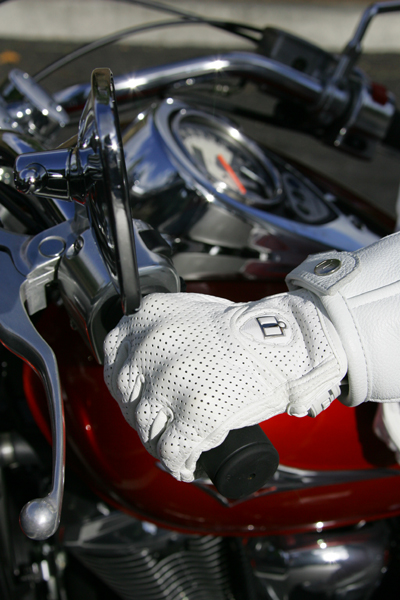 The knuckles are protected with a layer of armor that's soft enough for you to barely tell its there. The Pursuit gloves are a shorty style ending just at the edge of your hand. Theres a rubber tab that secures the wrist area. Overall, these make for a nice summer riding glove. My only concern is the sizing. I normally wear a woman's medium gloves. The Pursuit in large was still too small for me, but I wore them anyway to at least test them out. They don't come in extra large. Take that into consideration when selecting your pair. Available colors are white, pink and black. MSRP: $50. RideIcon.com.
Support WRN by buying from our preferred womens motorcyle gear retailer.