After the success of the film "Long Way Round" Ewan McGregor and Charley Boorman will venture off for "Long Way Down," this time travelling through Europe and Africa.
In 2004 they decided to ride around the world on their BMW R 1200 GS Adventure motorcycles. From London to New York, they were accompanied by a camera crew recording unique impressions for the road movie "Long Way Round."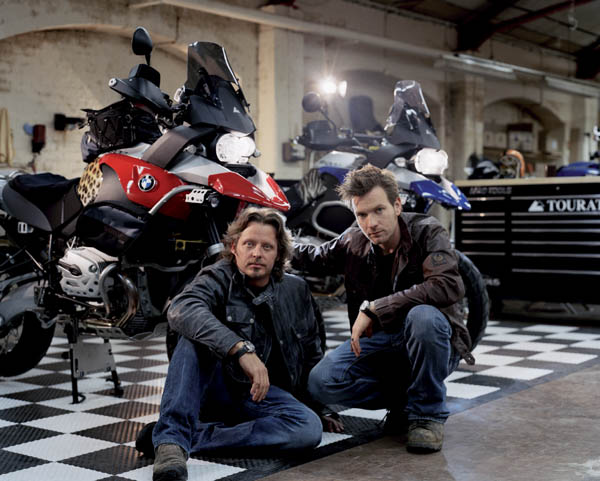 In May 2007 the iconic motorcycle adventure rides again. Their 15,000-mile journey on two BMW R 1200 GS Adventure motorcycles starts at John O#8217;Groats, Scotland, and finishes at the most southern point of South Africa #8211; Cape Agulhas. The tour will cover 20 countries including Libya, the Sudan, Ethiopia, Uganda, Rwanda, Tanzania, Botswana and the wilds of the Namibian Skeleton coast.
Ewan and Charley have carefully planned their route to visit those countries and several UNICEF sites which they feel will provide inspiration and power to themselves and others. "I cant imagine not ever thinking about some adventure," said Ewan. Long Way Round changed us all; it bonded us all together and made our dreams come true #8211; and it#8217;s not often something like that happens. Long Way Down is something you can not only daydream about, but actually do."
Regarding his exploits in the "Race To Dakar" last year, Charley has been eager to return to Africa and see more of this amazing continent. "A few weeks after Long Way Round, we had maps out already for the next big world journey #8211; and Africa seemed like the obvious choice."
"Long Way Down" is being produced and directed by Russ Malkin of Big Earth, and David Alexanian of Elixir Films who have witnessed and documented Ewan and Charleys previous "Long Way Round" and "Race To Dakar" adventures. Ewan and Charley will be supporting UNICEF, CHAS, and Riders for Health on their travels and the LongWayDown.com Web site will keep fans updated with all the latest information on the trip, including the opportunity to view unreleased footage and pre-order copies of the book and DVD. The "Long Way Down" television series will be shown on the BBC in autumn/winter 2007.