The Rattler "Buck Ten" is the name of a new scooter from Genuine Scooter Company available this July. It features a powerful 110cc 2-stroke, the only 50-state legal 2-stroke available thats larger than 100cc.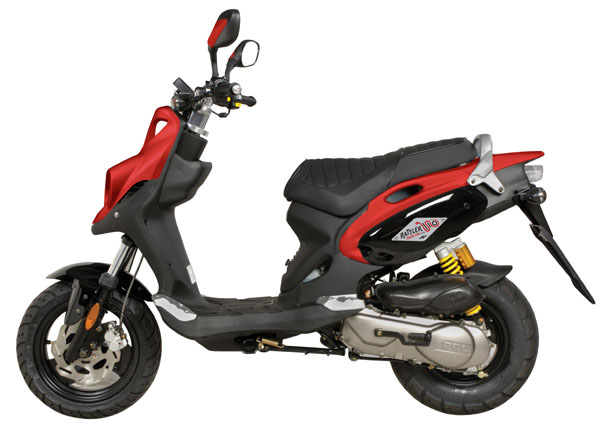 Like its little brother, the Rattler 50, the Buck-Ten features a gas charged rear shock, dual piston front disk brake with "wave" rotor, LED taillight, digital dash, twin halogen headlamps, and a motocross inspired handlebar with billet-type triple clamp and crossbar. The Rattlers chassis is track proven in several prestigious European scooter racing championships. "While many modern scooters trick you with performance-inspired looks, the Rattler features upgraded hardware to actually deliver performance," said Philip McCaleb, Genuine Scooter Co. president.
Thinking that too much of a good thing is perfect, Genuine more than doubled the engine capacity for 2007. The end result is a scooter with the nimble handling of a 50 and the speed and acceleration of a typical 150 reaching top speeds near 60mph. "The best part is that the 110 has that 2-stroke punch when you crack the throttle open," McCaleb said. "It reminds you of the days before increased emissions requirements made most manufacturers switch to four stroke."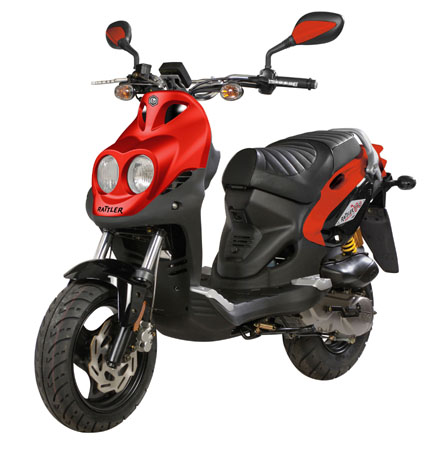 The Rattler Buck-Ten has an MSRP of $2,599 and comes in Black/Silver and Black/Red color schemes. It has a 2-year unlimited mileage warranty and comes with one year of free roadside assistance. For more information visit, GenuineScooters.com.