Want to share your story? Click here to find out how.
I wish this story had a happy ending like so many others I read on here. This is where I look for encouragement. I, like many readers here, told my husband when he prepared to purchase his Harley-Davidson that I, too, wanted a Harley. In other words, dont expect me to ride on the back. The thought of back seat riding leaves me with a strong desire to stay home. The day of our Harley-Davidson purchases came and went. He loves his 2006 Dyna Low and I my 2006 1200L Sportster. I am 5 feet 4 inches and weigh 135 pounds. I took the Motorcycle Safety Course, beginner and advanced, and have logged more than 20,000 miles in three years. During this time I even managed to have shoulder surgery and a turned ankle.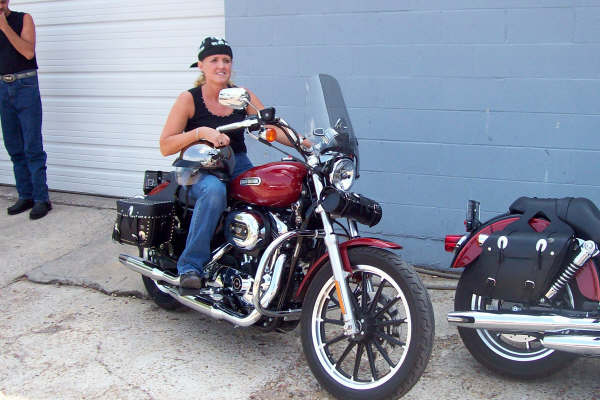 We have burned up the highways from Key West, Florida, to the Blue Ridge Parkway, to the Great River Road as far north as Quincy, Illinois. Traveling with no reservations, a fully charged camera and an eagle eye for the next Waffle House, weve thoroughly enjoyed a new lifestyle. Our children being grown and totally dependent on themselves has allowed us to experience to the wide open road on our new bikes.
My problem is, I have dropped my bike a few times at very slow speeds. It weighs 500 pounds and when it starts to go, its gone! I have read that if I build up my upper body strength I would have better control. I dont know that this is true for I have seen and heard of very strong men dropping their motorcycles. Their upper body strength could not keep that 500- to 750-pound bike from the force of gravity. I have also heard that my Sportster is top heavy and maybe I could lower it to have better control at slow speeds. And of course there is always practice, practice, practice.
Unfortunately, on our last trip to Blue Ridge, Georgia, I followed my husband through a stop sign with a roll. He didnt see the black SUV but I did. By instinct I turned my bike to the right but going only two or three miles an hour, down I went. Normally this would have been a small spill and I would have picked up my bike and gone on down the road. Unfortunately there was a curb to my right and my arm landed palm down with 500 pounds following! After that my crash bar kicked in. Only it was a little too late. My wrist was broken and almost three months later Im still sporting a plastic white removable cast removable so I can do my therapy and take showers.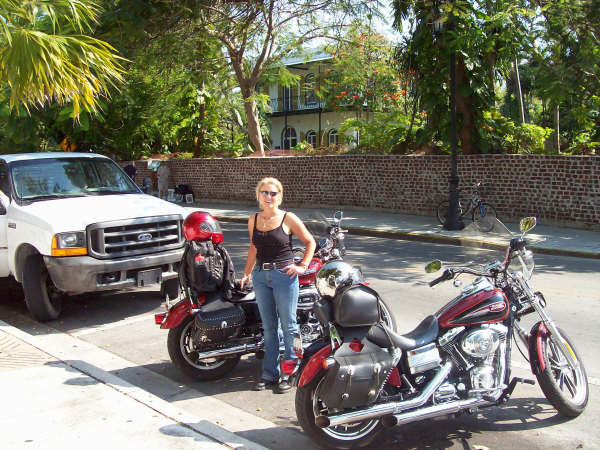 I am not afraid to ride again but I do have a strong concern for my precious little arm. It likes to play the piano, type and write letters among many other things. My husband is concerned that spring will arrive and I wont ride. His first suggestion was to make my Sportster a three wheeler. After I balked at that he suggested lowering the bike. At this time I cant ride anything but spring is coming and I will heal. So Ill keep reading and searching for answers. Meanwhile, keep those letters coming, you never know when your story maybe just what someone else needs to hear.
Want to share your story? Click here to find out how.
Related Articles:
UPDATED WITH VIDEO: Bike Lift Technique
One Way to Avoid Dropping Your Bike
A Jack that Lifts a Downed Bike