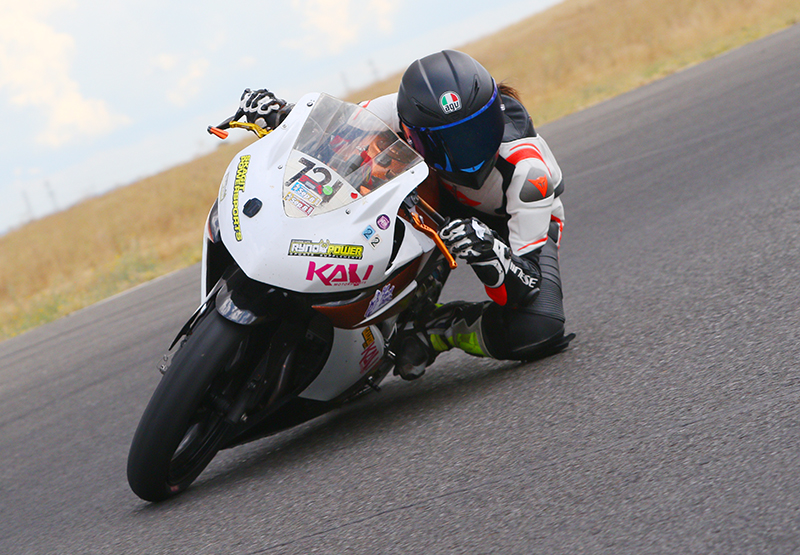 Many people ask me how I got started in road racing. They ask, "Was your dad a racer? Did you grow up around racing or was a sibling or other family member a road racer?" I believe they often ask these questions because I am a female in a male-dominated sport, and it has historically been unusual to see a female road racing.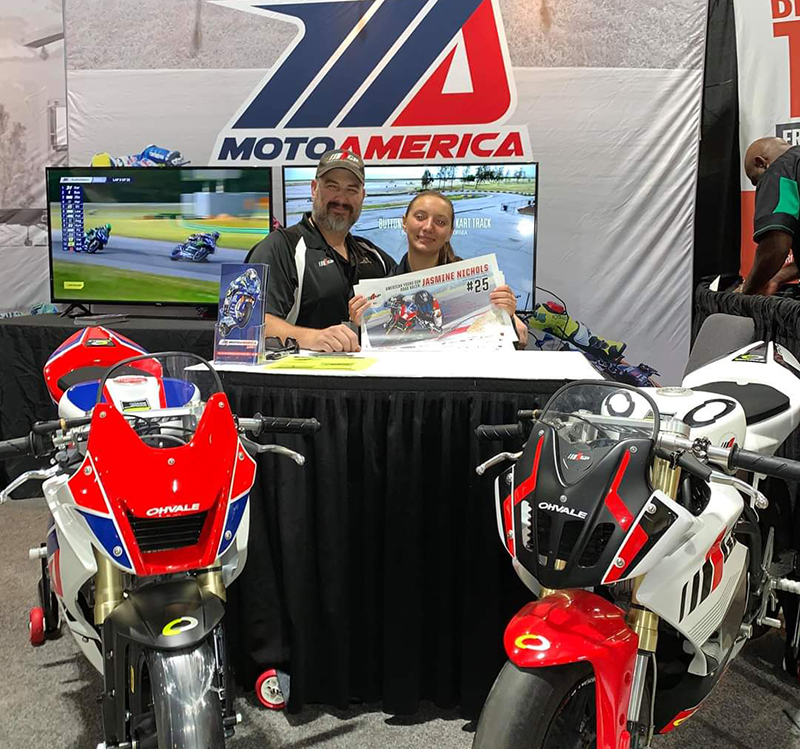 In October 2016, at the age of 10, I was drawing (my first passion) at the kitchen table when my dad called me over to watch a video a buddy of his had emailed to him showing kids racing pocket bikes in Europe. I watched the whole video and instantly fell in love with the thought of being one of those kids ripping around the track. I told my dad I wanted to do what those kids in the video were doing. He kind of chuckled and said, "Yeah, ok."
I told him I was dead serious—it looked like fun! I always loved riding on the back of Dad's bike, especially on his BMW S 1000 RR. Dad said he'd talk to Mom about it, and that was the last I heard. I continued to bring the subject up to him, and each time he would tell me that he and Mom were "discussing it."
Two months later, Mom and Dad finally agreed to let me race motorcycles. Unbeknownst to me my dad had been doing research for a race bike. He showed me a picture of a Kayo MR125R—a 125 four-stroke, GP-specific Chinese knockoff of the Honda NSF100, which was expensive and being raced by youth in Europe. Finding one listed for sale nearby, we went to the seller's house to check it out. As soon as I saw it my heart started beating a mile a minute, and I was completely ecstatic inside. Unfortunately, we couldn't take it home—my parents didn't have the money to purchase it that day. So I had to wait. Christmas came and went and no bike. Finally, on January 7th (my 11th birthday), my dad woke me up early and off we went to that seller's house. My parents had saved up enough money, and that day I got my very first motorcycle!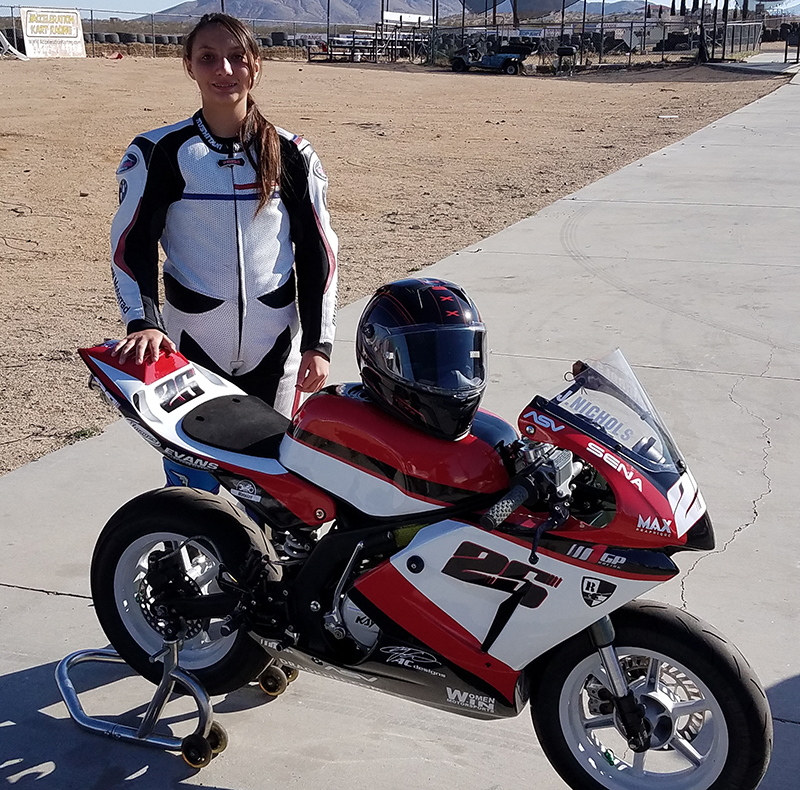 Dad didnt let me start riding it right away. He made me sit on the bike and taught me where all the controls were located and how each one functions and how it affects what the bike does. He worked with me, teaching me how to engage the clutch in the friction zone, and I'd go a few feet and then he'd back me up again.
On January 21st, he let me drop the bike into first gear and off I went—out the driveway and into the street. My Lord, I was free! Since we lived on a court, my dad had me do ovals and weaves in first and second gear, while practicing starting and stopping. Once I got the hang of maneuvering the bike, we went to the high school parking lot and worked more on turning and moving up and down through 3rd, 4th, and 5th gears. I got to experience how the higher speeds and maneuvering scared me, so Dad had to continually encourage me to push past those walls of fear.
Over the next several weeks my dad took me to the kart track so I could put in real track time. This was even more nerve racking as my confidence level was not that high yet, and I had to deal with boys and grown men doing fly-bys at fast speeds, spooking me and even sending me into the weeds a few times. However, thanks to my dad's constant encouragement I muddled through it and slowly gained more and more confidence.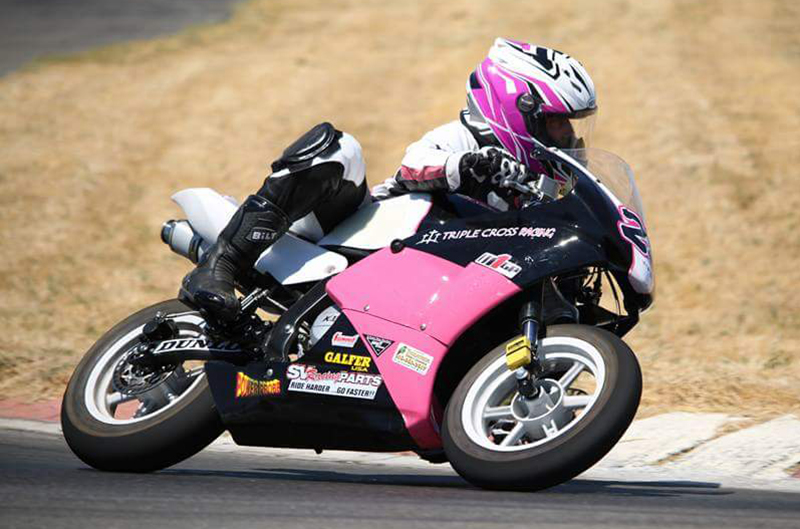 The Kayo Cup, my first actual race series began at the end of March 2017. Of course, it was me and a group of boys that had been riding for a few years. My first few races I got lapped over and over again. In a simple eight lap race I would be lapped three or four times. At one point, a father of one of the boys petitioned the race director to "get this girl off the track." Luckily, that race director was not supportive of the "all boys club" and told that father to stuff it.
That May, my dad learned about the American Mini Motorcycle Road Racing Association's M1GP which offers rider training and championship sprint and endurance races. In May of 2017, I went to my first M1GP Rider Clinic. By the end of the weekend I was able to drag my knee and get around the track, more or less, proficiently. We then continued to alternately race the Kayo Cup and come back to M1GP Rider Clinics, where owner Young Lee trained me. By the end of the 2017 season the boys I was racing against couldnt lap me at all. I continued to work with Young Lee in the off-season.
When the 2018 season began in the spring, my race bike had a new look, I had new leathers, and now I was running at the front of the pack. It was hard and even my dad was learning along the way. He had to seek help about bike issues and learn how to keep my race bike adjusted and running right.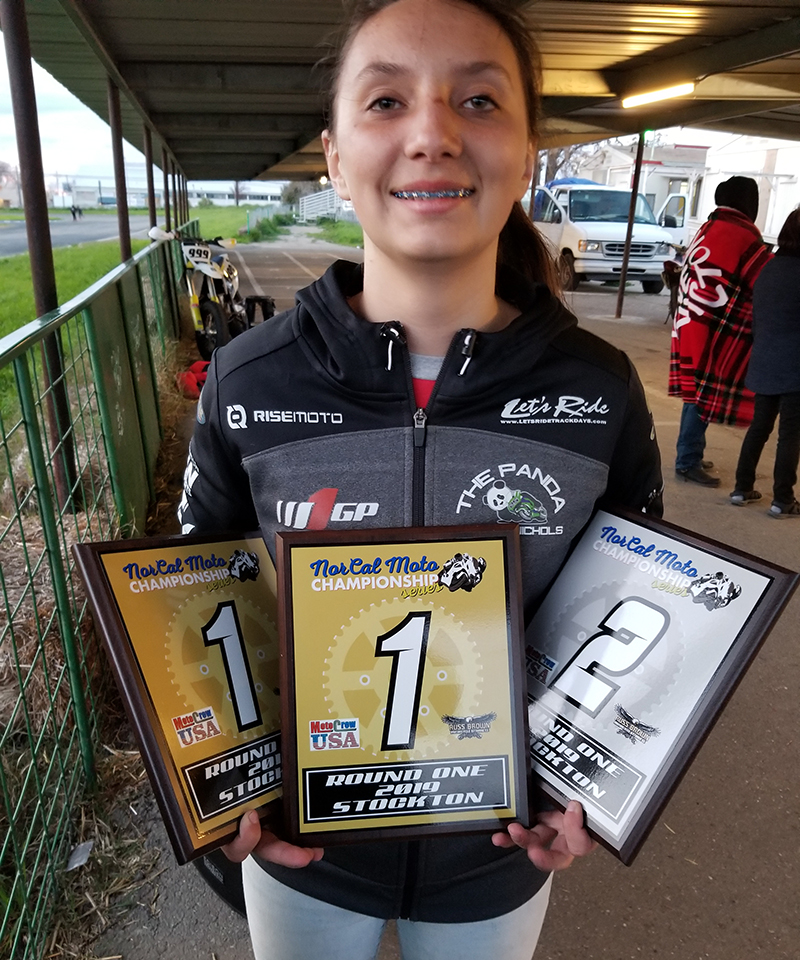 I continued to train with Young Lee and his M1GP program. In my opinion, it has been M1GP's training model and Young Lee's personal mentorship that has helped me grow as a racer and a person in a sport I love.
Over the 2018-2019 winter break I again spent time at the track with Young and continued to work on my race craft. During the 2019 season, I was earning podium after podium against the same boys that three seasons ago were lapping me again and again. I had switched race bikes to the new Ohvale GP-0 160 and the Kayo was retired to the garage. In August of 2019, I raced in my first national cup race for the national title and placed 9th overall.
In October 2019, I was privileged to be among hundreds of other women riders at the Babes Ride Out event where I was able to teach women with the same instruction that I had benefited from three years earlier.
In November 2019, I was invited to be a youth road racing representative for MotoAmerica at the Long Beach International Motorcycle Show. I signed autographs with my biggest supporter (Dad!) by my side, and worked to gain public support for the 2020 MotoAmerica season, which is offering a 3-round youth race series. Though many MotoAmerica races have been postponed due to Covid19, I'll be racing in this series while at the same time transitioning to full size tracks and full size race bikes. The MotoAmerica 2020 Mini Cup, which is the new feeder series for the Jr. Cup is still on the schedule.
Follow Jasmine at her web site here.
Related Articles
Learning to Ride and Immediately Racing the Bonneville Salt Flats
13-Year Old Racer on the Fast Track
How to Choose a Race Bike
Girls in Leather on Fast Motorcycles