Want to share your story?Find out how.
Every year I like to do a solo ride, but in February 2011 I slipped on the ice and broke my leg and ankle courtesy of the cruel Wisconsin winter. In July of that year, two surgeries later, my orthopedic surgeon finally gave me the all-clear to ride again. My husband and I took our Harley-Davidsons on the ferry across Lake Michigan (quite the ordeal) and then headed for Staunton, Va., and the start of the Blue Ridge Parkway. We spent two days enjoying the full length of the parkway and then did the Tail of the Dragon—four times. We even had a black bear run out in front of us. It was a great workout for my ankle, and I decided I would definitely be doing a solo ride that year after all.
So for Labor Day weekend, my 2009
Harley-Davidson Heritage Softail
(named Harald) and I set out on a ride that would take us through Minnesota and into Canada. We headed up through Wisconsin and continued north toward International Falls, Minn. A fellow biker had recommended I take the scenic, twisty road through the Bois Forte Indian Reservation and Koochiching State Forest up to Pelland, Minn. Good advice, even though it was a lonely stretch of road. I then followed the Rainy River, which forms the
border with Canada
, and had to take shelter from a bad storm in Williams, where I sipped a cup of organic green tea and chatted with the mayor and other locals. With my British accent, alone on my Harley, I was quite the attraction in that little town.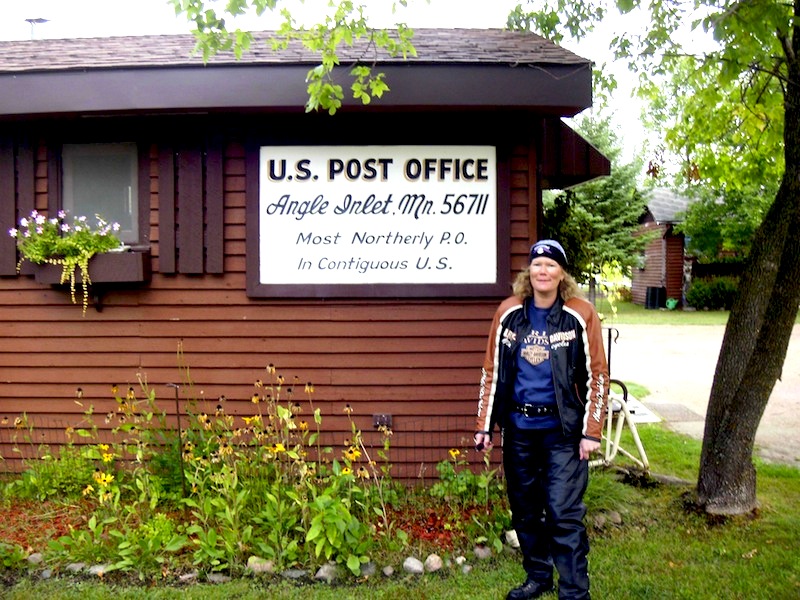 I stayed in the town of Warroad overnight, and at 6:30 the next morning I braved the fog and 36 degree weather and headed north into Manitoba, Canada. I traveled northwest through the Red Lake Indian Reservation, and at some point my narrow, paved road turned into a badly maintained gravel road. Little did I know I would have to endure this for another 25 miles. I crossed the unmanned border between Canada and the United States and was back in Minnesota again, but this time I was totally surrounded by Canadian territory. I stopped to use the phone at Jim's Corner (a little shack at a little intersection) to report my arrival to US immigration, then continued on the gravel road to the small town of Angle Inlet. There I found a tiny post office and parked Harald next to it so I could get a photo of him with the sign proclaiming that this was the northern-mostpost office in the contiguous United States.
Chilled to the bone and stiff and sore from the challenging road (and knowing I had to go back the same way!), I was relieved to see a local walking around carrying a cup of coffee. When I asked him where I could get a hot coffee nearby, he replied, "There isn't anywhere." Instead, he invited me to follow him down yet another gravel road to his house, where his wife was preparing breakfast. For some reason I didn't think twice about that, and before I knew it, there I was drinking hot coffee and eating breakfast with Romelle and Larry in their heated summer cabin (which also happened to be Angle Inlet's former ice house). We exchanged stories and addresses, and I left with their local newspaper tucked under my arm. Larry had also given me a map on which hed highlighted the best roads to take in the local area.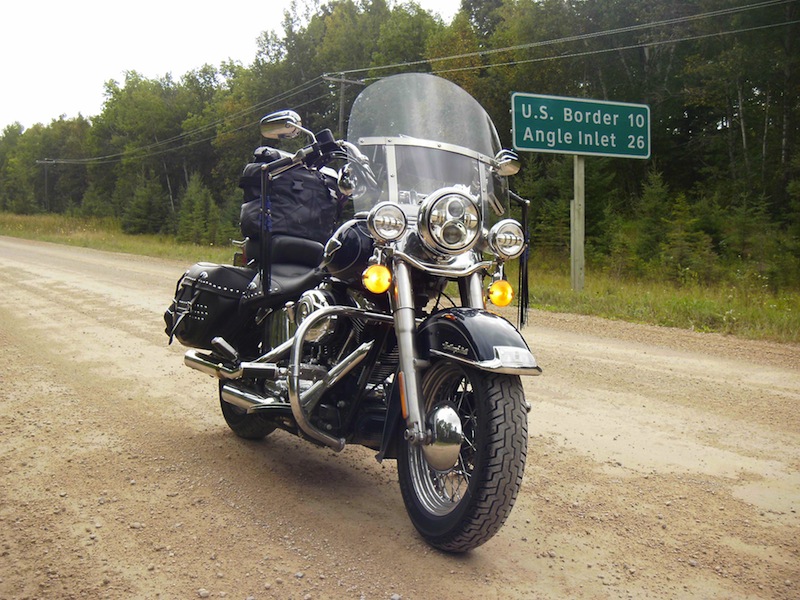 My next destination was the headwaters of the great Mississippi River in Itasca State Park. Just before I reached the park, I drove over the river and did a double take. Because I live in Wisconsin, Im used to seeing a very wide Mississippi River, but here it was no more than a dribble! Once in the park I joined hundreds of other people and walked down to the headwaters, gingerly walking the 10 or so steps across the first little bridge that spanned the river. Unfortunately Harald could not get that close, so he had to make do having his photo taken next to the sign marking the start of the Great River Road.
By the time I returned home I had clocked almost 12,000 miles in two and a half months. And to think, thanks to my fall, I hadnt expected to ride at all that year!