Want to share your story? Find out how.
While I was growing up in suburban New Jersey, no one in my family rode motorcycles or had any desire to know about them. My father was interested in aircraft, so he got his pilot's license. My family was fortunate enough to be whisked away many weekends to travel somewhere in our plane: Canada for Canadian bacon, Block Island (off the coast of Rhode Island), Amish country in Pennsylvania, and many other fantastic places.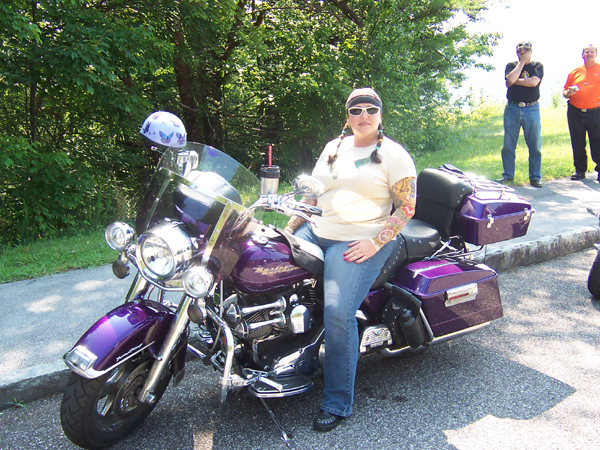 However, I knew from an early age that I loved motorcycles the sound, the look, the vision of freedom, and the dare-devil desire that it instilled in me. I started riding with the kids who had dirt bikes on my block when I was 5 years old and have loved it for 37 years. With encouragement from my family, friends, and new riding buddies I have ridden many different brands and many different types of motorcycles with many different clubs and organizations. I deeply support anyone who is interested in learning how to ride a motorcycle at any stage of their life because I know the immense positive impact it has had on my life.
I was the activities officer for Fort Lauderdale HOG (Harley Owners Group) for four years. It has a very large membership. To this day, I feel honored whenever someone asks me to help them learn how to ride, give tips on being a better rider, or am asked about maintenance issues. You are never, ever too old to learn!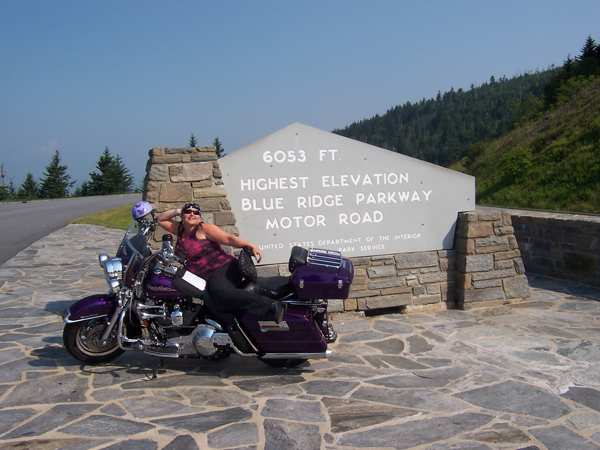 I started visiting Western North Carolina five years ago with Fort Lauderdale HOG a few times a year. I rode on my 2001 Harley-Davidson Road King (Stage II kit, radio, MP3, lots of chrome and most importantly a HD Sundowner seat). We would leave Fort Lauderdale at 6 a.m. and get to the Murphy, North Carolina, area at 6 p.m. We would ride a few days for eight hours a day and then back home. It wasnt something I ever thought Id be able to do, but I love being on the bike so much, it didnt matter how long the journey was. I just wanted more because I was hooked. After selling my awesome 1996 Harley-Davidson CVO Softail Springer so I would have some money, I moved to Western North Carolina last year from South Florida, and now I can call these mountains my new carving ground.
The last weekend in April 2009 was the first perfect weekend weather in months. It was time to ride. Unfortunately, my Road King was not feeling well and she was not able to go out, but I didnt want to miss out on all of the events happening within two hours of me like the Cherokee Survivors Motorcycle Rally in Cherokee, North Carolina, Thunder in the Smokies in Maggie Valley, North Carolina, and the Hayabusa Bash at the Deals Gap Tail of the Dragon.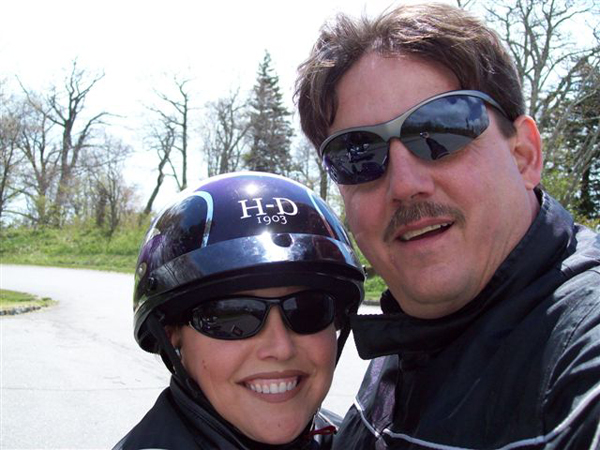 So, I called my friend Mike to ride on the back of his bike. Since it was he and a few other friends who are responsible for my mad mountain riding skills, I knew Id be safe on the back of his bike. Because I am a product of Mikes tutelage, he was shocked to hear that I would be willing to intentionally be a passenger on his Harley-Davidson Ultra Glide Classic. I asked him if he would ever be a passenger with someone who rides just what he does and he said, "No way!" But I was ready.
My last two memories of being on the back of a bike was being "fender candy" (yes, actually sitting on the fender with no pad) since thats the look apparently I was going for at 25 years old, or riding on the back of a (new at the time) 1998 Harley-Davidson Classic leisurely through Northern New Jersey towards Upstate New York.
Being a passenger is just as important as being a rider; your actions have consequences, so I knew I needed to just go with it and not freak out. We started out in Murphy, North Carolina, heading towards a benefit ride in Helen, Georgia, via the Richard B Russell Scenic Highway over Blood Mountain. Not only was the ride incredible, but also there was almost no other traffic. We then rode to Blue Ridge, Georgia, and then southeast to Suches, Georgia, on Route 60. Route 60 was just repaved last spring. Dont you just love the smell of fresh paved asphalt as you are trying to carve your tire pattern into it? Then, on the way home we stopped by the Two Wheels Only Motorcycle Resort and Copper Head Lodge.
In the beginning of our adventure at the first brief rest stop Mike asked how I was doing, all I could say was, "Are there any bugs in my teeth?" The entire time we were riding I was smiling from saddlebag to saddlebag. When I gave him the thumbs up to go all out, he didnt believe me, but we soon took off.
On the last leg of our ride, thats just what he did, go all out! The first few times the floorboards would scrap, I puckered a bit, but when he nailed a 4-inch road reflector/delineator with the kickstand, I puckered a lot. As terrifying as it was, I was so totally into it and the incredible adventure-park ride effect that it had. But, instead of only lasting three minutes it lasted six hours. Sounds like the same premise on why they invented Viagra!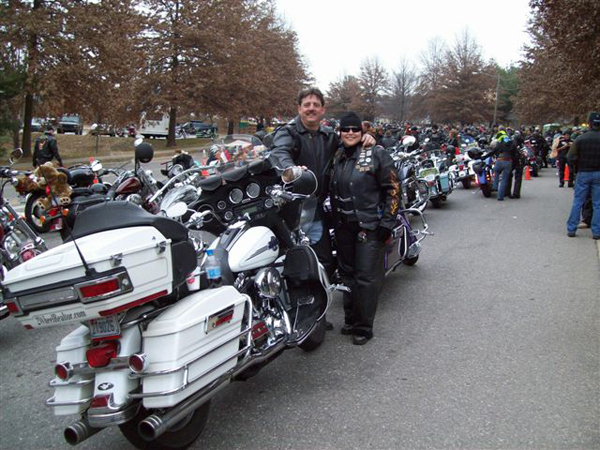 I suggest all of you go for a ride on the back of your friends bike and see how he or she sees the road, where he sets up his turns, how he scans the landscape. It is a fascinating lesson. You will be witness to people who know what they are doing and people who do not know what they are doing. We all need to share the information, always learn new ways on how to handle our machines and teach someone how to correct a bad habit. It makes us all happier and safer riders.
I need to invent a completely clear motorcycle helmet so all of the back seat riders can enjoy what we take for granted. The sightseeing I was able to do as a passenger was phenomenal. Because when I am in the riders seat, Im not looking at anything except the road in front of me, which is just as pretty.
Being in the wind, whether it is riding alone or with many friends, it is ultimately only you who can experience what the road has to offer. So dont waste another minute!
Want to share your story? Find out how.