Want to share your motorcycle or product review? Click here to find out how.
It isnt hard to find a pair of gloves to keep your hands warm for winter riding. I must have five pairs of them. But it is hard to find a pair that fit a womans hands properly and arent so bulky that you feel like youre wearing boxing gloves. Like many women, I have small hands, and most gloves are cut for a mans hands. Women have to buy size small or extra-small if theyre available. But even if you get a size small, the glove is usually too roomy across the palm, and the fingers are too wide and loose fitting. That usually leads to a blister or two from rubbing on a seam. Bulky gloves also make you lose all road-feel and feedback from the handlebars and grips, and if you have small hands, they make it more difficult to reach the brake and clutch levers comfortably.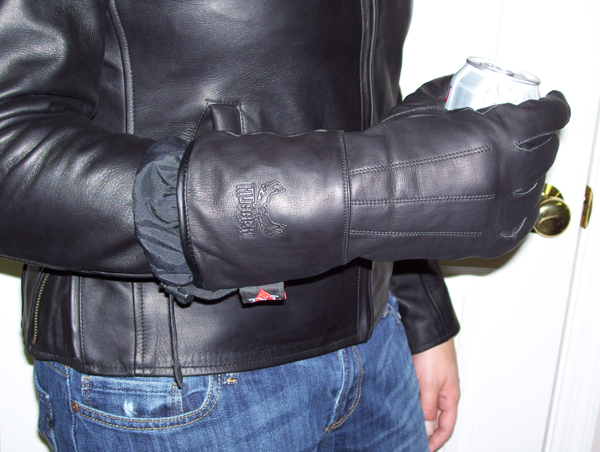 But Ive been riding with Huggers "Diane" Classic Gauntlet gloves this winter, and theyre great for riding in weather down to the freezing mark. Best of all, they are specifically designed for a womans hands, and they arent bulky. Actually, they allow me to maintain the feel almost as well as with an unlined summer glove.
The "Diane" Classic Gauntlet is made from premium butter-soft leather treated with Technaline, which makes the leather waterproof. However, I learned from talking to a really nice woman at the company that even though the leather is waterproof and wont allow water to soak in, water can still seep into the gloves through the needle holes of the seams. So Hugger uses a Wonder Dry lining that keeps the wet out and your hands warm, yet it still breathes so that your hands never get clammy inside the gloves.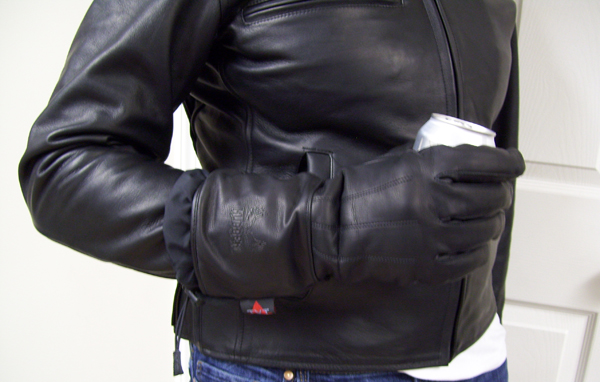 That all turned out to be true when I got caught in a cold rain (the temperature was about 45 degrees) a few weeks ago. I could see the water roll off the leather, and I dont know if it soaked in through the seams, but my hands stayed dry and warm. The glove also has a nylon extension from inside the glove that goes up the sleeve of your jacket and pulls tight with a drawstring and slide clasp to help keep the rain from running down your arm and into the glove.
With the leather being so soft, there is no break-in period; the gloves are ready to enjoy from the first time you put them on. Each glove has a wide gauntlet opening that will go over your jacket cuff to keep the wind out, and if it isnt raining, that nylon extension tucks in and stays hidden inside the glove.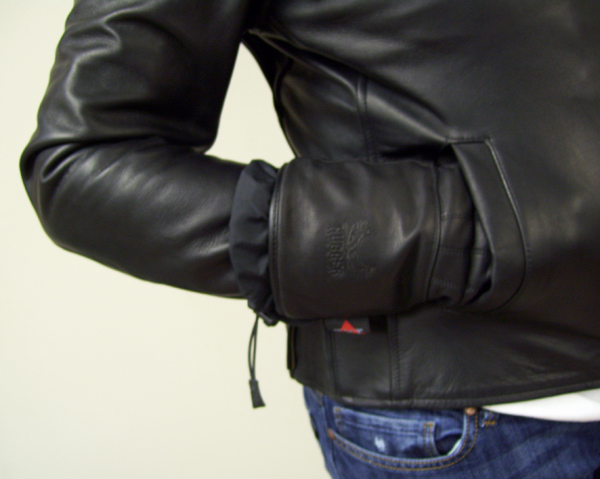 The fingers are cut narrower than on a mans glove, so they fit my fingers nicely. They are also cut slimmer across the palm, which is lightly padded, for a nice snug fit. The seams on the outside of the glove and inside the lining are so fine that my fingers didnt get irritated. And since the gloves arent bulky, you can easily keep them on to work the D-rings on your helmet, push the buttons on your GPS system or even pick up a quarter off a table.
The "Diane" Classic Gauntlet sells for $56, which I think is an excellent price for the quality. Ive seen a lot of other glove styles and weights from Hugger for spring and summer riding. I will be looking to buy a pair or two come spring. If theyre anything like this winter glove, I know Im going to like the way they fit my small hands.
You can buy Hugger gloves online, but I ordered them through my local dealer because they have a rewards program that gets me discounts after I spend a certain amount of money. Huggers Web site is HuggerGloves.com, and their phone number is 859.245.8445.
Want to share your motorcycle or product review? Click here to find out how.