A new traveling showcase dedicated to women motorcycle riders called The Vagabond Chopper Companys 2010 Chicks Rule amp; Boys Drool Tour continues its 12 city road trip with its next stop at Daytona Bike Week in in Florida from March February 26 to March 7. Bike builder Athena "Chickie" Ransom, owner of The Vagabond Chopper Company, came up with the idea for the rolling tribute to women bikers that offers a mix of on-site how-to seminars, fashion shows, book signings and special guest appearances with a feminine flare.

The tour officially kicked off during the 2009 Toys in the Sun Run with featured guests the Motor Maids, Leslie Kay of Leslie Kays Insurance, and Jeffrey Phipps of Jeffrey Phipps Custom Saddles. The Chicks Rule amp; Boys Drool Tour is a traveling display of what is available for women motorcycle riders, from clothing and parts to motorcycles styled with the woman rider in mind. The tour will feature Athena and her unique hand-crafted custom motorcycles as well as featured special guest appearances by an array of other unique women in the motorcycle industry.
Formulated specifically for women, it also gives men an opportunity to see "the other side" of a culture commonly associated with males. Validating the concept that women riders are more than just a "chick on the back" within the motorcycle industry, the tour also provides a forum for ladies to express their likes and dislikes in a setting that is not full of skulls, iron crosses and spikes.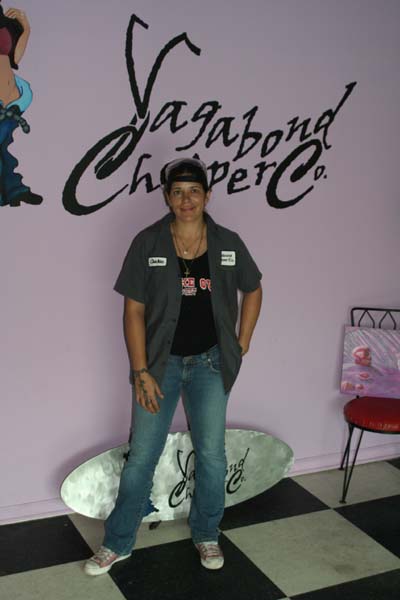 The tours 12 national event stops include the big national rallies like New Orleans Bike Week, the Sturgis Rally, and end at the 2010 South Florida Bikers Bash and Toys in the Sun Run. To see the tours full schedule, visit VagabondChoppers.com or ChicksRuleandBoysDroolTour.com to see the tours scheduled stops for 2010.
The Chicks Rule amp; Boys Drool wants to thank its sponsors for helping make this idea possible. They include: Mitchell Motorcycle Transport, BikerNet.com, Expose Yourself USA, Baker Drivetrain, Seminole Hard Rock Hotel amp; Casino, Ventura Salon Spa, Seminole Tribe Of Florida, JayBrake, Jeffrey Phipps Custom Saddles, Leslie Kays Insurance, Metzler Tire, BikerRogue.com, Gardner – Westcott Fastener Company, VavaVroom, Throttle Threads Shop Wear, Bikers Choice, AW Kustom Kolors, and Nitro Polishing.