Last week I returned from the annual powersports dealer trade show in Indianapolis where manufacturers show off all their new products. Lots of great things for women, cool new apparel and exciting trends emerging from the womens market. Ill be sharing the new products on our "Product News and Reviews" link in the coming weeks, and share more thoughts on the trends here in my Editors Thoughts.
Good News!
WRN is working with Cycletrader.com to help you shop for a motorcycle. You will find a direct link to Cycletrader.com on all our Motorcycle Reviews from now on, and in turn, CycleTrader.com is posting some of WRNs articles so visitors to that site can learn more about the womens motorcycling marketplace. This is just the beginning. We have more things planned to help you maximize your motorcycling knowledge and assist in the buying process. Be sure to check out Cycletrader.com and visit their Women Riders page.
By the way, I bought my first motorcycle back in 1990 after I found it in a Cycle Trader magazine I picked up at a convenience store near where I lived. Cycle Trader has been online for several years now and is one of the largest Internet classified services for buying new and used motorcycles. Im very proud to be associated with them.
Super G launches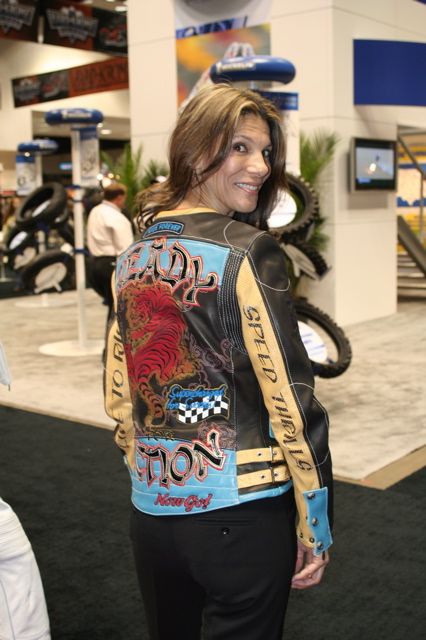 Many of you are familiar with Hein Gerickes new G Line of apparel launched last year. If youre not, just go to the home page of WRN and click on the ad in the middle of the page. Well, for 2007 Gs gone wild in the form of Super G, a new line of leather apparel thats steeped in attitude. Heres a shot of me wearing one of the jackets. Theres no armor or protection in them; Sarah Schilke, Gs representative, says the jacket is meant more for off the bike than on. Fairchild Sports which distributes G, is looking to sell the jackets in boutique stores and high end department stores. Still, she reports theres been a lot of interest from motorcycle dealers wanting to stock them. The very soft lambs leather jackets will be priced from $600 on up. Well share more on Super G in our Product News and Reviews page as details become available.