Residing opposite helmets on the riding gear spectrum comes boots. Not only must they battle elements while riding a motorcycle, they bear our load (literally) when off our bike as well.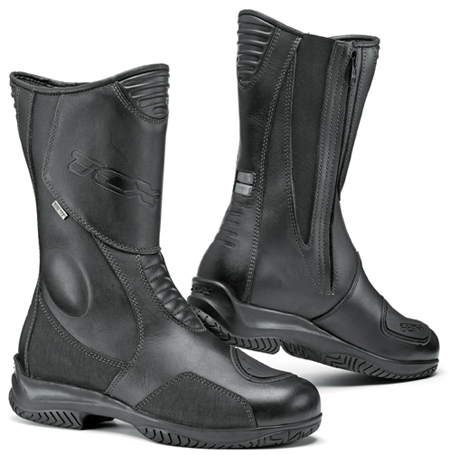 I recently tested a pair of TCX Sunray Gore-Tex womens boots and reach for them now every time I hop on a motorcycle. The Sunray boots arent just smaller-sized mens boots. TCX engineers designed them specifically for a womans foot using a specially designed last, or foot shaped mold, that reproduces the differences in the instep, heel, and metatarsal zones naturally found in womens feet.
| | |
| --- | --- |
| A Gore-Tex membrane and gusseted zipper add to waterproofing and keep your feet dry. | Padded leather at the flex points make these boots comfortable. |
Additionally, these boots provide many motorcycle riding-specific attributes, namely protection. The Sunray boots have a pre-formed rigid shell plus shock absorbent material to protect the ankle, semi-rigid plastic for the shin plate, and anti-wear rubber guards over the toes to protect the boots from shift lever wear and tear.
| | |
| --- | --- |
| Notice the anti-wear rubber over the toe to protect against wear from the shifter. | The specifically-designed-for-women sole offers a lot of grip and all day comfort. |
TCX uses top-grain leather for the boots, which it treats for waterproof-ness. In addition, a Gore-Tex membrane increases the waterproofing capabilities as well as the boots breathability. I can attest these boots do keep your feet dry. A side gusseted zipper closes the boot while sealing out water, and inserts made from a stretch material help ease the 10 1/2-inch tall height over your calves. The boots feature padded, malleable leather at the traditional flex points the front, where the foot meets the ankle, and the front and back top of the boots, to increase comfort while eliminating "new boot" stiffness. The rubbery, womans specific sole provided all day walking comfort as well, and seemed to lift me a tad higher than similar style boots Ill take extra reach to the ground in any increment I can. Reflective patches above the rear ankle would increase nighttime visibility if they were visible themselves but my riding pants always covered them. Lowering these reflective spots would make more sense.
| | |
| --- | --- |
| The thick sole adds more protection and a little bit to your reach. | While the reflective patches are a little high for most riding pants, they are quite bright. |
These Sunray boots accompanied me many thousands of miles, never leaked, never felt overly hot, needed only about one day to "break in," and performed without a hitch. They offer basic styling with tons of performance and I can highly recommend them. They only come in black, and their sizing runs slightly odd. They come in womens sizes 4 1/2, 5 1/2, 6 1/2, 7, 8, 9 and 9 1/2. I normally wear a size 6, which they dont offer, so I tried the 6 1/2. The boots fit fine, not overly loose or sloppy, but not a perfect fit, either. I usually wear thicker wicking wool socks that sometimes make other boots fit too tightly so I deemed this combination of sock and boot acceptable.
Dont hesitate to consider the TCX Womens Sunray Gore-Tex Boots if youre searching for a truly comfortable, full-featured riding boot designed for the female foot. These boots retail for $249.99, and are available at various retailers and motorcycle store Web sites. For more information visit the TCX website at TCXBoots.com.
Related Articles
Product Review: TCX Lady Aura Boots
Product Review: Waterproof Riding Boots from Harley-Davidson