If you're a regular reader of WRN, you know I took a 26-day ride on my motorcycle this past summer hitting three different events I needed to attend for business. I traveled from my home in Montana to Sturgis, South Dakota, then down south to Colorado and back to Montana covering 3200 miles. Here's a quick review of some handy items I used on my trip.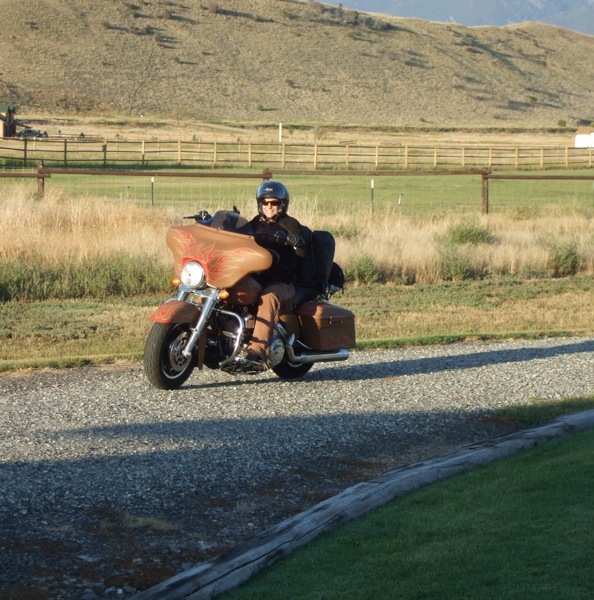 ChopSaver For Lips
I know of no woman who doesn't use something to keep her lips moist. And being a motorcycle rider, dry, chapped lips can quickly become a problem.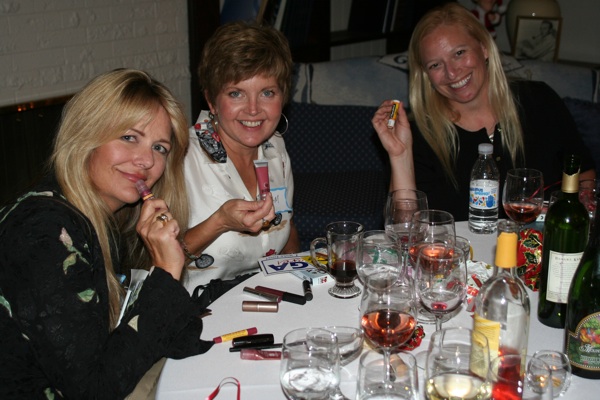 Right before I left, I received ChopSaver lip balm in the mail. Cute name for lip balm originally designed for musicians who are always licking their chops because of the dryness caused from blowing into an instrument. Dan Gosling, a trumpet player, invented ChopSaver, an all-natural lip balm, when his lips remained chapped and sore after using commercially available lip balms. Smart marketing on his part by reaching out to motorcyclists.
| | |
| --- | --- |
| Chopsaver comes in two versions: original and SPF 15 | The lip balm is clear and neutral. You can see I#39;ve been using them. |
I'm a regular user of Chapstick; I'm one of those people who has lip balm on my lips all the time. I use it under lipstick. The all-natural kick I've been on moved me away from the chalky chemically Chapstick to Burt's Bees lip balms. Seeing ChopSaver's all natural ingredients such as shea butter, mango butter, aloe, vitamin E, avocado and plant oils got me excited. No chemicals at all.
The texture of ChopSaver is smooth, but not slippery; slightly smoother than my Burt's Bees honey flavored balm I was regularly using, and way smoother than Chapstick. I give ChopSaver high marks for staying on my lips for a long time. Normally when riding, I re-apply lip balm every time I stop, about every 100 miles in normal riding conditions. ChopSaver lasts way past that assuming I'm not drinking and eating which would wipe it off. I put it on before I got to bed, and in the morning I still feel it on my lips.
There's a hint of citrus to keep it interesting but definitely not overwhelming. I don't like major flavored lip balms. ChopSaver costs $9.90 plus $3 shipping and handling for a pack of two. The more you buy, the price goes down. Visit ChopSaver.com. The price is worth it. I love this stuff.
Packing Protection
For some reason, this solo trip I felt the need to travel armed –- with a knife. If I felt like I was threatened in any way, I'd have the knife hanging on my belt. As it turned out, like always, there are never any threats when riding around by myself, but it was nice to have a knife for cutting my apples and tomatoes in my hotel room.
Harley-Davidson recently partnered with Benchmade Knife Company to license a line of knives. I tested the Mini-Hardtail 13150-1 shown below. The blade measures 3.25 inches and is just sharp and pointy enough to be threatening. It does slice through the skin of my snacks better than my vegetable knives at home.
| | |
| --- | --- |
| The Mini-Hardtail knife is lightweight weighing a scant 2.5 ounces. It comes with this microfiber carrying pouch. | Harley-Davidson is etched into the Valox handle (a thermoplastic polyester resin). The opening "thumb stud" is located on both sides of the knife making it easy to extract the blade with one hand. |
The blade is made of D2 high grade tool steel. Adding to its clean design, the Mini-Hardtail features the Harley-Davidson Bar amp; Shield on the blade and Harley-Davidson is molded into the handle. The knife retails for $90 to $105 depending on the blade configuration and coating.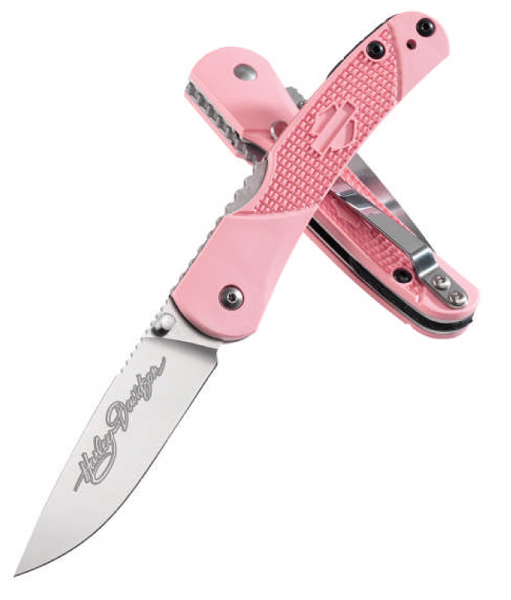 Harley-Davidson knives are available through authorized Harley dealers, and can be purchased online at H-DKnives.com. You can browse the many style of knives available there too.
Seeing Clearly
I wish I had this lens cleaner before I left on my trip, but when I got home Clear Shot was waiting for me to test. I had a dirty helmet face shield and sunglasses. Clear Shot is another product developed out of need. Charlie King, an avid dual sport rider, couldn't find a product to clean off his face shield that would be also rugged and durable enough to take in his motorcycle saddlebags. So he developed not only the cleaner, but a tough ABS plastic carrying case that appears almost waterproof with its rubber end caps that pop tightly into place.
| | |
| --- | --- |
| Clear Shot comes in this sturdy hard plastic case measuring 5 inches across by 3.5 inches high. | One tube stores the 2 oz. cleaning fluid; the other tube stores the two microfiber cleaning cloths, one at each end. |
The cleaner is an anti-fog cleaning fluid that is safe for all coatings, prescriptions and lens materials. I sprayed it on my Arai face shield and used the blue thicker, tougher grade chamois-style microfiber cloth to wipe off the tough bugs and dirt. It took a little bit of muscle to get the bug guts broken down. I actually prefer to use water for this part so as not to waste the small amount of cleaning fluid contained in the bottle. Then I sprayed on more cleaner and used the finer optical grade finishing cloth to shine up the shield. This is where the cleaner shines excuse the pun. I also used it on my three pairs of sunglasses.
I've tested and own lots of lens cleaners and this one moves to the top of the list. It really shined up the shield leaving no residue or streaking like some other products do. Charlie markets Clear Shot not only to motorcyclists but also to outdoor sports people like hunters, fishers, hikers, campers, snowmobilers, skiers, etc., where a clear clean sunglasses, googles, etc., and a sturdy and compact way to carry the cleaner is a must. Price is $20. More information is at Clear-Shot.net.