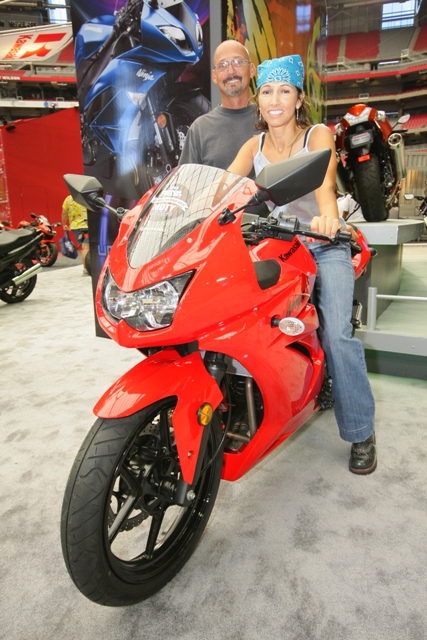 The annual winter motorcycle consumer trade show known as the Cycle World International Motorcycle Show starts in two weeks in Dallas and then moves to 10 more cities during the 29th annual nationwide tour. Genevieve Schmitt and Women Riders Now will be part of the women and motorcycling booth at the Seattle show December 11-13, 2009, positioned right next to the women riders lounge, an exciting feature at the shows. And Fridays at each city is Ladies Night with women receiving half off admission that night with a coupon downloaded at LINK URL>http://www.motorcycleshows.com. target=_blank>MotorcycleShows.com. There are other ticket specials noted at the end of this article.
This cross-country motorcycle extravaganza allows motorcycle riders, gear heads and new bikers from California to New York to get an up-close look at more than 500 new model motorcycles including street bikes, dirt bikes, fuel efficient bikes, cruisers, scooters, ATVs, UTVs, watercraft and more from the major manufacturers. The Cycle World International Motorcycle Shows will also feature the latest gear and accessories, new rider programs, demo rides, informative seminars, interactive entertainment and more.
The last few years, the shows have focused on attracting more women with the half off ticket deal, and now the women riders lounge. Thats a special section focusing on apparel, as well as motorcycles deemed favorable for women, plus new rider information and other services relating to women riders.
The 2009-2010 Cycle World International Motorcycle Shows schedule is as follows:
November 13-15, 2009 Dallas Convention Center Dallas, TX
November 20-22, 2009 San Mateo County Event Center San Mateo, CA
December 4-6, 2009 Long Beach Convention Center Long Beach, CA
December 11-13, 2009 Qwest Field amp; Event Center Seattle, WA
January 1-3, 2010 Rock Financial Showplace Novi, MI
January 8-10, 2010 Carolina First Center Greenville, SC
January 15-17, 2010 Washington Convention Center Washington D.C.
January 22-24, 2010 Jacob K. Javits Convention Center New York, NY
January 29-31, 2010 I-X Center Cleveland, OH
February 5-7, 2010 Minneapolis Convention Center Minneapolis, MN
February 19-21, 2010 Donald E. Stephens Convention Center Chicago, IL
"Nearly 1,000 companies including the leading motorcycle manufacturers, accessory companies and retail stores will showcase the hottest new vehicles, parts and accessories for your two-, three-, or four-wheeled vehicle," said Show Director Jeff D#8217;Entremont. #8220;Whether you are a long-time motorcycle rider, city commuter, track veteran or a potential new rider, each show stop is filled with the latest bikes, gear, fashion, safety equipment and more to get your motor running."
Ticket Deals
If you buy your tickets online early at least a week in advance youll save $3.00 off the box office price. Prices will automatically increase the Friday prior to each show at 6 p.m. PST to general admission pricing. And if you order from MotorcycleShows.com/BikeBandit youll receive a $15 BikeBandit.com gift card instantly when you purchase an adult single day ticket online. Offer is limited to the first 35,000 online orders and is not valid with any other discounts. The coupon for Ladies Night will be available on MotorcycleShows.com under the Buy Tickets link.
For the 17th consecutive year, Cycle World magazine is the title sponsor for the series. The Cycle World International Motorcycle Shows is the world#8217;s largest motorcycle show series. For more information, call 800.331.5706 or visit MotorcycleShows.com.