Here's one of those products that I think is a great idea if it's done right. Motorcycle Armor is "armor" for your bike that protects the paint from scratches, scuffs, rock chips, and bug smashes that are inevitable over time The folks behind Motorcycle Armor have gone the extra mile to ensure that their paint-protecting film stays on and does what it's supposed to.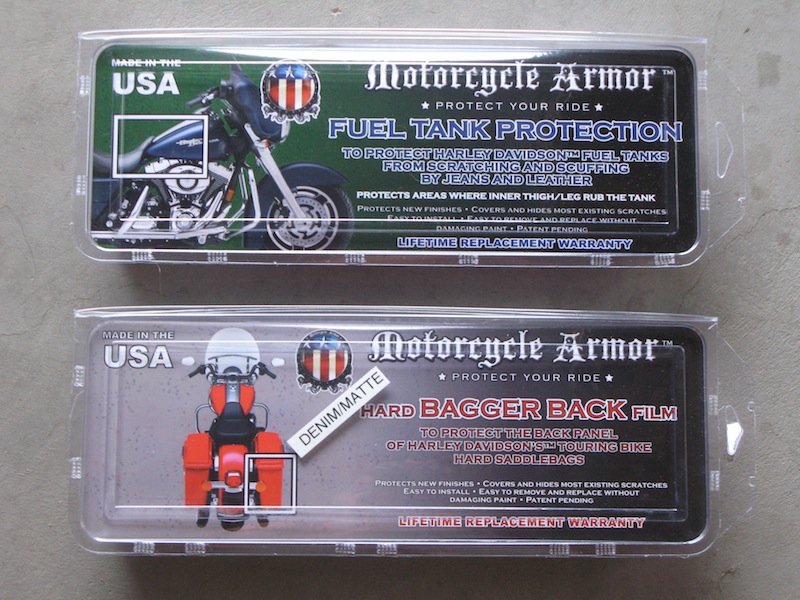 I met the "inventor" of Motorcycle Armor, Michael Detwiler, at the Sturgis Rally last year. Michael wants women riders to know about Motorcycle Armor because he's aware of the influence they have in the marketplace. He told me that sticky film to protect motorcycle paint has been around for quite some time, but there have always been problems with it, such as scuffs and dents penetrating the film, peeling of the film over time, and discoloration.
Michael said he went the extra mile to ensure his paint protector does not do any of those things. His research and development took him to Europe, where he worked with a company that's leading the way in manufacturing optically clear paint protection film. Now made in the United States, Motorcycle Armor's proprietary precision-cut film is almost invisible because it is optically clear when installed and cut to fit each specific part.
Because each kit has to be cut to fit a specific model, Motorcycle Armor is available only for Harley-Davidson Touring models at this time. Unfortunately, that eliminates a lot of women riders, as not many women ride the big touring "bagger" bikes. However, if Michael hears from people asking for Motorcycle Armor for other makes and models, he'll work on getting other versions cut and made available.
I wasnt sure if the paint on my Street Glide had a clear coat, so Ive yet to test the hard bag armor I was sent. However, I did test the tank armor sample on my husband's custom-painted Road King. Norm is a tall guy, so his knees rub on the sides of the tank. The stock paint on the sides of the tank was all scuffed up from his pants rubbing on it.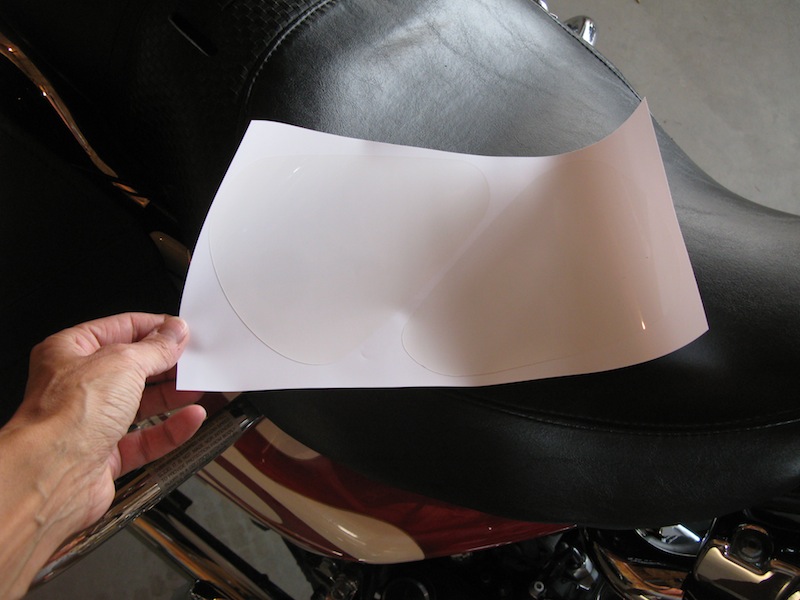 The whole process of putting the film on both sides of the tank took about 25 minutes.
Step-by-step instructions and everything you need for installation (except a water bottle) are included with the armor.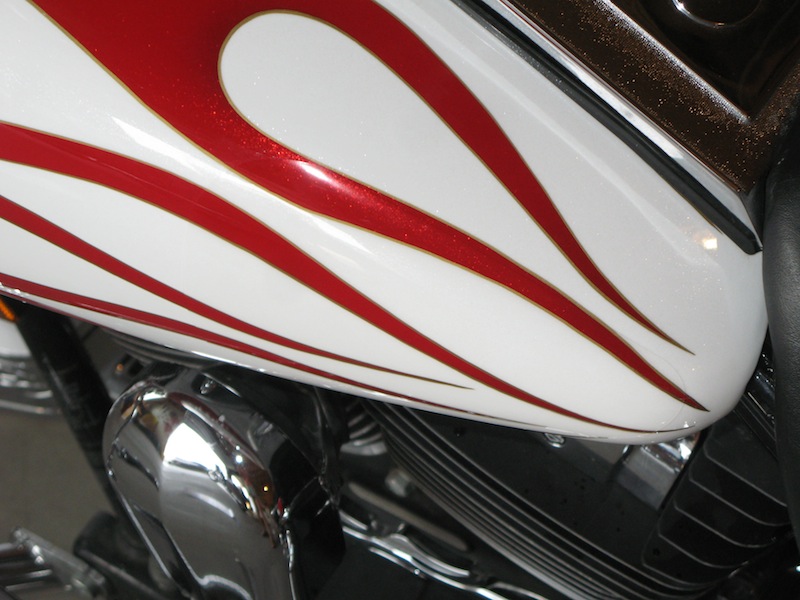 Motorcycle Armor can also be applied to the front fender to protect the paint from rock chips and bugs. Armor is available for hard bags as well. The protective film is particularly useful on the hard bag lids, which are likely to get scuffed a lot when a passenger lifts a leg over the bike to get in the rear seat. The passenger's heel can easily hit the lid and leave black heel marks on it. These kind of marks can be easily wiped away.
Motorcycle Armor holds up when washing the bike and comes with a lifetime replacement warranty. The price for armor for two-wheelers ranges from $49.50 to $99.99, with trike armor running a little higher. You can see more about Motorcycle Armor, including a list of all compatible models and a step-by-step installation video, at Motorcycle-Armor.com. And congratulations to Motorcycle Armor for being awarded Powersports Business Nifty 50 Award, an industry award recognizing innovative products.
Related Articles
Editors Blog: My Custom Paint Job
BOOK REVIEW: How To Paint Your Motorcycle