An important part of managing risk while riding is wearing motorcycle-specific gear that includes armor. Many motorcycle jackets come with built-in protection in the shoulders and elbows and a pouch or sleeve for a back pad that attaches to the garment. These sometimes shift while in use and become uncomfortable. A handy and cost-saving alternative is a separate back protector like the Ricochet from Knox, a leading manufacturer of body armor.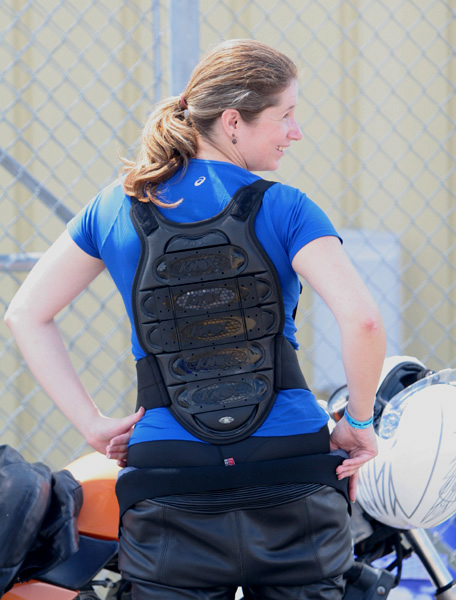 The Ricochet is a race type back protector styled especially for women. The linked plates have a tapered profile that doesnt skimp on protecting the parts of your back it needs to protect. Putting it on is a breeze. Arms go through the adjustible shoulder straps, and elastic straps stretch around your waist securing with a Velcro closure. The slim design conforms to a womans narrow body. I wore it under several different style jackets: a snug leather jacket, a textile jacket and a tracksuit and noticed no difference in fit.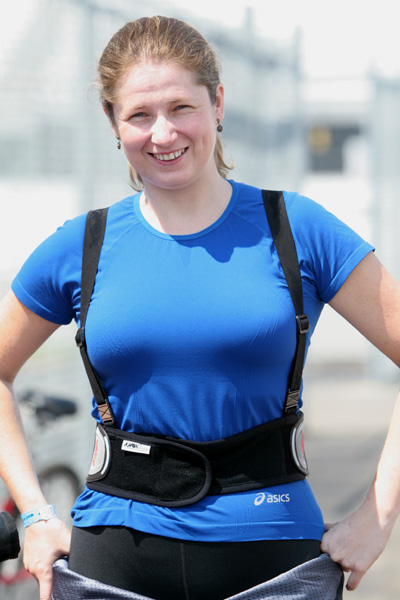 Venting on the protector allows air to flow through to keep you cool. I wore it for three days in a row under a non-perforated leather tracksuit in the 95-degree heat on the Las Vegas Motor Speedway at the Femmoto event and didnt feel uncomfortable or sweaty. An additional bonus is that the upper straps are treated to be antibacterial and are contoured to so they dont slide off your shoulders – think razor back sports bra. The waist belt is adjustable and wide enough for a snug, but comfortable custom fit.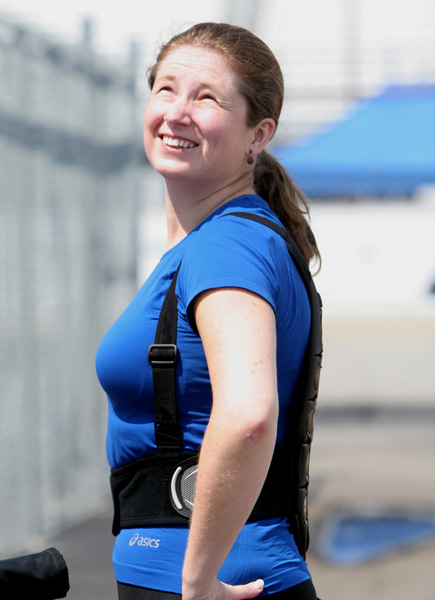 The most important measurement for a back protector is the torso (waist to neck) length. This determines the minimum area of protection required by CE regulations. The best way to find your exact size is to have a Knox representative fit you. The fitters are usually at major motorcycle shows and large rallies like Americade, a touring rally in Lake George, New York, in June, and the AMA Superbike Races in Lexington, Ohio.
One of the best features of the Knox Ricochet back protector for ladies is the flexibility. It doesnt restrict you or feel lumpy. After a few minutes of wearing it I forgot I had it on. If you cant get to a Knox fitting specialist you can use the fitting chart available at Planet-Knox.com. Your correct size is based on the measurement between the nape of your neck and your waist, with the 5 and 6 plate Ricochet back protectors sized more for a womans figure than the 7 plate and above. There are also 3 and 4 plate sizes that are sized for children with a small overall coverage area.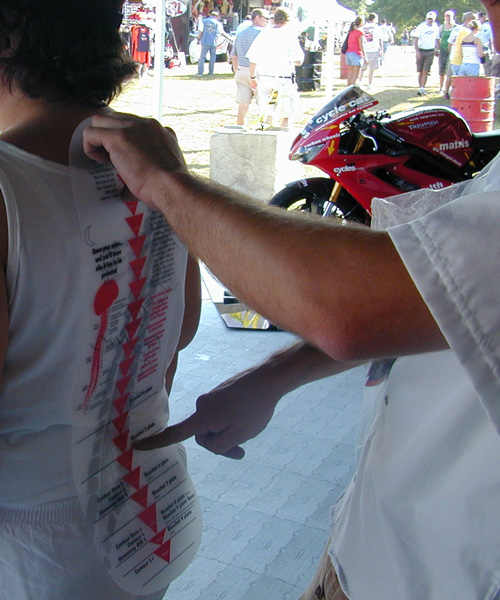 "The ladies Ricochet back protectors (5 and 6 plate) are quite a bit smaller that the other Ricochets in the line-up," explains Kasey Hall, Sales and Product Manager of MC Web Stores oncycles.com, manufacturer and distributor of motorcycle products in Columbus, Ohio. "They are not as wide across the middle and from shoulder to shoulder. The nice thing about the line of Ricochets is that if the ladies 5 and 6 plates dont fit properly, women have the entire line to work with."
To give you an idea of the size comparison, overall the mens 7 plate measurements in the Knox Ricochet are: across the middle (edge to edge) = 13 inches; across shoulder strap (center to center by collar bone) = 11 inches.
The Ladies 6 plate measurements in the Knox Ricochet are: across the middle (edge to edge) = 11 inches; across shoulder strap (center to center by collar bone) = 9 inches.
Those who want even more protection can combine the Ricochet with the Knox slip-in chest protector. It stays in place by placing the front straps of your back protector in the Velcro panels on the front of the chest protector. Together with your jacket it should stay in place. I found the chest protector in size small (38 to 40-inch chest) didnt fit my contours (D-cup and short-waisted I wear petite sizes) but would be fine for someone with a regular torso length. It measures approximately 13 inches across and 8 inches top to bottom. It also comes a size large for chest sizes 42-inch plus. There isnt a medium size available.
Another product from Knox is the Contour back protector, updated for this year with an improved cooling system and "camo"and "black retro" designs. It is larger than the Ricochet and has a Level 2 CE rating (higher than the Ricochet which is Level 1). It is available in either a small or large size in the U.S. It also has a very contoured fit and the sizing is unisex. The size small I tried came up quite high on my back and was wider overall than the Ricochet.
Knox representatives say the company was the first to gain CE approval for impact protectors, and its back protectors have been tested and meet the European standard in PPE (Personal Protective Equipment). Knox has been making protective clothing and accessories since the early 1980s and many brands including Triumph, Belstaff, Spidi and others use them as original equipment for their clothing.
The Ricochet is for women who want the ultimate in back protection for track or street riding combined with comfort and advanced features. Its a small price to pay for a quality product that should be part of everyones motorcycle protective gear.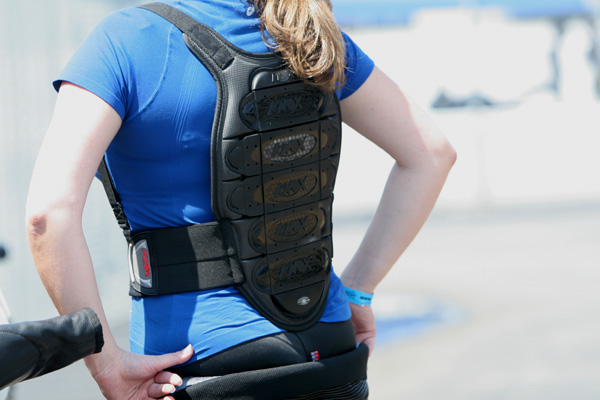 For 2008 look for the new Aegis from Knox which is a unisex back protector with Level 2 protection and similar to the Ricochet with a self-adjusting, customizable fit.
Knox Ricochet Back Protector comes in two sizes available for women described as 5 plate or 6 plate, referencing the number of plates on the back. They are not sized in small, medium, etc. MSRP $149.99; Knox Contour Back Protector, MSRP $225; Knox Chest Protector $49.95. For more info and to order online, visit Planet-Knox.com.