If you've been riding a motorcycle for any length of time, you know that motorcycles and T-shirts go together. Not motorcycles and blouses, not motorcycles and sweaters—it's a tee that's often the first layer for a woman rider. And for fashion-conscious gals, it's a bonus when that T-shirt looks great and feels nice to wear. With that in mind, I'm excited to tell you about the latest T-shirt brand I've been wearing called Journey Threads.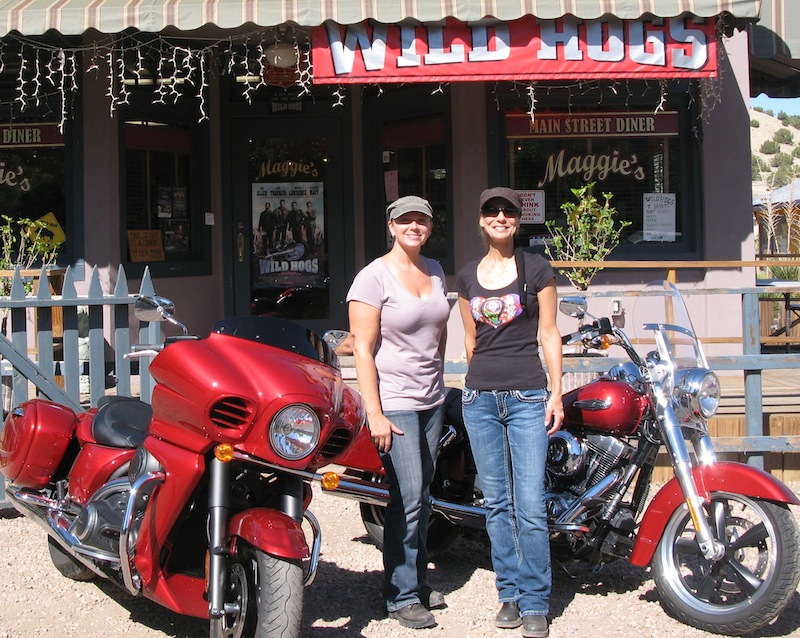 Journey Threads was created by Buffy Kline, a motorcyclist who lives in Santa Fe, N.M.—it was a coincidence I was there wearing her shirt!—who loves to tour scenic roads and "journey hard." She says, "I was looking for ways to hang onto my softer side without feeling silly. These graphic tees and tanks were born out of my search for motorcycle wear that lets a woman rider be pretty, feminine and soft in a subtle way."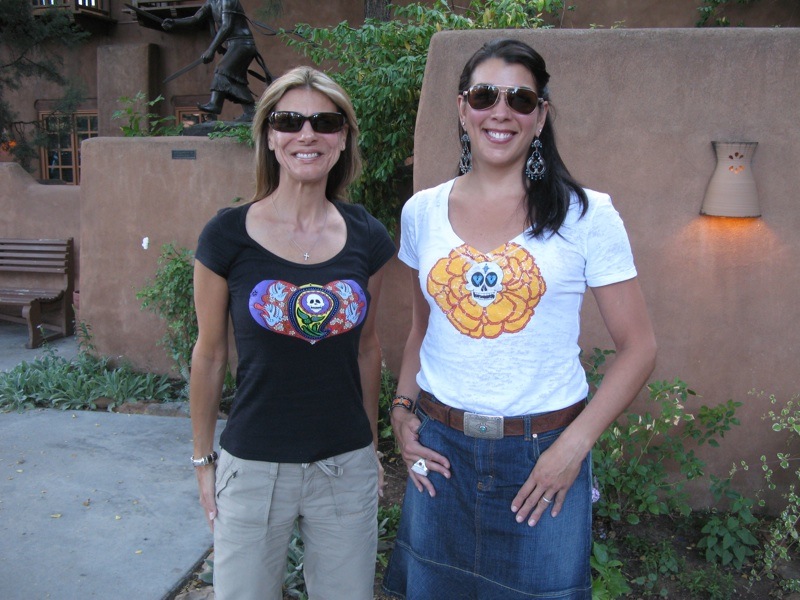 The Journey Threads designs all feature original artwork by Buffy based on the beautiful and sentimental Mexican celebration Día De Los Muertos (Day of the Dead), where family members gather to celebrate loved ones who have passed. These soulful designs are screen-printed onto very soft baby-rib or burnout tees and tanks.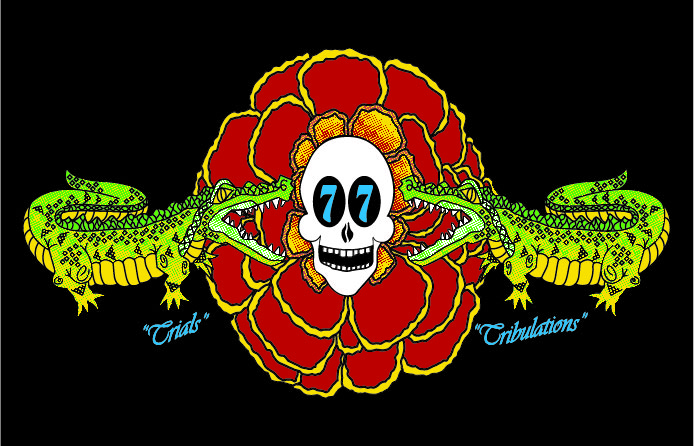 I will tell you that I've never been a fan of skulls. That said, Journey Threads offers the skull imagery that's so popular in the motorcycling community without the harshness. It's something I could see myself wearing.
As soon as I received the T-shirts and touched them, I knew I would love them—they are that soft. The black one I'm wearing is made of a rib-knit 92-percent cotton/2-percent spandex blend. I didn't know what rib knit was, so I looked it up. Rib knit is a textured double-knit fabric that has vertical ridges (called ribs) and is highly stretchable in the crosswise direction. Rib knits fit more snugly than regular knits and are totally smooth—you don't actually see any ribbing. If you're not familiar with the burnout treatment on fabric, it's the process of removing fiber to give the fabric a worn-in look. That style is very "in" these days.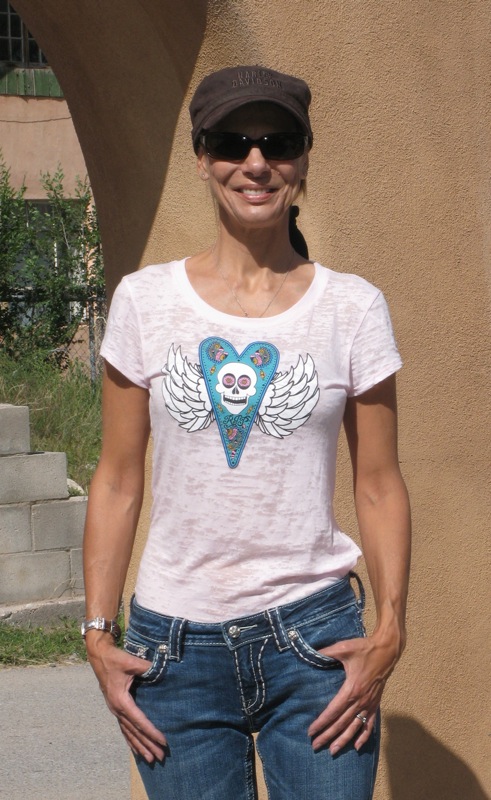 The black shirt I tried out with the paisley design has subtle blue rhinestones that give the shirt extra pop. I say "pop" and not "sparkle" because these rhinestones are not sparkly. I washed this shirt inside out and hung it dry. It didn't shrink or wrinkle, and the screen print held up. Buffy says she uses a high-quality printing process that will hold up through lots of washes.
I really do love these shirts. They're fun to wear without being overly bold, and the fabric is soft and comfortable—no annoying tags on the collar, either. Rather, the info is screen-printed on the inside collar.
The black shirt I'm wearing in the photos sells for $38. The pink one sells for $34. Prices start at $30. Sizes run from S to XL (XL would be a size 10-12). I'm wearing a medium in both. Buffy is offering an exclusive discount to WRN readers for a limited time: 10 percent off your order. Use coupon code WRN at checkout. Visit JourneyThreads.com to see all the shirt styles and graphic designs. There's a butterfly one that's just beautiful. Enjoy!
Related Articles
PRODUCT REVIEW: Uhl Art-Inspired Tees
Tees Inspired by Leslie Porterfield