Editor's Note: When you think of Triumph, your mind may automatically go to the cute and nimble Bonneville or the sporty Daytona or Speed Triple. But during the last few years, this British company has been building up its stable of cruisers, knowing many Americans love laid-back cruising motorcycles. For 2011/2012, Triumph is offering four cruiser models, starting with the base model, the America, an 865cc midsize cruiser that's comparable to the Kawasaki Vulcan 900, Star Motorcycles V Star 950, Honda Shadow models (750cc), Suzuki Boulevard C50 (805cc), and Harley-Davidson Sportster SuperLow 883.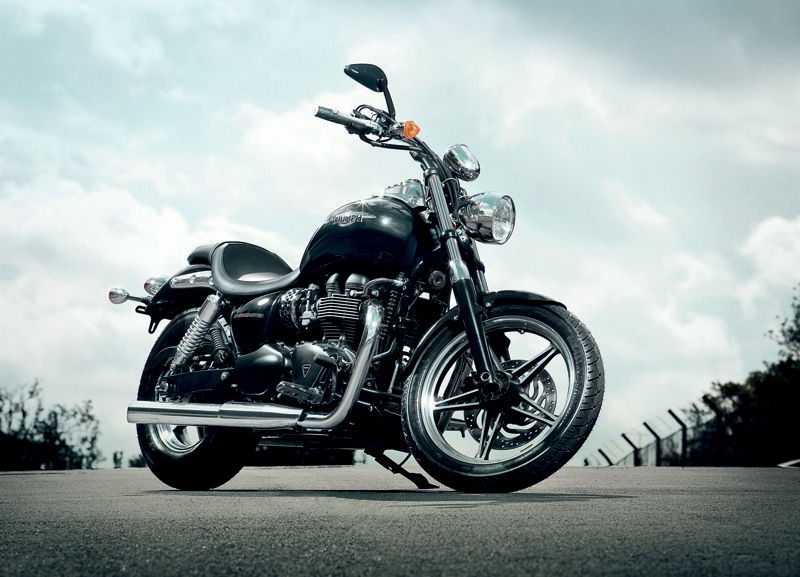 At the other end of Triumph's cruiser offerings is the Rocket III, the 2294cc behemoth of a motorcycle. In between, you'll find the 865cc hot-rod-styled Speedmaster, the 1600cc Thunderbird touring cruiser, and the new-for-2011 Storm, a more powerful, stripped-down, blacked-out version of the Thunderbird.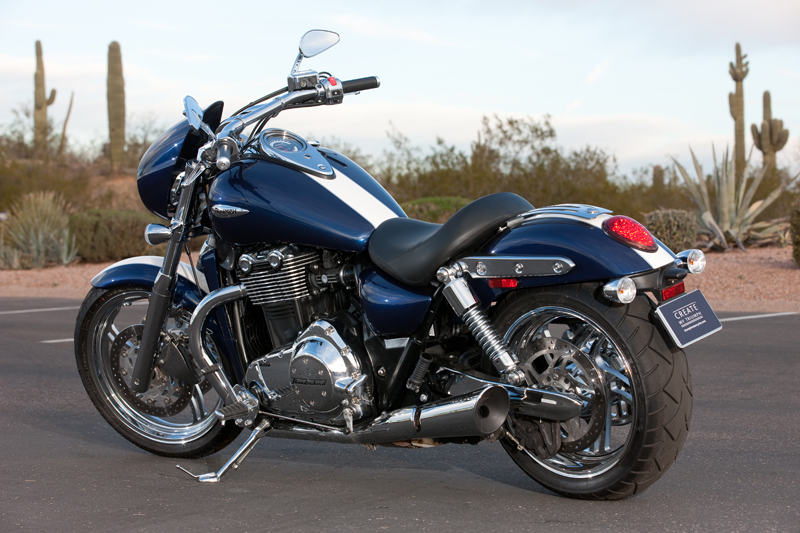 We test rode two of the cruiser models that women riders will be interested in knowing about: the new Thunderbird Storm, a larger cruiser for the discriminating buyer with lots of miles under her belt, and the base model America, which we think many women riders will love. Heres Pamelas review.

2011/2012 Triumph Storm
Three hundred and ninety-two miles. That's how far away a friend whom I've been promising to visit for a long time lives from me. It was time to stop talking about it and just do it! When Triumph offered Women Riders Now a 2011 Thunderbird Storm for testing, I told WRN Editor Genevieve Schmitt that I'd love to do this long-anticipated getaway on the big thundering cruiser.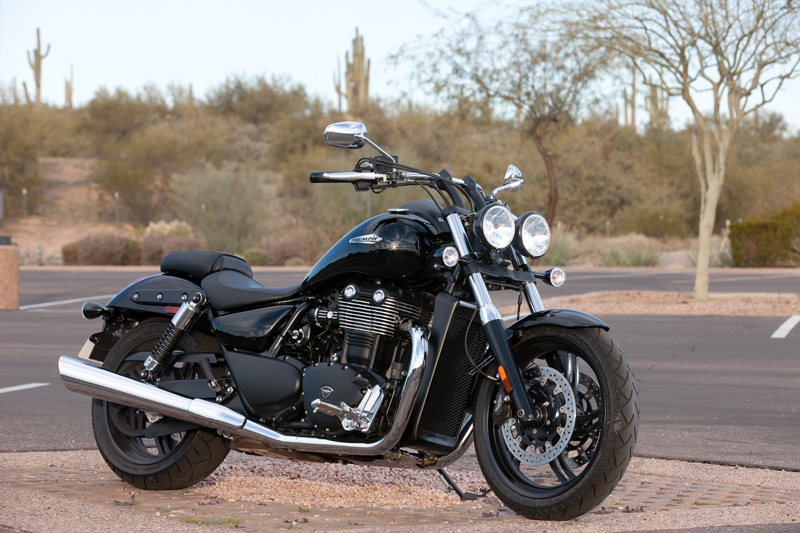 Triumph introduced the fuel-injected, liquid-cooled 1597cc Thunderbird in June 2009, and back then it was the largest production parallel-twin motorcycle to date. The introduction was also significant because the engine size of this big T-bird was almost double that of any of the UK-based company's other parallel-twin cruisers. Now Triumph has dethroned its Thunderbird with the Thunderbird Storm. For 2011, the Thunderbird's optional big-bore kit is standard on the Thunderbird Storm, bumping up displacement 102cc for a grand total of 1699cc and putting the bike in the heavyweight touring category. And just like a real storm, this Storm is dark, bewitching and mystifying.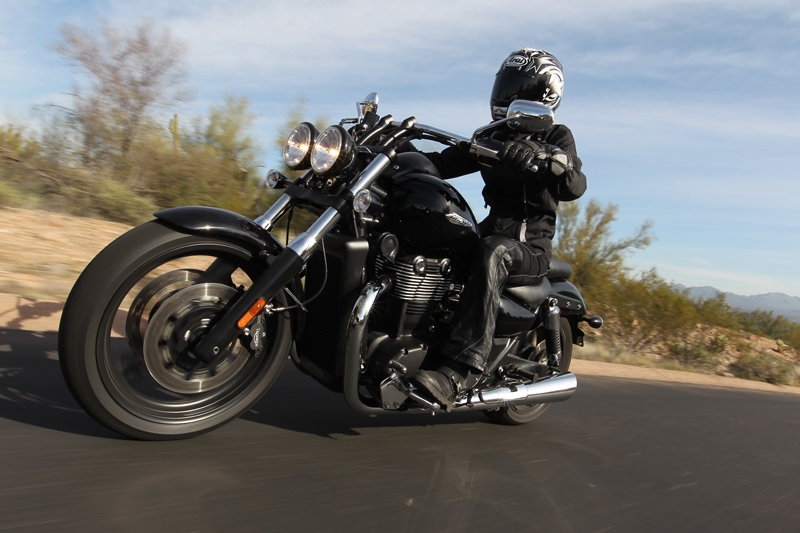 Many of the Storm's components are blacked out: wheels, fork lowers, shock springs, brake calipers, most covers, and the risers on the new and straighter drag-style bar. Even the twin headlamps (the Thunderbird has a single beam)—a distinctive feature of Triumph's Speed and Street Triples and the street-fighting Rocket cruiser—are housed in black. The Storm has larger pistons and piston rings, revised camshafts, and new cylinder liners and gaskets. Claimed horsepower has been upped to 97, compared to the Thunderbird's 85, giving this dark guy some extra oomph.
My agenda was to leave by 6 a.m., storm down a mostly deserted highway, get my kicks on a section of twisties meandering through pine trees, weave my way back to civilization for a bit more boring highway, and end up relaxing poolside with my friend by late afternoon. Good plan. I strapped a small seat bag to the rear pillion to house a few overnight items and strapped bungee cords over the bag for added security, as the narrow passenger accommodations looked suspect. I would not want to be a passenger on that seat for very long. In contrast, the broad rider's seat, which is 27.5 inches off the pavement, goes along with the bike's burly theme.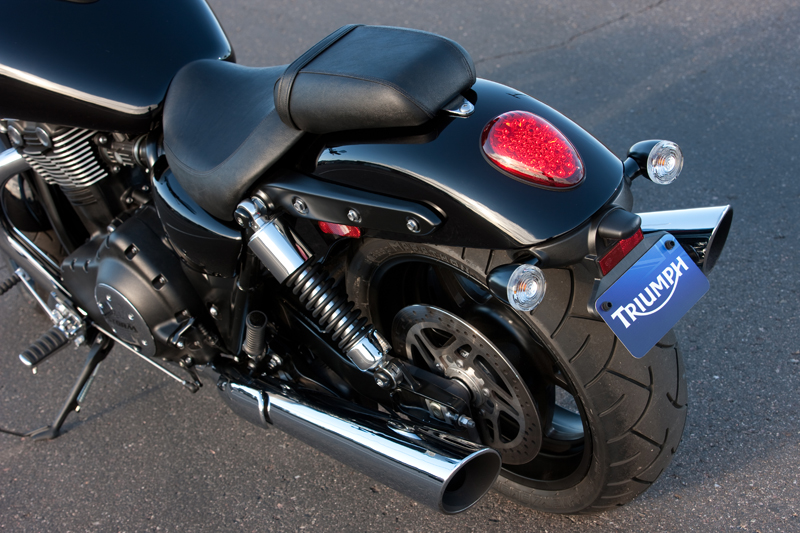 When I first hopped aboard, my first thought was that this bike is huge, with its wide 5.8-gallon tank. I had to put some muscle into hauling 746 pounds off of the sidestand, and it was a stretch for my small hands and fingers to reach the nonadjustable brake and clutch levers. Once underway, the ergonomics were more compact than expected—my feet were placed slightly forward on the pegs, not unnaturally outstretched. And even though my hands were placed wide, grasping thick grips, it was all a natural fit for me. Keep in mind, however, that at just over 5-foot-9, my arms and legs are longer than the average woman's.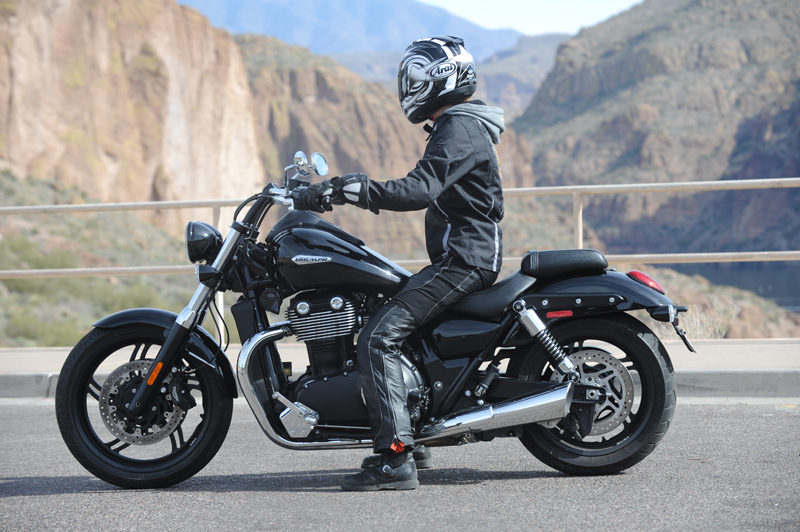 Tooling down the highway, I kept readjusting my butt in the firm saddle. After a while, either my seat or the Storm's broke in and it was all good. Hindsight is 20/20, as they say, because I realized while riding that I should have thought to request an optional windshield—after many miles on the highway, my shoulders were tense from hanging on while being battered by a headwind.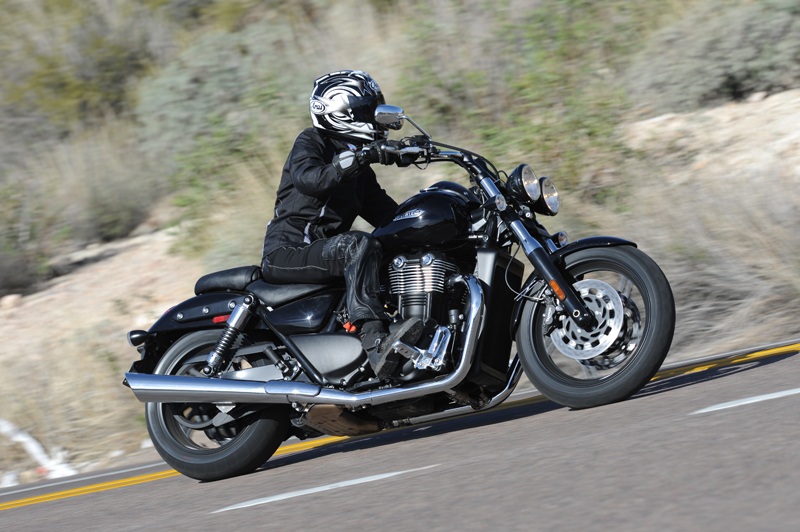 The Metzeler Marathon tires rolled smoothly over the highway, and I was jarred only from time to time by deep potholes. The fork has 4.7 inches of travel and no adjustments, and the dual shocks are adjustable for spring preload and have 3.7 inches of travel.
Finally off the highway and heading up into the hills, I experienced the Storm's lean angles, which, in typical cruiser fashion, are restricted by limited cornering clearance. I readjusted my feet from the natural position of heels angled down from the pegs, which would have caused my boot heels to hit first in the twisties, sweeping my feet off the footpegs.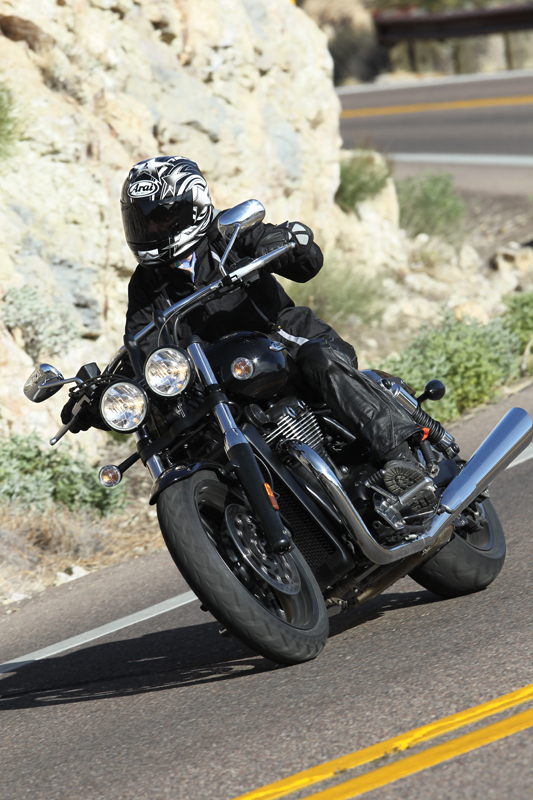 Shifting up and down through the six-speed gearbox was smooth and without all the commotion I associate with big V-twin cruisers. A firm tap of the brake pedal engages the rear's two-piston caliper on the single disc and slows the bike well in turns, and the front dual discs with four-piston calipers stop this hefty cruiser quickly. The 2011 model does not have ABS, though rumor has it that it will be available on 2012 Storms. At press time, this information had not been made available.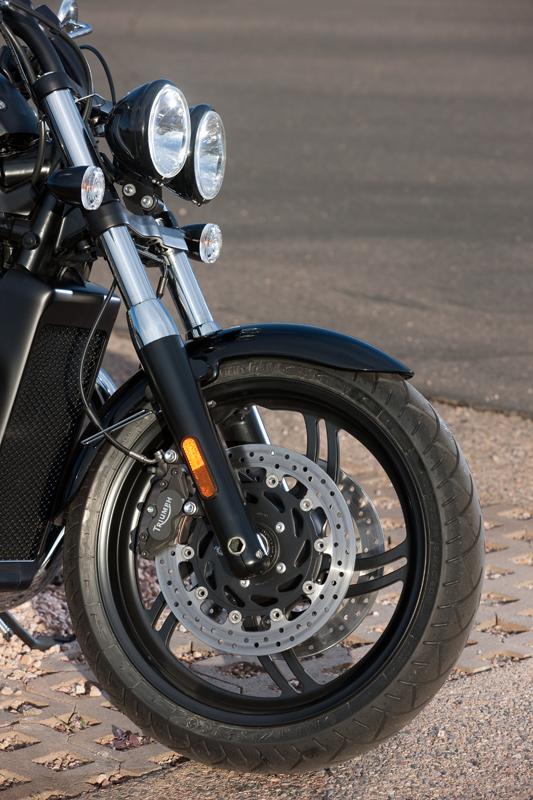 The gauges are tank-mounted, and because I wear a full-face helmet, I had to tilt my head down to read the speedometer, taking my eyes off the road. I had a hard time reading the small tachometer needle in daylight, but a ride in the dark revealed that it's lit up for easy viewing, as is the speedo's needle. The LCD display is small, too, and can be scrolled through with a button on the handlebar. Another great feature is the countdown to empty, meaning there's no guesswork about when your cruiser gets thirsty. On my ride, the Storm averaged just under 37 mpg.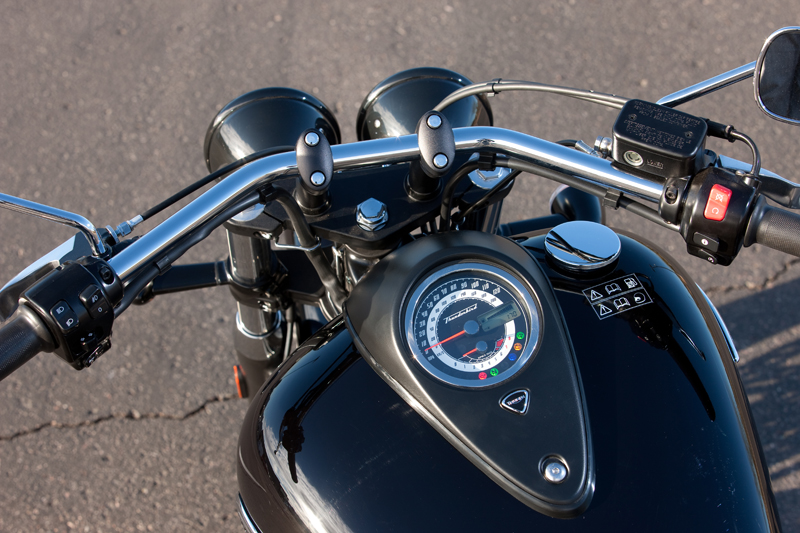 When I was close to my friend's home, I passed her exit and went a few more miles down the highway. With 390 miles showing on the trip meter, I was so close to doing 400 miles in one day that I just had to go for it! When I rolled into her driveway, I'd put 403 miles on the Thunderbird Storm door-to-door and was in fine shape. Of course, I did have to ride back home, but that was a couple of days—and a couple of margaritas—away.
Specs At A Glance: 2011 Triumph Thunderbird Storm
Displacement: 1699cc
Seat Height: 27.5 inches
Weight: 746 pounds
Price: Starts at $14,799
Colors: Matte Black, Jet Black
WRN Recommendation
The overall size and power of this motorcycle make it ideal for experienced riders wanting to trade up to a bike they can use for touring, without all the bells and whistles of a traditional faired touring motorcycle. Some riders like to keep their riding pure, and this motorcycle will allow them to do that—no radio, no electronic accessory hookups, no heated grips. If long-haul touring is not your thing, the Storm makes an ideal day cruiser for riders of bigger statures or those who possess the advanced riding skills necessary to handle a bigger machine. The Storm makes a statement in many ways.
2011/2012 Triumph America
If the power and bigness of a 1700cc is not your cup of tea, the Brits offer several smaller-displacement cruisers. One of them is the air-cooled, parallel-twin 865cc America. This classic cruiser has been in Triumph's lineup for about nine years, but for 2011 it's been significantly updated to attract new riders and appeal especially to riders of smaller stature, including women.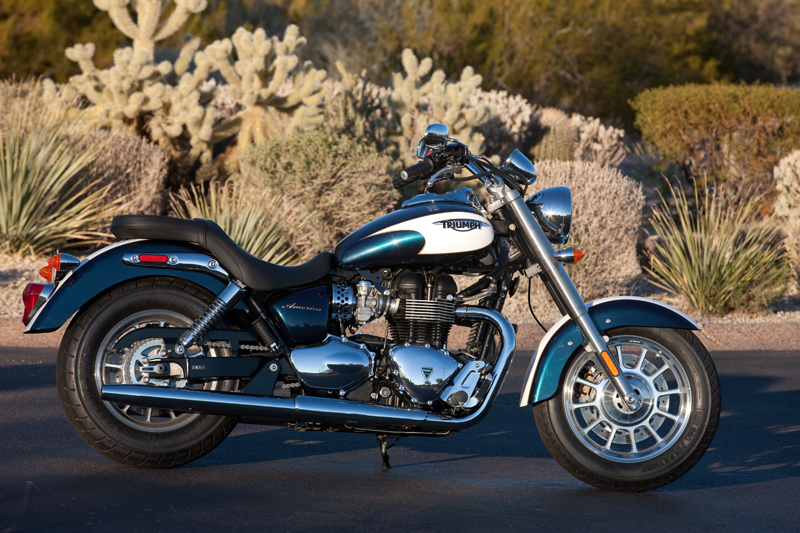 The seat has been lowered more than an inch to 27.16 inches—that's not much lower than the Storm, but the America is slimmer, making it easier for shorter riders to reach the ground. Rider foot controls have been moved back 1.53 inches and down 1.06 inches to accommodate shorter inseams, hand controls are narrower and moved closer to the rider, and the rider sits closer to the tank. This might not mean much to you if you haven't ridden an earlier America model, but with its compact, upright seating and rider-friendly ergonomics, the new America is easier to ride, and I felt very in tune with the bike. Because I'm tall, I'd prefer more legroom, which makes last year's model more attractive to me, but riders shorter than me will definitely appreciate the new refinements. It was easy to work the controls, clutch pull was light, and gear engagement through the five-speed transmission was quiet and smooth.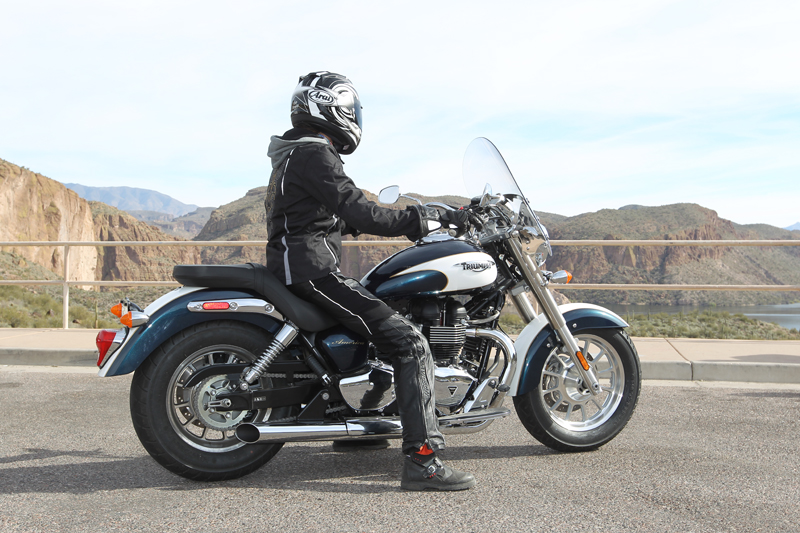 For 2012, the chassis has been updated with new wheels and tires for improved handling and aesthetics. These are the only changes over the 2011 model. The ignition key is on the left side and was perfectly covered by my leg when straddling the bike, so when I first hopped aboard, I spent a few seconds searching for the key. I didn't get a whole lot of seat time on the America, but after riding the big Storm, the 551-pound America felt like a lightweight—and it was definitely mellower.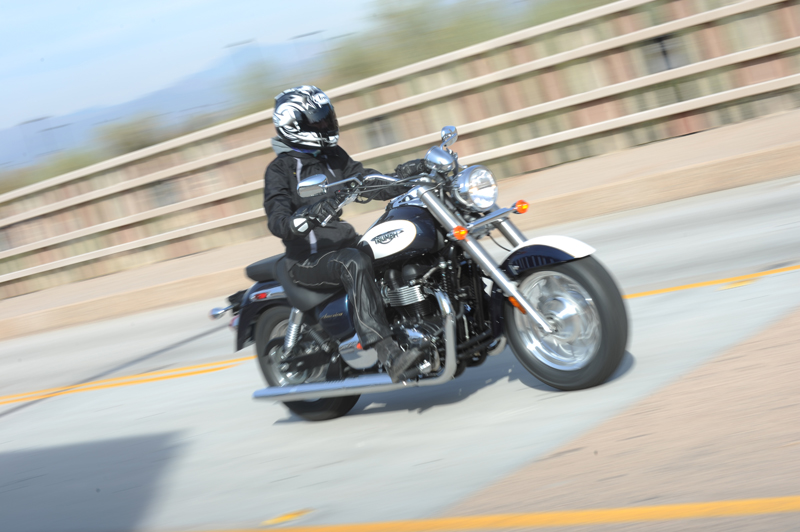 The America feels solid and stable rolling down straightaways and leaning over in turns. I did feel some mild vibration coming through the bike's grips and seat, and the analog speedometer, which is mounted between the handlebars, bobbed around at speed. The gas cap on the America is non-locking, meaning you don't need a key to open it. The Brits must be very trusting, as the Storm's gas cap is non-locking as well. Locking gas caps are available as an accessory. Claimed gas mileage is 48-59 mpg, and the tank holds 5.1 gallons.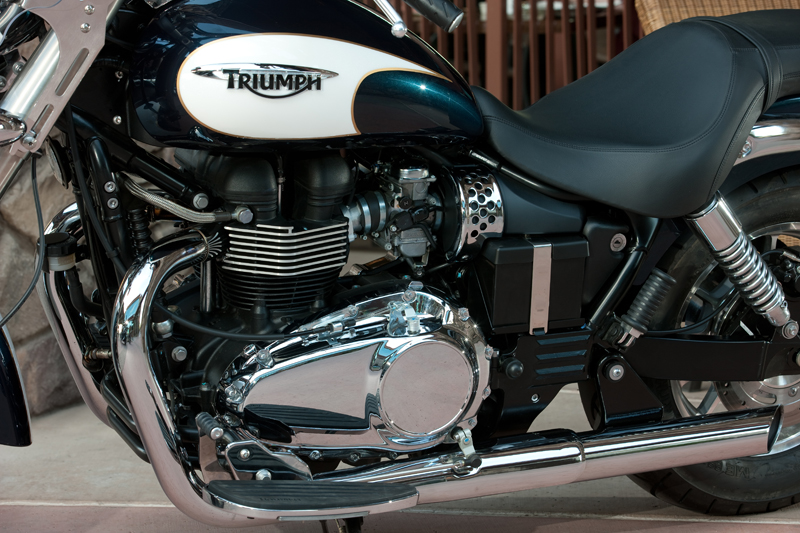 The seat, which doesn't allow for a whole lot of butt repositioning, was cushy. If I slouched too much and leaned back against the lip of the seat, it would angle my hips forward, positioning me on my tailbone. Triumph provided one accessorized (with windshield and floorboards) America for us journalists to try out, and I'm thinking that with the accessories and a couple of modifications, this bike could be all-day-in-the saddle comfortable.
| | |
| --- | --- |
| A chrome console with indicator lights and the non-locking gas cap are mounted on the tank. | The cast aluminum alloy 12-spoke wheel sets off the front end nicely and has been updated for 2012 for improved handling and aesthetics. |
Triumph calls the America an entry-level bike, but the reality is that if you're looking for a casual cruiser, you probably will not outgrow this bike very quickly. As a Triumph rep told us, "Triumph builds motorcycles that people love to ride." And for me, this was certainly true of the America. Maybe I just like the name.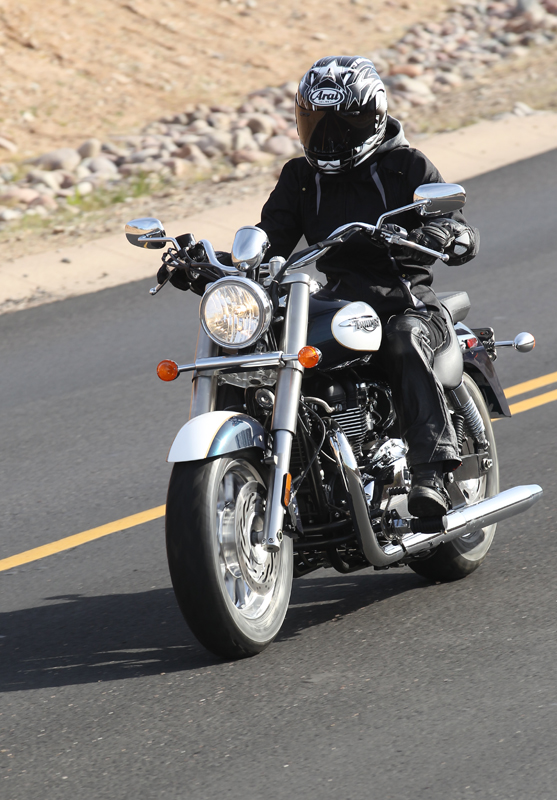 Another of WRN's contributor's, Tricia Szulewski, recently rode around on the America with a video camera mounted. In this video, you can get a sense of the sound of the bike as it revs up and as Tricia shifts through the gears.
Specs At A Glance: 2011 Triumph America
Displacement: 865cc
Seat Height: 27.16 inches
Weight: 551 pounds
Price: 2011 starts at $8,299
Colors: 2011: Phantom Black, Eclipse Blue, Crystal White; 2012: Phantom Black, Caribbean Blue, Crystal White

WRN Recommendation
If you're shopping for a middleweight motorcycle (a bike in the 750cc to 1000cc range), the America is a solid contender and should not be overlooked. Styling and sound are much different from your average metric cruiser and even from the Harley-Davidson Sportster. There's something exotic about a British motorcycle. If you dare to be different, consider the America. It's an ideal motorcycle to trade up to after spending time on a beginner bike. Or if your skills are really solid coming out of the MSF class and you feel confident handling a bigger bike right away, consider the America as you shop around.