Update March 14, 2016:
I continue to use the Diva-Do helmet liner as my go-to helmet liner when I want my hair to look fresh and good when Im out riding my motorcycle, like say when I have a business meeting or business lunch. I like that the owner/inventor of this, Anna Hood, is a rider with long hair like me. Over the years shes worked on perfecting the helmet liner so that it works even better than we users expect. Shes added neat colors and different fabrics too.
One thing I often get asked about is how one can justify the price. I will say this. Ive had my liner for more six years now and it still works great. The elastic has held up and the quality has maintained through many washes and drying. Its also made in the USA, which I really like. I also like knowing Im supporting a woman rider who had an idea to solve a problem and then set out to accomplish that.
If youve not visited Annas website lately (link at end of story) I encourage you to do so because she also sells neck warmers in lots of fun colors, and helmet liners that are cap-like liners to wick moisture and prevent head-itch under your helmet.
My original review here was posted on October 18, 2010.
I've tried many helmet liners and hair wraps over the years, all designed to conquer the dreaded helmet hair—hair that comes out of a helmet all jagged and spiky going this way and that. Most women riders and passengers throw on a baseball cap (yours truly included) as their way of going through the day with the unkempt hairstyle. Haven't you noticed I'm usually wearing a cap in all my photos?
I tested a helmet liner called Diva-Do by Raci Babi (hard A as in racy baby). Inventor Anna Hood has really long hair, down to her waist, and was tired of dealing with tangled, knotted locks after a ride. She came up with an ingenious way to secure hair under a helmet that does not require the use of hair bands and leaves ones hair in great shape after a ride.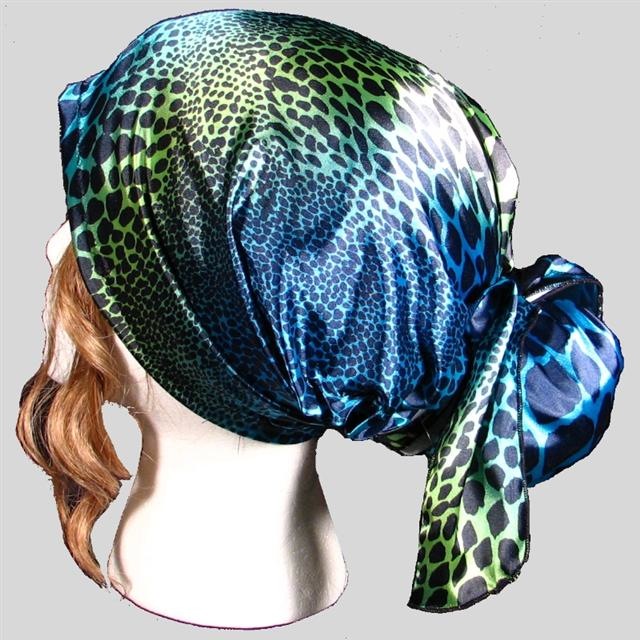 The liner I tested is made of stretchy polyester designed to wick moisture away, which it does. I never felt "hot" while wearing it under a helmet. I chose a shiny red design. There is a large variety of fun colors and designs to choose from. On one edge of the Diva-Do there is an elastic band that creates a pocket where the long part of your hair is held. The non-elastic part covers your hairline in front. There are two straps you tie that essentially hold the elastic pocket that's holding your hair.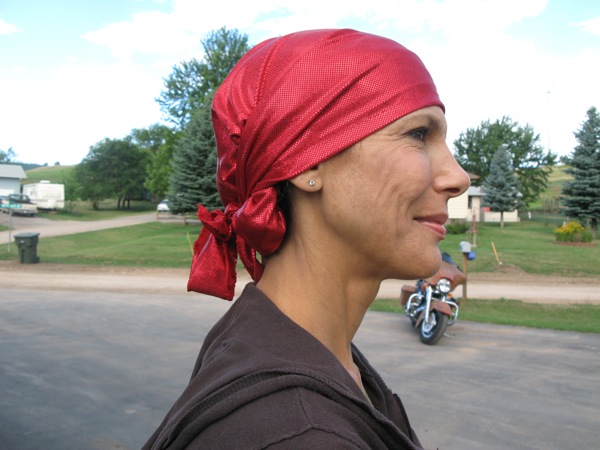 There are six simple steps outlined on Raci Babi's Web site that explain how to properly tie the Diva-Do to your head. I tied my hair incorrectly the first time I used it and wondered why the "bun" got loose in the wind. Anna told me I needed to tie the ends on top of the bun instead of under it.
Once I tied the Diva-Do correctly, it worked great. Riding to and from the Sturgis Rally going 75 mph on the highway, the helmet liner stayed in placeYh and the part hanging out from under the helmet stayed put.
Over time, with other helmet liners and do rags, knots develop in my hair at the nape of my neck. I had just a few knots riding with the Diva-Do on for several hours, but I could run my hands through my hair to get them out.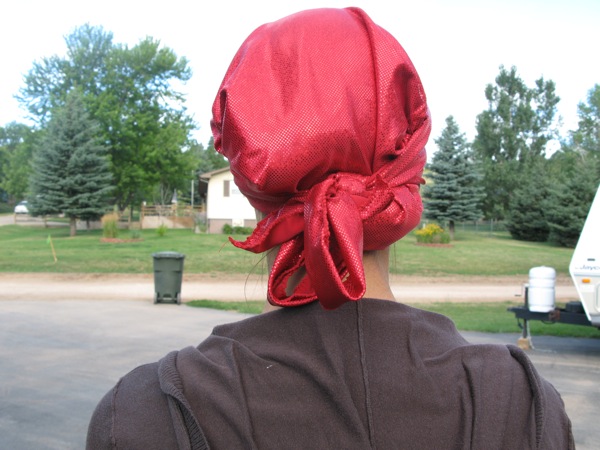 When I wore the Diva-Do with my 3/4 helmet, which has the same back part as a full face, I pushed the "bun" part down a bit so as not to create an annoying bump in the back of my neck.
I wore the Diva-Do on a quick 30-mile ride from Sturgis to Rapid City for the Sturgis Motorcycle Museum's Hall of Fame breakfast. I wanted my hair to look as good as it did that morning after I washed, dried and curled it with a curling iron. When I wash, dry and style my hair before going on a ride I find the style is still so fresh that when I put several hair bands around my long ponytail, my hair has crimps where the bands were when I take them out. I found this doesn't happen with day-old hair, by the way. With that said, I wondered if the Diva-Do could keep my freshly styled hair looking good. You be the judge.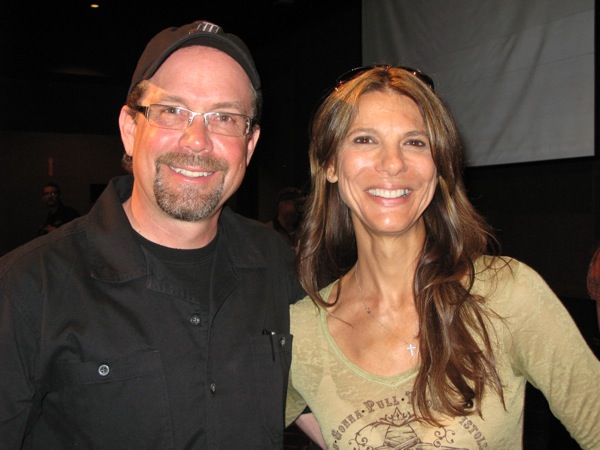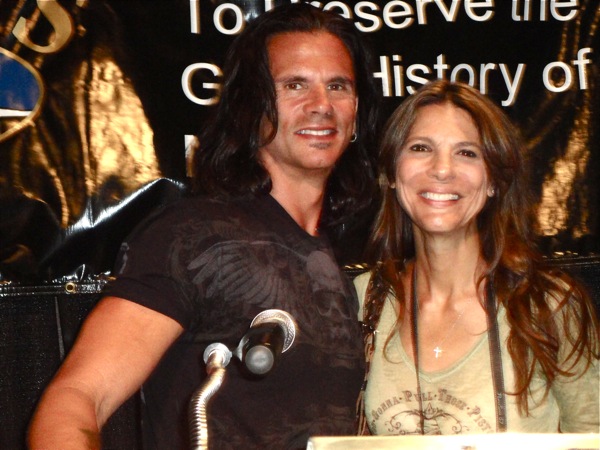 I'd say that Diva-Do did its job and banished helmet hair for me. The Diva-Do does its magic best on women with shoulder length hair or longer. Anna says she is working on a Raci Babi do-rag for shorter than shoulder length hair.
There was only one issue I had with the Diva-Do and that was the placement of the Raci Babi brand tag on one of the ties. When youre looping the ties behind your head to make a bow, the hanging tag distracts you because youre tying the ends by feel, not by sight. I mentioned this to Anna and she said that shes moved the tag on the newer Diva-Dos so it does not distract anymore.
The Diva-Do helmet liner price starts at $34.95 depending on the type of material. It can be ordered by clicking here:Raci-Babi.com.
Related Stories
All Headwear Reviews on WRN