Unlike the sportbike crowd, most cruiser riders—me included—have not embraced the idea of wearing earplugs while riding their motorcycles. This may have something to do with cruiser riders believing that they're "tougher" than sportbike riders, but I'm not really sure.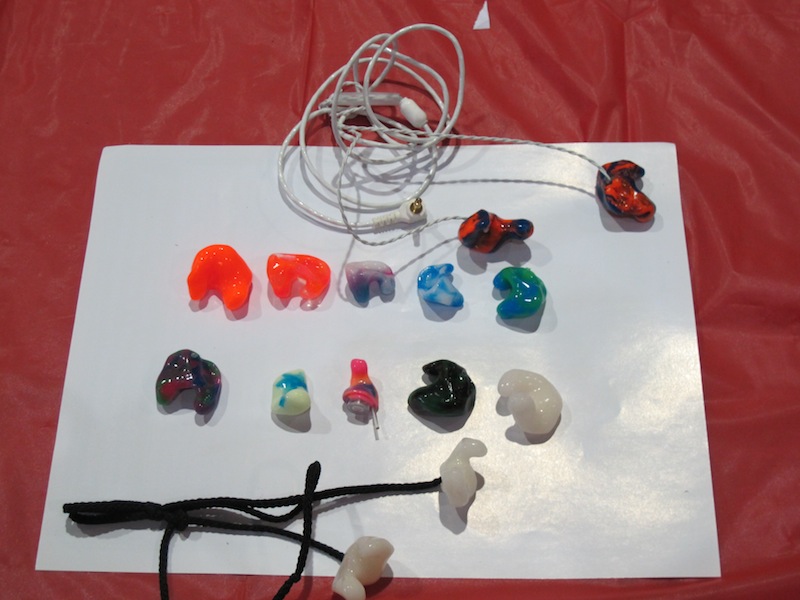 I have a friend in his late 60s who has been riding motorcycles for more than 40 years. He can't hear worth a squat, and he blames his hearing loss on years of riding without earplugs.
The potential loss of my hearing, along with the fact that I have less tolerance for the constant noise of rushing wind in my helmet, convinced me to look into wearing earplugs during long days in the saddle. I've worn over-the-counter foam plugs in the past, but they just don't do the job adequately. Plus, when Im wearing a full-face or a three-quarter helmet, the fact that those plugs arent flush with the ear makes the tender cartilage around the outside of my ears ache.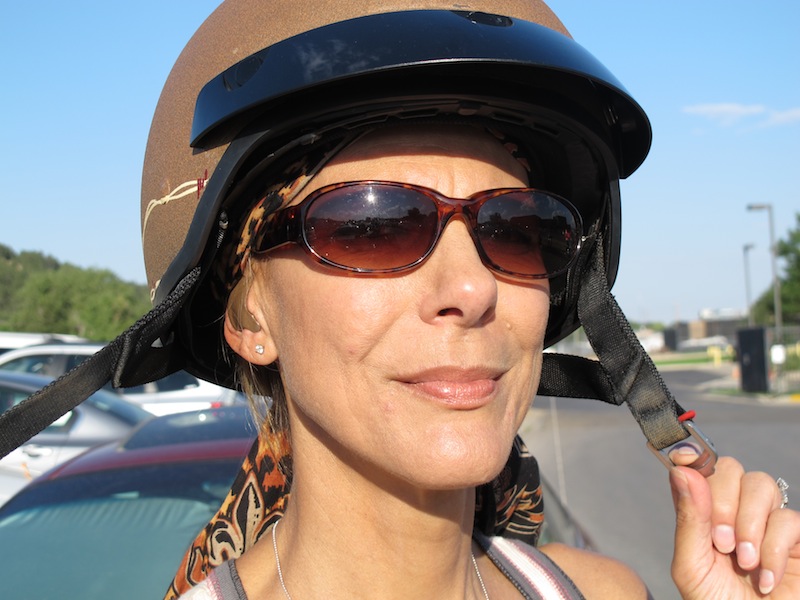 Last summer, while at the Sturgis Motorcycle Rally, I splurged on a set of custom earplugs. Traci Morin of Hear No Evil custom earplug company was a vendor at the rally, and I convinced her to make me a set at a reduced price in exchange for this review.
| | |
| --- | --- |
| Traci Moran, owner of Hear No Evil, puts lots of extra attention and care into each set of earplugs she makes. I like that this company is woman-owned. | Getting fitted for my earplugs. Traci first looked in my ears to check for obstructions before filling them with putty. |
I like to listen to the CD player on my Harley-Davidson Street Glide, but at high speeds it's difficult to hear the music clearly. So in addition to getting custom earplugs, I wanted custom earbuds that connect to my iPod. Note that earbuds do not connect to the MP3 player port on Harley-Davidson stereo systems. Only an auxiliary jack works there, which connects to your MP3 player, not to earphones.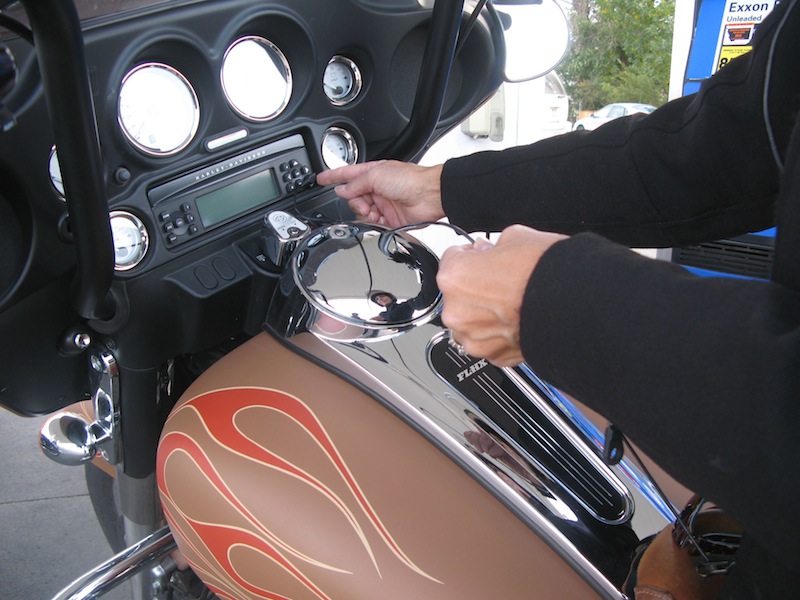 Below are photos illustrating what I went through to get custom earplugs and earbuds from Hear No Evil. The whole process took about an hour.
| | | |
| --- | --- | --- |
| A foam stopper with a string on the end is placed in my ear to prevent the molding material from going too far into the ear canal. | Traci injects molding putty to make an impression of my ear. | This impression will be used by a laboratory to cast a mold for my earbuds. |
| | |
| --- | --- |
| There are lots of colors to choose from for your custom earplugs. I chose brown to match my bike. | Traci injects brown molding putty that will be used to make my "Insta-Mold" earplugs, ones that can be ready in an hour. |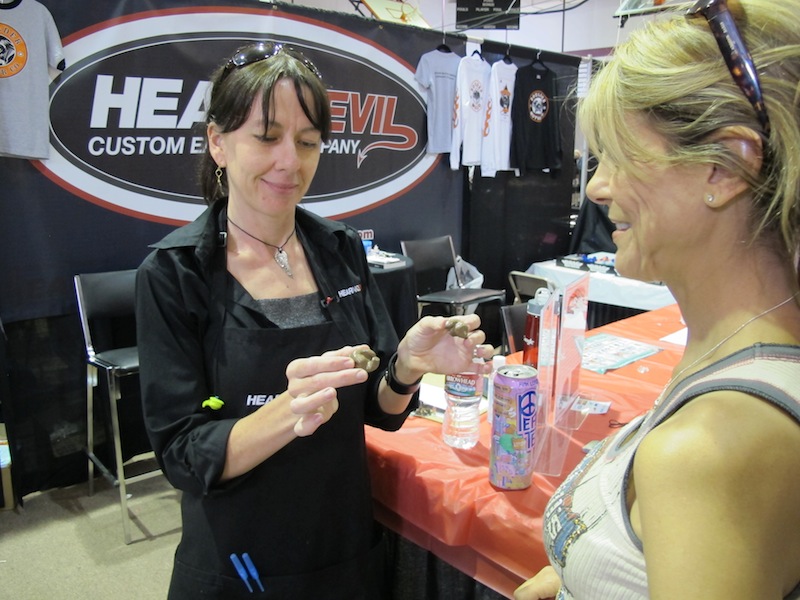 I wore the regular earplugs (when I say regular, I mean the non-earbud earplugs) on my one-day ride home from Sturgis. During that ride I alternated between a half-shell and a three-quarter helmet. The earplugs worked great! Without the constant noise of the wind, I was less fatigued and more alert on my 465-mile journey home. Although it's difficult to hear sounds when the motorcycles engine is running, I'm still able to hear sound around me when the engine is idling or turned off. For example, at a gas station, I did not have to remove the earplugs to converse with my riding buddy, Diva Amy Skaling. It was only when we started our engines that we couldnt hear each other, as she was wearing earplugs, too. If hearing sounds more clearly is important to you, there is a "filtered" version. These, however, must be made in a lab so you cant get them on the spot.
After hours of wearing the earplugs, my ears didn't ache like they did with the cheap foam ones. I love that the earplugs conform to the shape of my ear and fit flush.
| | |
| --- | --- |
| Here are my custom earbuds. They come in this hard-sided case for storage. Wait time is typically three weeks unless you order them at a rally like I did and wait times is a bit longer. I got mine in five weeks. | My custom earbuds are attached to my iPod. |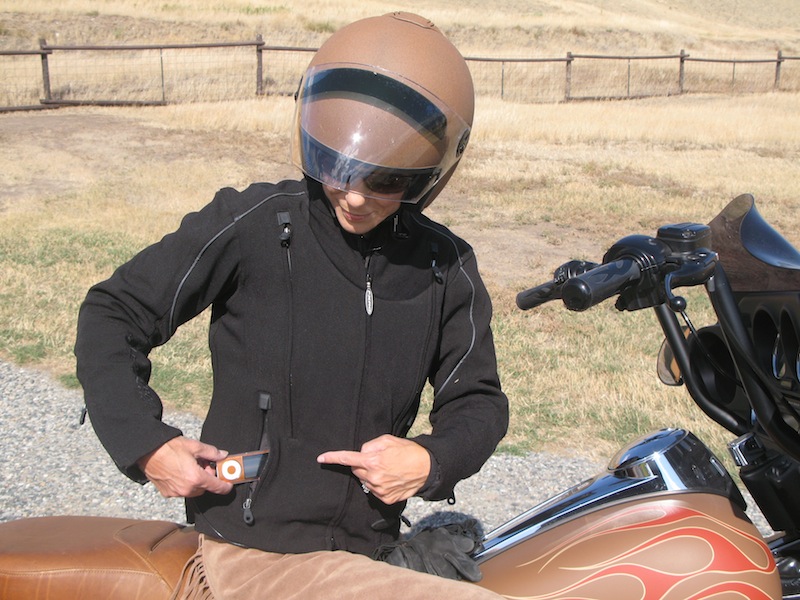 The sound through the earbuds while riding is clear and crisp. There is absolutely no wind noise. All I hear is the music—the ambient noise is there but muted, so I'm not completely shut off to the world.
I did have to fiddle with the volume a bit on my iPod so that I could hear it while riding at high speeds. Note that I did this when my motorcycle was stopped. I'm not a big fan of introducing gadgets like iPods, smartphones and GPS to the motorcycling experience. Getting music through my custom-made earplugs is as far as I'll go, and I get it all set up before I hit the highway so as not to distract from my focus on the road.
At $65 a pair for the "Insta-Mold" earplugs and $240 for the earbuds, Hear No Evil's prices are standard for the industry. Hear No Evil also offers a 30-day fit guarantee/refund/exchange policy, as well as a six-month warranty on materials and workmanship.I like these earplugs so much that I'm considering getting a set for nighttime to drown out my husband's snoring. (Hear No Evil also makes earplugs for sleeping.)
There are several ways you can get fitted for a pair of these earplugs. Those in the Denver area can visit Tracis retail location, which she shares with Boulder Motor Company, her husbands independent Harley-Davidson service center. Traci can also travel to many locations for group fittings with 25 or more people—these are often organized through motorcycle riding clubs or retail stores, with each person prescheduling a fitting time slot. Finally, like I did, you can visit Traci at her booth inside the community center at this summers Sturgis Motorcycle Rally.
Related Articles