In the sportbiking lifestyle, sometimes fashion outweighs function. Many of today's female sportbike riders prefer edgy, alternative garments with spunky designs and vibrant colors. So the quest becomes finding pieces that are fun to wear but also provide a level of protection.
With that in mind, the Speed and Strength (that's the brand name) Cat Out'a Hell Armored Hoodie is pure genius. At a time when more women motorcyclists are opting to wear hoodies or T-shirts instead of jackets (for "coolness" and comfort), the Cat Out'a Hell Armored Hoodie provides a middle ground, allowing women to have the style they crave in a garment that has some protective qualities—in this case, body armor.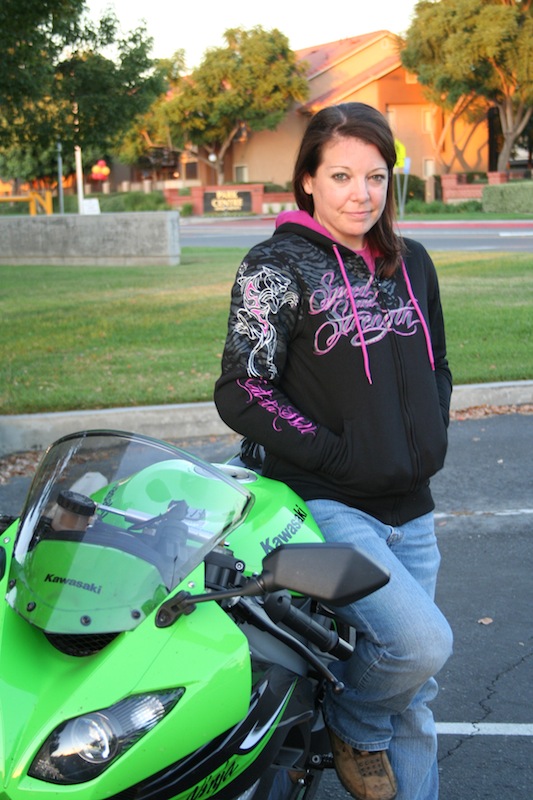 Remember, we're talking "trying to look cool with some level of protection." Though the Cat Out'a Hell Armored Hoodie does not offer the abrasion-resistant protection of a Kevlar textile jacket (it's made out of a cotton-poly blend), it does have CE-approved armor in the shoulders and elbows. CE-approved means the armor meets or exceeds the standards set forth in Europe, where motorcycling armor is put through rigorous testing.
Pairing this armored hoodie with another armored garment—like the funky (and original, I might add) Icon Stryker Vest—would offer the same level of protection as a riding jacket because all your points of impact are covered. Read my review of the Icon Stryker Vest.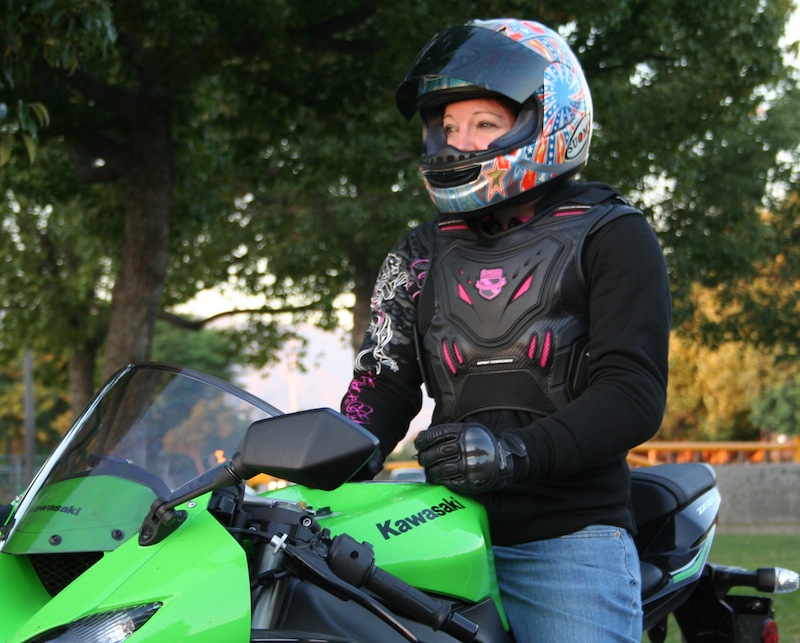 The armor is the stiff kind, so you definitely feel that it's there. But it was never uncomfortable. In fact, I appreciate knowing my shoulders and elbows are protected should my body come in contact with the pavement. If you do wish to remove the armor pieces—for example, if you wanted to wear the hoodie as an everyday fashion jacket—they can be slipped out of their pockets, which are sewn into the inner mesh liner.
Though the hoodie is warm and cozy like a sweatshirt when worn off the bike, it does lack for wind protection on the bike. I was at ease wearing the hoodie on my bike while riding around town to run errands on a cool, breezy day, but when I hopped on the freeway, I felt "naked" and longed for the wind protection of a cool-weather riding jacket. That aside, what I love about the hoodie is that it is extremely comfortable. It has a secure fit and doesn't rise up my back like some women's waist-length textile and leather jackets do. In fact, I could barely tell I was wearing the hoodie—it's that comfortable.
The hoodie has a zipper on each hip, allowing for
adjustability and a better fit at the waist.

The pockets are somewhat small, leaving barely
enough room for a smartphone or wallet, but they do zip closed so that keys and money won't fly out while riding.
The cotton-poly blend fabric makes washing easy, but I could see the black color fading with repeated washings—and repeated washings are the inevitable downside to the amount of bugs and grime that cake on a motorcycle rider's gear after a long day's ride.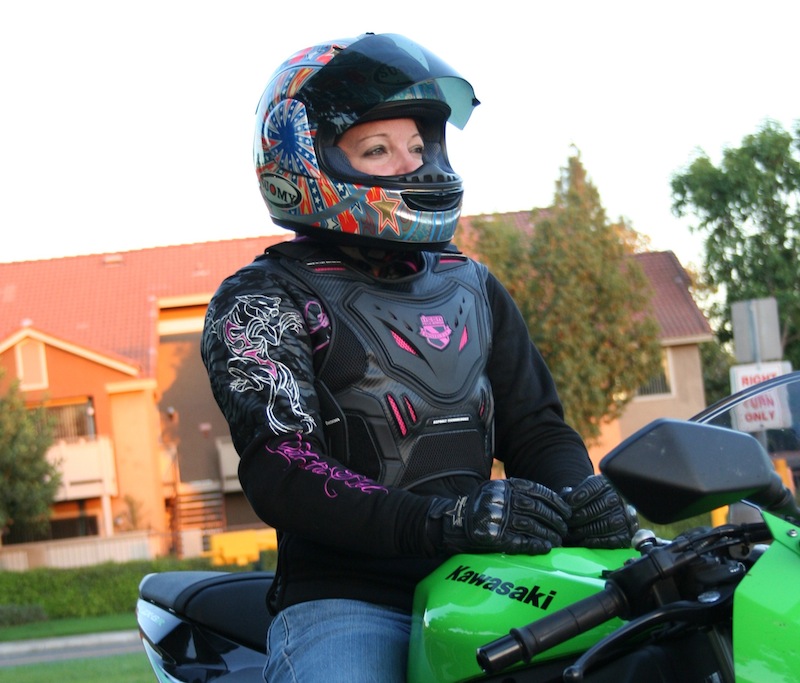 The silver and purple colors blend nicely over the black fabric, and the pink liner is a flashy accent that makes the sweatshirt stand out. A small jewel encrusted into the zipper tab adds a little "princess" feel to the hoodie.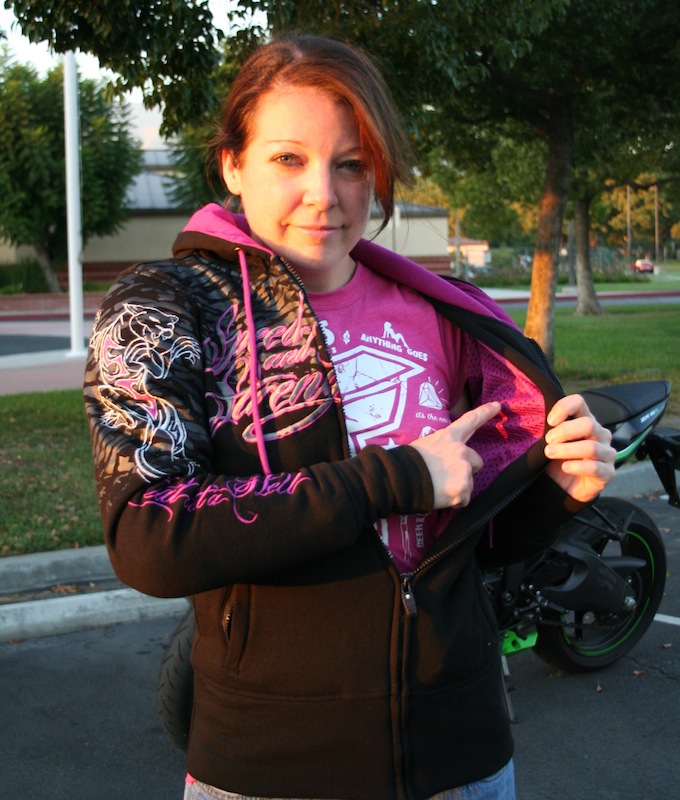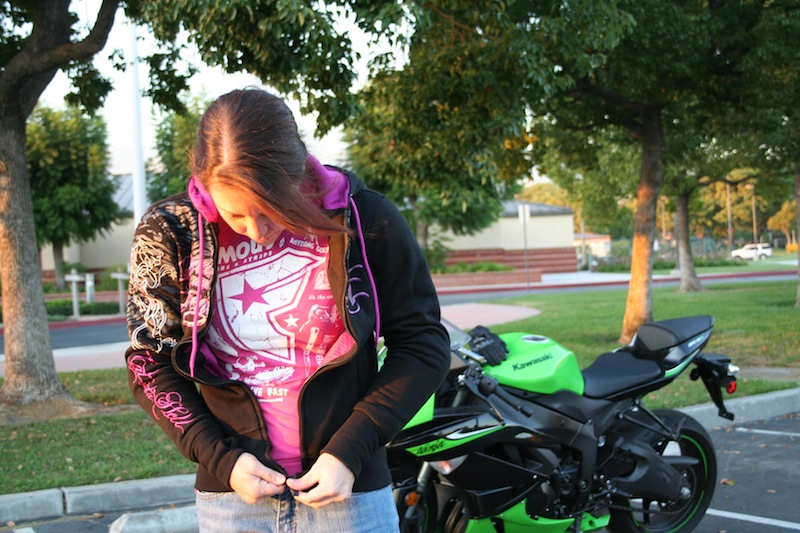 The Speed and Strength Cat Out'a Hell Armored Hoodie is available in women's sizes XS to 2XL and sells for $109.95. I tested a size small, the size Id normally wear, and it felt true to size. Fashion, style and protection make this hoodie a worthy investment. For more information, visit SSGear.com.
Related Articles
PRODUCT REVIEW: Icon Stryker Vest