We began our boots buyer's guide with an overview of the different styles of boots available to motorcycle riders. In that first article, we highlighted some of the important features found in motorcycle-specific footwear and things to look for when shopping for your next pair of riding boots.
We followed up with an article highlighting the touring styles Women Riders Now (WRN) leadership board and staff members actually wear and love when riding all kinds of street motorcycles. Here we dive into our favorite footwear to wear when cruising.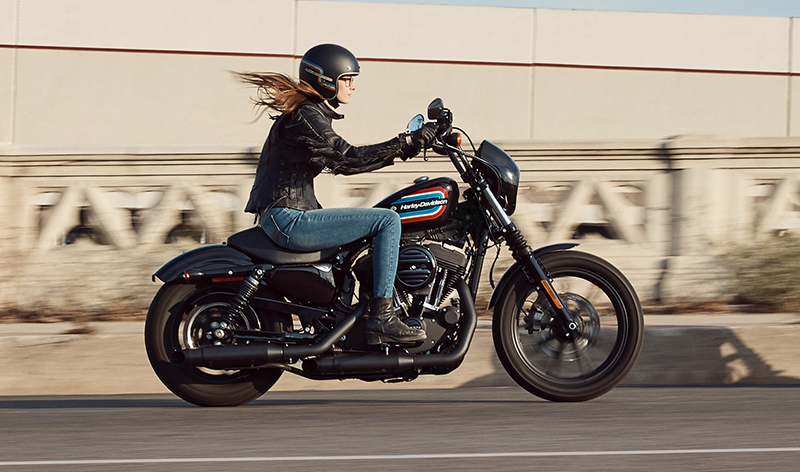 Fashion Vs. Function
We would be remiss if we ignored the fact that so many women are riding motorcycles in fashion boots marketed as "motorcycle boots" and other non-motorcycle boots. While we support your freedom to choose, its more important to us that our readers, friends, and fellow riders are protected in the event of something going awry on the bike. We want youto know why your Doc Martens, Fryes, cowboy boots, hikers, and even work boots don't offer the best protection in a motorcycle mishap.
Even though many work boots and tactical boots will have some features you want in motorcycling, being protected from dangers on a job site is quite different than sliding on asphalt or staying safe and comfortable on a motorcycle. For example, you'd wear steel toed boots to protect your toes from being crushed from machinery at work, but that steel will conduct cold when you're riding and could even act as a sharp knife in a crash. You'd wear hiking boots to climb through thick and wet terrain, but those boots will disintegrate when the asphalt sands them down like coarse sandpaper in a slide.
Quality motorcycle boots are designed to keep your skin and bones protected in a crash. Real motorcycle boots are made from thick leather and other high strength materials like Kevlar and Cordura. They're designed to keep your toes, ankles, and feet well supported and protected while riding and in worst case scenarios. The stitching itself is double- and triple-reinforced to hold the boot together and is made from materials that will sustain a slide on asphalt. Good motorcycle boots incorporate internal ankle armor that absorbs shock and protects your most susceptible areas. They have rugged oil-resistant soles with excellent traction that keep riders stable when they put their feet down. Many motorcycle boots also now have reflective and waterproof features built in.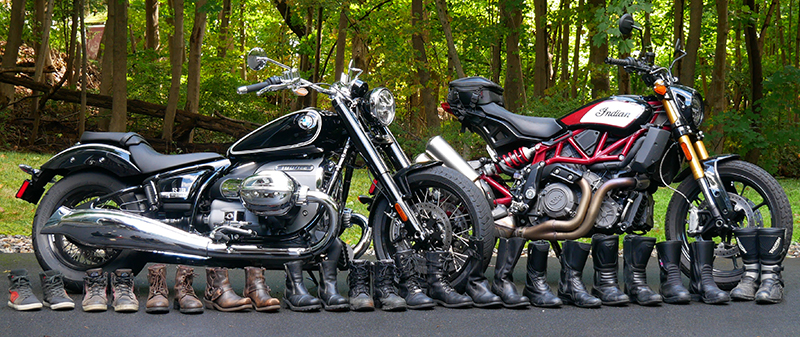 Laces Vs. Zippers Vs. Pull Ons
No boots will protect you if they don't stay on your feet. Pull on boots are easy to get on and off, but also come off easily in an unintentional get-off, and boots with just a zipper may or may not stay on the foot. Properly laced boots will fit very well, but laces can be broken or worn away. So there are pros and cons for each choice.
There are a lot of differing opinions out there in cyberland about riding with laced boots. Some people offer advice to "never" wear boots with laces. Others warn about buckles and zippers that might scratch paint or chrome parts. Here are the facts for you to make an educated decision:
Long lace loops can get caught on a footpeg or shift peg causing you to drop your motorcycle when you attempt to put a foot down at a stop. However, many good motorcycle boots these days incorporate a strap that will secure the extra lace or have laces short enough so there isn't much left hanging. No matter what the case, it's easy enough to tuck loops inside the boot. And almost all motorcycle boot zippers have tabs that cover the pull, so there's nothing to scratch parts.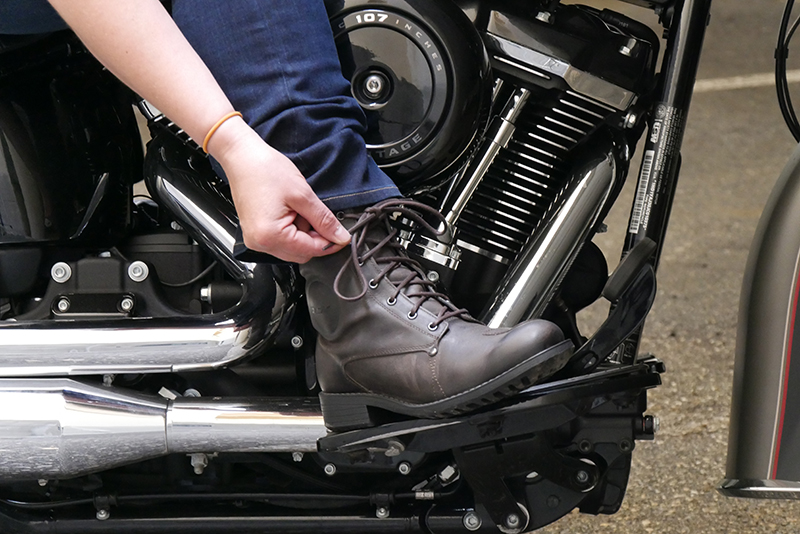 The benefit of laces is that you can achieve a good tight fit on the length of the boot, which helps it stay on during a mishap. Some boots have both laces and a side zipper, which allows you to get that perfect fit and are quick and easy to put on and take off.
Ultimately, you want to be comfortable and protected while riding your motorcycle. So finding the right boot for you is a personal choice. The following options are some of our favorite cruising motorcycle boots that feature important protective qualities.
---
Harley-Davidson Bremerton, $191.95
Harley-Davidson Footwear selections are updated regularly, so while editor Tricia has plenty in her closet she'd love to recommend, most are out of stock now. However, the recently released Bremertons are quite similar to the Bradbrook boots you can see her wearing on some of the 2018 Harley-Davidson Softails in her review here.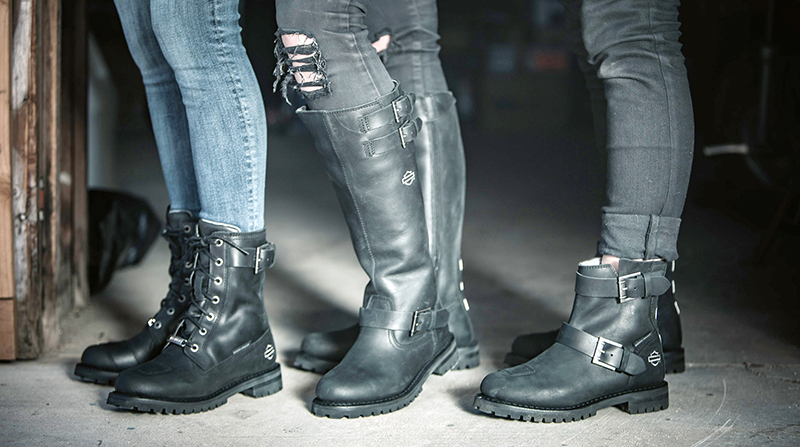 All three Bremertons are engineer style boots and have a 1.25-inch heel, ankle protection, reflective tabs in the back, breathable Hydro-Guard waterproof membrane, and a tough rubber sole.
Tricia wears the 14.5 inch Bremertons; these are the highest boots in her motorcycle boot collection. She says, "When I want to wear a protective cruiser boot that covers my entire shin and calf, these are the boots I go for. I love that I finally have a boot where pants can be tucked inside, and that also fit my not-so-skinny calves."
A long full-length zipper on the inside makes getting the Bremerton boots on easy, and a Velcro tab at the top keeps the zipper pull from scratching bike parts. Two buckles at the top of the shaft can be cinched for a tighter fit if necessary. With ankle protection, reflective tabs on the back, and a very small subtle embroidered Bar amp; Shield logo, the Bremertons are built to keep you dry and protected in style.
---
Harley-Davidson FXRG-6 Pull On, $160
Kirsten Midura, one of our leadership board members, almost never rides in heels. However, she makes an exception for the Distinguished Gentleman's Ride (DGR) by wearing the Harley-Davidson Women's FXRG-6 boots because the fundraising event calls for riders to wear "dressy" clothes on their motorcycles to call attention to the rides cause. She likes these because they resemble one of her favorite pairs of non-riding shoes. While she prefers a low heeled riding boot, the 2.5-inch heel height on the FXRG-6s are manageable enough for casual rides around town like the DGR.
With a nice shape, a reasonable heel height and a clean look, Kirsten is comfortable wearing the FXRG-6s to work or to a New York City event near where she lives. "I don't like flourishes or the over-feminization of my riding gear," she says, "so I am thankful these boots don't have embellishments, embroidery, pink accents, or scream with Harley-Davidson branding. I ride a Triumph, Yamaha, and Kawasaki. The FXRGs look at home on any brand of motorcycle."
The FXRG-6 boots are abrasion resistant, oil resistant, and have outside ankle protection. As a native Oregonian, Kirsten is used to wet conditions so all her riding boots need to keep her feet dry. Built with a breathable waterproof full grain leather upper and Hydro-Guard waterproof lining, the FXRG-6s do the trick. She did note that wearing skinny jeans or leggings tucked into the boot will allow water to get in from the top. (This can be easily rectified with a rain suit that goes over the boot.)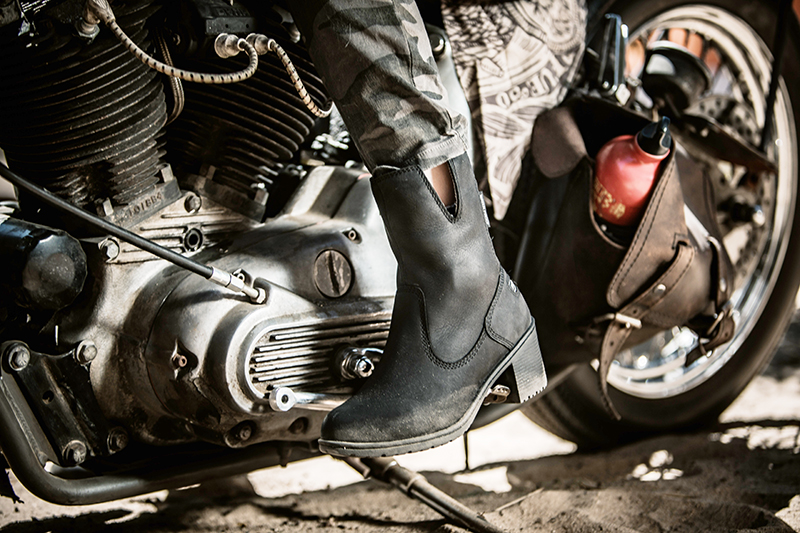 Kirsten notes that her feet are narrow. She ordered her usual size, 9.5, and they fit perfectly. She says, "The FXRG-6s are comfortable and tight enough to feel safe especially around town, and I like how the wide top part of the boot makes it easy to pull over my pant legs."
Kirsten finds herself reaching for the FXRG-6s often for short commutes, events, and quick jaunts around town when she wants to look cute and be relatively protected. For long rides, she prefers a boot with a low or no heel for the stability it offers.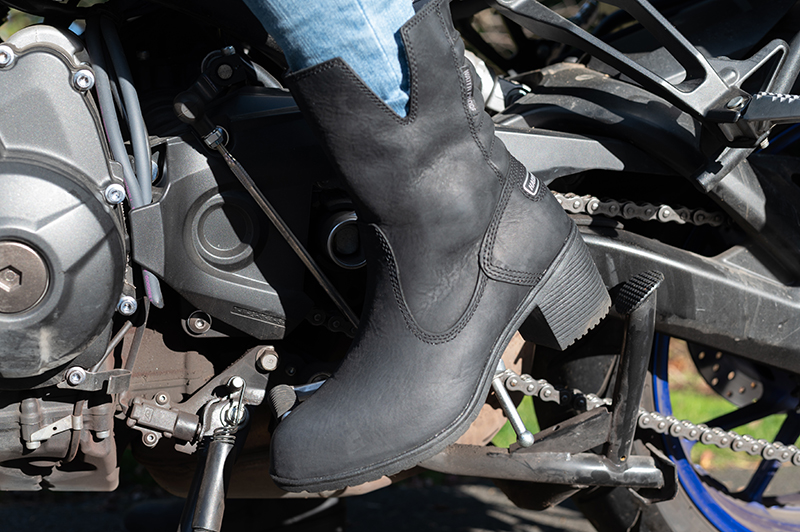 ---
Indian Motorcycle Women's Leather Engineer Riding Boot, $189.99
In her on-going quest to find a nice "combat" style boot that isn't a clunky men's style, WRN leadership board co-chairwoman Sarah Schilke is pleased with the Indian women's engineer boot, which offers a motorcycle-worthy, premium boot that looks stylish off the bike. Indian has done a nice job of creating a sturdy boot with a feminine footprint.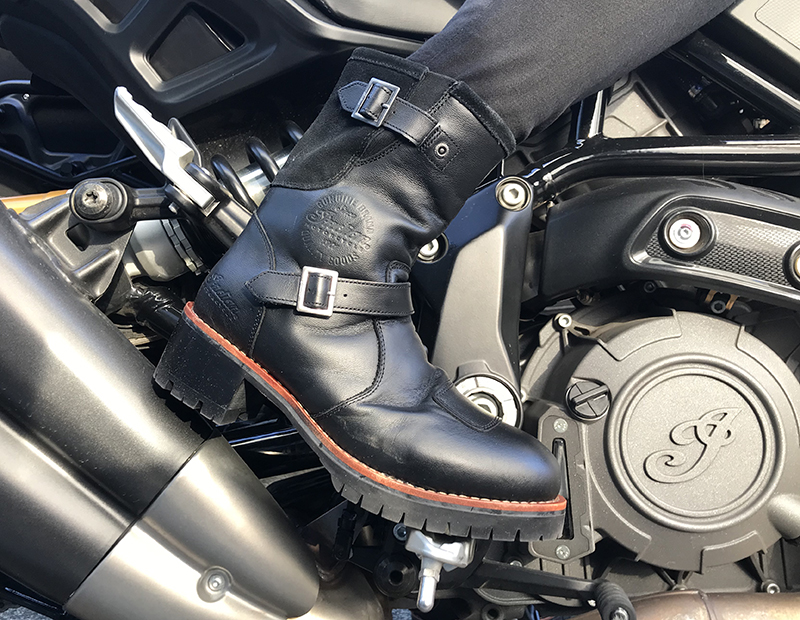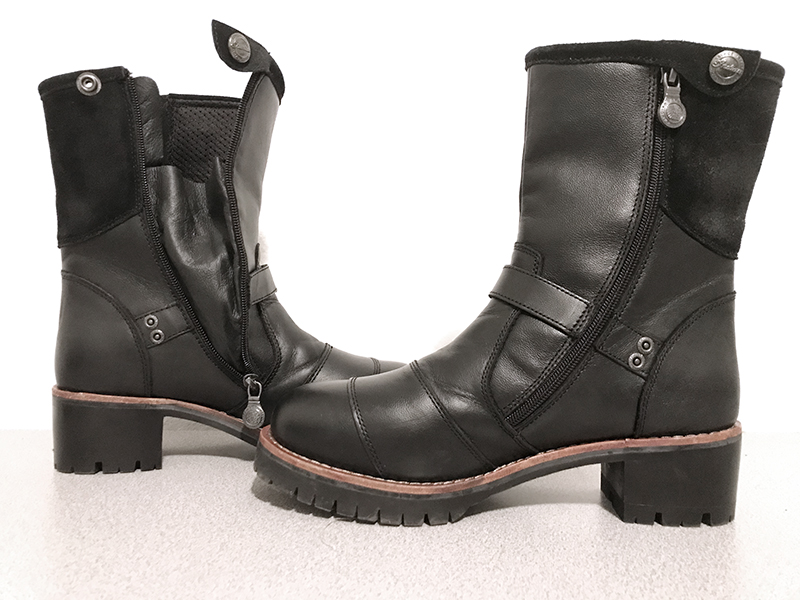 The deep tread Vibram sole gives the Indian boots excellent grip on the street, and shorter stature women will love the platform to help with footplant on taller bikes. The sole is .75 inches thick with a heel that adds another 1.25 inches, helping shorter riders achieve a more solid footplant on taller bikes.
The engineer boots are made from premium 1.4mm to 1.5mm thick cow leather and offer nice finishes like an external leather shift pad on the left boot that is replicated on the right boot for symmetry, burnished suede back panels, reinforced internal CE-rated ankle, heel, and toe protection, antibacterial microfiber insock and mesh lining, high quality YKK zippers for easy on and off, and elegant subtle branding on the buckles, snaps, zipper pulls, and embossed into the leather near the ankles and heel.
The Indian Motorcycle women's leather engineer riding boots are offered in whole sizes from 5 to 11. Indian states that its footwear is fitted, so if you typically wear a half size it's recommended to size up. Sarah usually wears size 8-1/2 or 9 boots so she ordered a size 9. She finds them to fit well—loose enough to comfortably wear thick socks, which works well for riding in the colder climate of her home state of Oregon.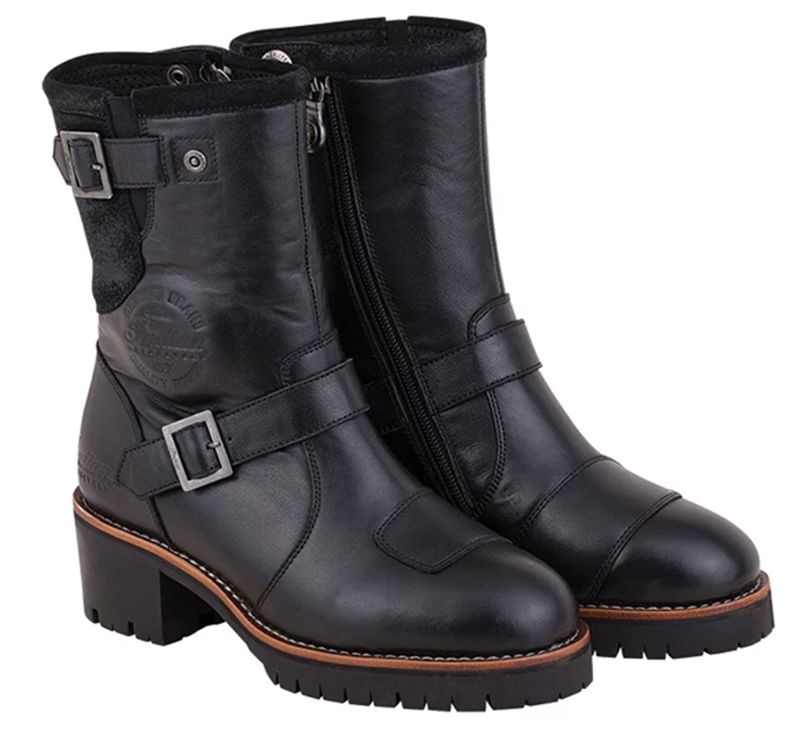 ---
TCX Blend ($200) and Hero ($250)
We would be remiss to not include TCX's Blend waterproof laced boot that several of us love. You can read our review of them here. Hero is the men's version of the Blend, which Kirtsen Midura prefers because it includes many of the same features as the Blend but also includes a side zipper which makes getting them on much quicker.
Both the men's and women's boots come in brown or black and are made from full grain leather. Don't let the vintage look fool you. These are fully waterproof. Ortholite footbeds provide excellent comfort and breathability. Both styles feature a mid-calf shaft height, ankle protection, malleolus leather shift pads on both boots, and the protective qualities all TCX motorcycle boots have—CE certification and impact- and abrasion-resistance.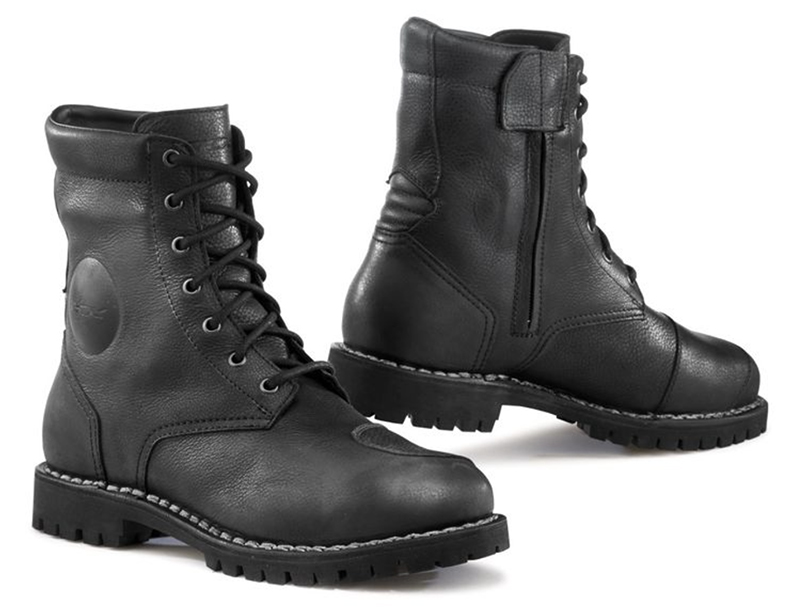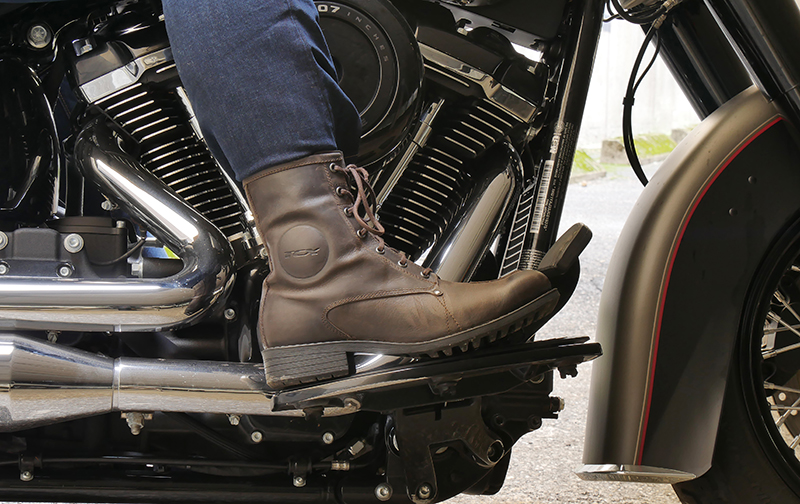 ---
Wesco
We often get questions from readers looking for motorcycle-specific women's footwear in extra large or small sizes and wide widths because those sizes are hard to come by. Many women with wide feet wear men's footwear even though these boots might not fit other parts of the feet well, as we touched on in our article How to Shop for Motorcycle Boots.
In searching for a custom boot option for women who have unique fitting needs or who want a custom look, we turned to longtime industry partner Tigra Tsujikawa who tells us she has a difficult time with motorcycle footwear. She recommends Wesco Boot company, which WRN founder Genevieve Schmitt featured here in her review from 2011. The Oregon-based family-owned business started way back in 1918 and is still going strong today.
Tigra says, "Shoes and boots are not made for my wide flat feet and bunions. My calves measure 16 inches around and due to a previous injury, my left leg is shorter than my right one by a half inch."
| | |
| --- | --- |
| Tigra does a lot of off-road riding as well as on road, so she needs a versatile boot that covers the shin almost up to the knee and will hold up to the rigors of all kinds of riding in various conditions. These are her 8-year-old custom Wesco boots. | Tigra recalls, "I told my measurer I'd be tucking leather pant legs into the 16-inch high boots and so he accounted for the extra inches I would need, and noted for a .5-inch lift in the left boot. Then I designed the look of them by choosing colors for the different leather sections, stitching, buckles, sole patterns, and inserts. They were delivered to me three months later and fit perfectly box to bike." |
Having a custom boot made specifically for you is a pricey investment but a real treat for those who take the plunge. Tigra shares her three reasons that justify the expense. First, she is focused on safety. "I don't want to spend any time when I'm riding thinking about how my feet hurt, which takes my attention away from the riding, the surroundings, or the experience. When your gear fits, the safety protection stays in place so your mind can stay focused."
Second, Tigra wanted a quality boot that would last a long time. She says, "I've had these boots for eight years now and they are still in great shape! Wesco builds all its boots by hand in its factory in Scappoose, Oregon, and guarantees the workmanship. If I need to have them rebuilt, my information is on file and it will cost between $125 and $235 for basically new boots."
Finally, there's nothing like having a boot to fit your personal style. Tigra states, "I wanted a longer shaft on the boot to mimic my dirtbike boots, and being a fan of Steampunk, I can have fun with the look while also being sure of the function."
Wesco creates each pair of custom boots using your exact measurements, forming a unique last (the mold the boot is made from) for your boots. Wesco offers options to start building your custom boot from a variety of lace-up or pull-on boot styles. From there, you decide on the weight and color of each leather panel (from an assortment of blacks and browns), shaft height, heel height, toe shape, toe insert, lining, sole, straps, buckles, color of thread, and more.
Tigra was able to arrange for a Wesco representative to meet her in person to trace the outline of her feet and take measurements of her feet and calves, but there is a kit with instructions to do it yourself at home. Wesco's website has a great video explaining how to take the measurements.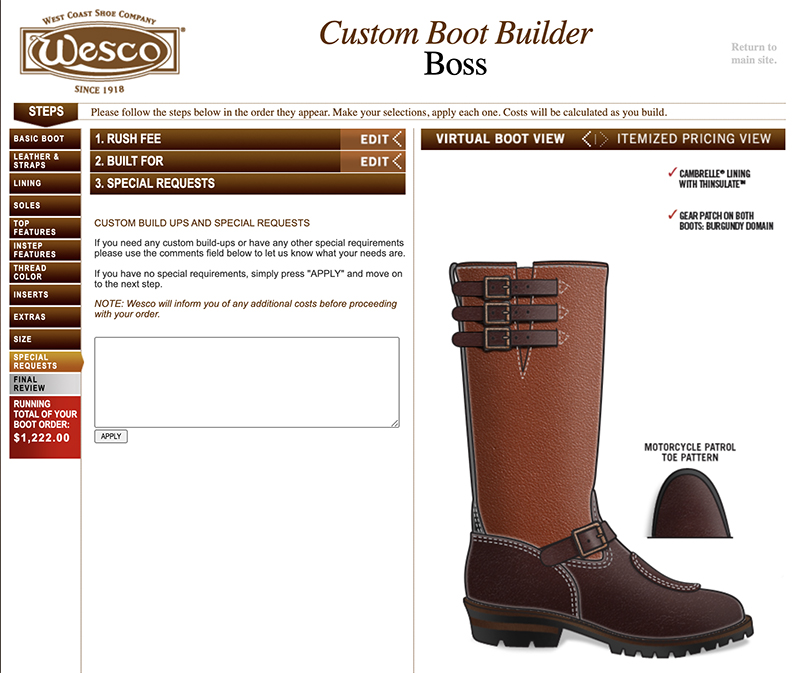 We know there are a lot more great motorcycle boot offerings for women who ride. Be a part of our story by sharing in the comments below what your go-to riding boots are and why you love them.
Subsequent articles will focus on our favorite picks for adventure and dirtbike riding boots, sportbike and track riding boots, and our best picks for urban sneakers and motorcycle shoes. Be sure to sign up for our free newsletter to be the first to know when these stories are published.
---
To order and see more styles, please visit the following web sites:
Harley-Davidson Footwear
Harley-DavidsonFootwear.com
Indian Motorcycle
IndianMotorcycle.com
TCX
RideTCX.com
Wesco
WestcoBoots.com