Want to get VIP treatment and ride the new YZF-R7 to lunch with a select group of women riders? WomenRidersNow.com (WRN) editor Tricia Szulewski and industry pro Brittany Morrow will be leading a special exclusive ladies ride on a fleet of new Yamaha R7s at the 2021 Progressive International Motorcycle Show (IMS) Outdoors venues. To find out more and to enter to win the exclusive ladies ride package, visit Yamaha-Motor.com.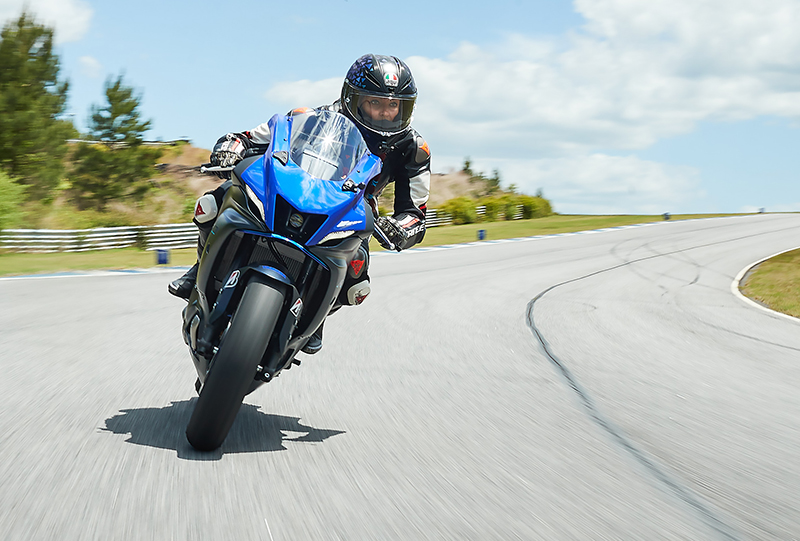 An increase in lower displacement machines have taken the motorcycle riding community by storm. While the general consensus of bigger and faster is more exciting, trained experienced riders know that bigger is not always better.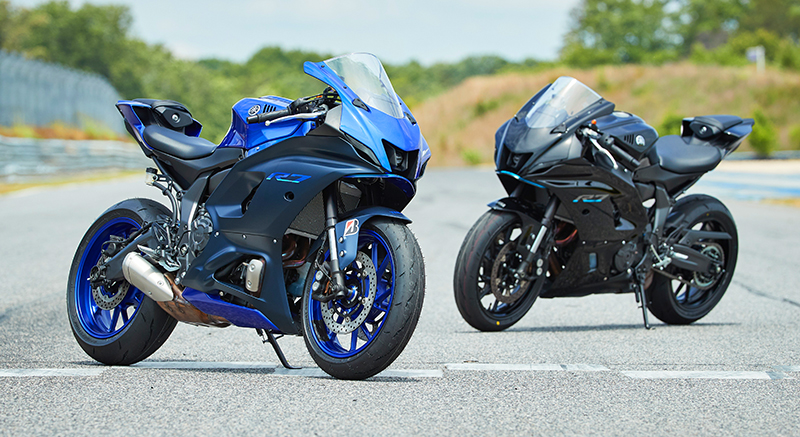 YZF-R6 riders who commute on city streets complain about the bike lacking power in the lower RPM range and having a too-aggressive (uncomfortable) body position. The R6 is a fantastic track weapon, but track riders and racers account for a tiny percentage of motorcycle enthusiasts. Yamaha's new YZF-R7 is neither a replacement for the R6 nor a dressed up MT-07 (although it shares the same engine with the MT-07, formerly known as the FZ-07 that WRN reviewed here.) The R7 is something completely new—a machine designed with the everyday rider in mind.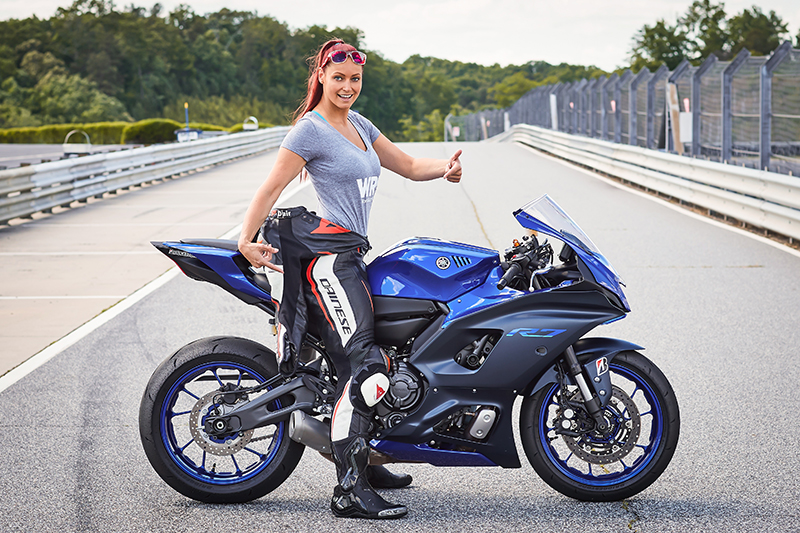 The new YZF-R7 is truly much more manageable, comfortable, and fun to ride while still possessing qualities of a racy supersport. Its styling is quite beautiful with a super sleek body design that fits perfectly within the rest of the R-series lineup.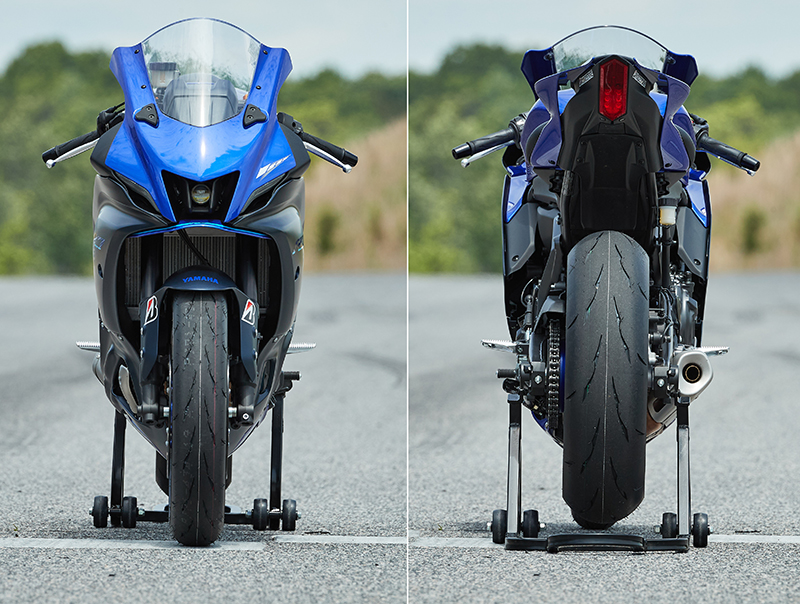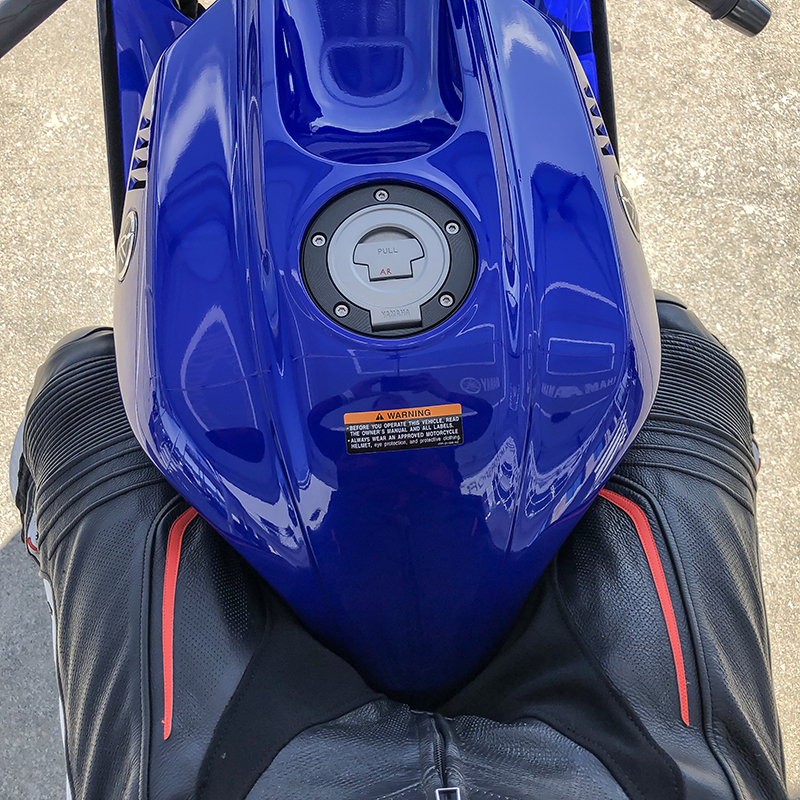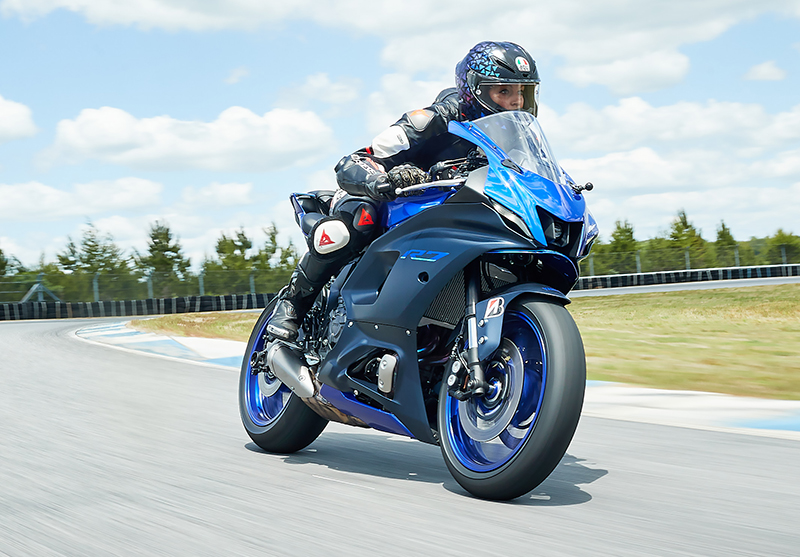 The foot pegs are also positioned slightly down and back from the R6 peg position. That, coupled with the deep knee pockets of the tank, keeps you secure and comfortable on the machine. While the R7's riding position is relaxed in sportbike terms, it can still take a corner aggressively without dragging hard parts.
While footplant is typically not a concern for riding on the track, it's an incredibly reassuring and confidence-inspiring feature when you are out and about on uneven or sloped terrain. This further reinforces Yamaha's goal of designing this machine for street and track riders and making it more accommodating to the daily rider and their needs.
So how does the R7 perform? To test this machine properly, Yamaha invited WRN to Atlanta Motorsports Park (AMP) in Dawsonville, Georgia. AMP is a car track; motorcycle events are rarely held there and I had never ridden there. It is a 2 mile, 16 turn road course which is almost completely blind with elevation changes of up to 100 feet. The track is very technical and physically demanding. I would be lying if I didn't say I was pretty nervous—learning a new track is already hard enough, but then to test a bike on it is another story.
As the tire warmers came off and I rolled my way down pit lane I was surprised at how quickly I felt comfortable on the bike. In fact, there was something eerily familiar and confidence-inspiring about the machine.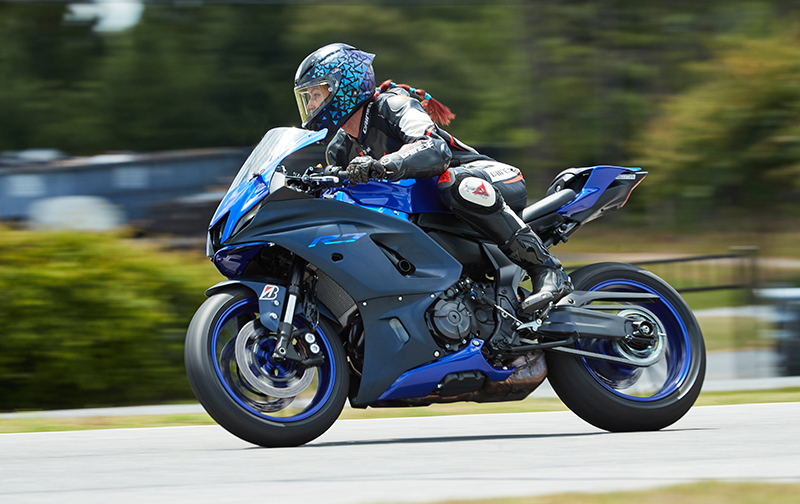 At each corner I remembered the notes I had taken about the track the night before and started to commit to memory where I was on the course. By the third lap I had visually connected all 16 corners and confidently started picking up more speed. After six laps I pulled in to rest and thought of everything I had just experienced. Jumping off the bike with a massive smile under my lid, I realized riding the bike had been totally effortless, allowing me to focus all my attention on the technical track. Wow! That's never happened to me before!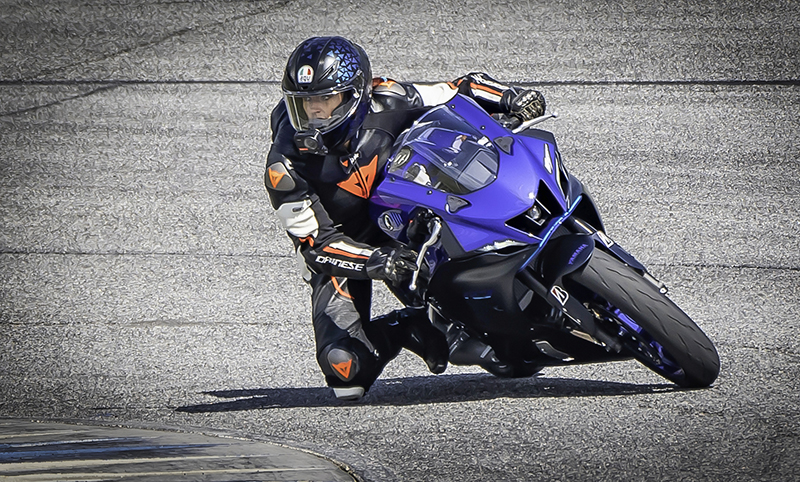 The front end feels nice and planted, providing great feedback under cornering and heavy braking. The suspension in general provides a nice combination of comfort and stiffness—I can totally see myself enjoying a very spirited run in the canyons in full comfort on this machine.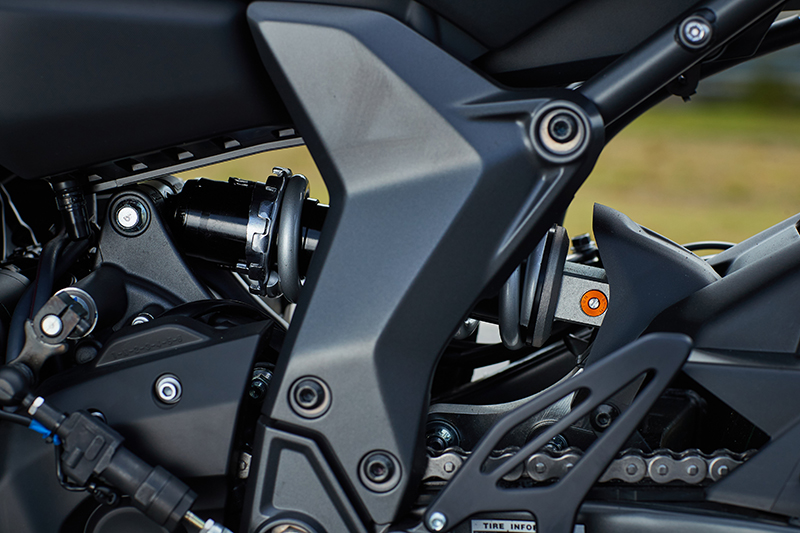 The frame is also altered a bit with a steeper caster angle, shorter trail, and shorter wheelbase. This translates into a more stable motorcycle under hard braking and acceleration, cornering, and offers riders a better input feel when changing direction.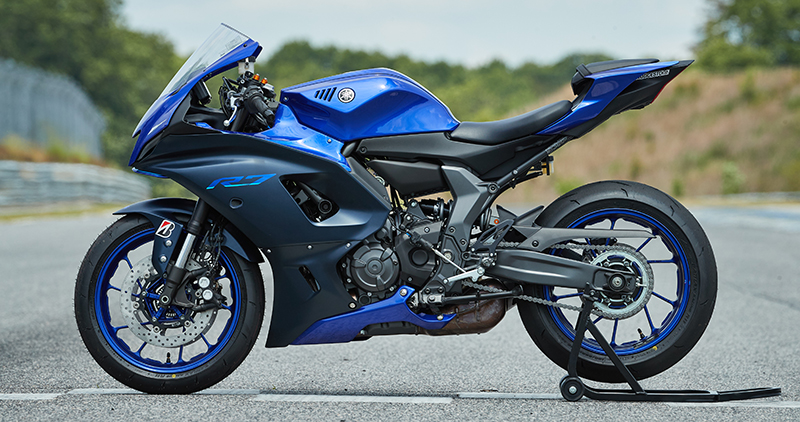 All of this holds the 689cc inline twin cylinder CP2 (crossplane, 2-cylinder) engine. The 270-degree crankshaft and offset cylinders give the motor its unique exhaust pulse and smooth power delivery, all the while having torquey character throughout the rpms. No matter what gear you are in there is always smooth power ready at your disposal.
Yamaha deliberately developed the R7 as a no-nonsense machine in order to keep costs down. Equipped with traditional throttle cables, meaning the throttle is all mechanical, there are no ride modes or traction control—features found on more expensive motorcycles.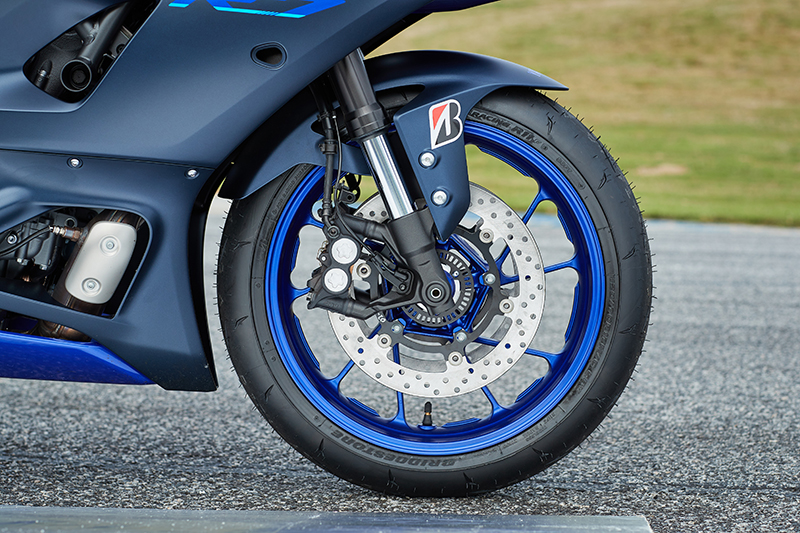 The R7 debuts Yamaha's assist and slipper clutch—a first on one of its CP2-powered motorcycles. This makes squeezing the clutch lever easier, reducing hand fatigue by 20 percent.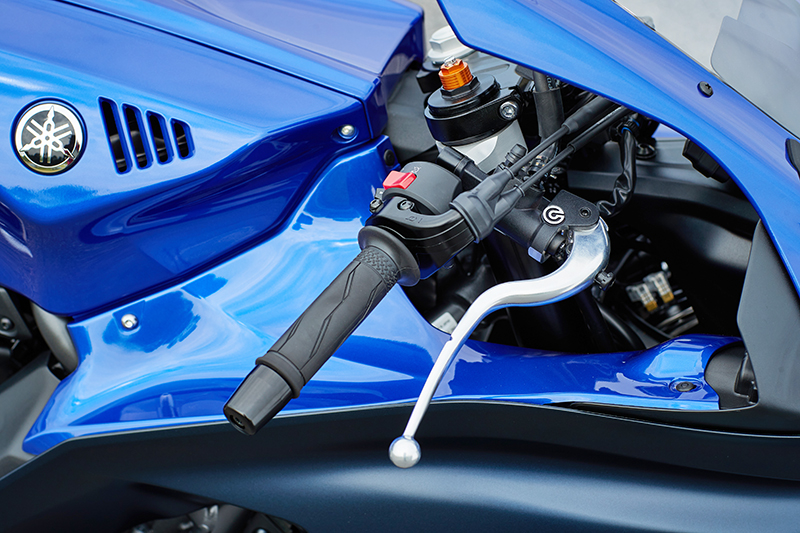 For an extra $199 you can opt to add a quick shifter (one of my favorite modifications to a motorcycle.) A quickshifter that assists on the upshift eliminates the need to roll off the throttle, pull in the clutch, and shift. The quickshifter does this automatically by cutting the spark/fuel to the engine momentarily so that the rider can stay on the throttle, making shifting smooth as butter. However, the one available for this bike falls short for track riders with the only option being standard shift and no adjustability for GP shift (one up, five down.)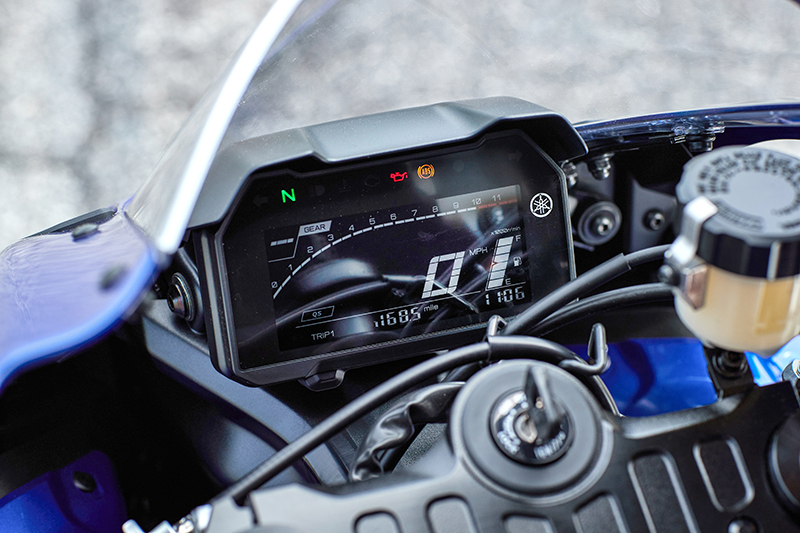 The R7 features all LED lighting in a modern design. The center bi-functional (driving light and high beam) headlight is tucked away neatly within the M shaped nose fairing.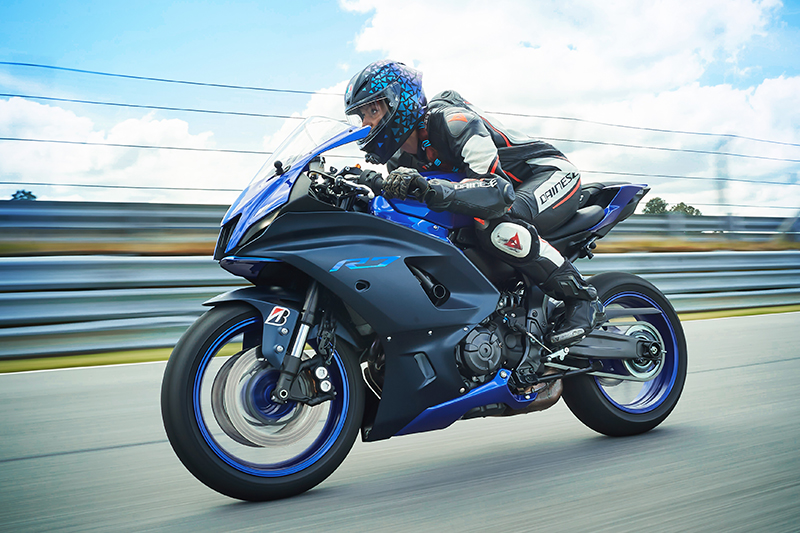 In the hands of a newer rider this machine will provide fun and excitement as they grow with it. In the hands of an experienced rider, the R7 truly shines and inspires confidence to push oneself and the machine to the limit which is a tremendously satisfying feeling.
Specs At A Glance: Yamaha YZF-R7
Engine size: 689cc
Seat height: 32.9 inches
Fuel capacity: 3.4 gallons
Wet weight: 414 pounds
MSRP: $8,999
2022 Colors: Team Yamaha Blue, Performance Black
WRN Recommendation: Yamaha's newest middleweight supersport fits the bill for sportbike riders who want solid, confidence-inspiring performance without too many unnecessary expensive bells and whistles. The torquey engine offers plenty of fun while the bike's superb suspension and braking keeps riders planted and stable during any kind of riding—street or track. The YZF-R7 offers riders more power than small 250-300cc displacement supersports in an easy to handle, slim, lightweight, fun package.
Check out the following video for live action of the R7 and more technical details not covered here.
Related Articles
Progressive International Motorcycle Show Goes Outdoors for 2021
Motorcycle Review: Yamaha FZ-07
Sportbike Reviews
More Motorcycle Reviews