Those of you who regular read my Editors Thoughts column will notice the change in the title of this link. Its now Genevieves Blog. I decided to change the format of my column to a blog format. Those of you not familiar with a blog – well, it stands for Web log, and its a sort of online journal for individuals who want to share their thoughts with readers on a regular basis. Its a very informal forum taking on the personality of its writer.
Being an "old school" journalist, I hesitated to convert my column to a blog format for fear my opinion and insight on things may not be that interesting. I figured the format of a formal editors column was the best way to convey information. However, so much happens in the world of motorcycling that I learn about on a daily basis that I really want to share with my readers in a quick and easy-to-read format, and an informal blog format appears to be the best way to do that. With my crazy, busy life these days, I just dont have time to write a formal editors column. A blog will allow me pass along the info as I learn it. So expect to see this link updated more often with insight and insider information. With that said, here we go with my first blog entry.
Sturgis 07 In the History Books
Much of the news on our WRN home page this past week related to activities happening at the Sturgis Motorcycle Rally held August 3-11 in South Dakota. I hesitated to post too many stories about the famous rally in the Black Hills because I know some of our readers could care less about it. Nevertheless, some interesting developments happened there this past week that Id like to pass along.
The biggest thing for me this Sturgis Rally (my 12th rally by the way) was being interviewed by Geraldo Rivera for his "Geraldo At Large" show on the Fox News Channel. This is a big deal because I have been aggressively seeking publicity in mainstream media outlets for WRN. Appearing on the Fox News Channel is huge because of its reach. Click here to link to the news story about the airing posted on WRN. And to view the segment, click here, scroll down halfway through the page, there will be a link to download the windows media file.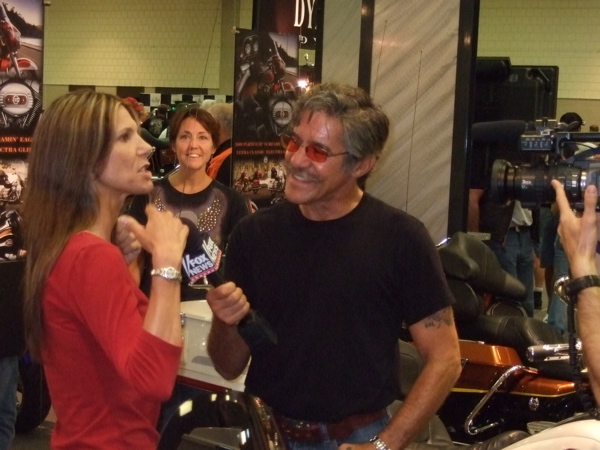 For those of you who care, Geraldo surprised me in that he is quite handsome in person, on the shorter side maybe 5-feet-11 but in tremendous shape. He looked pretty hot in the black T-shirt he was wearing while interviewing me, a hint of a tattoo peaking out from just below his sleeve on his biceps. Both he and his producer, Greg Hart, ride and own Harleys. Greg is a doll such a kind and generous person the short time I dealt with him.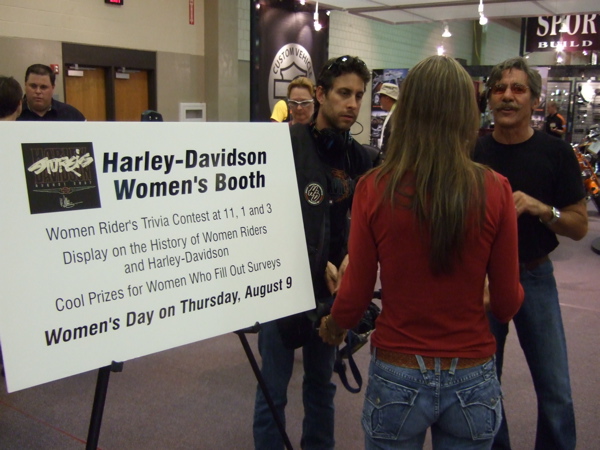 Speaking of publicity, in late June, I was quoted and WRN was mentioned in a New York Times article about women and motorcycling and the residual publicity generated from that has been tremendous for WRN. So many more visits to the site which helps us to continue to grow. My goal with all this publicity is to reach out to women thinking about getting into motorcycling but have no idea how to get started and provide them with a resource of information as well as encouragement from other riders stories. The more women riding a motorcycle is good thing for the industry all around. When a woman is passionate about riding, the more likely she is to give her blessing to her family members to ride (husband, son, daughter, etc.) hence, more riders buying bikes and accessories keep the industry alive and healthy. Women are very powerful influencers among their family and friends.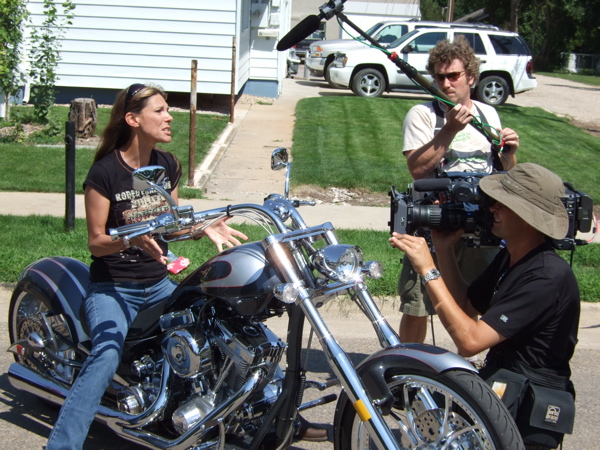 Sturgis also brought out a crew from a new cable channel called the Smithsonian Network shooting a 1-hour documentary on the rally. I was interviewed for a segment on women and motorcycling. I just happened to be test riding a Big Bear Chopper all week in Sturgis so that bike will be getting a lot of publicity as well, as I was asked about this raked out custom bike I was riding. Of course, when I know the air date of the documentary Ill post it on WRN.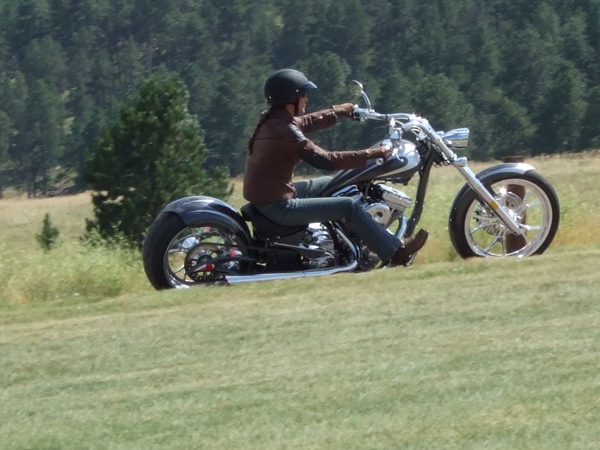 Speaking of test rides during this Sturgis trip, I was actually reviewing two motorcycles for upcoming reviews on WRN. I rode a Victory King Pin Tour to and from Sturgis (about 1,000 miles round trip) for a long term test. Very interesting motorcycle from many different aspects. When I got to Sturgis, I parked the King Pin and hopped on the "Miss Behavin" model, part of Big Bear Choppers lineup, to test ride it all week in Sturgis. This is the one bike specifically designed for women in that it has a shorter wheelbase and the handlebars and footpegs have been brought back closer to the rider. My reviews will appear on WRN in the coming months.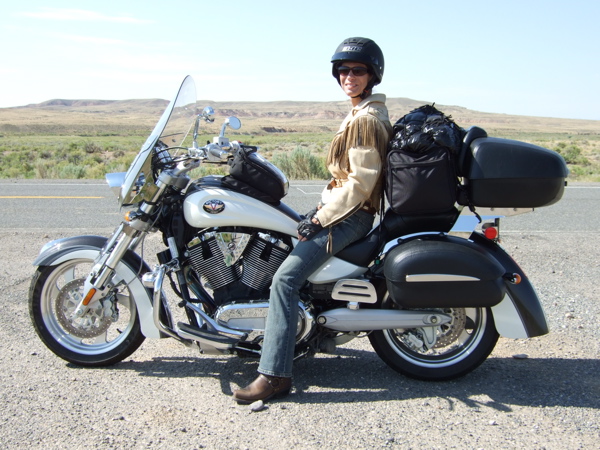 Blast from the Past
I ran into Jesse James while passing by the Samp;S Cycles booth in Sturgis. Jesse and I go way back. Ive known him since the early 90s when he was an anonymous bike builder toiling away in a small shop in Long Beach. Betsy (Backroads With Betsy columnist) and I used to hang out with him in his shop and ride to events together with him and a buddy. I interviewed Jesse several times for articles in motorcycle magazines long before he was famous. I havent talked to him since he married Sandra Bullock (who I get told I look like all the time, by the way).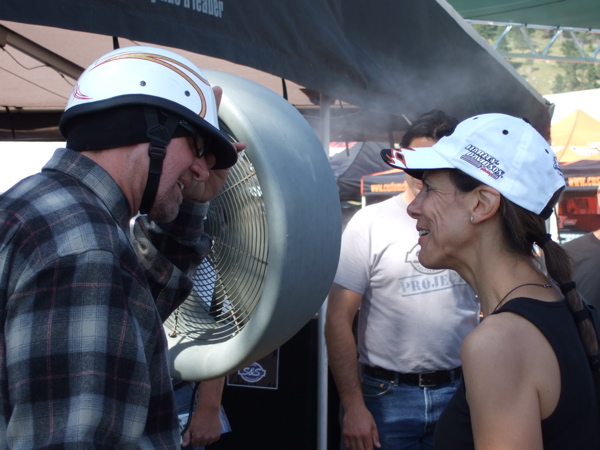 When I caught up with him, he was visiting with some Samp;S reps. Just as he was about to leave on his bike a few people recognized him and before you knew it, he was surrounded by autograph and picture seeking fans. I nosed in and we shared a big hug and then reminisced for few minutes about the past. Hes the same old sweet guy he always was (just richer, I would imagine). He told me he rode to Sturgis from Tennessee (or was it Missouri or Oklahoma), I dont remember, somewhere out there because he was sick of the same boring ride from Southern California to Sturgis that he had ridden so many years. So, he and a bike flew to wherever that was in the South/Midwest and he traveled from there to experience the ride to Sturgis from a different route.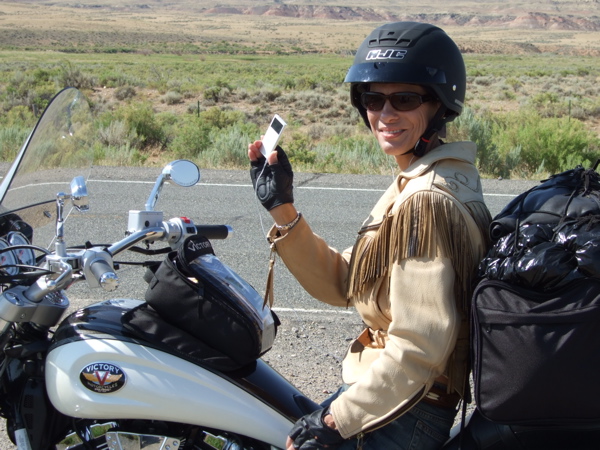 So much more to share with you, but I dont like articles (or blogs for that matter) that ramble on and on (Im into short and sweet) so Ill share much more of what happened this past week in a future blog including some news on some fellow female riders and everything that happened at the Harley-Davidson womens booth. Very cool and fun time! Be sure to email me with your thoughts. Theyre always welcome.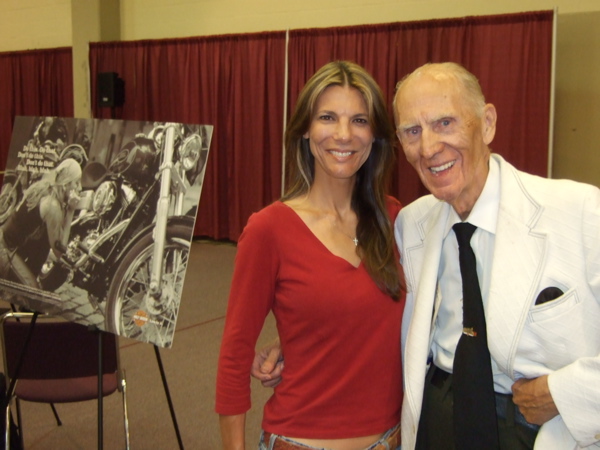 Congrats Chris Carr!
added 8.26.07

I cant believe I forgot to mention my friend Chris Carr getting inducted into the Sturgis Museum Hall of Fame during rally week. Chris is a seven-time Grand National Dirt Track Champion – and one of he nicest guys in racing Ive ever met. He also earned the title of the "fastest man on two wheels" when he set a record at the salt flats of Bonneville last September. Hell be defending his title next weekend. He certainly deserves this Hall of Fame recognition. Way to go, Chris!