Team Diva in Sturgis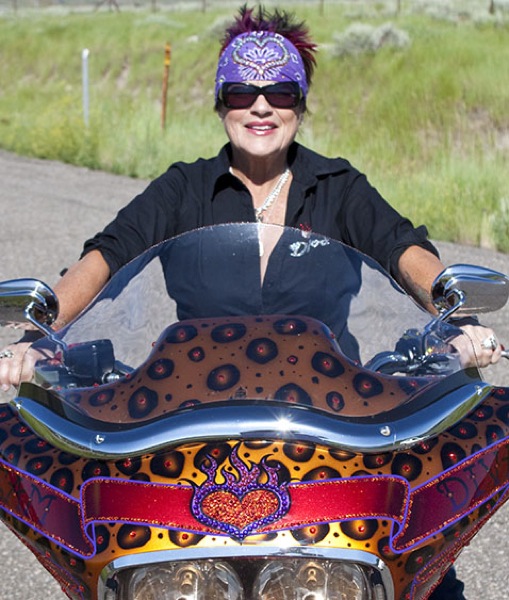 Those whove been following my blog know about Team Diva and owner Diva Amy at right. Amy is my new riding buddy were riding out to Sturgis together and Amy has an incredibly fun business of selling blinged out hats, belts sunglasses, T-shirts and other accessories. She will be selling her stuff at a boutique in Spearfish called Kathleens Unique Boutique. The shop is located at 622 Main Street in Spearfish. Phone is 605.642.3843. Be sure to visit the Team Diva Web site to see what Amy offers.
Willie G and Country Stars Ride Together
Heres a fun YouTube video whether youre a Harley fan or not. Earlier this spring Harley-Davidsons very own Willie G. presented at the Academy of Country Music Awards on April 5th. He also partcipated in the Chairmans Ride. Video footage of that ride is now available with many of countrys biggest stars including Eddie Montgomery, Troy Gentry, Toby Keith, James Otto, and Krista Marie. You can see the video on Harley-Davidsons YouTube channel.
Interesting Web Site All Should Know About
I learned of a new Web site through the AMAs magazine, American Motorcyclist. BlackNailBrigade is one mans efforts to make the car drivers more aware of motorcyclists on the road after his mother was killed on her motorcycle by a woman who rear-ended her while painting her nails in her car. Visit the link and do what you can to support the guys efforts. You will be moved by what you see on the site.
POSTED 7/20/09
Sturgis Bound
I#8217;m leaving for Sturgis in two weeks the rally goes from July 30 to August 9 and I#8217;ll be on the road for three weeks. First to Sturgis; then on to Keystone, Col., for the dual sport ride for charity that Im doing; and then on to the AMA Women amp; Motorcycling Conference, where I will have a booth and covering the conference. If youre heading to Sturgis here are some of the more exciting activities you should know about #8211; and that I#8217;m participating in.
Best Western Caters to Motorcyclists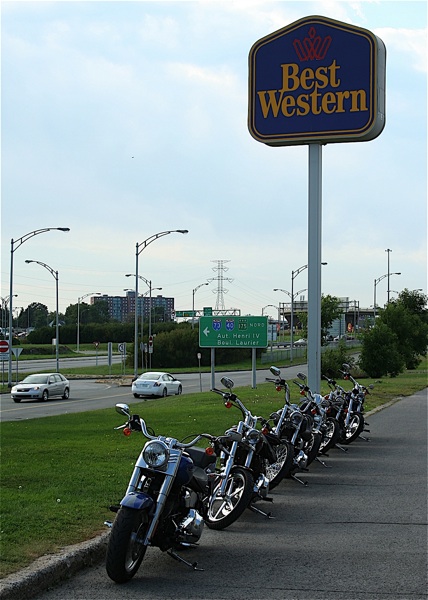 On the way out, I#8217;ll be staying at the Best Western in Thermopolis, Wyoming. Turns out the Best Western is supporting riders going to the rally in a big way. The hotel chain is inviting riders to pit-stop at one of 13 rider-friendly Best Western hotels along routes leading to Sturgis. Unforunately for me, Thermopolis is not on their list of participating hotels, but check out the ones that are below. Riders who make a pit-stop at any of the 13 Best Western hotels will be offered a central location to rest, use the washroom and pick-up special gear as part of the hotel chains "rider friendly" program, which includes bottled water, lip balm and more. Best Western, as the only hotel chain that caters to motorcycle riders and enthusiasts, offering those who stay the night before riding into Sturgis special benefits to meet their unique needs, which includes discounted rates and rewards through Best Western Ride Rewards Loyalty Program.
The following Best Western properties, all within 150 miles of the rally, are "Sturgis Pit Stops" and will welcome riders beginning July 27th, 2009. A map of the properties can also be viewed at BestWestern.com/pitstop.
– Best Western Sturgis Inn: 2431 Junction Avenue, Sturgis SD, 57785. (605) 347-3604
– Best Western Black Hills Lodge: 540 E Jackson Boulevard, Spearfish, SD, 57783. (605) 642-7795
– Best Western Ramkota Hotel: 2111 N LaCrosse Street, Rapid City, SD, 57701. (605) 343-8550
– Best Western Town N Country: 2505 Mount Rushmore Road S Highway 16, Rapid City, SD, 57701. (605) 343-5383
– Best Western Golden Spike Inn amp; Suites: 601 E Main Street, Hill City, SD, 57745. (605) 574-2577
– Best Western Four Presidents Lodge: 24075 Highway 16A, Keystone, SD, 57751. (605) 666-4472
– Best Western Buffalo Ridge Inn: 310 W Mount Rushmore Road, Custer, SD, 57730. (605) 673-2275
– Best Western Devils Tower Inn: 229 Highway 24, Hulett, WY, 82720. (307) 467-5747
– Best Western Sundowner Inn: 737 S 6th Street, Hot Springs, SD, 57747. (605) 745-7378
– Best Western Tower West Lodge: 109 N US Highway 14-16, Gillette, WY, 82716. (307) 686-2210
– Best Western West Hills Inn: 1100 W 10th Street, Chadron, NE, 69337. (308) 432-3305 – Best Western Grahams: 301 W 5th Street, Murdo, SD, 57559. (605) 669-2441
– Best Western Ramkota Hotel: 3200 W Maple Street, Sioux Falls, SD, 57107. (605) 336-0650
– Best Western Grahams: 301 W 5th Street, Murdo, SD, 57559. (605) 669-2441
– Best Western Ramkota Hotel: 3200 W Maple Street, Sioux Falls, SD, 57107. (605) 336-0650
Mail Your Stuff to Sturgis
The U.S. Postal Service in Sturgis is making it easy to mail your stuff to Sturgis to lighten the load on your motorcycle. "Tents, sleeping bags and other items can be heavy and cumbersome," says Acting Sturgis Postmaster Laura Barrett. "Take the hassle out of your ride by mailing your gear ahead and it will be there when you arrive." Pack your belongings in a sturdy box (call your local Post Office or visit usps.com for service standards and size and weight restrictions) and send to:
General Delivery USPS
820 Kinship Rd.
Sturgis, SD 57785-9998
Your package will be there for pickup when you roll into town. Just remember to bring a photo ID. During the Sturgis Rally, mailing and shipping services will be available at both the main Post Office (on Kinship Rd.) and at the Harley Station, located at 1040 Junction Ave.
Harley-Davidson Womens Day
As it has the last few years, Harley-Davidson will host Women#8217;s Day at its new model exhibit at the Rushmore Plaza Civic Center on Sunday, August 2. There will be demonstrations on how to pick up a bike, and Harley-Davidson reps will be on hand to show how to customize your bike to fit you properly. The Civic Center is located at exit 57 off I-90. You can also get a first look at the 2010 models. For more info visit Harley-Davidson.com/Sturgis.
Pink amp; Proud Ride


A womens Pink-n-Proud ride for Breast Cancer will be going on at the Buffalo Chip on Friday August 7. The Pink-n-Proud ride will feature women in motorcycling who have moved the industry into the new direction as well as the ladies who have made it their hobby and brought women motorcyclists into a new light. Im still find out who these women are. The inaugural ride will be presented by Black Hills Harley Davidson and The Legendary Buffalo Chip. Two charitable foundations will be supported: Rapid City Regional Hospital Foundation and Keep-A-Breast Foundation. Price to participate is $115 but includes a concert at the end of the ride at the Buffalo Chip. The bands scheduled to play that evening are Buckcherry and Red.
The 50 mile ride starts with an opening celebration complete with mini-sessions, exhibits, seminars and entertainment. The day continues with a beautiful escorted ride through two canyons ending with the final Pink Parade at the gates of the Legendary Buffalo Chip. A perfect close is the exclusive ride reception at the Chip#8217;s Softail Lounge with heavy hors doeuvres, Pink Fashion show, live auction, entertainment, drinks and a finale like no other charity ride can offer. The Pink-n-Proud concert finale is in the form of two national artists taking the stage at 8:30 p.m. and 10:30 p.m. mentioned earlier. Click here for more info.
Sturgis Museum & Hall of Fame Breakfast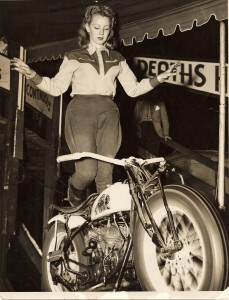 Still on the subject of women, the annual induction ceremony for the new Hall of Fame members will be on Wednesday morning, August 5, 2005 at the Rushmore Plaza Civic Center in Rapid City — a new location this year. Cookie Crum is this year's female inductee. Cookie Crum is known for her time riding the Wall in the Motor Drome starting at age 18. She spent several years traveling with the show otherwise known as the Wall of Death. Later, Cookie and her husband owned a Harley-Davidson dealership in Medford, Oregon. She's encouraged countless riders – both men and women – and has assisted in the formation of a number of clubs and organizations. Click here to read more about her and see incredible photos of her on the Wall.
Ride With Steven Tyler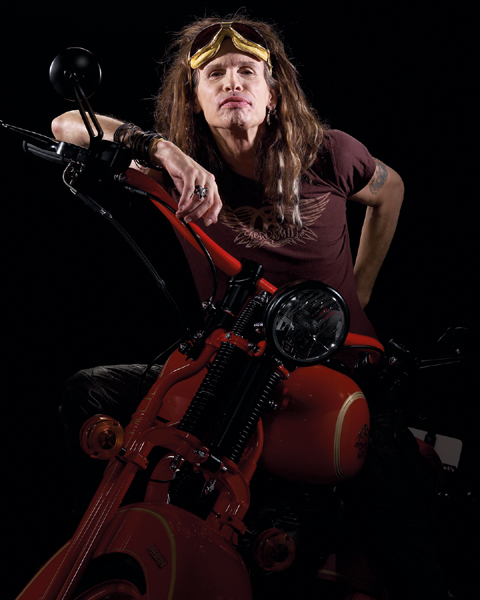 On Monday August 3 is the Legends Ride, a charity ride that Aerosmith's Steven Tyler is scheduled to take part in and that I will be riding in and covering. It's 50-mile escorted ride with motorcycling "celebrities" riding Deadwood through the Black Hills, ending at the Buffalo Chip Campground in Sturgis. This is a charity ride so it costs $150 to participate with 100 percent of the proceeds going to the Black Hill Children's Home Society and the Sturgis Motorcycle Museum & Hall of Fame. On Wednesday, August 5, Aerosmith will be performing live at the Buffalo Chip. For more information visit LegendsRide.com and BuffaloChip.com.



Steve Tyler's Motorcycle Line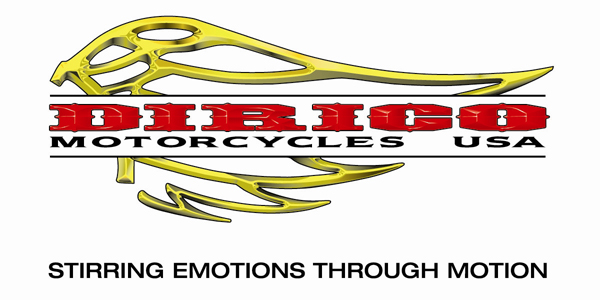 Speaking of Steven Tyler, did you know he's the face behind a custom motorcycle company that's gaining a foothold in the industry. Dirico Motorcycles USA, the brand of Steven Tyler's inspiration and bike builder Mark Dirico's innovation, will be appearing at the rally set up on Lazelle Street all week long. Dirico Motorcycles USA will also be displaying bikes at the 7th Annual Metzeler Bike contest on Tuesday, August 4, at the Buffalo Chip, and a Dirico bike will be on display at the Deadwood Casino.
Michael Lichter Photography Exhibit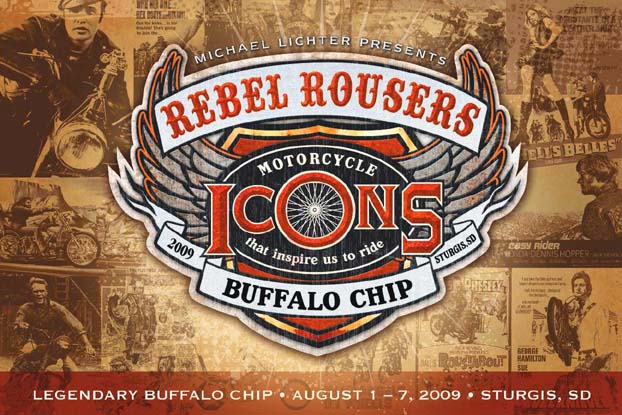 Also at the Buffalo Chip this year is Michael Lichter's 9th annual Motorcycles as Art Exhibition. The exhibit titled "Rebel Rousers — Motorcycle Icons that Inspired Us to Ride" is a must-see attraction at this year's rally. The exhibition will be open to the public Saturday, August 1st through Friday, August 7th, and admission is free. This year's Rebel Rousers exhibit will be showcased in the brand-new 6,500 square foot Lichter Exhibition Hall at the Legendary Buffalo Chip. The exhibition hall, built specifically for Michael's current and future displays, will accommodate a number of revered images and sacred memorabilia central to the biker culture. Michael is a well known leading motorcycle photographer who has been covering Sturgis for 30 years. He has several books out and always puts on an exciting exhibit not to be missed.
David Mann Art Exhibit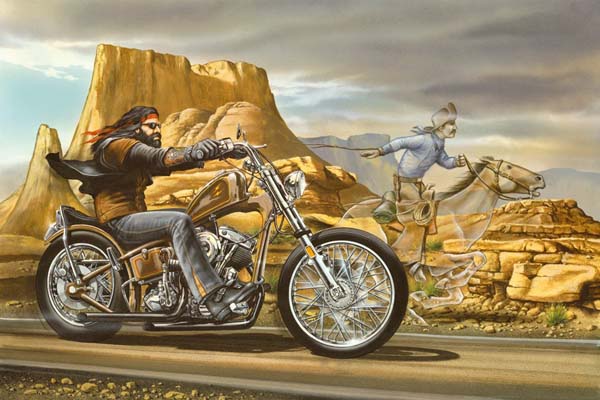 Michael's show used to always be at the Thunder Roads location out on Highway 34 near Glencoe Campground underneath the big white tent. Thunder Roads is no more. A new venue has taken over that spot called Monkey Rock, an event center that –I'm taking this from the company Web site — is a "professional European-styled leisure concept that will initially serve select North American markets with its unique brand of food, beverage and live adult-themed entertainment venues." One of the highlights of this venue is the David Mann exhibition. David Mann, the seminal artist of the biker lifestyle genre, is best known for the art he created for Easyriders magazine. Spanning a decade and a half, Mann documented his love affair with bikers, their women, and the machines they rode in magnificent detail, earning him the admiration and respect of hard core bikers and motorcycle enthusiasts around the globe. The exhibit will feature more than 50 David Mann originals, many not previously offered for public viewing, including the world famous "Ghost Rider," shown at right. The exhibit will be open daily from July 31 through August 8 from 9:00 a.m. to 7:00 pm. Monkey Rock has also partnered with the Outback Steakhouse, so they'll be some good food there.
Artists at the Broken Spoke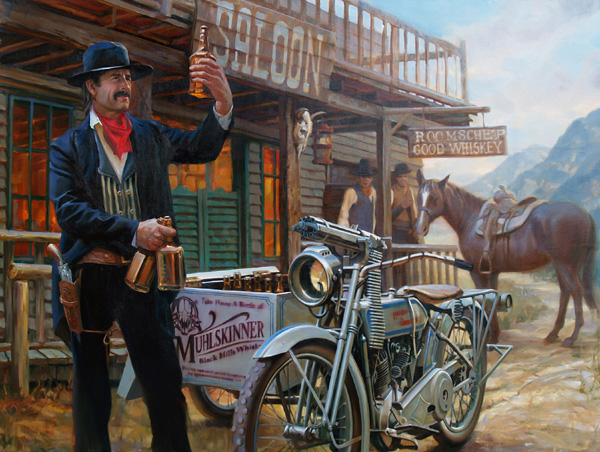 It seems everyone is getting in on the artist scene. The famous Broke Spoke Saloon is adding a fine art gallery to the Broken Spoke Campground located on highway 79 North in Sturgis. The Broken Spoke Saloon has been a long-time supporter of the artistic community within the motorcycle world and owner Jay Allen has created an exciting new space to display the work of some of the industries leading artists. The Legends Gallery is an addition to the second floor of the 45,000 square foot Broken Spoke Saloon at the Sturgis County Line location.
During the 2009 Sturgis Rally, the work of David Uhl (painting at right), John Guillemette, Jeff Cochran and Colleen Swartz will be on display along with bikes from Billy Lane, Ron Finch, Samantha Morgan, the BSS Worlds Fastest Indian and more. The Gallery will be open from August 1 – 9 from moon until midnight.
Hottest Bike Show at Sturgis
The coolest, baddest bike show in Sturgis is the Meztzeler Custo Bike Contest. This year, it too, moves to The Buffalo Chip campground on Tuesday, August 4th. This is the industry's best V-twin custom-build competition, with sanctioned judges, huge prizes, and really cool trophies. Metzeler has partnered with the Custom Bike Association (CBA) to implement standardized judging procedures, elevating the competition to a whole new level of fairness and excellence. WRN has featured a past winner of this contest in our Way To Go Girl! section.24

Posted 7/16/09
Harley Guarantees Trade-in on Sportsters… Again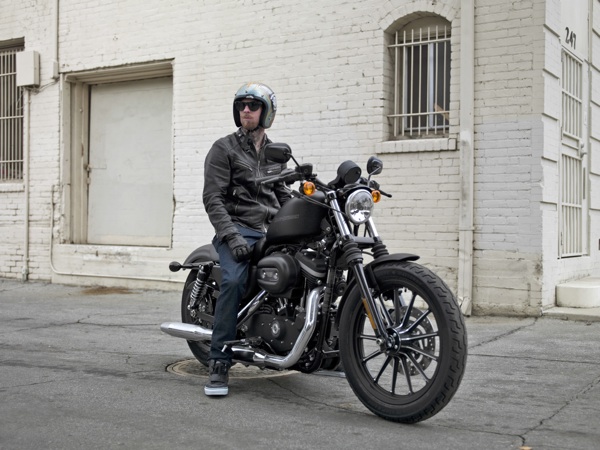 Harley-Davidson is bringing back its Ride Free Guarantee, a program it launched in the spring that had a great response. Specifically, Harley-Davidson will guarantee the value of any of its Sportster motorcycles by backing their trade-in value. Riders who purchase a new 2009 Harley-Davidson Sportster motorcycle at a participating H-D dealership between July 1 and August 31, 2009, will receive the value equal to the original MSRP when they trade in for a new Harley-Davidson Big Twin or V-Rod motorcycle within one year of the purchase date. What this means is you can put on as many miles as you want on that new Sportster and trade it in for what you paid. Wow! All of the details about the Ride Free Guarantee are available on H-D.com/ridefree. You can check out the video on Harley-Davidson's YouTube channel. I love this shot of this guy on the Sportster Nightster at right, edgy and hip. Reminds me of the late 60s and early 70s. Click on it to make it bigger and look at his cute scraggly-bearded face.

Posted 7/13/09
Women Riders Needed for "Road Rep" Team
I've been informed of an incredible opportunity for the right women. I am posting the notice below. While we can't say who the manufacturer is, trust me in that it is one of the major players and this is a legitimate gig. Here's what I received:

Amazing Opportunity for Beautiful Women Who Ride Motorcycles
We are looking for ladies we feel they may be a fit for this great opportunity to showcase brand new motorcycles. Our award winning promotional marketing agency has been hired by a major motorcycle company to assemble a group of experienced women riders who are passionate about bikes and would like to be paid to ride as a team at motorcycle rallies throughout the US.

Right now we are looking for six female riders who are available to join us in Sturgis, South Dakota, from July 28 to August 8th for the annual Sturgis Motorcycle Rally. This opportunity is all expenses paid including travel, usage of a new 2010 company owned motorcycle, a generous monetary stipend as well as an array of free riding apparel and accessories. Promotional modeling experience is a plus!

If you're up for this amazing gig and meet all of our criteria below please email us at roadrep09@gmail.com and send a bio (150 words or less) and three to five recent photos at least two with no helmet, hat, sunglasses etc. We will send applications and specifics to those who seem right for the team.

Riders must meet all the following criteria:
– Must be at least 21 years of age.
– Must have a valid driver'' license with motorcycle endorsement, in their state of residence. Temporary, probationary or conditional licenses are not acceptable.
– Must have completed either the Motorcycle Safety Foundation (MSF) Basic RiderCourse or similar
– Must carry their own motorcycle insurance and have a valid insurance identification card
– Must be 5 feet 7 inches or taller
– Must have the ability to handle large motorcycles
– Must be no smaller then a size 6 or larger then a size 8
– Must have great personality and be able to talk motorcycles for hours on end
– Must have at least three years of continuous riding experience
-Riders will be required to sign a "Waiver & Release of Liability" and "Assumption of Risk" forms
– Riders will should have a flexible schedule and be able to participate with us numerous events throughout the year

Way To Go Cris!
Our good friend Cris Sommer Simmons, author of the new coffee table book "The American Motorcycle Girls: 1900-1950" got a nice write-up in her local paper in Hawaii. Here's a link to the article and a sneak peak at her book: http://www.mauinews.com/page/content.detail/id/520756.html?nav=5014

We will be doing a review of her book on WRN in the coming weeks. She will also be the AMA Women & Motorcycling Conference selling books. We'll post more details as they become available.

Way To Go Us!
Speaking of articles, me and WomenRidersNow.com got a nice mention in a recent article in the Milwaukee Journal Sentinel on motorcycle customization. Here's the link to that article: http://www.jsonline.com/business/49284167.html

Be sure to visit the archives for last month's blog to read all the posting there. Click on the archives link at the top and bottom of this page.