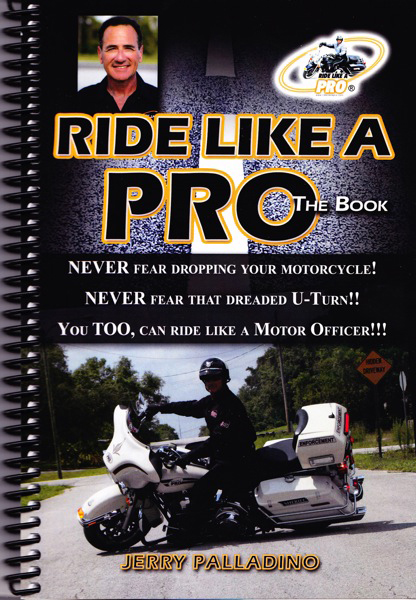 Im a big fan of the Ride Like A Pro series of DVDs that show riders how to become a better motorcycle rider through a series of fun exercises. Now you can read and look at pictures of how to become a better rider in "Ride Like A Pro – the Book."
This 151-page spiral bound handbook is well done with lots of descriptive photos and explanations of how to perform the various exercises that help you become a more skilled rider. If youre not familiar with the Ride Like A Pro phenomenon – the riding exercises are the brainchild of Jerry Palladino, a former motorcycle officer, who uses the same techniques he learned to become a top notch motorcycle policeman and has modifed them so every day riders can do them too, and "ride like a pro," that is be able to do tight turns and slow speed maneuvers like a seasoned expert. Anyone can ride in a straight line fast; its the slow speed maneuvers that separate the beginners from the experts.
The techniques Jerry teaches are proven to work as youll see by watching the video I produced on him and his team of female riders. If youve not purchased the DVD, then get the book. Its a great way to get introduced to the exercises. I recommend getting both the book and the DVD, also reviewed on WRN.
The book also explains with pictures how to pick up a downed bike and how to make a bike fit you properly, so its a great handbook for those just getting into motorcycling as well. For $19.95, you get a lot of valuable information. The price is worth it. To order, visit RideLikeAPro.com, or call 866.868.RIDE.
Related Articles
REVIEW: Ride Like a Pro DVD