Kawasaki's brand-new 649cc cruiser, the Vulcan S, was created to get more new riders comfortably on two wheels. This bike specifically tackles beginner riders' top three requirements when choosing their first motorcycle: comfort, fit, and confidence. And this is why the Vulcan S made our list of 10 Motorcycles to Get Excited About in 2015.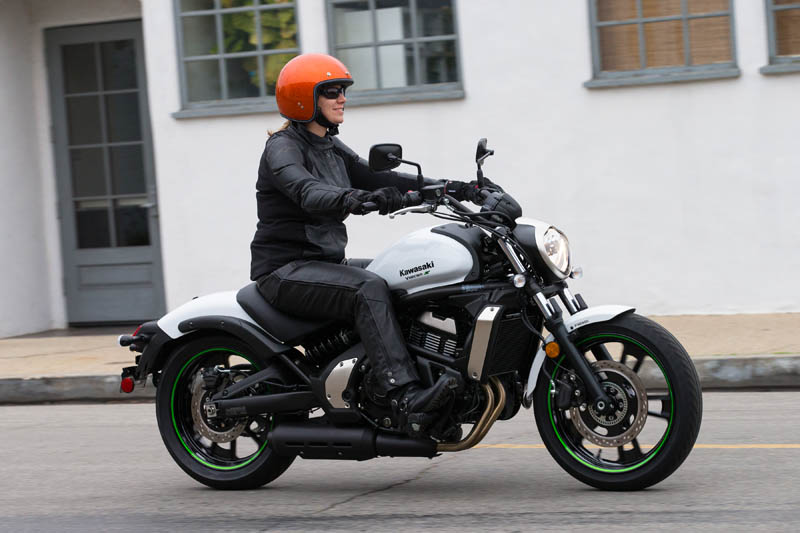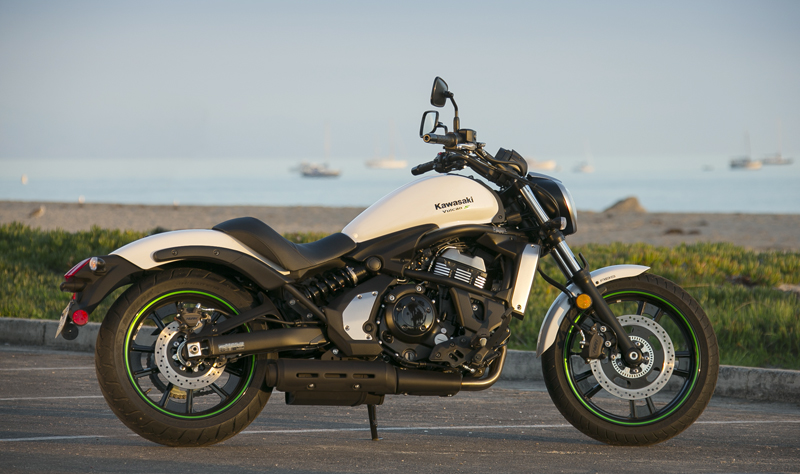 The truth—as sad as it is for most women riders—is that almost all motorcycles sold in the U.S. are built to fit riders measuring 5 feet 6 inches to 5 feet 11 inches tall and who are average weight for their height. Considering the average height for women is 5 feet 4 inches, this means motorcycles simply aren't engineered to fit the fairer sex. Period.
While many motorcycle manufacturers have options to replace stock parts that lower seat height and give an easier reach to the handgrips and footpegs, this customization comes at a price.
Kawasaki's new Ergo-Fit program, debuted on the Vulcan S, addresses this issue by using a combination of adjustable components to suit riders of different stature—at no extra cost to the new bike buyer. Specifically, the Vulcan S' handlebars, seat, and footpeg positions can be swapped out by the dealer, free of charge, before the customer rides off the lot.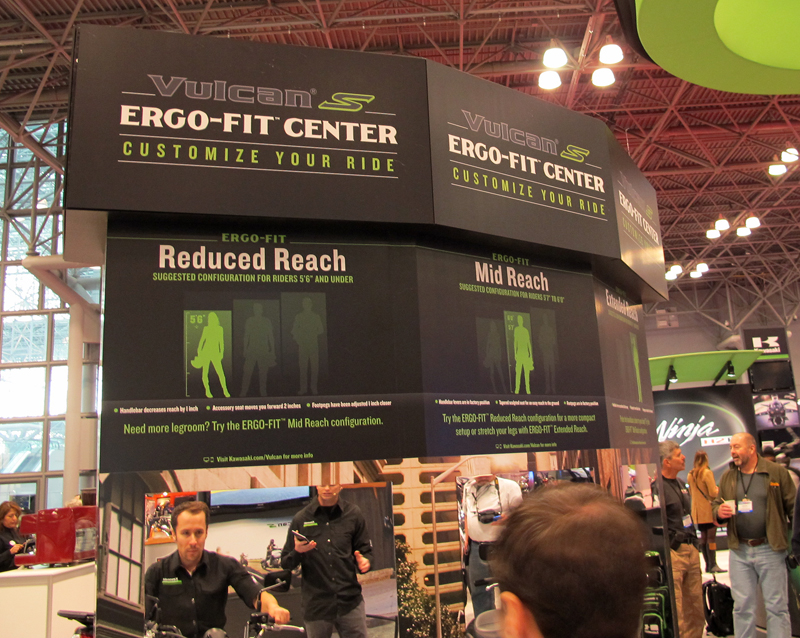 How Ergo-Fit Works
To give riders a starting point, there are three basic configurations set up in the Ergo-Fit Center: Reduced Reach for those 5 feet 6 inches and shorter; Mid Reach for riders from 5 feet 7 inches to 6 feet tall, and Extended Reach for 6 foot 1 inch and taller riders.
The Mid Reach setup uses factory positions and equipment, while the Reduced Reach setup replaces the stock handlebar with one that brings the rider 1 inch closer, a seat with a plush back support that pushes the rider forward 2 inches, and the footpegs are adjusted to be 1 inch closer to the rider. The Extended Reach setup keeps the stock handlebar, but uses a 1-inch forward footpeg position, and a firmer, roomier seat that places the rider 1 inch further back.
All of these components can be swapped and adjusted to suit the buyer's preference. And, if you ride off the lot and decide later you'd like to change one of the components, they are all available for purchase separately. It's worth noting that the footpegs can be readjusted rather than replaced, but require three different-length brake rods for each of its three positions. So if you want to try a different position once you ride off the lot, you'll need to purchase another brake rod.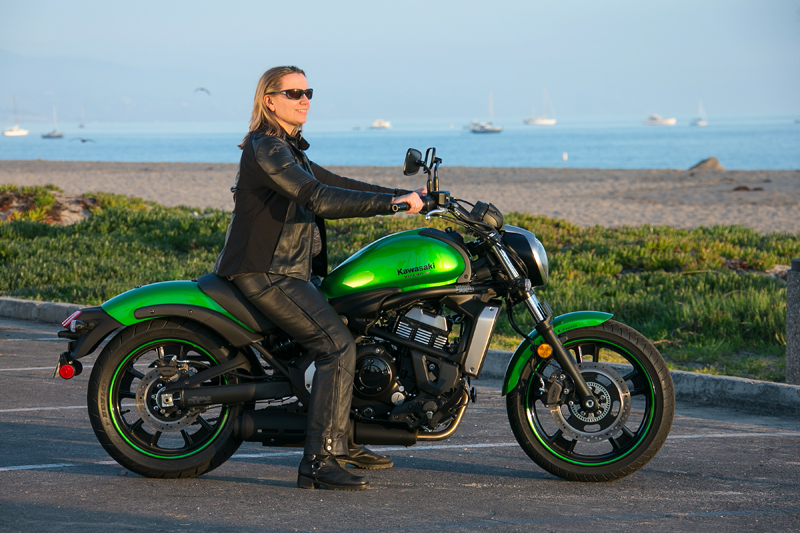 The bike's parallel twin engine sways from the traditional V-twin cruiser platform. Besides creating a modern look that isn't a Harley-Davidson lookalike, its design and placement keeps the weight low and forward for easy, light handling. The engine also doesn't require an air box that juts out on the side (like on most V-twins), which can often interfere with a rider's leg reaching forward-mounted pegs.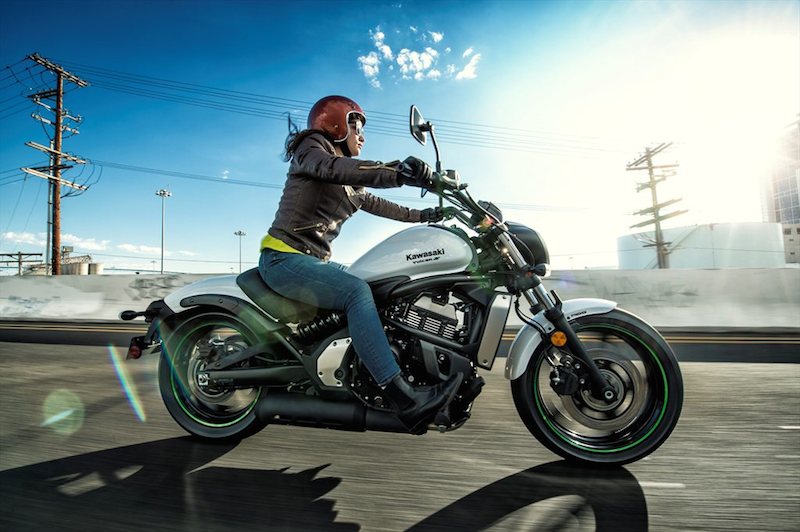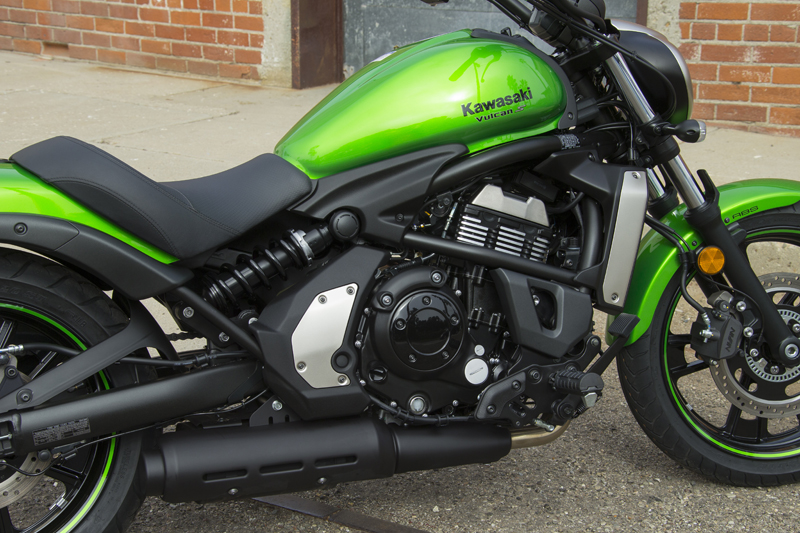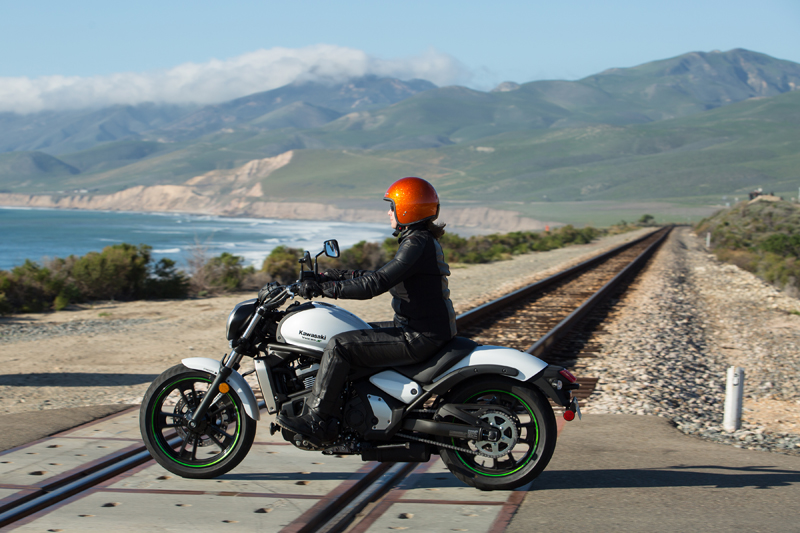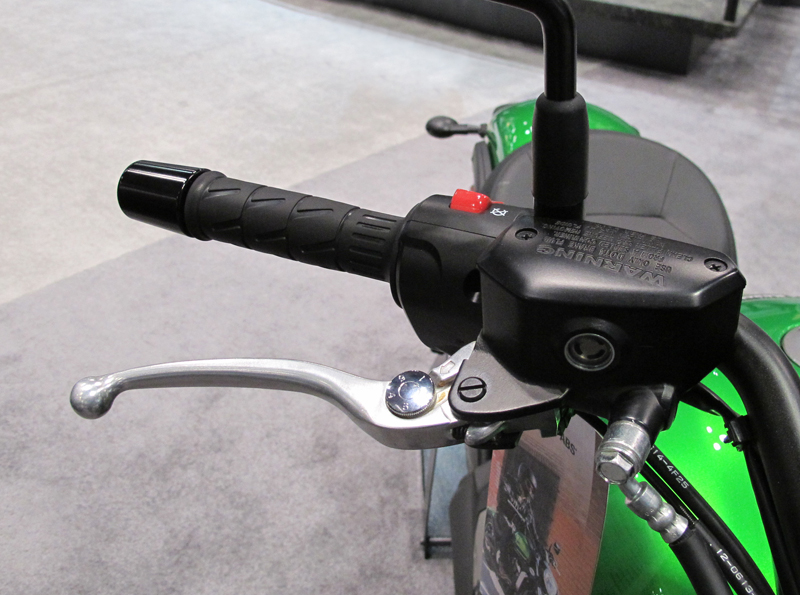 I first noted the Vulcan's light weight when lifting it off the sidestand. Once in motion, I was pleasantly surprised at the bike's ease of handling considering its long, lean stance. I wasn't expecting it to be as nimble as it was. For example, turning the wide handlebar full lock for turnarounds was effortless and will inspire confidence in newer riders getting used to tight turns.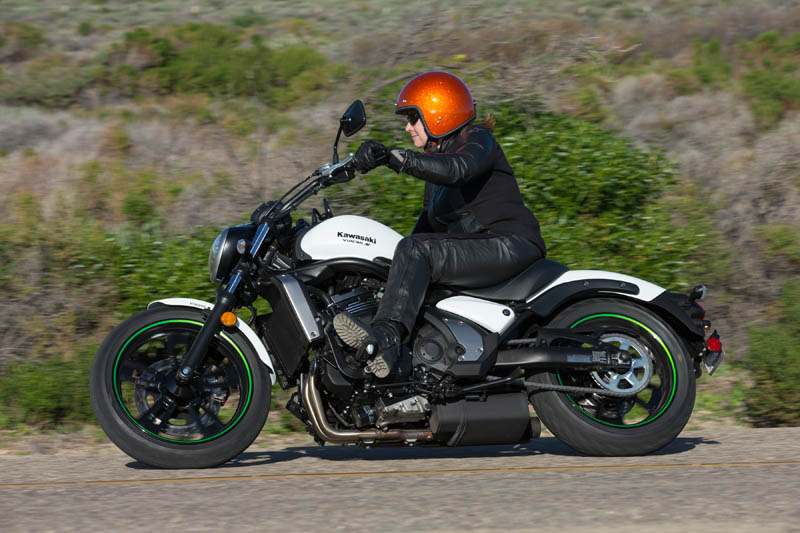 Getting caught in traffic was an ideal opportunity to test out the Vulcan S' slow-speed maneuverability. While the bike's marketing notes say the engine has been specifically "tuned for smooth acceleration," I had some difficulty keeping a steady, smooth throttle at low speeds. If I, an experienced rider and MSF RiderCoach, had trouble, I worry that beginners will suffer the same problem. I was told by a Kawasaki rep that an adjustment can be made to eliminate the on-or-off throttle feel, but I didn't have a chance to test it with the adjustment made.
| | |
| --- | --- |
| The triangular headlight is tapered and its profile flows in line with the 3.7-gallon teardrop fuel tank. | The forward stance of the Vulcan S is aggressive without being too overpowering aesthetically or ergonomically, and its modern touches and attention to detail take it to the next level of cruiser styling. |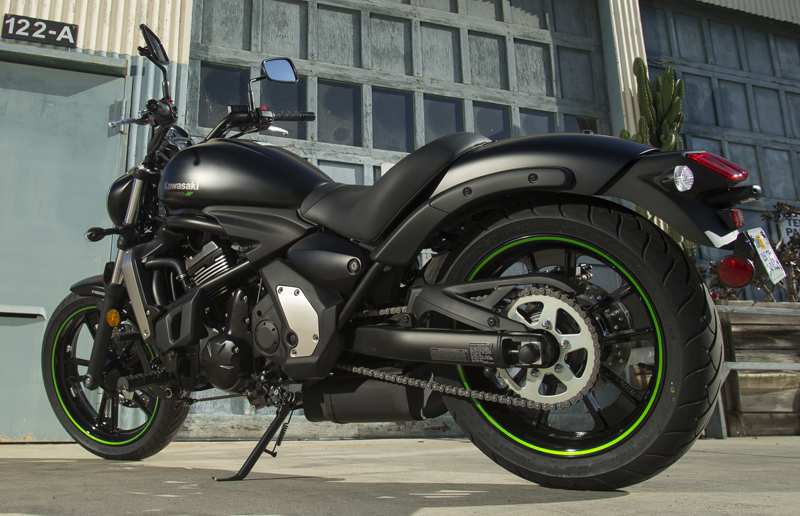 | | |
| --- | --- |
| The front, nonadjustable fork springs do a good job of absorbing bumps, and the preload-adjustable rear shock (shown here) can be set to one of seven different positions. | The Vulcan S' symmetrical instrumentation display features an analog tachometer at the top, and a LCD display below it showing a large, digital speedometer readout. There's also a clock, fuel level bar, Kawasaki's symbol that shows when a rider is maximizing fuel economy, and riders may toggle between an odometer, two trip meters, fuel range, average and instant mpg. |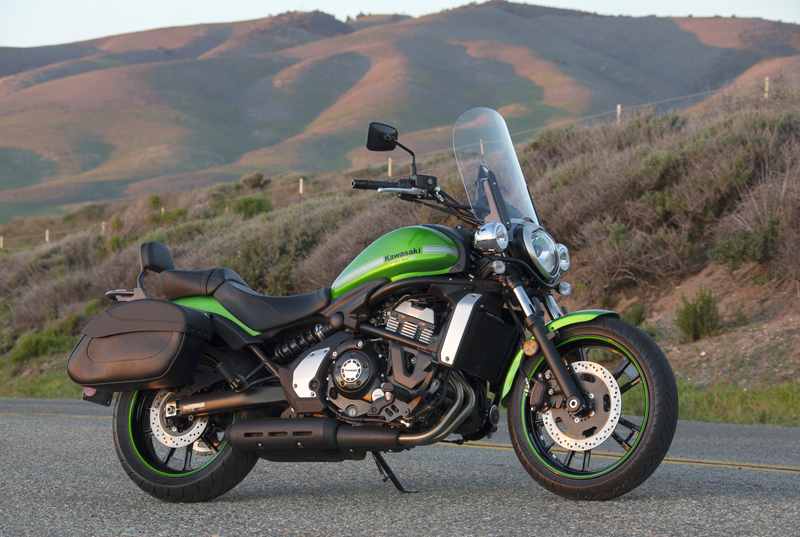 Midway through the ride, I traded the saddle to try the Reduced Reach seat and immediately regretted this decision. With a more defined backrest that pushes you forward, it cramped my legs and put pressure on my tailbone. Testing the Extended Reach seat and peg position had the opposite effect, verifying that the Mid Reach setup was perfect for me, just as Kawasaki suggests.
Specs At A Glance: Kawasaki Vulcan S
Engine Size: 649cc
Price: $6,999 ($7,399 ABS version)
Weight: 498 pounds
Seat Height: 27.8 inches
Fuel Capacity: 3.7 gallons
WRN Recommendation
The Kawasaki Vulcan S is a lightweight, midsized cruiser with a unique look that makes it ideal for confident beginners, or new riders ready to trade up to their first "bigger" bike. The fact that you can customize the fit with dealer-installed adjustable components without raising the initial price, gives the Vulcan S an edge over its competition where fit on a stock bike is an issue.

Related Articles
10 Motorcycles To Get Excited About in 2015
Beginner Motorcycles to Start on
Harley-Davidson Street 500 amp; 750
Review: Kawasaki Vulcan 900 Classic
All Kawasaki Reviews