BRPs 2008 Can-Am Spyder roadster has two wheels in front and one in back for a total of three, but since it operates and looks somewhat like a motorcycle, I thought that it would feel like one, too. I was wrong. Riding the Spyder isnt at all like riding a motorcycle. Sure, I was straddling a seat, exposed to the elements, gripping the handlebars and shifting with my left foot. It was thrilling, but I wasnt a single unit with the Spyder physically as I am on a motorcycle.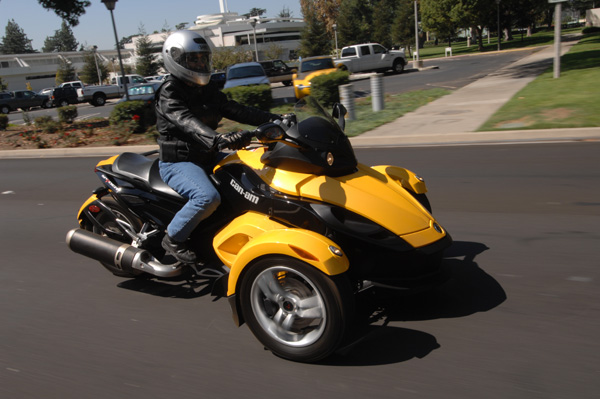 Instead, the three-wheeler steered and braked like a car. When turning, I was pushed against the outer arc of the curve. Thats similar to the feeling you get in a car when it rounds a bend. Depending on the direction of the curve, youre either thrown against the person next to you or that person is thrown against you. On a motorcycle, the forces are different because you lean into the turn.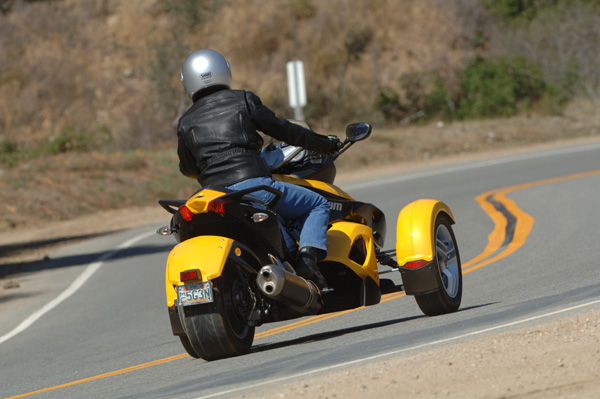 BRP reps claim it takes a few days to get used to riding the Spyder and fully enjoying its "fun factor." I agree. Riding the roadster for just three hours was intense. Using a Rotax 990 V-twin engine (the same make manufacturer of engines used in BMW, Aprilia and the new Buell 1125R motorcycle), the Spyder is built for speed. Adjusting to its physics, power and clutch-and-foot shifting took concentration. I felt I was in one of those video race-car games and barely keeping the race car on the track.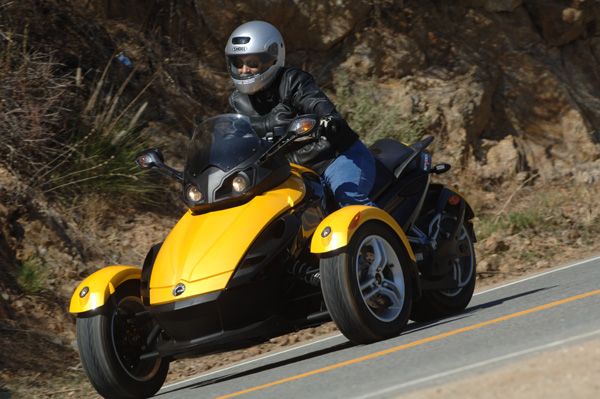 But the Spyders intended audience primarily well-heeled recreational products enthusiasts will likely love it. Theyre the kind who also love riding snowmobiles, Skidoos and high-performance sports cars, but may not want to learn to ride a motorcycle.
Women who dont want to brave the motorcycle learning curve also may like the Spyder. If you dont want to shift gears with your foot, theres the semi-automatic version, which has a thumb-operated shifter and no clutch. It seemed less complicated and more enjoyable to ride than the manual model. If I bought a Spyder, I would spend $1,500 extra for this option.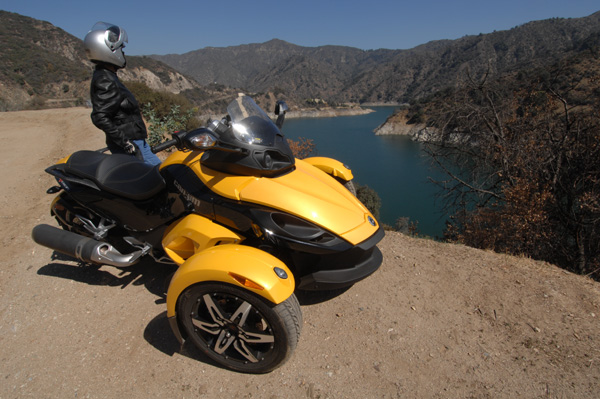 Canada-based BRP (which stands for Bombardier Recreational Products) has been in the motorcycle business for years, making dirt bikes in the 1970s under the Can-Am name. It started developing the Spyder a decade ago with a goal of making it safer to ride than a motorcycle without taking away the fun. In the process, motorcycle controls considered unnecessary were eliminated. For instance, a motorcycle has separate front and rear brake controls (a handlebar lever for the front-wheel brake and a right-foot lever for the rear-wheel brake). The roadster (a motorsports category BRP is hoping to redefine with its 3-wheeled Spyder) has a single brake lever operated with the right foot that controls both front and rear brakes simultaneously. In that respect, its like a car.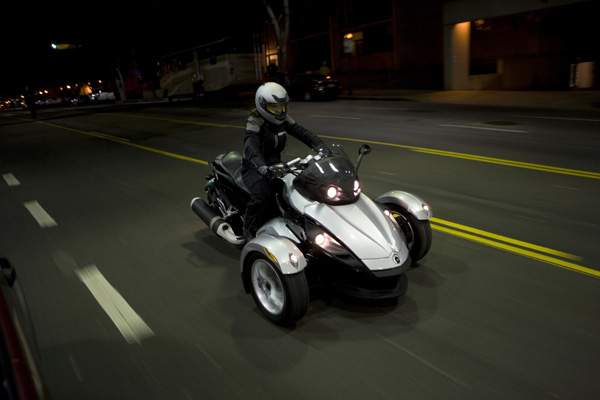 Its size 8 3/4 feet long by 5 feet wide pushes it close to car category as well. The rear tire is car-sized at 225mm and without fuel, it weighs nearly 700 pounds. From the side, it looks like a motorcycle on steroids. With its muscular flowing body lines, I half expected it to leap down the road on its own.
The biggest safety feature is the three wheels, which means theres no need to worry about tipping over when stopped. Like a car, it has a parking brake and even a reverse gear that allows it to back up.
BRP added three computerized safety systems that kick in during emergencies. Its like having a mechanic on board to fix things if you lose control. One system detects traction loss and corrects for it. Another intervenes by braking and reducing torque if the Spyder becomes unstable. Anti-lock brakes help prevent skidding. The safety systems cant be disengaged and gently slow the vehicle in tight situations. I know, because we journalists were encouraged to activate them by turning in a narrow radius as fast as we could.
BRP was smart to build in these safety features. In many U.S. states, you need only a three-wheeler vehicle license to take the Spyder on the highway. In some states, only a car license is required to operate it. Since fewer licensing restrictions allow inexperienced buyers to get out on the road quickly, the safety controls may save a life or two.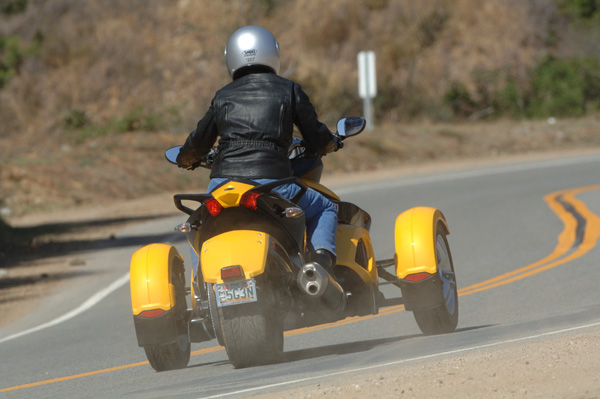 The Spyder is comfortable to sit on and the foot controls were within easy distance of my 30-inch inseam. On the manual version, I shifted smoothly through the five forward gears with my left foot. City stop-and-go riding was a snap because I didnt have to worry about balancing the roadster.
On a twisty two-lane road along a canyon, I didnt feel comfortable taking curves as fast as I would on a motorcycle due to the steering dynamics. I steered with the handlebars and then leaned against the forces that pushed me toward the outside of the curve. Meanwhile, I clutched and shifted down and up through the gears while approaching and leaving the turns. Eventually, I slowed down, making it easier to keep the roadster in the right lane when powering out of curves.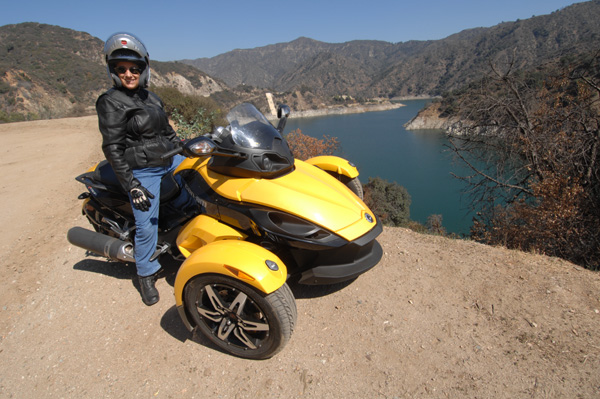 Later, on the Los Angeles freeway, the Spyder showed its strong suit, easily passing other vehicles and changing lanes. I felt more visible on it than when riding a motorcycle, which also adds to rider safety.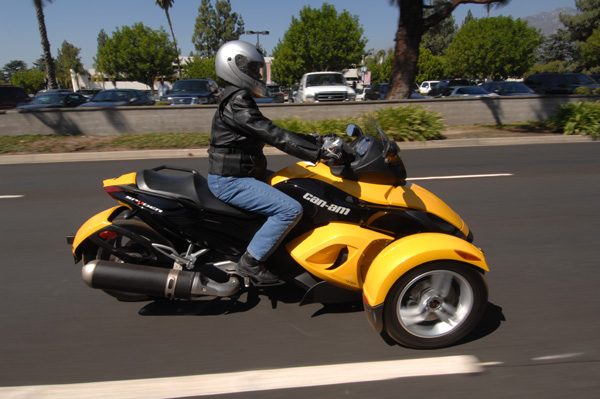 Other features include a roomy front storage compartment that can hold two half helmets (or one full-face helmet and one half-helmet). The instrument panel has speedometer and tachometer dials and a digital read-out, which shows air and engine temperature, fuel usage, gear position and two trip meters.
Can-Am roadsters will be in dealerships in the spring of 2008. One last thing: Get used to people staring when you ride it. It's definitely a head turner. For more information, visit Spyder.BRP.com. Youll find a list of where the demo tour is headed so you can try one out for yourself.nbsp;nbsp;nbsp;nbsp;nbsp;nbsp;nbsp;nbsp;nbsp;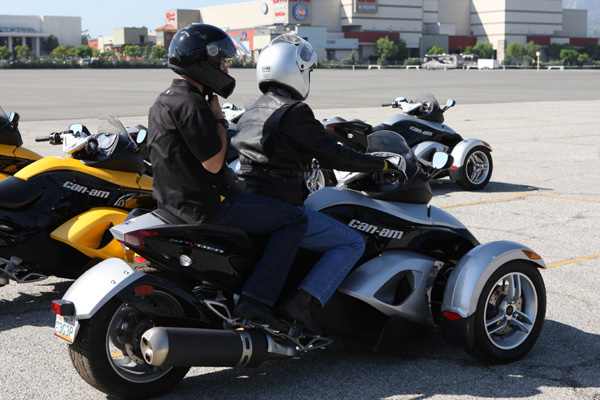 The Specs at a Glance: 2008 Can-Am Spyder Roadster
Displacement: 998cc V-twin Rotax engine
Seat Height: 29 inches
Fuel Capacity: 7.13 gallons
Dry Weight: 697 pounds
Colors: Full Moon (silver grey), Millennium Yellow
Price: $15,499 manual version; $16,999, semi-automatic
WRN Recommendation
If you want a powerful open-air riding experience without worrying about balancing on two wheels, youll probably like BRPs Can-Am Spyder roadster. The manual version does require learning to shift with your foot like on a motorcycle though. It will be interesting to see exactly how riders plan to use the roadster. Will it be used for long haul sport touring, or around town jaunts? BRP does offer a windshield, backrest and luggage rack to accomodate touring. I think the Spyder easily accomodates a variety of riding styles.nbsp;nbsp;nbsp;nbsp;nbsp;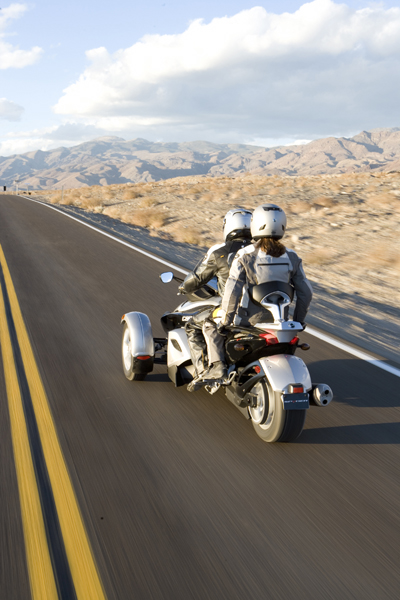 | | |
| --- | --- |
| The backrest with integrated luggage rack is offered as an accessory. | The optional windshield is 14 inches high. |
| BRP already has a line of clothing that includes shirts and hats. | BRP also offers Spyder riding gear in women#39;s and men#39;s sizes. |