Loving What You Do For A Living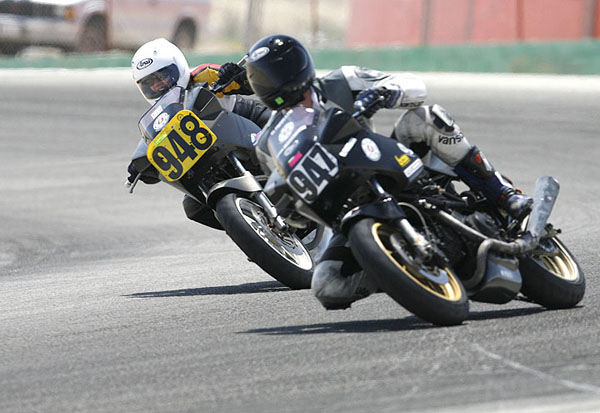 Alice Sexton is The American Historic Racing Motorcycle Associations (AHRMA) new Director of Communications. Alice is known in the industry as the president of the U.S. division of the Womens International Motorcycle Association, WIMAUSA.org. She brings more than 25 years of corporate branding, design and communications experience as well as 20 years of motorcycle riding and racing experience to AHRMA. Prior to joining AHRMA, Alice served as Brand Promotions Director with Advanstar Communications, a leading provider of integrated media solutions to the powersports industry and the company behind the Cycle World International Motorcycle Shows. She is also an active road racer with AHRMA and the Willow Springs Motorcycle Club.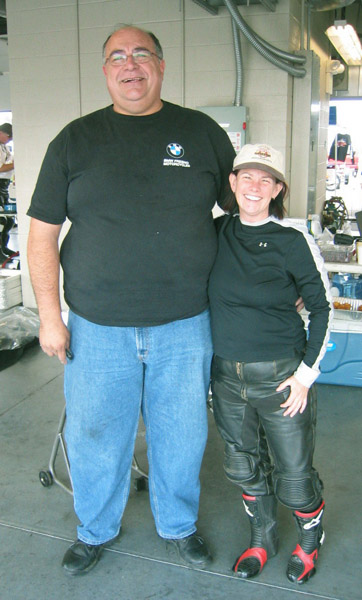 The Director of Communications position is right up Alices alley. "Ive been involved with vintage motorcycling for years, so when I was asked to fill this position I just couldnt say no. Im looking forward to contributing to the organization and helping AHRMA take advantage of future opportunities for growth and prosperity for the benefit of its members." AHRMA is a non-profit, AMA-chartered organization dedicated to the education about and the preservation of racing motorcycles and their heritage. Congrats Alice.REa
Matrimonial Bliss on Motorcyclings Famous Salt Flats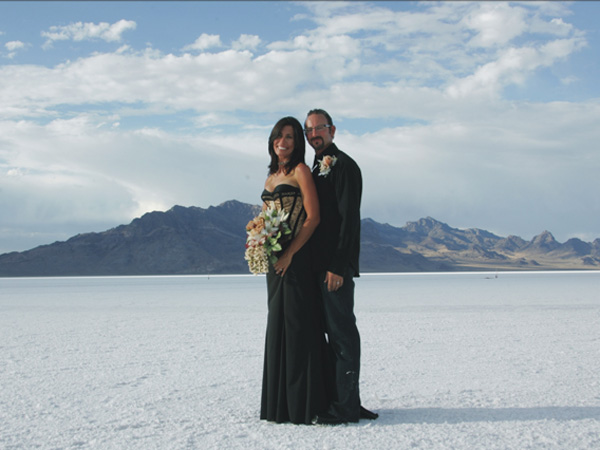 Laura Ellifson, who set a world record in 2006 at the Bonneville salt flats in Utah for riding a bagger style motorcycle the fastest down the mile-long raceway, married her longtime sweetheart, Brian Klock, right on the salt flats during the 2007 Bonneville event. The couple own Klock Werks Kustom Cycles in Mitchell, South Dakota, designing and manufacturing parts for baggers, as well as building custom motorcycles. It was a stunning site to see with the couple dressed in black set against the brilliance of the gleaming white salt. Laura says, "The weather was giving us a scare and suddenly the clouds split and the sky was amazing. We even had a rainbow. A positive sign for our future we hope!" WRN wishes them all the best.
16-Year-Old Sets Record at Bonneville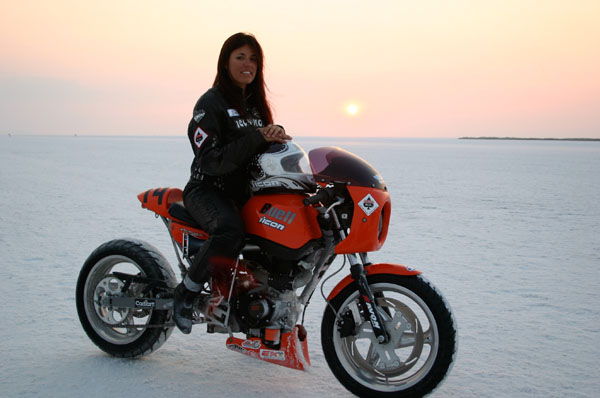 Another interesting development at Bonneville in 2007 was a new world record being set by Laura (Ellifson) Klocks daughter, Erika, aboard a 2000 Buell Blast. Top speed was 107 mph. This was also the first time a mother and daughter competed at Bonneville in the same year. (Laura attempted to break her own record.) Erika was also the recipient of this years Womens Spirit Award given by Erin Hunter of Potter Lumber. In only its second year, this award is presented to a woman rider who embodies the camaraderie, determination, and spirit that is Bonneville Salt Flats racing. Erika received a beautiful trophy, a check for $1,000 and was able to present her "inspiration" with another $1,000. That second check went to her mom, Laura, and the Klock Werks team.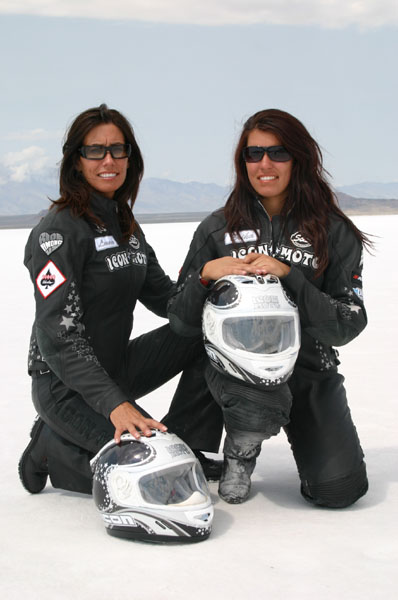 By the way, Laura and the team did keep the title as the Worlds Fastest Bagger in 2007. No one was able to beat her time from 2006, not even her. Brian says, "We were disappointed by some electrical gremlins, but that is the mystery of the salt. Everything happens for a reason. We retained our record and had more time to dedicate to watching Erika grow so much in four passes and four days. Our 14-year-old, Karlee, is going to take Erikas Blast next year, so watch for us to be three lady pilots deep next year!"
Riding Group Profile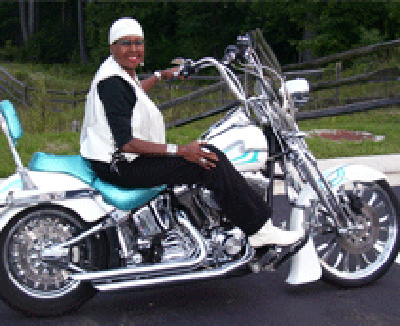 The Road Divas Motorcycle Association of Maryland is an all female motorcycle organization with different nationalities, motorcycles and professional women. Founded in 1999, Janett Tillery, Senior Vice President, wrote this to WRN. "We are trying to make the public more aware of all types of women who ride motorcycles. We have not begun to touch the motorcycle industry yet. Its not only the men who are purchasing the big bikes. There are more women now with purchasing power than ever before."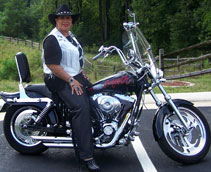 Janett says the adrenaline from riding has made their members more aware of their own empowerment. They no longer stay in bad relationships, or endure mental or physical abuse. They simply do not settle for anything less. The Road Divas Motorcycle Association is always looking for females who aspire to be their best and to be mentors to others in introducing them to motorcycling. The group doesnt care what type of bike you ride, but that you ride, and ride safely. Visit RealDivasRide.com. If you would like your club profiled on WRN, send us an email with photos explaining a bit about your club to info@womenridersnow.com