When Big Dog Motorcycles CEO Sheldon Coleman and President Nick Messer unveiled the 2006 line-up of motorcycles to members of the motorcycle press recently both predicted the 2006 Mastiff would be one of the companys best selling bikes for that model year. They explained that market response dried up for the Mastiff in 2005 so the bike needed a redesign.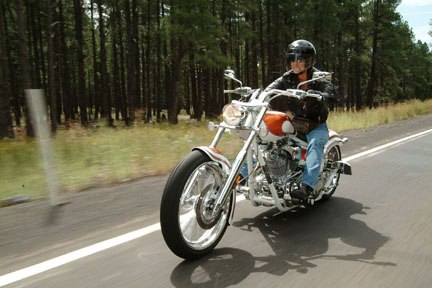 The 2006 Mastiff has been stretched and lowered considerably: the wheelbase is 5 inches longer; the frame has been raked an additional 2 inches, and the seat has been dropped by 1.25 inches to a low 24.25 inches. Theres a one-piece stretched tank, a new feature on all the 2006 models.
Because of all this elongation going on, I wondered how comfortable I would feel riding with my arms and legs outstretched in such a deliberate U-shaped position. Ive ridden these kinds of custom bikes before. I understand what company executives are trying to achieve with this new design. Their research shows that their customer base (25- to 40-year-old males) desires motorcycles with a long, low profile.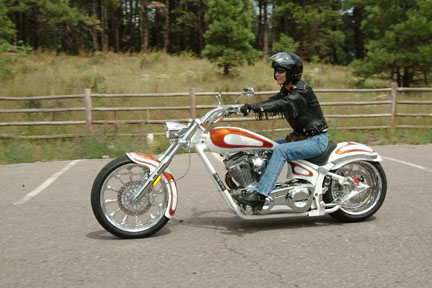 The pullback risers position the handlebars right in front of the rider. I didnt have to lean forward too much to reach them. For me to be completely comfortable though, I would have liked just a little more bend in my elbows. Same for my legs. The forward controls are close enough for me to shift gears and brake just fine, but more bend in my knees would have allowed me to move and stretch my legs while riding without taking my feet off the controls. Im 5 feet 7 inches with boots. Its clear that these long, lean machines fit average-height to tall individuals. Big Dog executives are aware of that so an aftermarket seat is available that pushes the rider closer to the controls.
The heart of the machine is a 117 cubic inch engine supplied by Samp;S Cycles and assembled in the Big Dog Motorcycles factory. Thats 1916ccs of power and torque. The BDM Balance Drive supplied by Baker Drivetrain was the best thing to happen to Big Dog Motorcycles a few years ago. It brings the final drive to the right side of the motorcycle allowing for better balance and rideability on these fat tire bikes.
The 6-speed transmission has been refined for 2006 making shifting a breeze and finding neutral even easier. I liked how the bike started right up when I thumbed the starter button. Earlier Samp;S motors could be testy. During my entire afternoon ride, the bike delivered smooth, consistent power to the pavement.
The fat tire on the rear is an Avon 250/40-18; the front is an Avon MH120/70-21. Both are wrapped around forged 12-spoke shiny aluminum wheels. Handling a motorcycle with such a big rear tire isnt as hard as you might think. I remember riding earlier models from Big Dog Motorcycles that were a chore to steer. Either Im getting used to that big tire feeling or Big Dog is dialing in the configuration better.
With all that power and rubber underneath me, I expected some decent stopping power. The Mastiff didnt fail me. The 2-piece Brembo vented floating rotors are the kind used in racing applications so theyre very strong. The calipers have four pistons and are supplied by Performance Machine.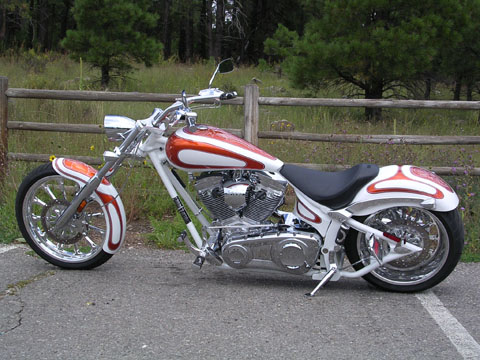 The Mastiff, as well as all the Big Dogs, are stunning visually. The press materials included a 28-page paint booklet outlining the different paint jobs available. Five new base colors and 17 new graphic designs were added to the already long list of paint options.Dollarwise, the 2006 Mastiff is right in the middle of the price spread for all the Dogs at $28,500. Seems like a lot of money to some, but for customers already dabbling in this exotic custom bike market, they know thats a pretty fair price. Youd most likely pay a lot more for a builder to custom build a bike using the same high-end parts. Remember, Big Dog Motorcycles is a mass production manufacturer. Their price has to appeal to the "broader" audience.
Specs at a Glance
Displacement: 1916cc
Seat Height: 24.25″
Fuel Capacity: 4.6 gallons
Dry Weight: 690 lbs
Colors: too many custom combinations to list
MSRP: $28,500
WRN Recommendation
Riding this bike makes one feel very cool. Its hard not to indulge in riding an exotic custom like this. The question for most is practicality. Many female riders want their motorcycle to do a lot of things for them. Can the Mastiff look cool going down Main Street AND take you across several hundred miles for days on end. Depends on what your definition of comfortable is? If youre my height or smaller, the bike may need some adjustments to make it fit you better. If youre taller, the Mastiffs large size may fit you just right. As far as price: I wont argue with it. Seems fair considering all you get including the boost to your coolness quotient.