Sitting on the Kawasaki ER-6n and then taking it for a test ride, I knew instantly this all-new motorcycle, introduced in model year 2009, has that special quality that will — and is attracting lots of women riders, beginner and intermediate, to want to own one.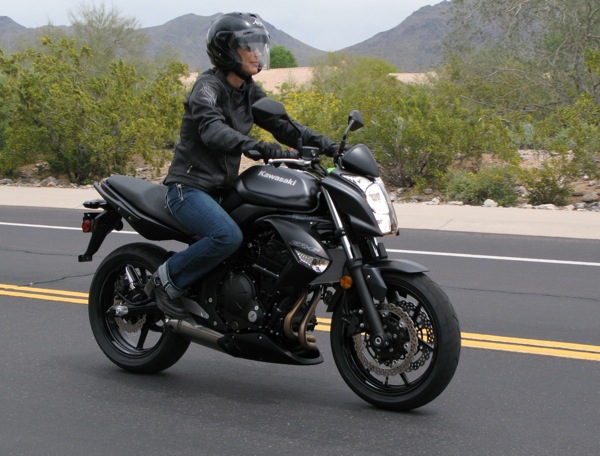 Once in awhile, a manufacturer designs a motorcycle that, just by happenstance, ends up being a favorite among women. Take Harley-Davidson's Softail Deluxe for example. The Motor Company never set out to make it a women's bike, nor has the motorcycle been marketed as such, but the low seat height combined with the very low center of gravity and the fact that it's a Harley-Davidson Big Twin with appealing looks has many women owning and loving this motorcycle. Word of mouth made this happen, by the way.
I see the same thing occurring with Kawasaki's ER-6n. Women who want a sportier ride (or simply don't want a cruiser) as their first, second, (or end-all motorcycle – yep, it's that cool) will gravitate to this bike.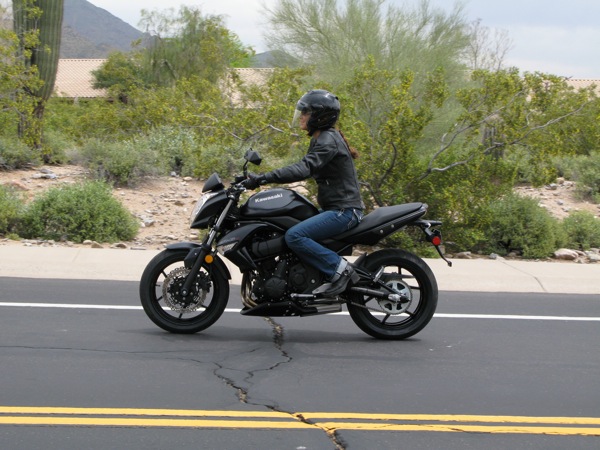 The ER-6n does just about everything right, save for the unusual name, but at least it's a name you're likely to remember. Jan Plessner, Kawasaki's public relations manager, calls the bike the E-R-6-little n. I like that. But how'd it get its name? Well, a few years ago Kawasaki introduced a motorcycle in Europe called the ER-6f. When it came to the U.S. it was renamed the Ninja 650R, a motorcycle that gained a loyal following fast. Because it was so popular, Kawasaki spun off a naked version of the ER-6f calling it the ER-6n. N for naked; f for fairing. Get it?
First, and most important to women riders is ergonomics. The seating position is dialed in so right. I sink into the saddle and lean slightly forward to grab the handlebars that are more upright than a traditional sportbike. Way easy on the shoulders…and will give beginning riders, and those to new to sportbikes, a chance to get used to the weight distribution and handling of a sportier machine without having to lean way down.
Did I mention this ER-6n is in the sportbike category? Hard to believe when it has an unbelievably low seat height of 29.7 inches. That combined with the easy tiptoe handling weight of 441 pounds means even shorties should have no problem straddling this bike.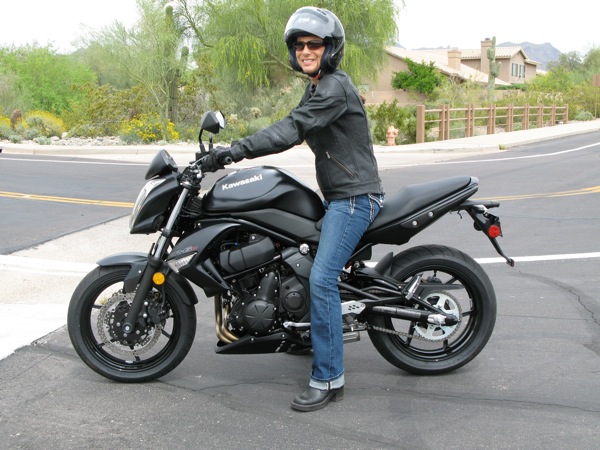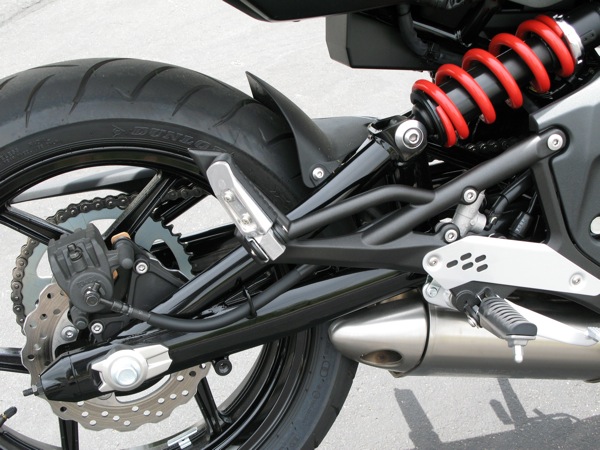 The ER-6n is powered by the same twin cylinder 650cc engine that moves the Ninja 650R. The motorcycle starts right up thanks to fuel injection that uses an "auto-fast idle" system that simplifies starting and ensures the catalyzer reaches optimum temperature quickly.When I twist the throttle for the first time, Im anticipating Ill have to roll the throttle half way before the bike takes off and that I'll have to power through the gears before I find any decent amount of torque. Nada! The torque's right there! I blast through first gear and into second and I'm already feeling the oomph from the bike, oomph meaning torque to you newbies.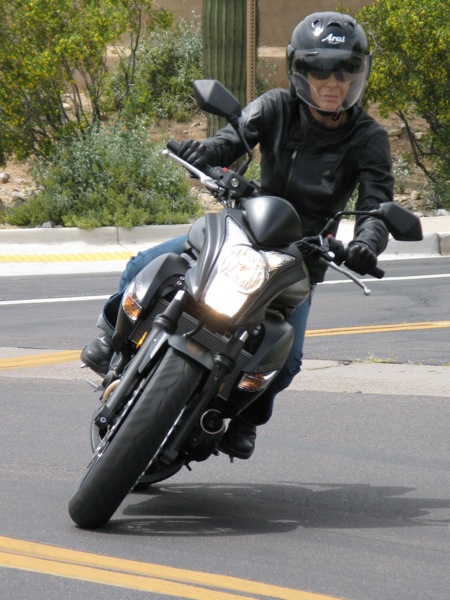 Whether flying in and out of traffic, or carving the canyons, the ER-6n can do both well. Getting up to speed on the highway snicking through the six gears, I noticed minimal vibration. Rubber upper-rear engine mounts decrease vibration transfer to the seat while the handlebar is rubber-mounted to lessen vibration to the hand grips. And the rider and passenger footpegs are rubber coated to further reduce vibration there.
| | |
| --- | --- |
| The levers are adjustable by turning the round knob located at the hinge point, but I don't think you'll need to do that. I have plenty of finger room left here with the stock setting. | Storage options include four tie-down hooks, and a small storage space under the seat with room for a U-lock or similar device. The tool kit is stored under there as well. |
| | |
| --- | --- |
| An angular, stacked dual headlight and shroud contribute to the ER-6n's striking image. Headlights can be adjusted behind the headlight cover. | The multi-function LCD screen has amber backlighting with an analog speedometer, bar-style digital tachometer, fuel gauge, clock, odometer and dual trip meters |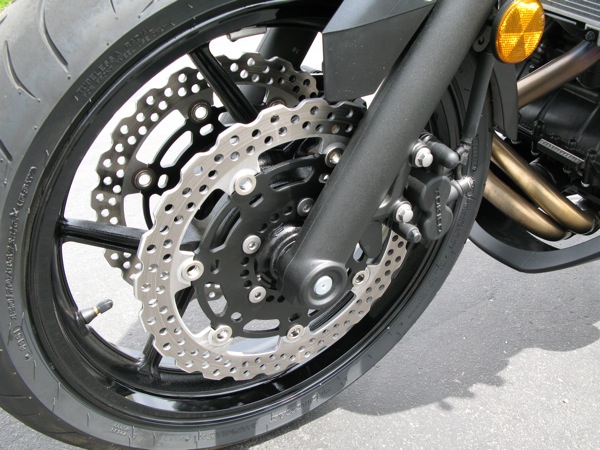 I have a hard time calling the ER-6n a sportbike. It's really a sportier bike that delivers a fun, exhilarating ride. You owe it to yourself to try one out at a demo ride near you.
Specs At A Glance: 2010 Kawasaki ER-6n
Displacement: 649cc
Seat Height: 29.7 inches
Weight: 441 pounds
Fuel capacity: 4.1 gallons
Colors: Metallic Flat Spark Black
Price: $6,699
WRN Recommendation:
The ER-6n is a no-frills middleweight that delivers a powerful ride at a decent price. Note, it's not a beginner price tag by any means, but this is not really a true blue beginner bike, rather a motorcycle thats great for newly minted riders still finding their groove in motorcycling.
Related Articles
Review: Kawasaki Ninja 65R: Blurring the Lines