Black is all the rage these days in custom motorcycling—gloss black, matte black, and every shade of black in between. Now Suzuki is getting in on the action with its new touring-equipped 2013 Boulevard C90T B.O.S.S.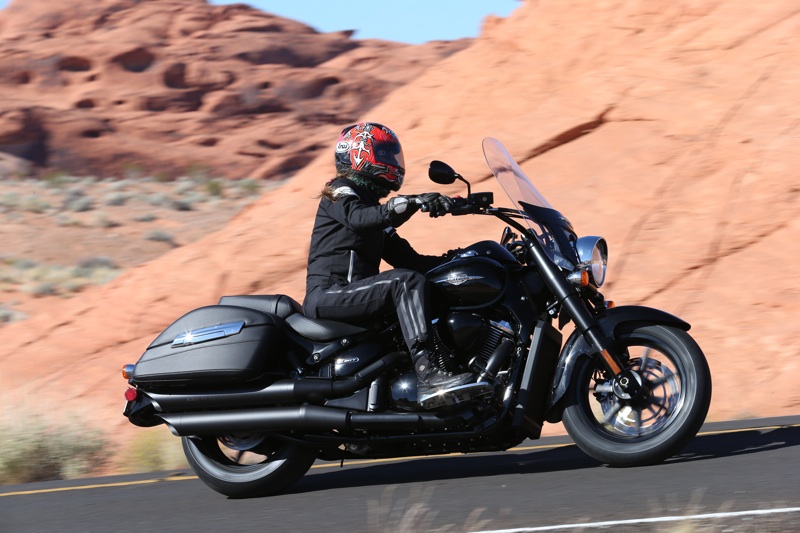 In 2009 Suzuki discontinued the C90, a 1462cc V-twin (and previous VL1500 Intruder), due to emissions control, leaving a gapbetween the companys middleweight 800cc cruisers and large 1800cc cruisers.The new C90T B.O.S.S.—which stands for "Blacked Out Special Suzuki"—fills that gap. As its name implies, the B.O.S.S. is a blacked-out version of the new Boulevard C90T, a 54-degree, liquid-cooled, SOHC, four-valve-per-cylinder V-twin that's offered in two color choices. Despite the name difference, the only difference between the Boulevard C90T and Boulevard C90T B.O.S.S. is the coloring.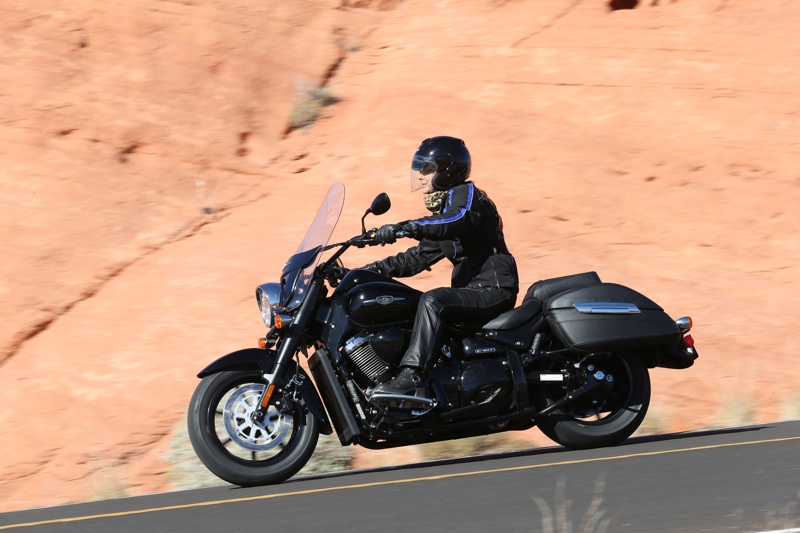 While the B.O.S.S might ooze "badness," it's all about being good to its rider, starting with a light clutch pull thanks to the Suzuki Clutch Assist System (SCAS), which reduces the force needed to pull in the lever. Shifting is smooth through the five-speed transmission, and footboards and a heel-toe shifter give options for foot placement and shifting.
| | |
| --- | --- |
| Thanks to the bikes low center of gravity and narrow nose on the seat, its 28.3-inch seat height is manageable. Tall riders like Donya, whos 5-foot-10, will have more than enough leg to maneuver the hefty cruiser around. | The well-padded seat offers lots of room to move around and will accommodate a variety of bums. The wide seat tapers off at its nose to make reaching the ground easier for riders with shorter inseams. |
For cost savings, Suzuki borrowed parts from
its M90 muscle cruiser
and improved on creature comforts. The C90T shares the same steel-tube frame, engine, transmission and cooling system as the M90 but engineers took the muscle cruiser's wide, pulled-back handlebar and
positioned it closer to the rider
for more relaxed ergonomics.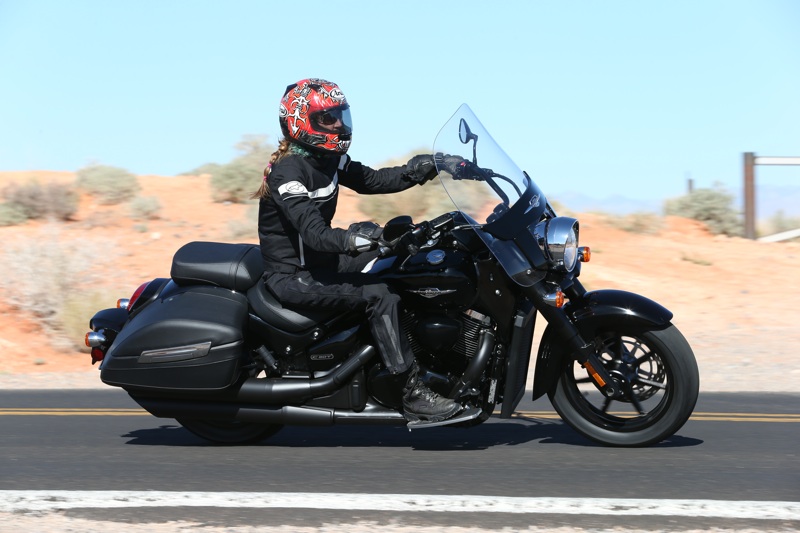 Shifting on the fuel-injected C90T is smooth and power is instantly available, even in fifth gear. Genevieve mentioned she was concerned that top end power would be limited with the transmission only having five gears, but there's a lot of range in each gear and in fifth gear at 85 mph the bike rides really smoothly.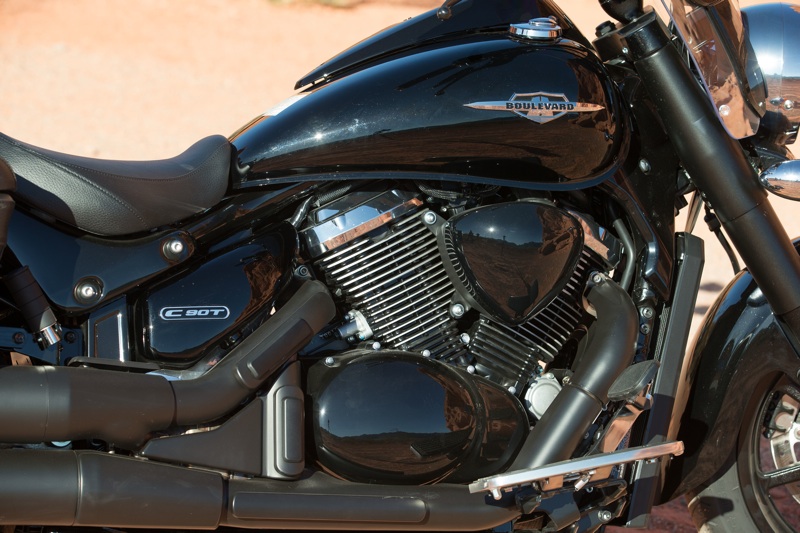 Suzuki Dual Throttle Valve (SDTV) ensures strong torque and smooth throttle response and is the same design as the one used on the company's GSX-R sportbike line. Fuel tank holds a generous 4.8 gallons with a recommended octane of 87.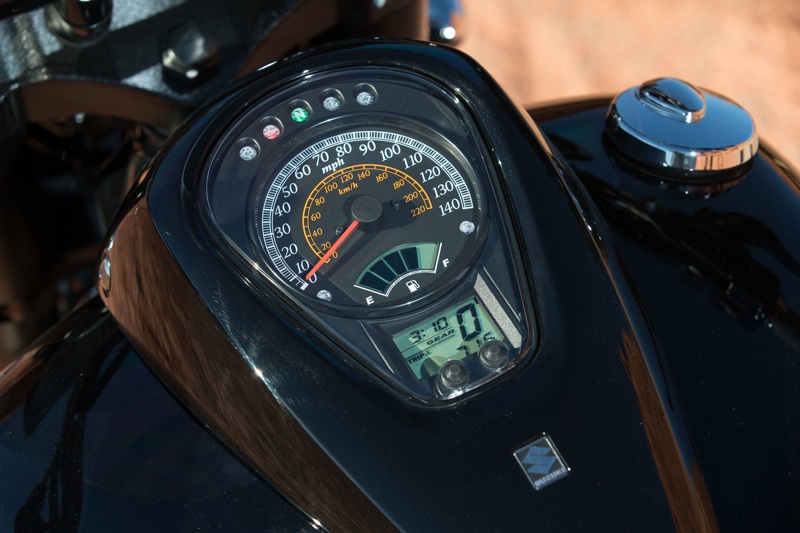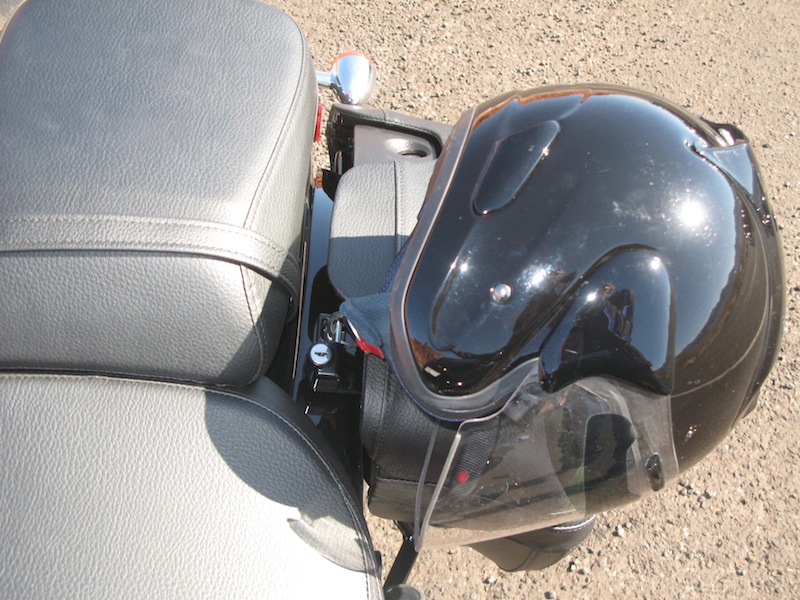 At 800 pounds fully fueled, a few riders pointed out that it took some muscle to lift the B.O.S.S. off its sidestand. Despite the weight, I had no problem making slow-speed turns on the bike, partly due to its low center of gravity.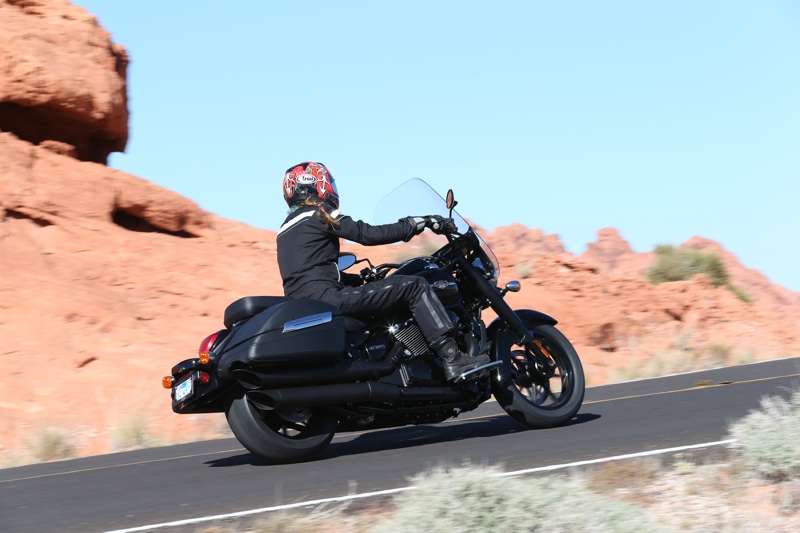 The dual slash-cut muffler in matte black emits a commanding rumble that had other scenery admirers smiling, not covering their ears, as our group passed by. The counterbalanced twin has an impressively smooth engine and I felt only minimal vibration, enough to remind me Im on a V-twin cruiser.
While some B.O.S.S. parts have been borrowed from existing Suzuki models, the windshield was designed specifically for the new touring-equipped Boulevard to provide plenty of wind protection.
The big windshield (like the saddlebags, is specifically made for the C90T) is designed well to keep windblast at bay while riding down the highway and helmet buffeting at a minimum. At highway speeds I felt some air come up from below the windshield and travel upward inside my full-face helmet.
| | |
| --- | --- |
| Genevieve, who is three inches shorter than Donya, said the large windshield did a decent job of deflecting wind around her but fell right in her line of sight, as you can see in this photo.(Click to enlarge.) She'd like a shorter or taller windshield, but none are currently available from Suzuki. Taller riders should be able to look over the stock shield height. | Derek Schoeberle, Suzuki's media relations manager, easily looks over the stock windshield of the C90T B.O.S.S. Derek is 6-foot-4. |
The nonadjustable link-type rear shock with 4.3 inches travel is tucked up under the bike so its hidden, giving the C90T the look of a hard tail. The thick, 45mm telescopic fork with 5.1 inches travel is blacked out. Our test ride was a relaxed one on mostly well-maintained two-lane roads and highway, with the suspension doing an admirable job soaking up road imperfections and the usual bumps.
Behind-the-Scenes Action on Our Test Ride
| | |
| --- | --- |
| While Donya, Genevieve and the other journalists on the test ride enjoyed a picnic lunch among the red sandstone formations of Valley of Fire State Park, photographer Brian J. Nelson made sure the group had plenty of pictures of the C90T B.O.S.S. | Genevieve picks up the slack, making sure she gets all the right shots for this review on WRN. |
Bridgestone tires (130/80-17 front, 200/60-16 rear) are mounted on custom-styled seven-spoke cast-aluminum wheels. Disc brakes front and rear stop the bike quickly, plus a large foot pedal provides good leverage for braking.
Lockable, top-loading integrated saddlebags open outward, making it possible to reach into the bags while astride the bike (fabulous!), but you'll need the ignition key to get into them. The bags weren't slapped on as an afterthought—they were designed in-house specifically for this cruiser tourer.
| | |
| --- | --- |
| Sturdy, lockable saddlebags have been designed specifically for the C90T B.O.S.S., with wide openings that allow you to easily see and retrieve contents. | The saddlebags are made of impact-resistant ABS plastic under covers that are custom-matched to the seats and designed to keep water out. Their specially designed shape keeps them from interfering with the passengers feet. |
A protection bumper under the left 26-liter saddlebag helps to minimize damage should the bike tip over. The right saddlebag holds 1.5 liters less to make room for the exhaust. The only downside is that the bags could be roomier. Neither bag can hold a full-face helmet.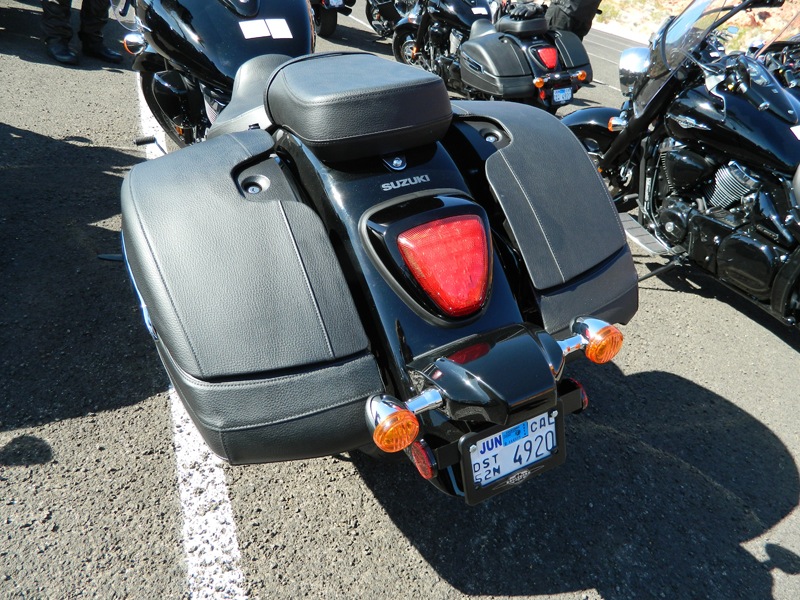 When we returned to our bikes after a short jaunt to see Hoover Dam, a group of people who'd been admiring our B.O.S.S. motorcycles joined their hands together to form a bridge that we riders walked under to get to the bikes! How's that for a motorcycle attracting good attention? Welcome back into the 1500cc cruiser class, Suzuki!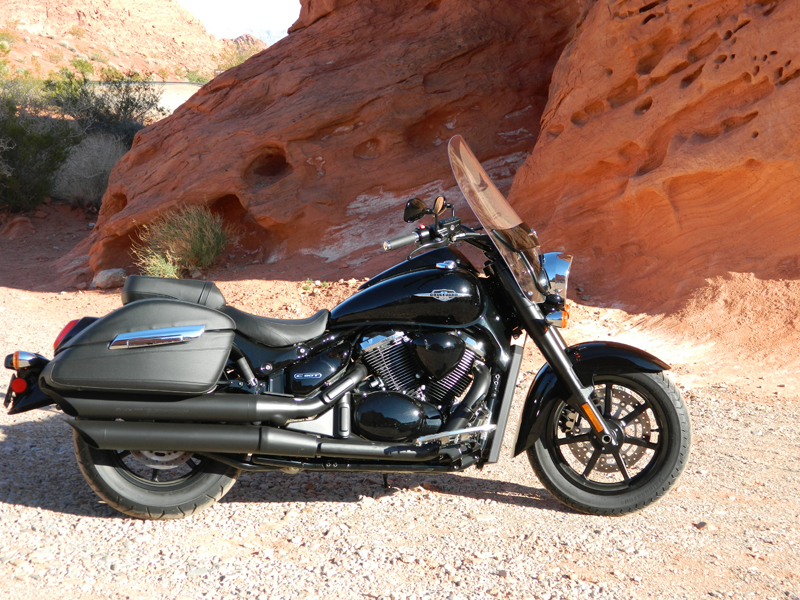 Specs At A Glance: 2013 Suzuki C90T B.O.S.S.
Displacement: 1462cc
Seat Height: 28.3 inches
Weight: 800 pounds
Price: $13,999 (C90T B.O.S.S.); Price TBA for C90T; Price TBA for 2014 C90 available in April 2013
Colors: Glass Sparkle Black; C90T Colors: Candy Sonoma Red/Glass Sparkle Black; Solid Special White/Solid Iron Gray
WRN Recommendation
The 2013 C90T Boulevard B.O.S.S. and the non-black versions of the C90T Boulevard are ideal touring cruisers for riders who don't care for the large dressers—or baggers, as they are often referred to—that come with rear tour packs and/or fairings. The C90T does a great job at offering the power and speed needed for all-day cruising, and its also quite comfortable. Experienced riders looking to trade up to a "power cruiser/tourer" should consider the C90T. It's a lot of motorcycle for the money.