The Suzuki Boulevard C50, an 800cc motorcycle that's proven very popular among women because of its midsize powerplant and manageable size, has morphed into several different iterations over the last few years, including a touring edition, a classic edition, and a special edition new for 2013. So what's the difference—and what's the better buy?
WRN contributor Donya Carlson explains those differences in her review of the 2012 C50T Classic, a stripped-down version of the C50T. But before we get to that, let's quickly run through Suzukis 2013 models, which were introduced just two weeks ago and will soon be on showroom floors. That way, you can get the best deal for you by comparing the 2013 models with the 2012 models still left on your dealer's showroom floor.
For reference, on the left is the 2012 Suzuki Boulevard C50T Classic that Donya reviews in this article. It is a stripped-down versionof the Suzuki Boulevard C50T touring model, shown at right.
For model year 2013, Suzuki is discontinuing the C50T Classic and replacing it with the C50, priced at $8,399. The C50, although priced $400 more than the Classic, is the exact same bike but lacks the Classics studded seat and whitewall tires, features that typically up the price of a bike. We were told at press time that there are still a few Classics left at dealers around the United States. Clearly the one-of-a-kind Classic, despite being a one-year-old model, is the better buy here.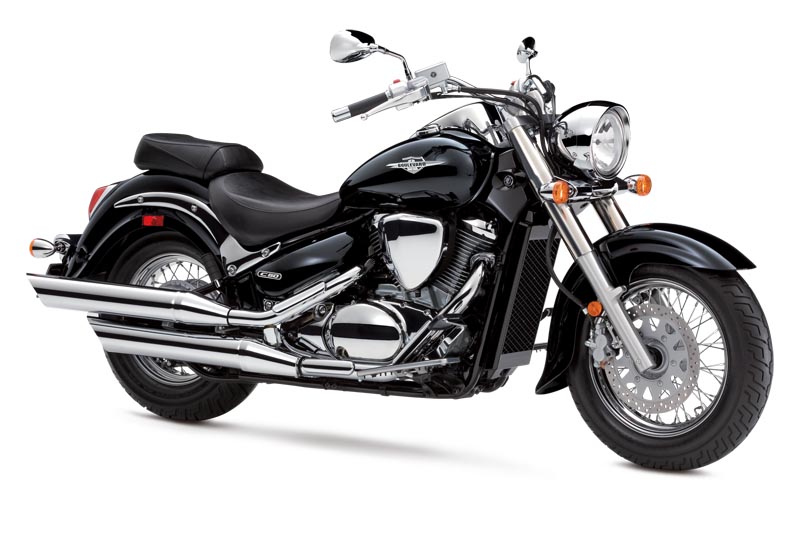 Also for 2013, Suzuki is unveiling the Boulevard C50 Special Edition, which has the same chassis and powerplant (engine and transmission) as the base C50 but comes with cast aluminum (mag) wheels and two-tone paint. Priced at$8,799, theC50 Special Editionis $400 more than the C50 and $800 more than the C50T Classic.
The 2013 Suzuki Boulevard C50 Special Edition comes in two dual-tone color schemes: White/Silver and Black/Red.
With all this squared away, let's move on to Donya's review of the 2012 Suzuki Boulevard C50T Classic. Keep in mind that this is nearly the same motorcycle as the 2013SuzukiBoulevard C50, the only difference being that the 2013 C50 lacksseat studs and whitewall tires.
When you spend several consecutive seven-hour days in the saddle of a motorcycle, you get to know that motorcycle very well. By happy chance—or, rather, by cutting-edge technology—the 2012 Suzuki Boulevard C50T Classic turned out to be an excellent motorcycle on which to burn up 300-plus highway miles, two-lane back roads laced with scenery, and footboard-dragging twisties. My first day out on the C50T Classic was so much fun that, when my friend Debbie Macdonald joined me the next day aboard her Harley-Davidson Road Glide, we headed northeast and I spent another seven hours in the bikes deluxe, chrome-studded saddle.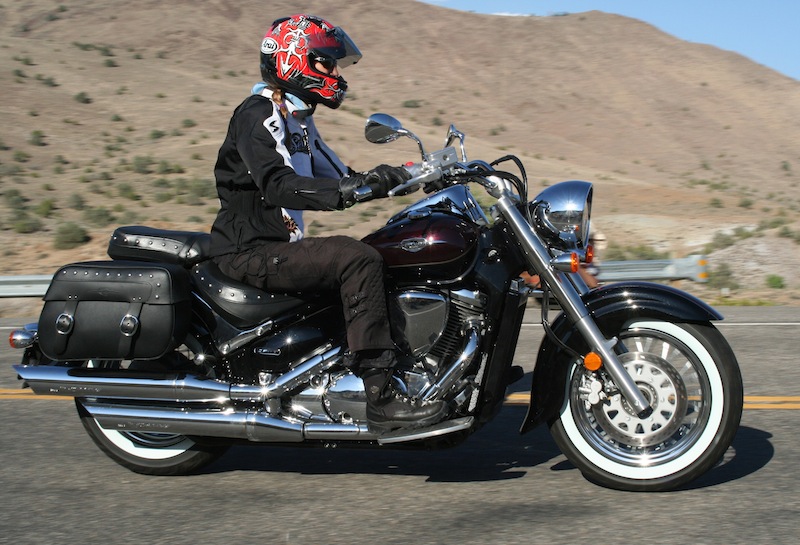 This midsize, fuel-injected, 45-degree,805ccV-twin cruiser isn't brand-new—in fact, it's a "de-toured" version of the Suzuki Boulevard C50T, a touring-outfitted Boulevard that retailed for $9,499 in 2011. (Suzuki probably should have eliminated the Classic's "T" designation so as not to confuse it with the touring model.)Suzuki removed the windshield, saddlebags, and backrest, dropped the price by $1,500, and gave it a new Candy Sonoma Red/Glass Sparkle Black paint job. What remains is a beautiful, competent cruiser for a buck under eight grand that can be outfitted with accessories if desired.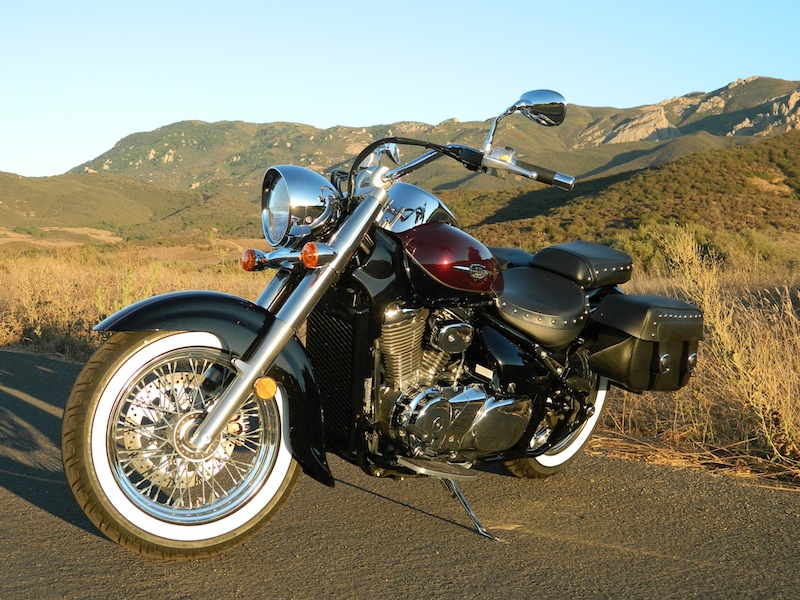 Traditional and classy-looking, this latest Boulevard sports thick 41mm chrome telescopic fork tubes kicked out to 33 degrees, with 5.5 inches of suspension travel. Tube-type IRC Gran High Speed whitewall tires wrap around spoked 16-inch front and 15-inch rear wheels accented by valanced fenders in the Sparkle paint. Gorgeous! The frame design hides the single shock with 4.1 inches of suspension travel, giving the Classic the look of a hard tail (a bike with no suspension). Fortunately, the bike doesn't ride like a hard tail, with the link-type shock soaking up and leveling out road imperfections.
The shock has a seven-way adjustable spring preload, but the downside is that to adjust it you first need to get to it, and that's not a quick process. I left it on the stock setting (fourth position), which worked fine for 2,000 miles of solo riding with filled-to-the-brim saddlebags. If you have changing loads or are a suspension-fiddler with the patience of a gnat, this bike may not be the best choice. There's also a helmet lock on the left side of the bike, but with saddlebags mounted the lock is partially obstructed, so I couldn't attach my helmet by its D-ring.
| | |
| --- | --- |
| When it comes to stopping this 611-pound machine, the single-disc brake with two-piston caliper could use a bit more bite. The rear drum brake is decent but grabby. We appreciate angled-out valve stems that make checking tire pressure easy. | The tool kit is housed under a plastic cover on the left side and is accessed with the ignition key. The kit includes Allen keys, open-end wrenches, pliers and a screwdriver. Curiously, a spanner wrench for the ramp-and-collar-type shock was not included in our test bike's tool kit. As an aside, to get to the shock you'll need to remove a different cover thats secured with Allen bolts (the right side cover is bolted on). |
Yes, I mentioned saddlebags. Suzuki removed the touring accessories from the C50T for the lower-priced Classic, and I promptly put saddlebags back on! Because I was heading out on a weeklong tour, I ordered up Suzuki's chrome-studded leather saddlebags from the company's accessories collection. Within an hour-and-a-half, two of us had the saddlebags attached. As an added bonus, the spacers for the support brackets made excellent attachment points for bungee hooks that secured a duffel bag I placed over the passenger seat.
| | |
| --- | --- |
| More bang for your buck? You decide. At $7,999 —$1,500 less than the touring-outfitted C50T)—the 2012 C50T Classic is a bargain. If you do want a Suzuki-brand windshield, back rest, saddlebags and special paint, purchasing the C50T as supplied will save you about $200 versus buying the accessories separately, and you won't have to install them. We mounted Suzuki's non-locking, chrome-studded leather saddlebags on our test Classic, pictured here. | Suzuki-brand studded saddlebags retail for $599.95 (or $20 less without studs), plus $149.95 for the support brackets. The saddlebags match the Classic's studded two-piece seat perfectly. |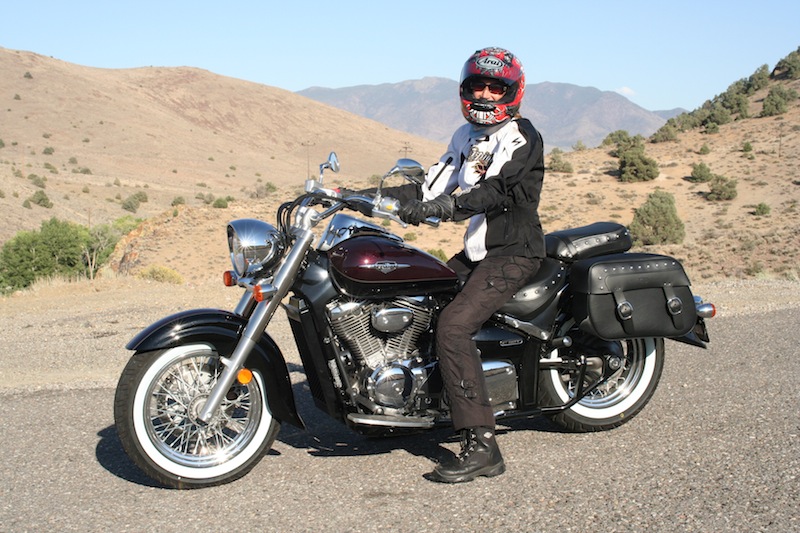 With ideal ergonomics for my 5-foot-10-inch frame, this bike set me up for all-day comfortable riding, especially on the highway. The footboards are placed forward but not overly so, allowing plenty of room for foot movement. The chrome handlebar curves up, then down and back, which placed my arms and shoulders in a relaxed position. This setup settled my weight squarely on my gluteus maximus in the Classic's wide seat, putting no pressure on my tailbone. I rode along in equal comfort with my tuchus placed farther back with my back curved, or scooted closer to the tank and sitting upright. Scooted back on the seat with my back supported by my "passenger" (duffel bag) was ideal for long highway hauls, though I did wish for a windshield, especially on the highway. If this were my bike, I'd buy a quick-release windshield like the ones offered from Memphis Shades or National Cycle.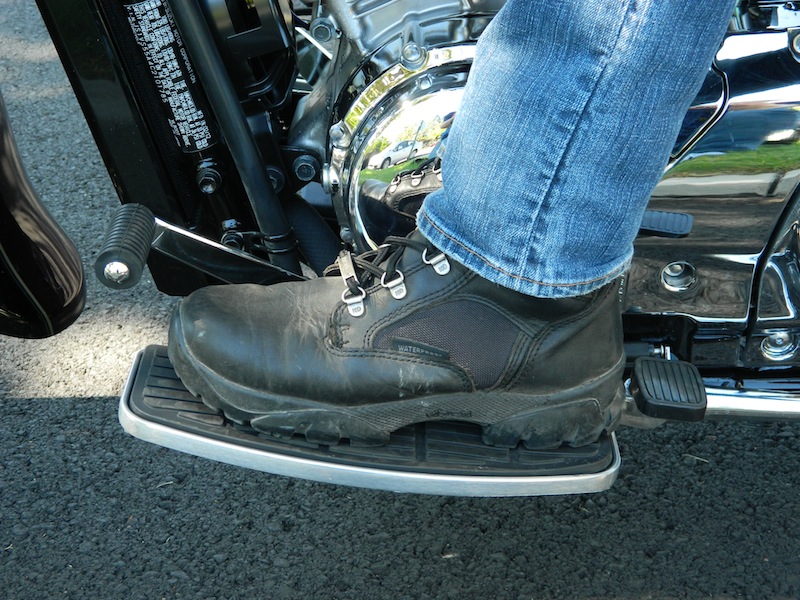 With its 98.4-inch overall length and 65.2-inch wheelbase, the Classic appears to be much larger than 805cc.But with a 27.6-inch seat height and down-low weight of611 pounds,the bike is easy to handle at slow speeds. Because I can plant both feet firmly on the ground on this bike, backing into parking spaces was no problem. When wearing textile riding pants at highway speeds, vibration was barely noticeable on the inside of my knees where my legs rested against the tank. However, the tingling sensation from those vibrations was more noticeable when wearing jeans while riding. Top gear, or fifth, has a higher gear ratio for highway cruising, but I still found myself hunting for that nonexistent sixth gear.
| | |
| --- | --- |
| When viewed from above, it's clear how wide and roomy the rider and passenger seats are. On the downside, the stepped-up pillion seat and high-set passenger pegs could potentially place the passenger higher than the rider and into direct windblast. | Tank-mounted instruments are housed in chrome. The digital readout allows you to toggle between an odometer, two trip meters and a clock. There's also a gear position indicator, and the last bar on the fuel graph will flash when fuel is low. |
Recommended octane for the Classic is a higher-priced 91, though WRN's test bike got excellent fuel economy from the 4.1-gallon tank, averaging 50.13 mpg (the low was 41.68 mpg and the high was 56.62 mpg). The suspension kept the bike on course and well planted on the pavement while leaned over in turns, while the Classic's engine is tuned for excellent low-rpm torque, pulling it strongly out of corners. However, when I got back home to Southern California and took the Classic through some tight, twisty mountain roads—some in dire need of repair—at times I felt the suspension almost bottom out.
| | |
| --- | --- |
| The Classic's grips are large in circumference and reaching the clutch with small hands is a stretch, but the feel of the lever is light and smooth. | The chrome-finished brake lever has five settings to allow the rider to adjust the lever position and degree of pull. |
Suzuki's Boulevard C50T Classic has so many possibilities. You can leave it as is—a companionable, capable cruiser—or deck it out with accessories for a versatile long-distance bike. Debbie and I spent 10 hours in the saddle during our last riding day together, which I followed with another 350 miles on my trip back home, and after all that I was still ready to ride. Suzuki has taken a well-established, reliable cruiser, dropped the weight, dropped the price and upped the fuel economy. What's there to complain about? The only thing I can come up with is that this bike is not available as a 2013 model, so snatch up a 2012 Classic while you still can.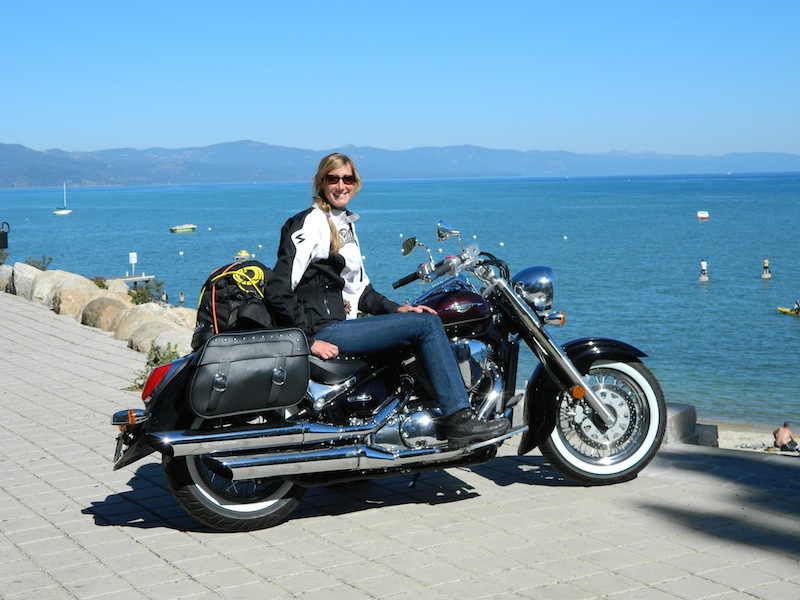 Specs At A Glance: 2012 Suzuki Boulevard C50T Classic
Displacement: 805cc
Seat Height: 27.6 inches
Weight: 611 pounds
Price: $7,999
Colors: Candy Sonoma Red/Glass Sparkle Black
WRN Recommendation
We're glad that Suzuki has kept its 800cc Boulevard line, particularly as competitors are increasingly upping the displacement on midsize models to 900cc or higher. We feel bikes like the Boulevard C50T Classic and its C50 siblings, which feature an 800cc engine housed inside a chassis that makes the motorcycle look a lot bigger, make ideal motorcycles to which newer riders can transition after they've spent time on a smaller 250cc or 500cc starter bike. The C50T Classic and its siblings are not only priced right, but they're also good all-around investments because of their dual purpose as capable day-ride bikes and long-distance tourers. For many women riders, the Boulevard C50 line of motorcycles will provide the perfect first step into the world of big-league cruisers.