I'm a sportbike gal at heart but when I heard about Honda's newest custom cruisers, the VT1300 line, I had to check them out. There are three bikes based on the same platform: The Sabre differs from the other two with its muscular styling, skinnier front tire and chromed engine; the Stateline and Interstate have blacked-out engines and a retro look with their deeply valanced fenders and wider handlebars. The Interstate is outfitted for touring with a windshield, leather-covered hard saddlebags, rider floorboards and a heel-toe shifter. Since I like to put on miles and carry stuff, I gravitated toward the Interstate. Curiously—actually, it was to keep it priced under $13,000; the Interstate is the only model not offered an ABS option for 2010, however, it is an option for 2011 but pushes the price over that 13 grand mark.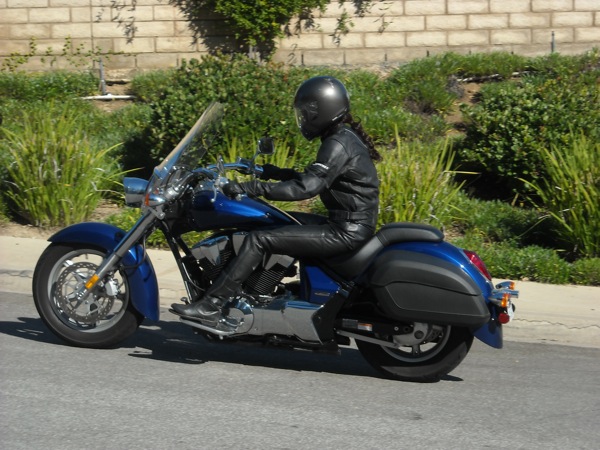 These three Honda motorcycles came about because of the well-received 2010 Honda Fury, an affordable "custom chopper" with its raked fork and bare backbone frame. The Fury has a long 71.2-inch wheelbase, and these newer cruisers follow along in Daddy's big footsteps with their stretched tanks, 70.1-inch wheelbases and 33-degree fork rakes. That's long, and when I laid eyes on the Interstate for the first time I raised an eyebrow when I pictured lifting it off the sidestand or going around a tight corner.
It turns out that my skepticism was unfounded though yes, the Interstate is hefty, tipping the scale at nearly 700 pounds ready to ride. Weight is carried low, the bike is narrower than you'd expect considering its length, and the seat is just 26.7 inches off the ground. My hands are placed wide, hanging onto large-in-circumference grips (small hands take note), and my feet are slightly forward on big floorboards. I'm 5 feet 9.5 inches and the Interstate has me sitting upright with my body curved slightly forward, shoulders relaxed and arms out like I'm going to hug someone. A rider who is significantly shorter would have her arms and legs outstretched farther and would have to put more effort into turning.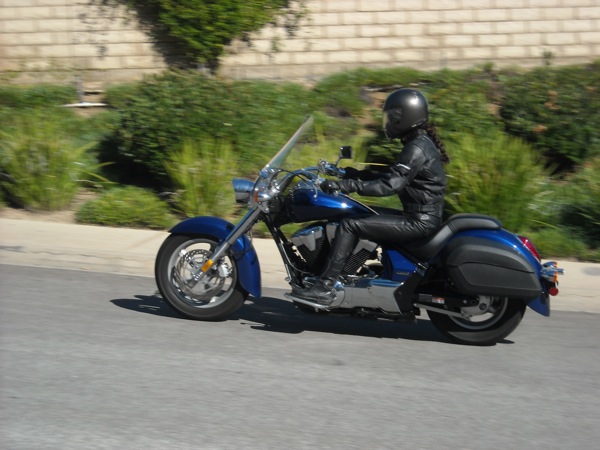 This brings me to the Interstate's suspension, which overall, is pretty compliant when cruising down the highway. But that single rear shock with 3.9 inches of travel does not soak up deep potholes well and transfers this jarring to the rider. When seated upright the way I am this isn't an issue but if you've got your limbs outstretched, this could place stress on your back when you hit a hard bump in the road. Even reaching the sidestand tang could be a problem if you're short on leg length.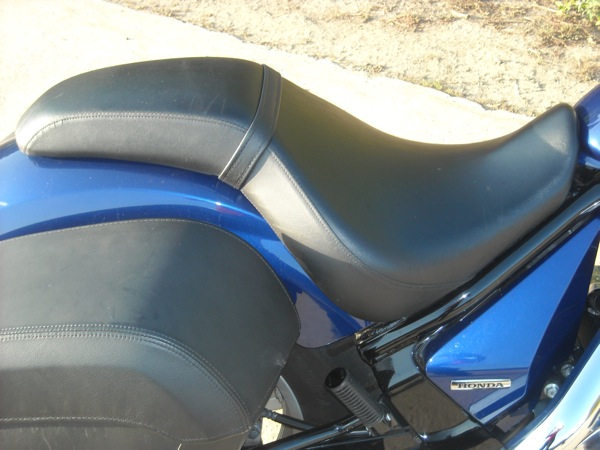 Once I'm settled into that plush seat I am ready to put on some serious miles. And I'm busy doing just that! I've packed the saddlebags and am heading out on an overnighter riding 60 miles one way to meet a friend for dinner and then back home again. I've stuffed the VT's bags with purchases and groceries plenty of times. I've ridden in the rain and the contents of the saddlebags stayed dry and the big windshield deflected a lot of that rain. The non-locking saddlebags have a hidden release to open them that, unless you know where to look, could be real time-consuming to figure out. Absent is a helmet lock and my full-face helmet certainly will not fit into the hard saddlebags. The saddlebags each have a 10-pound weight limit and they are deep but rather narrow.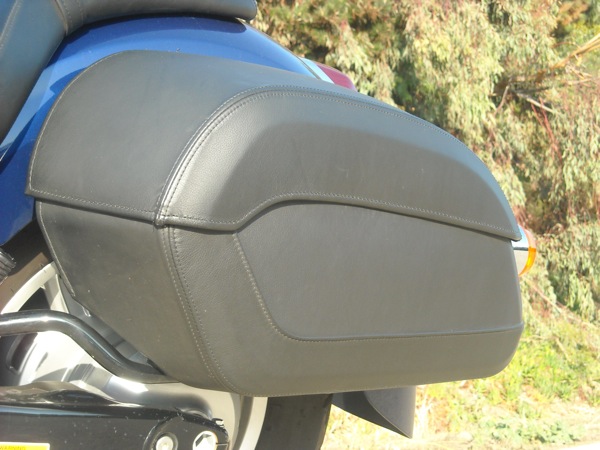 The three VT1300s are fuel injected, and the Interstate fires up readily every time. On colder mornings I can ride off smoothly if I let the VT idle for half a minute or so first. The 1312cc, SOHC, liquid-cooled, three-valve-per-cylinder, 52-degree V-twin is the same reliable engine that's been thriving in Honda's VTX1300 cruiser line since 2003. My Interstate has been averaging 40 to 41 mpg from the 4.4-gallon tank.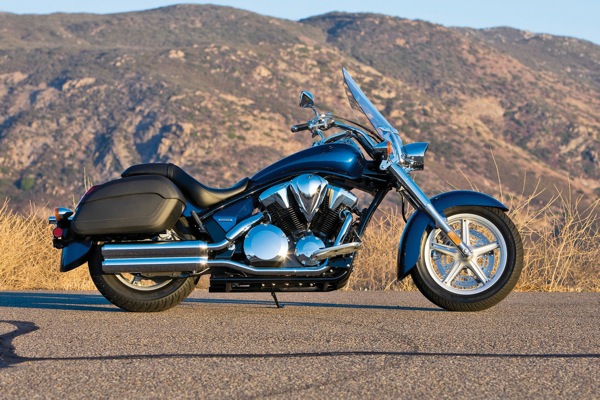 I like this big custom cruiser with the lumping character of the single-pin crank and the way the bike "thunks" loudly into gear. A slight vibration comes through the Interstate's grips and I can feel the pulsing of the motor, augmenting the overall big-bike feel. Shifting through the 5-speed transmission is easy and clutch lever pull is smooth and light, albeit a reach. I never have trouble finding neutral at stops. Single discs front and rear with a two-piston caliper up front and a single-piston out back stop the bike efficiently.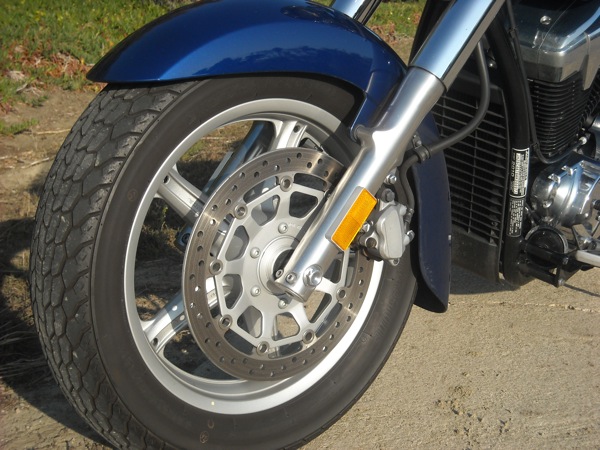 Rather surprising is how well the Interstate turns into corners considering its long wheelbase. Not surprising is that cornering clearance is limited and the underside of the floorboards touch down soon. Good low-end torque pulls the big cruiser out of corners easily. At higher speeds in sweeping turns the tall windshield seems to make the bike wallow. While straight-on airflow is almost nil thanks to the windshield air comes up from below, and at highway speeds this updraft keeps my head in constant motion. I've become accustomed to this so it's not bothersome except on long rides, where I wrap a scarf around my neck to prevent air from blowing up inside my helmet and drying out my eyes. Since the Interstate's windshield may cut through a shorter rider's line of vision, an option is to buy the Stateline model and accessorize it to fit your needs. Honda offers a shorter windshield among the almost 50 accessories available for the VT1300 line.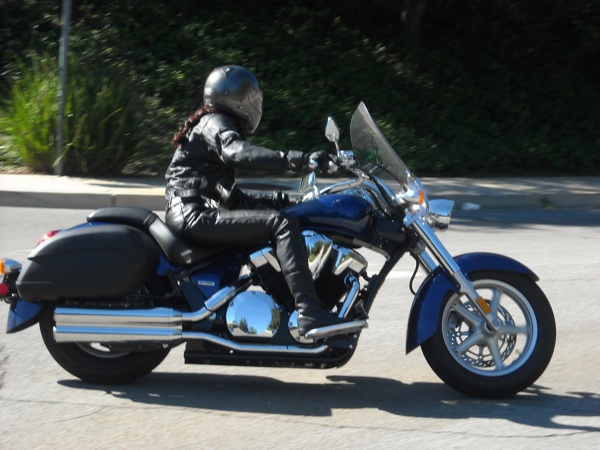 My VT and I have cruised almost 4,000 miles of paved roads together and I'm having a grand time. The Interstate handles well, and for my tall stature, is comfortable for long rides and manageable in slow-speed situations. I like the convenience of saddlebags, the floorboards that allow me to move my feet around and even the way I have a more relaxed approach to motorcycling than when I'm on my sportbike.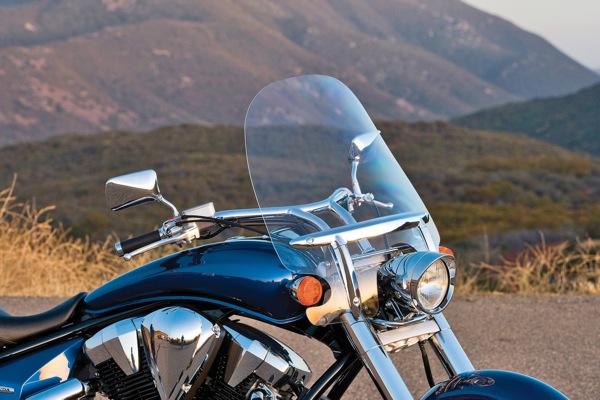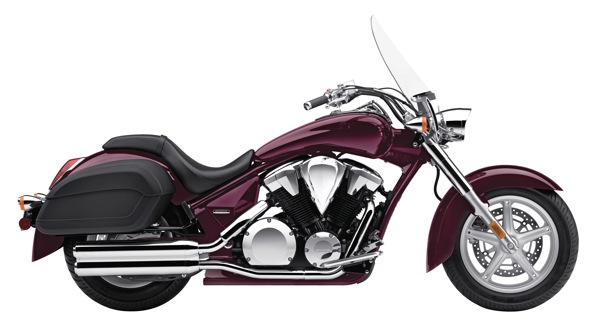 Specs At A Glance: 2010 Honda VT1300CT Interstate
Displacement: 1312cc
Seat Height: 26.8 inches
Weight: 679 pounds
Colors: 2010 blue pearl, black; 2011, black, dark red metallic
Price: 2010 starts at $12,749
Warranty: 1 year unlimited mileage
WRN Recommendation:
The Interstate is ideal for intermediate and advanced riders to trade up to for touring since it comes already outfitted with bags and a windshield. It's on the long side so shorter riders should make sure they can comfortably reach the bars. Mustang Seats makes plush aftermarket saddles for the Interstate, which may add to seat height but may push shorter riders forward. This is a big, powerful bike not recommended for beginners, but experienced riders should consider the Interstate when comparing mid-size touring bikes. Note the 1 year warranty on the Interstate, pretty standard with the Japanese manufacturers, compared to Harley-Davidson's 2-year warranty.