Icons. They endure, they endear, resonating simple truths that span generations. They bookmark a memory, highlighting a place in time, essentially making it timeless. "Like this motorcycle," I thought, as I rode the redesigned 2009 Triumph Bonneville SE under an oak tree canopy along Floridas Saint Johns River. Since its inception in 1959, the British-bred Bonneville has captured motorcycling souls the world over with its simplicity of spirit. Fifty years later and newly revised, this iconic motorcycle still "feels" true to that nature in spite of the 21st century technology it now boasts. Simultaneously progressive and nostalgic, consider this new Bonneville a two-wheeled time traveler.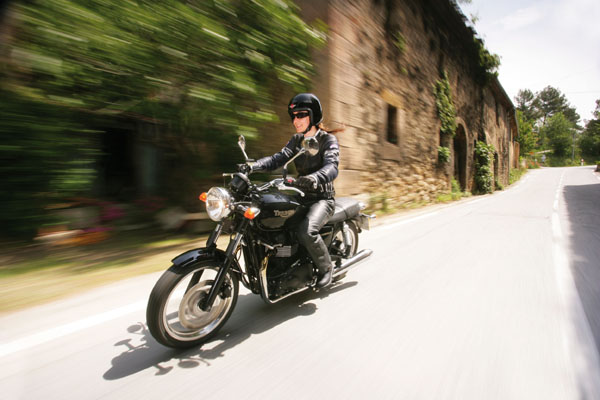 Though many who lived during this bikes heyday of the 60s and 70s can appreciate its sentimental value, the 2009 Bonneville and Bonneville SE models should hold great appeal to newer riders, smaller riders or anyone who wants a great riding, handling and performing motorcycle that is undeniably cool. The changes wrought on the 2009 versions improve this icons prowess but dont detract from the factors that made it so beloved.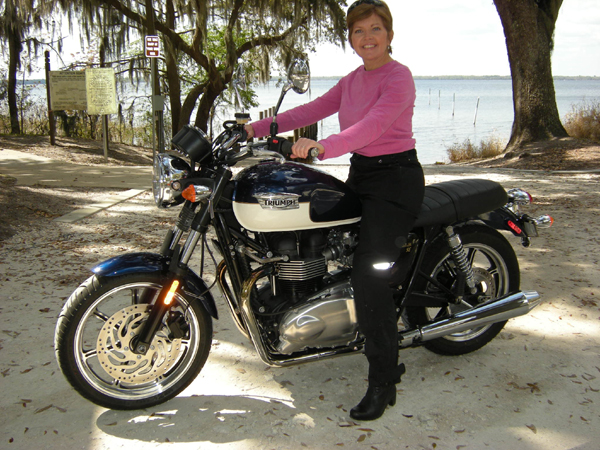 At first glance nothing seems changed. Climb aboard and the differences glare. The seat height now sits at just 29.1 inches, more than one inch lower than the 2008 iteration. Though 29 inches seems high, the narrow nose and profile eliminates reach problems for short-statured riders. While stopped your legs rest comfortably and solidly in front of the foot pegs. With feet on the pegs you assume a posture similar to that of a naked/standard motorcycle with a straight back and comfortable bend in the knees. No need to stretch for the Bonnies handlebars either as they reach further back toward the rider than on prior models. Riders can tailor the easy-to-pull adjustable clutch and brake levers to fit their hands. The kickstand is easily viewed, reached and deployed, eliminating a persistent pet peeve for the vertically challenged. The bikes mere well-balanced 440-pound weight makes getting the bike off the stand an easy endeavor.
| | |
| --- | --- |
| Easy to reach clutch with a light pull adds to the enjoyment of riding the Bonneville SE. | Things aren#39;t always what they seem. To preserve the historic integrity of the parallel twin motor this carburetor only looks like a carburetor. It#39;s actually the new-for-2009 fuel injection in disguise. |
Fuel injection, also new for 2009 (and cleverly hidden so as not to disturb the engines retro persona), helps the Bonnie start easily, though it still sports a cold-start choke lever for when it needs extra help. It maintains its historically styled and storied air-cooled, parallel-twin motor. The Bonnies 865ccs give it (according to Triumph) about 67 horsepower at 7500 rpm, and torque peaks at 51 foot pounds at 5800 rpm.
I had ridden recent versions of the Bonneville over the last few years but felt surprised when I threw my leg over this 2009 model. At 5 feet 3 inches with a 29-inch inseam this new Bonnie felt tailor-made for me. The large, unobstructed retro-round mirrors (that never vibrated) gave me a great view behind. In front, the handlebars and levers fell perfectly in place. A simple round instrument display sat in plain view offering the basic information speedometer, odometer trip meter and a tachometer but no more. Were talking retro, remember? Im willing to wager famed Bonneville aficionado Steve McQueen didnt worry much about miles to empty or even a clock, for that matter.
| | |
| --- | --- |
| The gauge cluster. Simple but effective. | Triumph#39;s iconic megaphone exhaust sounds a sweet note on the Bonneville SE. |
The sight of a Bonneville elicits respect even from those born after its heyday. The upward-sweeping megaphone muffler, the gas tank silhouette, the bench-style seatfolks smile when they see it and appreciate its reference to and reverence of the past. But while its looks make some hearts beat faster, riding it provides a happier adrenaline rush.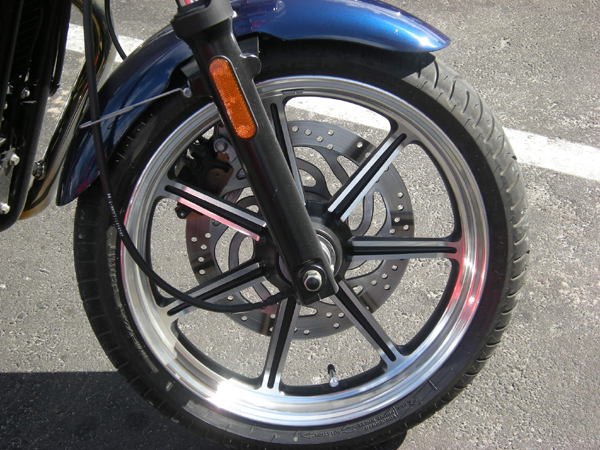 Snappy, zippy, fun I literally laughed while aboard the Bonneville. The Bonnevilles redesign included a change to smaller 1- inch tires (and new cast wheels) that really improved the bikes responsiveness; its extremely easy to turn and reacts very quickly to input. That, combined with the Bonnies relatively low weight, added up to a joyously fun riding experience. Slow speed maneuvering proved effortless and worry-free. Its un-fancy suspension still provided good bump absorption and the single 310mm front disc with two-piston caliper and lone 255mm rear disc with two-piston caliper brakes adequately stopped the bike.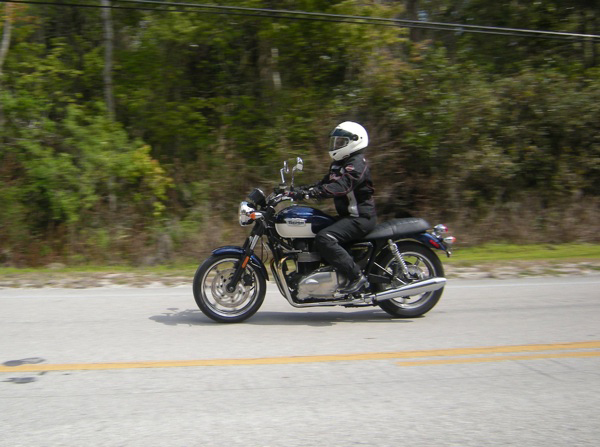 The Bonneville SE also adapted to any type of roadway. That 865cc motor quickly propelled the Bonnie to speed and the transmission shifted easily through its five gears. It didnt feel "little" at speed, wasnt bullied by gusting wind or passing trucks, and didnt vibrate at higher rpms.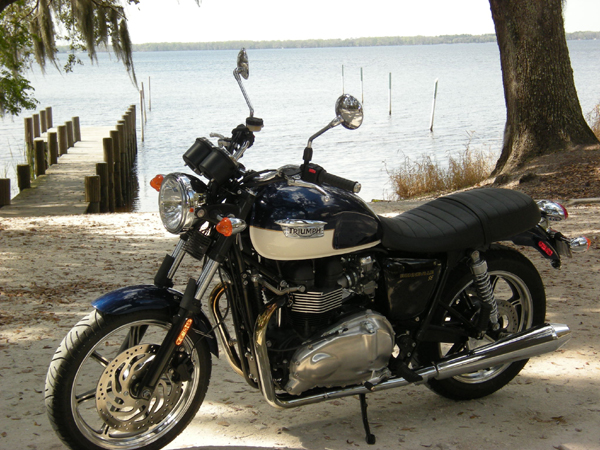 On back roads it felt nimble and quick, more like a sport bike than a retro-cruiser. I felt able to conquer anything dirt and gravel roads, tight u-turns, busted macadam with no worry of incompetence, thanks to its coordinated package of ergonomics, motor, and weight. Lithe, slim and seemingly carefree, referencing days of rebellion and freedom, this timeless two-wheeled icon unselfishly shares its easygoing nature. Peace, love, and rock n roll, anyone? The 2009 Bonneville SE its one groovy bike, man.
Specs at a Glance: 2009 Triumph Bonneville and Bonneville SE
Displacement: 865cc
Seat Height: 29.1 inches
Fuel Capacity: 4.2 gallons
Weight: 440 pounds (dry, no fluids)
MSRP: $7,699 for the Bonneville in either Jet Black or Fusion White. $8,399 for the Bonneville SE (which adds a tachometer, chromed tank badge, and polished alloy engine covers) in either Jet Black or Pacific Blue/Fusion White.
WRN Recommendation:
I absolutely had a ball riding this motorcycle and its package of performance and ergonomics blew me away. Though sized well for smaller and/or beginner riders, those with more experience should not shy away from the Bonneville SE thinking its a beginner bike. Anyone with any experience should appreciate Triumphs 2009 Bonneville SEs performance. Plus, it offers style unlike anything else on the road. If youre looking to stand out from the masses of cruisers and sportbikes, the Bonneville SE could be for you.
Other Modern Classics by Triumph:
Two other "modern classic" Triumphs are the Bonneville T1000 and the Bonneville Thruxton. The light and low nature of these bikes naturally draws women and new riders to them while still having more power than the typical beginner bike.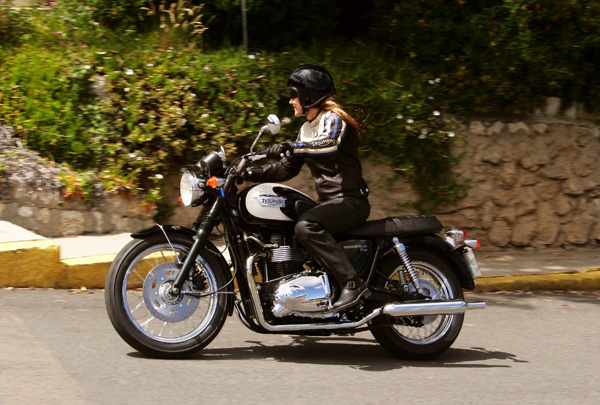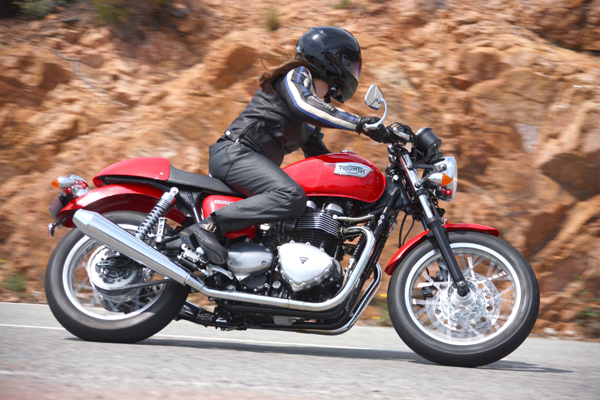 Related Articles
PRODUCTS: Steve McQueen T-Shirt
Your First Motorcycle: What to Consider