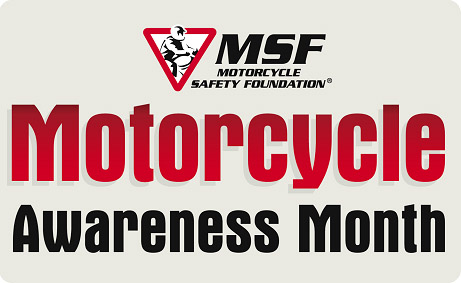 With May being designated Motorcycle Safety Awareness Month, what better time to send the message to car, bus and truck drivers to be more conscious of motorcycles on the road. The Motorcycle Safety Foundations mission is to make the nations streets and highways safer for motorcyclists through rider training programs, operator licensing programs, and public information campaigns.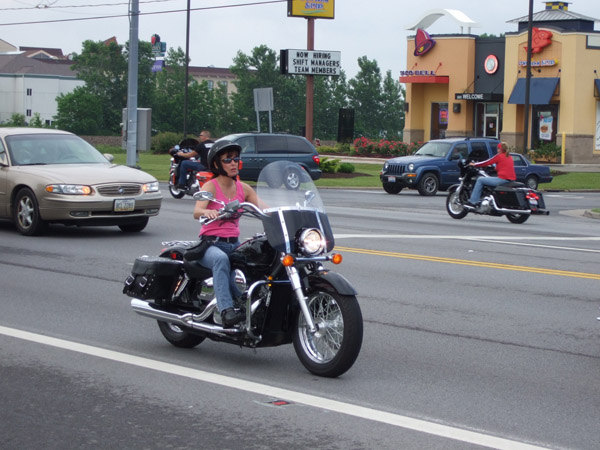 "Its a fact that car drivers and other motorists are at fault most of the time in multiple-vehicle crashes that involve a motorcyclist," said Motorcycle Safety President Tim Buche. "Thats why weve initiated several public outreach tools specifically targeting the driving community. MSF has life-saving messages for everyone, whether they are behind a handlebar or behind a steering wheel."
MSFs Five Key Messages for Drivers
Look for Motorcyclists – Use your eyes and mirrors to see whats around, and check the blind spots when youre changing lanes or turning at intersections. Look, and look again.

Focus on Driving: Hang up the phone, put down the MP3 player, settle the passengers, and drive. And NO texting.

Use Your Turn Signals: Signal your intentions for everyones safety.

Give Two-Wheelers Some Room: Dont tailgate or pass too closely.

Take Your Time: Nothing is as important as the safety of your loved ones, yourself, and the others with whom you share the road.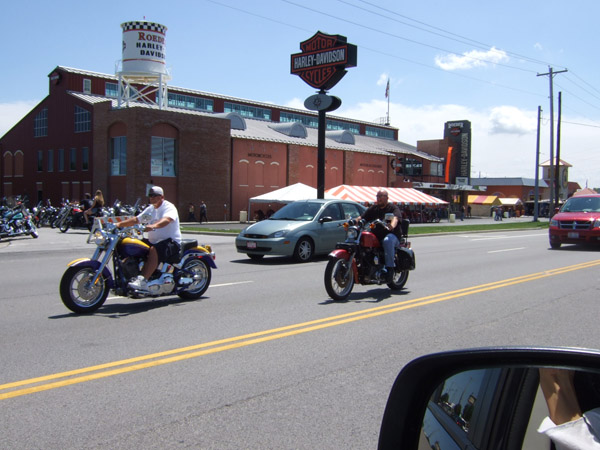 MSF launched a new Web site, ForCarDrivers.com in 2007, with safety tips, video instruction, and other resources to help car, truck, and bus drivers learn how to safely interact with motorcyclists on the nations streets and highways. MSF offers this list from ForCarDrivers.com:
10 Things Car, Truck, and Bus Drivers Should Know about Motorcycles
More than half of all fatal motorcycle crashes involve another vehicle. Most of the time, the motorist, not the motorcyclist, is at fault. There are a lot more cars and trucks than motorcycles on the road, and some drivers dont "recognize" a motorcycle – they ignore it (usually unintentionally).


Because of its small size, a motorcycle can be easily hidden in a cars blind spots (door/roof pillars) or masked by objects or backgrounds outside a car (bushes, fences, bridges, etc). Take an extra moment to look for motorcycles, whether youre changing lanes or turning at intersections.


A motorcycle may look farther away than it is. It may also be difficult to judge a motorcycles speed. When checking traffic to turn at an intersection or into (or out of) a driveway, predict a motorcycle is closer than it looks.


Motorcyclists often slow by downshifting or merely rolling off the throttle, thus not activating the brake light. Allow more following distance, say three or four seconds. At intersections, predict a motorcyclist may slow down without visual warning.


Motorcyclists often adjust position within a lane to be seen more easily and to minimize the effects of road debris, passing vehicles, and wind. Understand that motorcyclists adjust lane position for a purpose, not to be reckless or show off or to allow you to share the lane with them.


Turn signals on a motorcycle usually are not self-canceling, thus some riders (especially beginners) sometimes forget to turn them off after a turn or lane change. Make sure a motorcycles signal is for real.


Maneuverability is one of a motorcycles better characteristics, especially at slower speeds and with good road conditions, but dont expect a motorcyclist to always be able to dodge out of the way.


Stopping distance for motorcycles is nearly the same as for cars, but slippery pavement makes stopping quickly difficult. Allow more following distance behind a motorcycle because it cant always stop "on a dime."


When a motorcycle is in motion, see more than the motorcycle – see the person under the helmet, who could be your friend, neighbor, or relative.


If a driver crashes into a motorcyclist, bicyclist, or pedestrian and causes serious injury, the driver would likely never forgive himself/herself.
Help make the roads safer this summer and share these facts with all drivers and riders you know. Click here to send these facts to a friend.
Related Articles:
Beginners Guide: Motorcycle Training Classes