The Suzuki Boulevard M90 is a sportbike disguised as a cruiser, rumbling up like a Harley-Davidson and zipping away like a Ninja. With accessories it could function nicely as a light touring motorcycle, too. For $9,999, you might find it almost irresistible.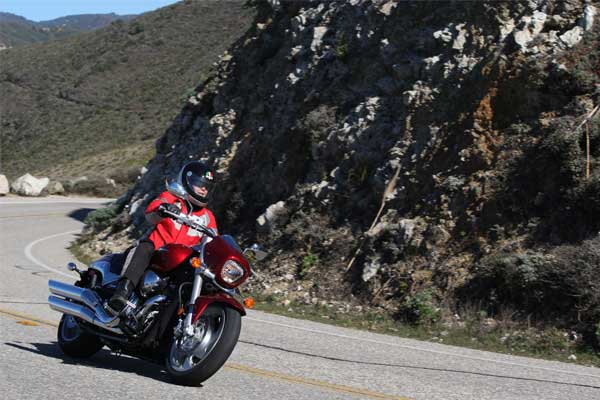 Its 8:30 on a cold California winter morning and the press folks at Suzuki are ready to lead a dozen journalists from Monterey though Carmel and Big Sur so we can test their new Boulevard M90 on all types of roads. The sun beats down so hard that I quickly run inside to zip out the liners in my gear. A little behind the rest of the gang, I heft the bike off its kickstandit feels so much lighter than 723 poundsand swing my leg over to plop down on the seat with a thump. Ouch! The bike looks so big I didnt expect the seat to be this low.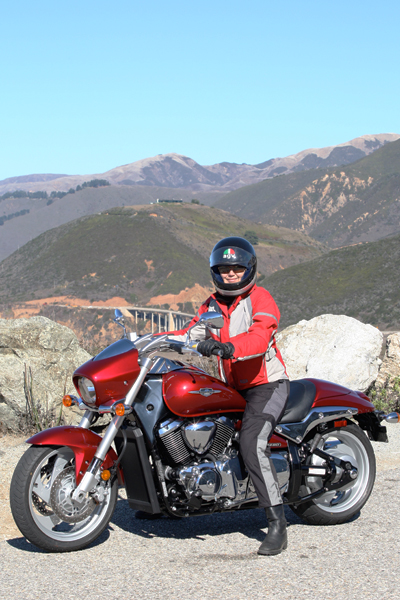 Its the reach to the handlebars and footpegs thats intimidating. At 5 feet 7 inches I can stretch pretty long, but this thing has me really reaching for the handles and the footpegs that are also waaaaay out there, even with my 32 inch inseam. Im the only woman on the ride but I notice that Im not the only one whos pawing and stretching to reach them.
With some fumbling I find the key under my left leg and in a moment the sound of my engine joins the others, low and rumbly.
I easily pull in the clutch, kick it into gear, and roll into formation with the others. The M90 cruises down the long, curved driveway from our hotel with grace and ease to the red light where I find the brake pedal just where its supposed to be and easily shift up from first into neutral.
| | |
| --- | --- |
| The dual exhaust pipes are a standout feature in both design and sound. They#39;ve been specially tuned to combine high and low notes that give the bike a super-duper rumble that doesn#39;t jar or irritate. | The fat back tire helps it feel stable on turns and leaves big impression on those you#39;ve left behind in the dust. |
After a few miles my back starts to ache in the laid-back, cruiser-style riding position I started out in, which puts the weight on my tailbone. I wiggle into a slightly forward position, which feels much better.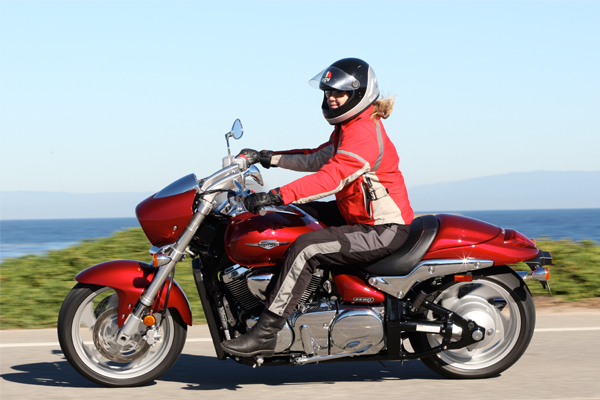 We maneuver through town and hit the highway, then turn up into the mountains. Its here that I begin to realize the attraction of a hybrid sport-cruiser. With a shaft drive, a five-speed transmission, and the liquid cooled 1462cc engine, the bike is tuned to respond to the throttle earlier rather than later, a feature that can literally blow you away. Honestly, Im hanging on for dear life when accelerating at speed, and by lunchtime its the wind rather than the saddle thats tired me out.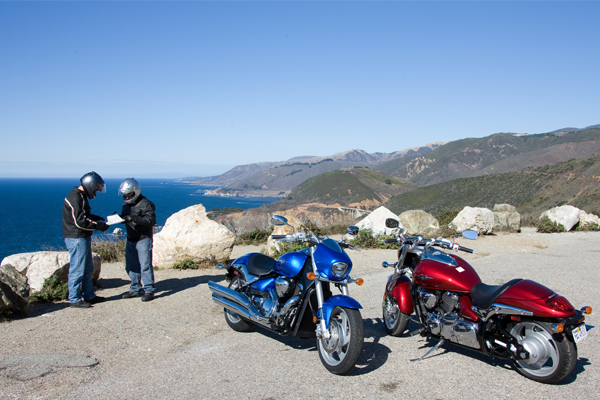 The press folks refill the tanks while we lunch by the river and I suspect I sucked up most of the 4.8-gallon capacity as I was playing around in the gas-guzzling lower gears more often than not. Theres probably no chance Ive come close to its claimed 44 mpg.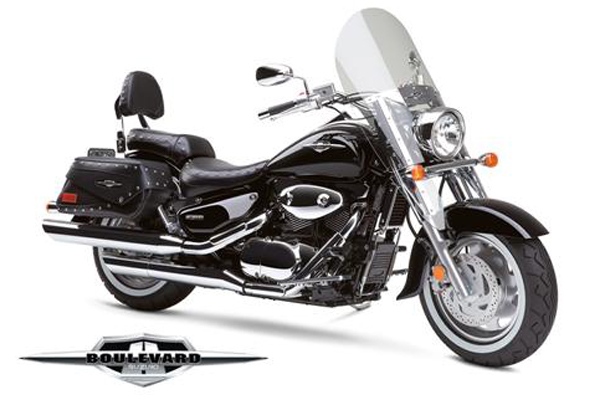 So why a hybrid? Because consumers want it, says Suzuki. The M90 was built in response to an extensive consumer study that found that motorcyclists want a sportier version of the C90 cruiser, a bigger version of the 805cc M50, and a smaller (and less expensive) version of the massive 1783cc M109R. The M90 therefore fills the middle gap in Suzukis lineup of muscle cruisers, which does not meanrepeatdoes not meanthat the M90 is a mid-sized motorcycle.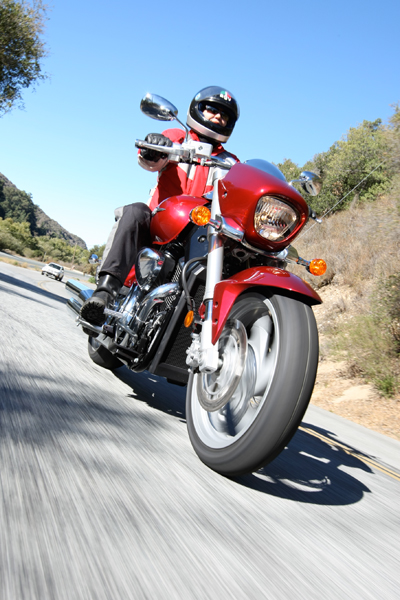 A few of my fellow journalistssome of them former racerstest the "muscle" in the muscle-cruiser equation by demonstrating rear tire spins at various speeds. Several riders lean over hard on a turn early in the day and easily manage some minor peg-scraping, something I wont try until much later in the day. And no, I wont try popping a wheelie, though I see it can be done.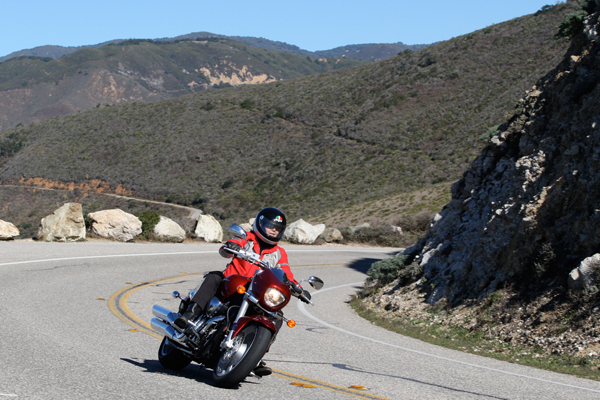 Stopping a heavy, powerful bike like this takes a great braking system, and its too bad that the M90 doesnt come with an ABS option. The dual, 290mm brake discs with sliding-pin front calipers sound impressive but feel inadequate, and after narrowly missing the rider in front of me, who suddenly brakes to avoid hitting something in the road. I give myself a lot more room to stop and Ill bet everyone behind us does, too.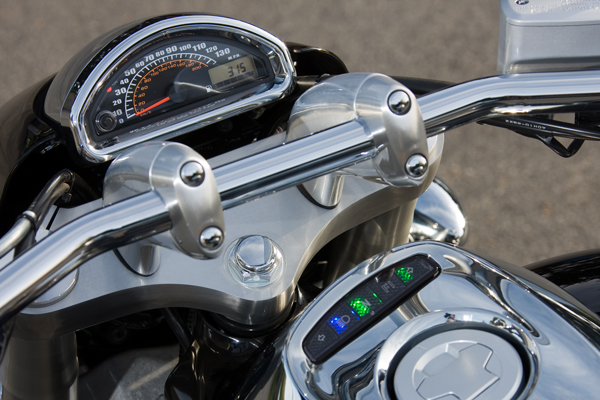 Theres no tachometer on the dash (its optional). A low-fuel indicator, dual trip meters and digital clock are located at the bottom right of the speedometer, but I ride all day without noticing them.
At the top of the gas tankand completely invisible when wearing a full-face helmetare the neutral light, a high-beam indicator, and indicators for the turn signals, which are irritatingly not self-canceling.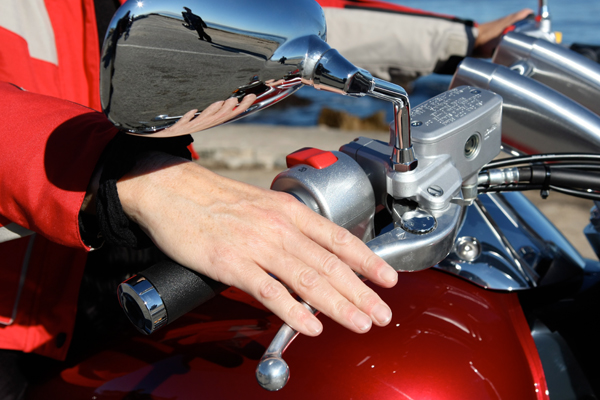 The Suzuki press folks couldnt have asked for a better day for a demonstration ride and upon return to Monterey that afternoon most of us continue riding. I take a spin around town, noting that Im now comfortable with all the bikes quirks. I stop by the beach and a Harley-owning park ranger runs over to check out the "V-Rod." Surprise! When I tell him this bike is $5,000 less expensive than the Harley-Davidson hes referring to his eyes light up and he slings his leg over, with a grin.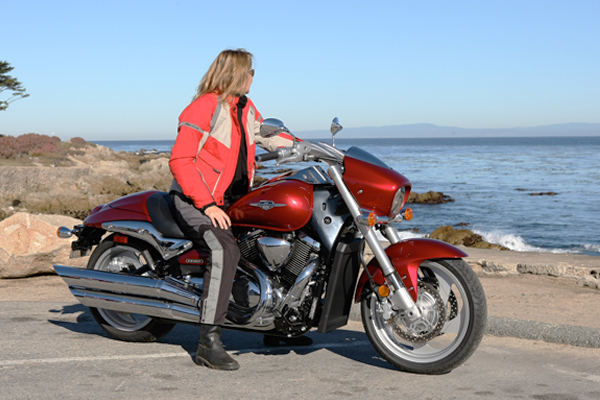 I have to admit that I poo-pooed the idea of the sport-cruiser category until I rode the M90, considering it unlikely that a satisfactory all-in-one experience was to be had in a single machine. But Im starting to change my mind about that. Mostly, its really cool that a big rumbly V-Twin can so satisfyingly provide a cruisers secret desire for that thrilling sportbike buzz.
Specs at a Glance: 2009 Suzuki Boulevard M90
Displacement: 1462cc
Seat Height: 28.3 inches
Fuel Capacity: 4.8 gallons
Weight: 723 pounds
MSRP: starts at $9,999
WRN Recommendation
The Suzuki Boulevard M90 is the bike for experienced cruiser riders who have a secret longing to ride a sportbike, or experienced sportbike riders who want to cruise, but cant bear the sluggish low end of most cruisers. In this economy, anyone will appreciate its $9,999 price tag.
About the Author
Carla King is a long-distance touring motorcyclist who travels to exotic places and writes about them. Her Motorcycle Misadventures series includes stories about trips in America, China, India, and Europe. You can buy her book (reviewed on WRN) and read her dispatches on the web at CarlaKing.com.
Related Articles
MOTORCYCLE REVIEW: Suzuki Boulevard C50T
Riding Right: Posture Perfect