Suzuki has a diverse array of products for the motorcycle market ranging from the supersport Hayabusa 1300 sportbike to the Suzuki Burgman 400 scooter. The SV650 fits right in the middle and is a staple in the companys product line. Its a standard style motorcycle with the heart of a sportbike thats fun to ride in town or through the twisties.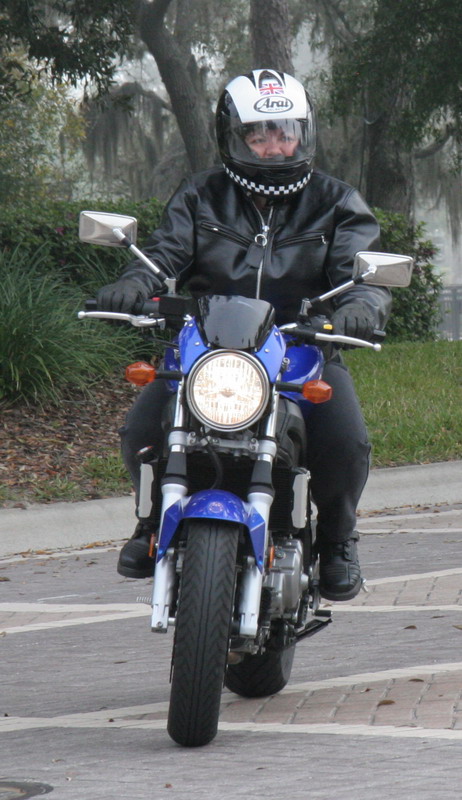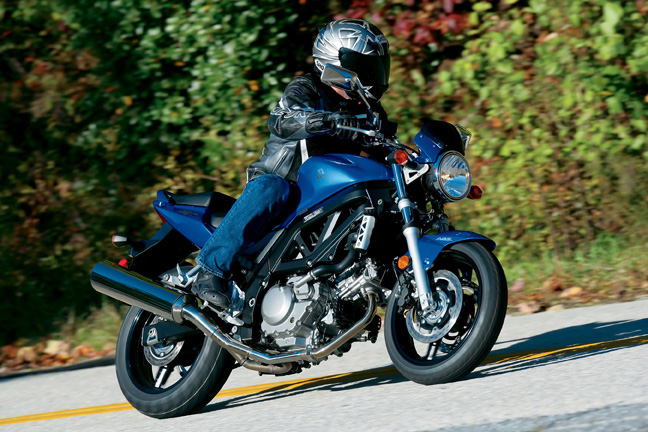 My first experience on the 2007 SV650 was at Daytona Bike Week on an overnight test ride. The seating position is upright with the narrow seat making the 31.5-inch seat height seem lower than it is. I could touch the ground with my short 29-inch inseam. The SV650 is extremely light at 370 pounds so those on tiptoes should be able to balance the bike without worrying that it will fall over easily.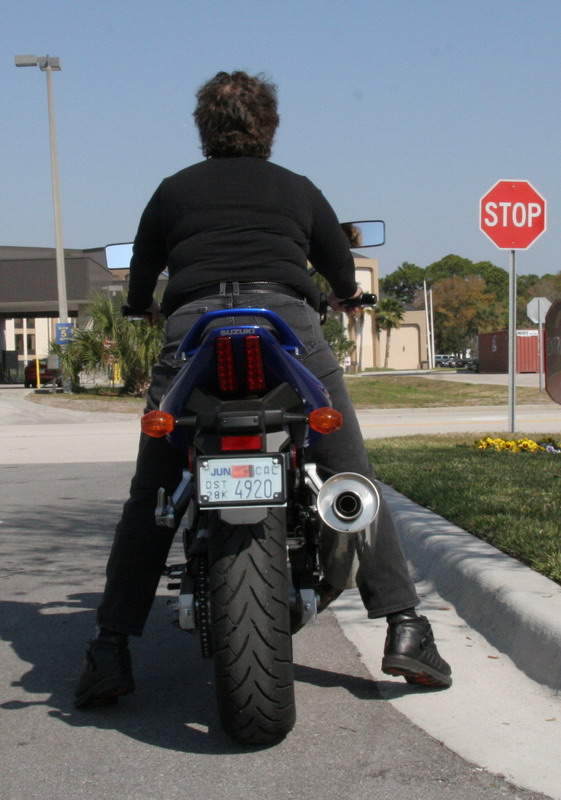 The handgrips and clutch and brake levers are all within easy reach, with the levers not requiring a lot of strength to squeeze, a boon for those with hand strength issues. The brake lever position is adjustable so it can be brought in closer to the grip for those with shorter fingers. The footpegs are right below you and not forward – typical of a standard style bike. Occasionally, I would bang the inside of my left calf against the peg when stopping quickly and putting my foot down, but it wasnt a problem once I got used to where the peg is placed.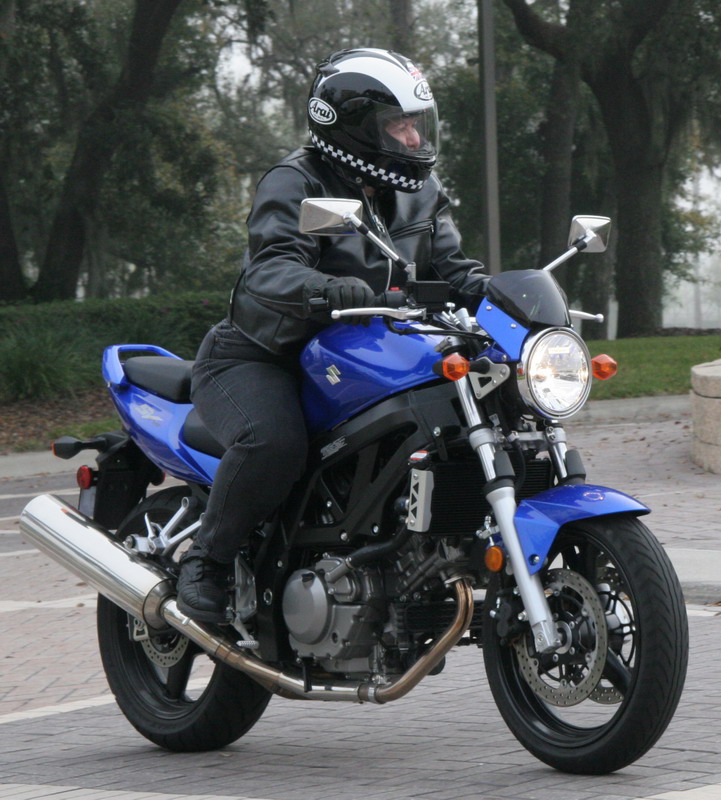 The SV650 turns easily and performs well at slow speeds. It was a breeze flicking back and forth through the narrow paths lined with hundreds of motorcycles parked helter-skelter around the Daytona Speedway for Bike Week. Acceleration is smooth without any jerking even when you have to "hang" in the friction zone in first gear. The fact that the gearing is so forgiving is a plus for beginners who often find themselves in the wrong gear.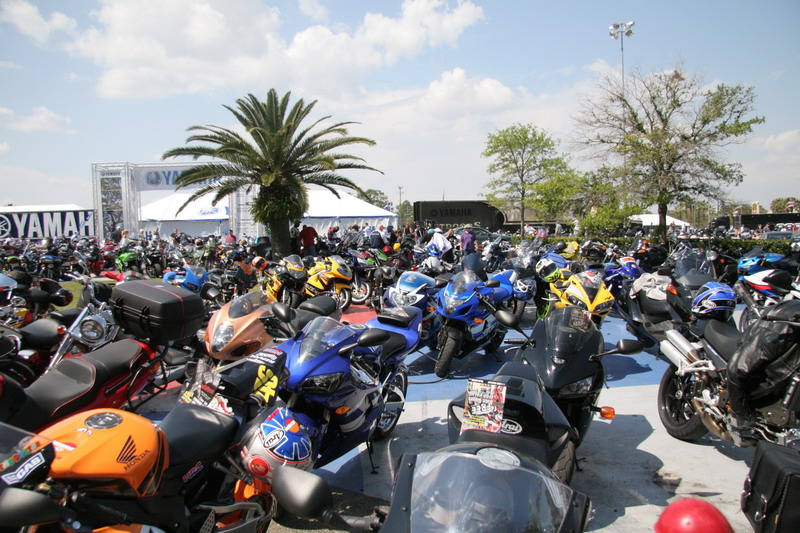 There is a single rear disc brake and dual hydraulic disc front brakes that perform as they should, stopping you when you want right where you want. New this year is the option of ABS (Antilock Braking System) on both the SV650 and the SV650S (sport) model. ABS adds about $1,000 to the base price.
| | |
| --- | --- |
| The SV650 has minimalist styling a simple clean look. | The SV650S has a front fairing and windshield with handlebars that put the rider in a forward sportbike-riding position. MSRP is $6,499, $500 more than the SV650. |
The SV650 is powered by a fuel injected four-stroke 90-degree V-twin engine. The 6-speed transmission shifts smoothly and acceleration is strong with a wide powerband, a nice feature for a motorcycle of this engine size. Theres also plenty of low-end power and torque propelling you through the gears. Youll hear a low, throaty growl from the exhaust pipe when you crank the throttle each time, a signature of this V-twin powered motorcycle.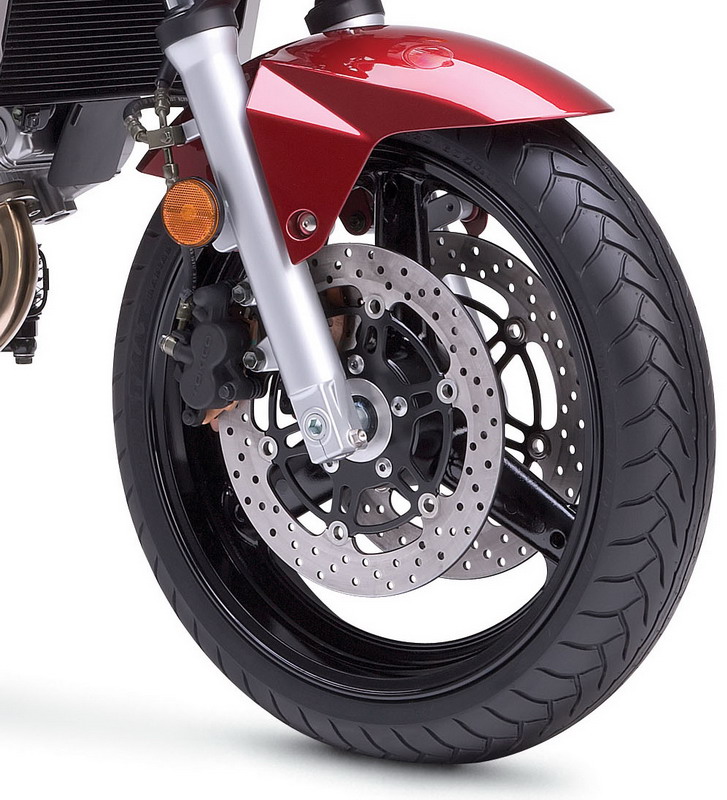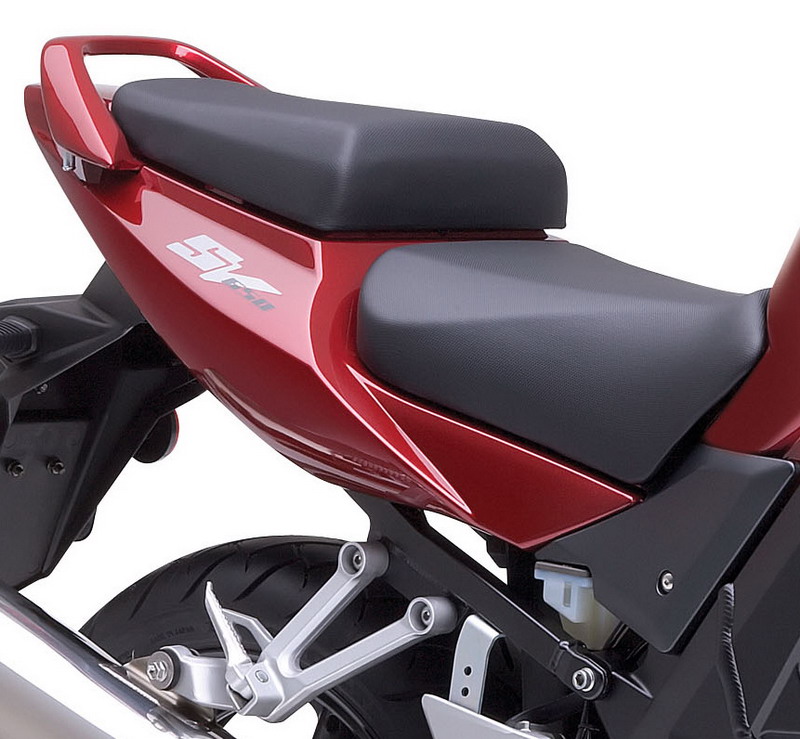 Suzuki equipped the bike with new twin spark plug cylinder heads in the 2007 model that improves combustion and reduces emissions. This should also help with improved gas mileage. The 4.5-gallon fuel tank is a decent size providing enough range for a day ride without having to stop for gas too often.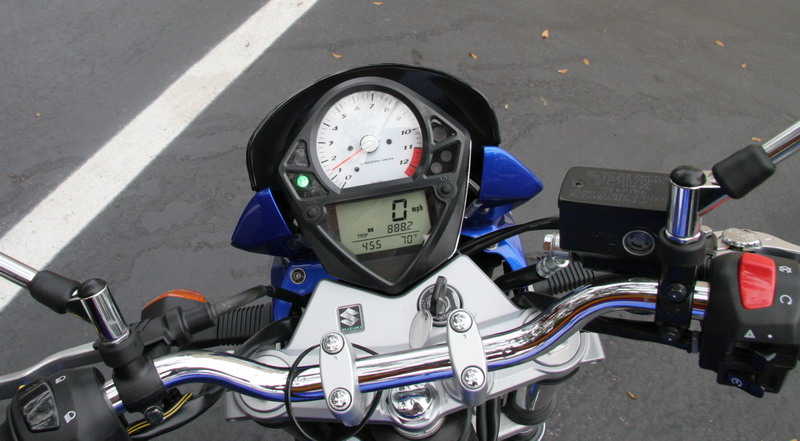 The 2007 SV650 comes in two colors, blue or red, with a black-painted frame, swingarm and wheels giving it a sporty, aggressive look. There is a large single headlight covered by a mini-cowl. The instruments are easy-to-read with a large analog tachometer placed above an LCD panel that includes a speedometer, odometer, tripmeter, temperature gauge, clock and low fuel warning light.
For more information, visit SuzukiCycles.com.
The Specs at a Glance
Suzuki SV650
Displacement: 645cc liquid-cooled V-twin
Seat Height: 31.5 inches
Fuel Capacity: 4.5 gallons
Dry Weight: 363 pounds
Colors: Blue, Red
Price: $5,999
WRN Recommendation:
A lot of women like the SV650 because its confidence inspiring allowing beginners and intermediate riders to practice their riding skills and push their limits. Its very popular as a step-up motorcycle from that beginner bike because its light and easy to maneuver yet provides plenty of power to give the rider a sense she or he is riding with the big leagues. Six thousand bucks is a decent price for a confident beginners to spend on their first real motorcycle after trading in their "learner" Honda Rebel 250, Kawasaki Ninja 250, or similar. The SV650 is a bike riders hold onto even after they theyve outgrown it and moved on to a 1000cc and beyond sportbike, standard, or cruiser. Its great to hop onto for short rides around town because its so light and nimble.
Considering the SV1000 instead of the SV650? For a brief comparison, click here.
Diane Ortiz is a New York State and MSF certified instructor as well as a freelance writer who regularly contributes to WRN. She lives in Long Island, New York, where she recently opened the Big Apple Motorcycle School. She can be reached at diane@BigAppleMotorcycleSchool.com