Theres only a few days left to enter our WRN Thank You contest. The contest ends on December 31. Be sure to click on the big box on the home page, or the link on the left that says Thank You contest for all the details on winning four great prizes including an Arai helmet worth $500!
The wheels keep moving here at WRN headquarters. My latest promotional gig has me appearing on a syndicated radio show called USA Biker Nation. Ive become a semi-regular on the weekly show that airs on these radio stations across the nation: KKZN Denver; KFXD Boise; KTRB San Francisco; KTNF Minneapolis; KROE Port Arthur, Texas; KOLE Houston. I was on last week, and Ill be on again this week, December 29th.

USA Biker Nation is hosted by long time Denver talk show personality Peter Boyles who is a biker himself. The two-hour show covers a wide variety of motorcycling related topics and always has insteresting guests. If you live in one of those cities, check your local listings for times. The show airs live on Saturday mornings so most likely the show airs on the weekend in those cities.
For 2008, Im vowing to live a little more, quit denying myself things that Ive always wanted and wanted to do. Im sure many of you can relate. Youre working so darn hard all the time that you keep saying "one of these days." Life IS too short, so Im making plans for several vacations next year – which is huge because I havent taken a real vacation in two years. Lately, my vacations consist of tacking a few days of personal time onto a work trip. Plus, Im indulging in things Ive always wanted but, materialistically, I dont want for much anymore. Im quite blessed in many ways.
I did buy a Christmas present for myself Im excited to share with you something Ive always wanted. I purchased two David Uhl paintings. Hes one of a handful of artists licensed to paint Harley-Davidson images. Ive known David since the day he started painting for Harley. I had the opportunity to purchase the first in his series of Women of Harley paintings at a discounted price in 1998. For whatever reason, I didnt buy it. (I was probably being cheap then.) If you know of Davids work, youre surely familiar with Ruby. Well, Ruby is no longer available and sells for around $7,000 now on the secondary market. Yes, I could kick myself.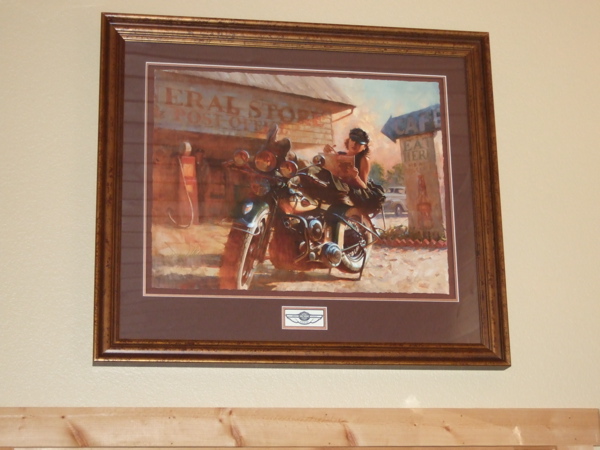 David is releasing his sixth Women of Harley painting on 12/27/08. That got me thinking, "What am I waiting for?! Buy it!" Ive always wanted a David Uhl painting so I perused his Web site and found two images that will work great in my home and that Ill enjoy looking at year after year. For my office I purchased "The Enthusiast" released as part of the Harley-Davidsons 100th anniversary collection in 2003. Its set in 1953 and is a painting of a woman leaning back on her bike reading a 1953 copy of The Enthusiast magazine.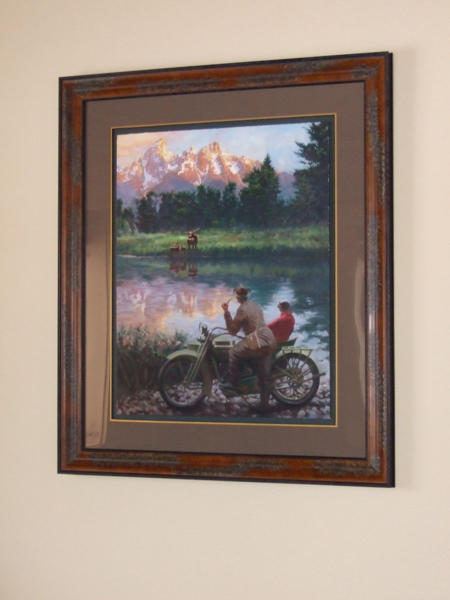 The other image I bought is called Majestic Tetons. Its not one of Davids popular paintings, but I like it because it has contains the things I love: mountains, motorcycles and wildlife. It goes great in my living room.
For 2008, Im also planning a good old fashioned ski trip with my riding and ski buddy, Betsy Huelskamp of WRNs "Backroads with Betsy," for 2008. We always have a great time when we hit the slopes. Im really looking forward to just relaxing in indulging in the things that we as friends enjoy together.
What are you doing for yourself? Sure, the holidays is a time to think of everyone else – but, dont forget to include yourself in some small way. Women are always doing for others. Its easy to forget about indulging a bit in themselves. I hope Im not sounding selfish here. But life is all about making sure youre happy and fulfilled so you can pass along the good tidings genuinely to those who mean the most to you. Merry Christmas!