My husband, Norm, was getting tired of wearing the same leather motorcycle-riding jacket he's had for years, so he asked me if I could find him something different. We ignored the silly adage that you shouldn't mix leather and textile and chose a waterproof textile jacket that fits him perfectly, looks great with his leather chaps and looks even better when he's sitting on his motorcycle.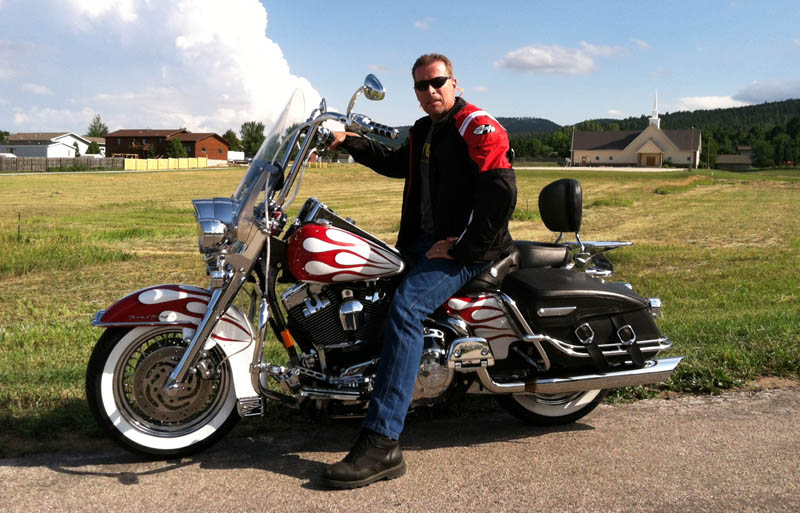 Joe Rocket Atomic 4.0 is loaded with features
you'd expect to find on a pricier jacket.
| | |
| --- | --- |
| Norm wore the Atomic 4.0 jacket on his ride to the Sturgis Rally last year. This picture's taken atop Beartooth Pass in Montana. The Atomic is made of 600 denier Rock Tex brand textile that's abrasion resistant. Norm found the jacket easy to move around in, not stiff or bulky. This was important to him coming from a very broken-in leather jacket. | Norm kept in the removable spine pad because he wanted the protection and it didn't restrict his movement. A rubberized patch Rocket logo runs across the across the left upper back. |
| | |
| --- | --- |
| Norm kept the armor in place, but accessing it easily from the outside far outweighs the alternative—fishing around inside the sleeve blindly to remove and reinsert the armor. If you've ever done that, you know what a pain in the neck it is! | A three-snap sleeve adjuster that lets Norm tighten the sleeve after the jacket is on so the elbow armor stays in place—an important safety feature. |
The Atomic also comes with high quality CE-approved shoulder and elbow armor thats non-restrictive that Norm opted to keep the pieces in the jacket despite the easy removal of them through zippered pockets on the outside of the jacket.
Norm used to ride without a helmet and jacket until he met me, a very safety conscious rider. Over the years I've convinced him to wear a helmet and protective gear. If I could find him a lightweight jacket to withstand the summer heat, he agreed to wear it instead of riding in a white T-shirt and leather vest. The Joe Rocket Atomic 4.0 is that jacket.
This jacket got Norm to gear up!

While it's not mesh, the Atomic's fabric is lightweight with an abundance of venting including two long vertical ones on the back, one near each underarm and two on the front. It almost feels like a mesh jacket, but with lots of versatility thanks to the full-sleeve removable liner. It kept Norm warm during his chilly ride over Montana's Beartooth Pass, and when temps warmed up at the bottom, he zipped out the liner.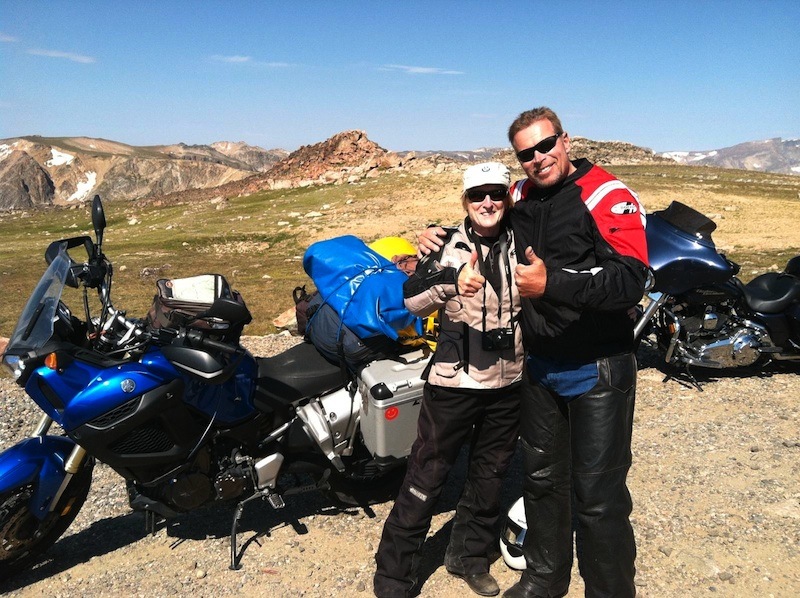 | | |
| --- | --- |
| The liner in the Atomic is full sleeve, mid-weight insulated and easily zips in and out of the jacket. Note that the liner is not the type that can be worn as a stand-alone jacket. | Norm appreciated the front vent snap feature that allowed the vent openings to stay wide open maximizing air flow through the jacket while riding. |
| | |
| --- | --- |
| The jacket is waterproof treated, and this inside red zipper creates an inside barrier against water seepage through the main zipper. Don't accidentally zip one side to the main zipper, like Norm did, and jam it up. | In addition to the two outside zippered pockets, there are two inside shown here, but you lose the one on the liner when the liner's removed. |
On his way to Sturgis, Norm was caught in a summer rainstorm that quickly turned to hail. For the short distance he had to ride in the storm—before ducking under an overpass—the waterproof treated Atomic 4.0 jacket kept him dry.
All zippers are treated with waterproofing to keep water out. And except for the interior pocket, none of the zippers have zipper pulls—although they are oversized zipper ends—Norm still had to remove his thick gloves to grip the ends of the zippers.
| | |
| --- | --- |
| A Velcro strap at the waist allows you to tighten or loosen the fit. | A simple snap keeps the collar closed; the collar is lined with a soft fleece that feels nice against the skin. When snapped Norm still had about two fingers worth of room at the collar. |
| | |
| --- | --- |
| A zipper and Velcro strap allow you to adjust fit on the cuff. | Snap loops let Norm attach the jacket to his belt preventing it from riding up his back when reaching forward to the bars. However, Norm has ape-hangers and actually leans back when riding, so he didn't use these. Its a thoughtful feature though. |
The website indicates there is a reflective stripe on the jacket. I had a hard time finding it; at first I thought it was the white panels, which do stand out. Then I found the rolled seam of reflective material across the upper back. I didn't think it was very bright when I shined a light on it, and I would like to have a more reflection on the jacket, but I had to remind myself this is a mid-priced jacket.
As for fit, 6-foot-3 inch, 195-pound Norm received a size large using the measurements on the sizing chart on Joe Rocket's website. He found sizing to be true with the armored jacket fitting him just right. With the liner in, he did not have extra room for a fleece sweatshirt over his T-shirt as it added too much bulk. The liner is supposed to replace the need for that extra fleece layer anyway. This jacket is ideal for the range of temperatures you'll experience during summer riding. To expect to layer up on cold spring or fall day might be wishing for too much versatility with this jacket.
The Atomic 4.0 has held up nicely over one summer season of riding. There has been no tearing at the seams, and dirt and grime washes off with a damp sponge. In addition to the red version, this jacket also comes in blue/black/white; gray/black/white; all black, and black/hi-viz neon.
The Atomic 4.0 comes in a wide range of sizes from small up to 5XL, which translates to a 63-inch chest and 53-inch waist. Prices start at an unbelievably low $159.99 for sizes up to XL. From 2XL to 5XL, the price jumps to $179.99.
For riders desiring the extra protection of a CE-approved back protector instead of the foam spine pad, it can be purchased from Joe Rocket for $89.99.
Joe Rocket is a very popular mid-priced brand of motorcycle apparel that's been in business since 1992. With this kind of longevity, you can bet a Joe Rocket jacket with a 4.0 designation like the Atomic has only gotten better with time with the company continually refining and tweaking features and fit. Be sure to check out the "matching" women's Atomic 4.0, as well. For more information and find a dealer near you, visit JoeRocket.com.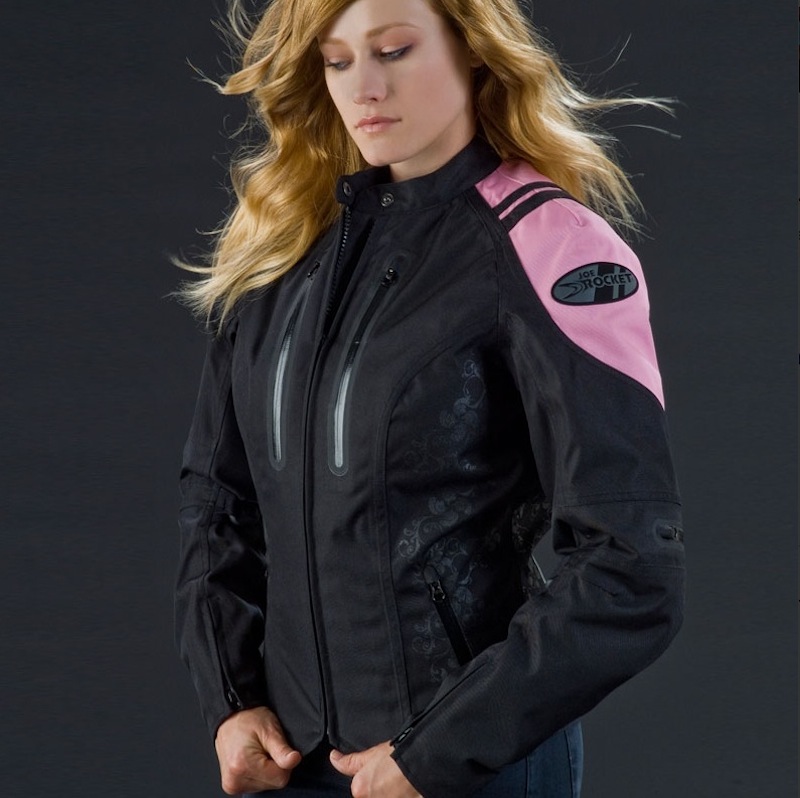 Related Articles
Review: Joe Rocket Cleo 2.0 Mesh Jacket for Summer
New Leather and Textile Gear for New Riding Season
Review: Olympia Moto Sports Air Glide Jacket and Pants