International Female Ride Day is May 1 marking the third year of this annual event where women from all over the world "just ride." The goal of this loosely structured globael event is to raise awareness of women riders by increasing visibility. There are rides being held all over the world to celebrate female riders.
MOTORESS Web site founder Vicki Gray, who came up with International Female Ride Day, is offering the official International Female Ride Day T-shirt. This cotton/polyester blend fitted T-shirt features the official MOTORESS and Female Rider Day logo. This T-shirt with a scoop neck and 3/4 length sleeves is the first of MOTORESS "house of fashion" line of riding apparel.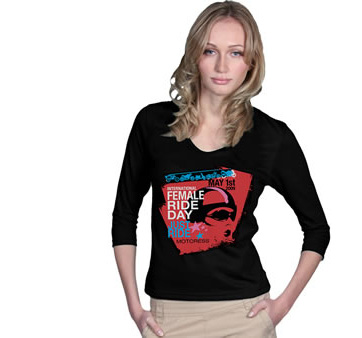 The MOTORESS T-shirt is available for $27 in sizes from S to XXL. Shipping is $15 to cover shipping from Canada. For more information or to order online, visit MOTORESS.com.
This year, Harley-Davidson took the concept of a Female Rider Day one step further declaring the whole month of May Women Riders Month. See the related story below.
Related Articles:
NEWS: May is Women Riders Month
Female Ride Day 2008