Two very different woman-oriented books made their way to our offices. Both are very exciting and intriguing in their own right that we wanted to share them with you.
Quit Dreaming, Just Do It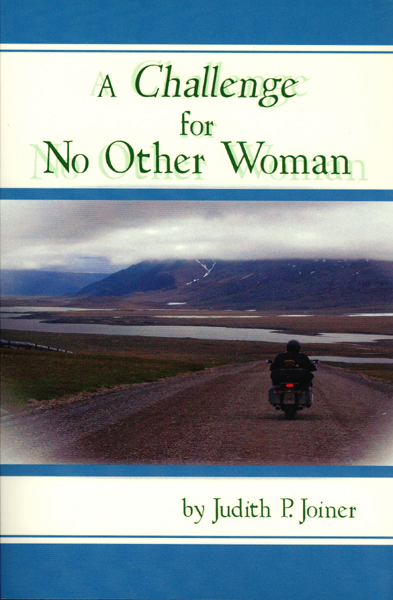 Most riders have dreamed about that great big road trip, the one where you venture off roughing it as much as you can in search of a great big adventure. Well, Judith Joiner dreamed it and then she lived it.
In 2005, she and her husband of 30 years set off on their two motorcycles, she on a Honda Shadow 1100 and he on a BMW starting from Key West, Florida, riding all the way to the Arctic Ocean in Alaska. They traveled for 100 days covering 20,598 miles. Along the way, Judith says she overcame fears, conquered personal challenges and saw amazing landscapes. The trip was so monumental in her life that she wrote a book called "A Challenge for No Other Woman." At the time she took the trip, Judy believes she was the first woman to ride from the southern-most point of North America to the northern-most point. Men have done it, but no other women that she is aware of has accomplished this feat.
The soft cover book runs 367 pages and is written in letter form, Judy sharing her daily experiences by penny letters to her loved ones back home. This book will inspire you to realize your own dreams. You can view a fascinating photo album journal of the trip at 2n2ak.com. Ordering information is also on that Web site.
Where Motorcycling and Menopause Meet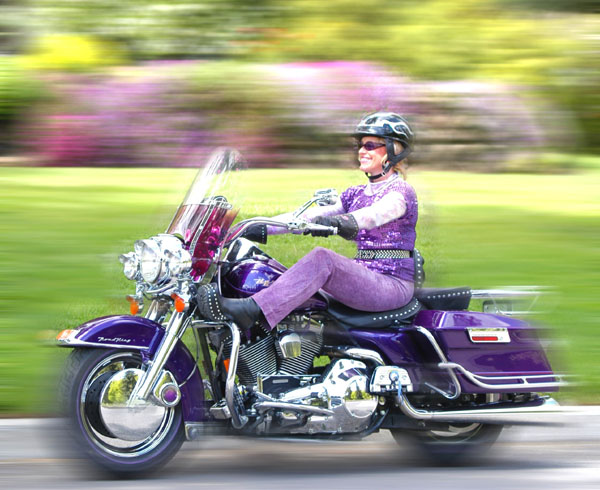 Most people in motorcycling know Ronna Snyder as the woman who rides a purple Harley-Davidson Road King wearing purple pants, a purple shirt and purple nail polish. Sometimes she even wears a purple feather boa flying behind her in the wind. Ronna says her purple phase came on just about the time she hit menopause.
An amazing writer with national publications to her credit including Todays Christian Woman, Western Horseman and the magazine I used to edit, Woman Rider, Ronna decided to write a book about managing menopause using her own adventurous life as material. "Hot Flashes from Heaven" is an entertaining look at the change of life and how one woman handles it all including why and how she incorporated motorcycling into her life. Ronna writes with humor and faith and shes so honest and transparent that by the end, you feel like you have a new friend. She says she wanted to write this book to help other women face their fears and live with passion and fullness. And you dont have to be in menopause to enjoy this book. Any woman over 40 can appreciate the book. Im lucky enough to call Ronna my friend.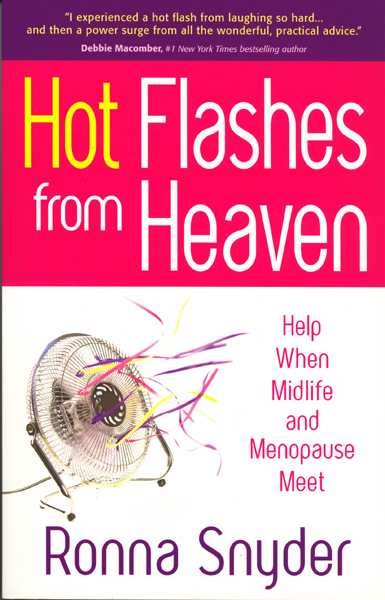 "Hot Flashes from Heaven" is published by Harvest House Publishers. Its a soft cover book running 230 pages and is available at major retailers including Amazon.com. One footnote, I was honored to be asked to write a cover blurb. My recommendation for the book is inside the front cover. Be sure to look for it.